Cats Stats: What's causing the Arizona Wildcats' offensive inefficiency?
Each week throughout the football season, we'll take an in-depth look at the Arizona Wildcats from a statistical perspective. Here's the latest edition of Cats Stats.
Wildcats could score 'in the 40s or 50s' once offense starts clicking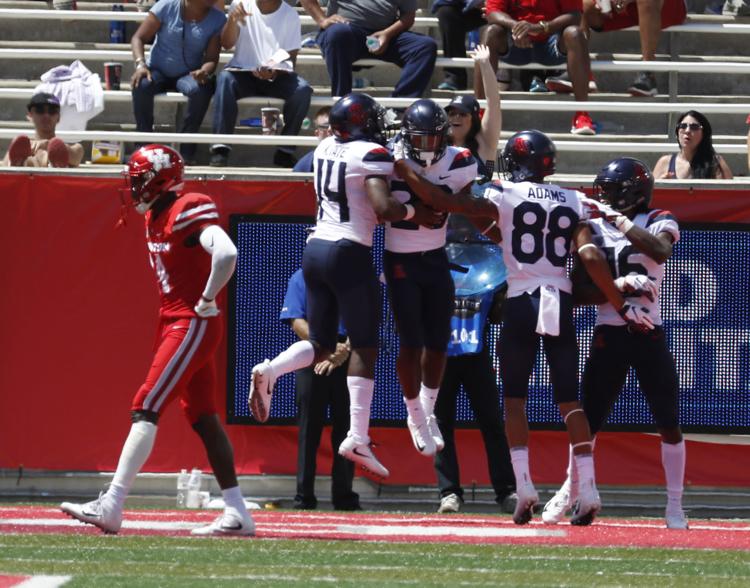 The Arizona Wildcats ran 100 offensive plays against Houston. How rare is that? Extremely.
Know what's even rarer? That Arizona ran that many plays and scored only 18 points.
The outcome at TDECU Stadium spoke to how inefficiently the Wildcats' offense has been operating. As Arizona continues to prepare for this week's game against Southern Utah, we'll show you exactly how inefficient it has been — and explore some of the reasons the offense has stalled.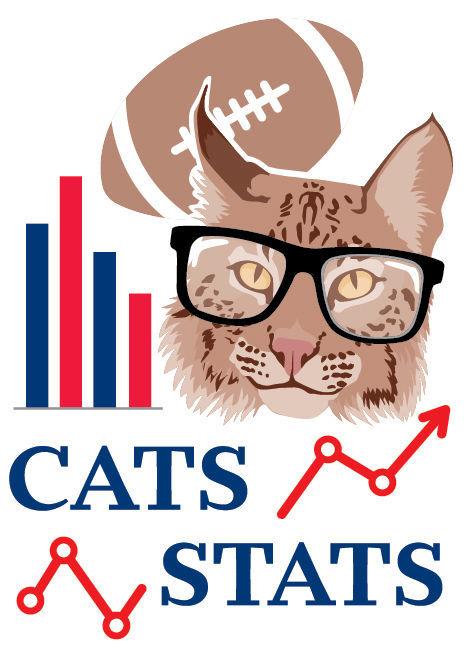 Let's start with those 100 plays. The Houston game marked just the sixth time in Wildcats history that they have reached the century mark. All have come since 2012, when Rich Rodriguez became the coach and brought his version of the up-tempo spread to Tucson.
Arizona averaged 69.8 plays per game last season. The national leader in 2017 was Syracuse, at 85.6. One hundred plays is a lotta plays.
Each of the previous five times they hit or surpassed 100 — against South Carolina State and Stanford in 2012, and against Cal, USC and Boise State in 2014 — the Wildcats scored at least 26 points. Their average points per game: 41.8.
Arizona averaged .403 points per play in those games. That's just about in line with the national average for FBS teams last season: .412. So if they had what would be considered an average day against the Cougars, the Wildcats would have scored about 41 points.
They have been well below average through two games. Arizona is averaging .243 points per play, which ranks in the bottom third of the country. And that includes the safety against Houston, which bumps that number up from .231.
(For the purpose of this piece, we're not removing defensive or special-teams scores from the calculations. In most cases, over the course of a full season, they make a negligible impact on the numbers.)
That figure — .243 — represents a startling drop from last season. The 2017 Wildcats averaged .591 points per play, among the best ratios in the nation.
Asked Tuesday how many points he would expect Arizona to score while running 100 plays, senior receiver Shawn Poindexter said: "Shoot. With the ability that our offense has … we could score anywhere in the 40s or 50s once everything gets clicking."
Poindexter then was asked what's holding the offense back.
"There's a lot of things that go into it," he said. "I'm not going to go into details, but we're going to get it cleaned up."
Here are some of the biggest factors:
Subpar QB play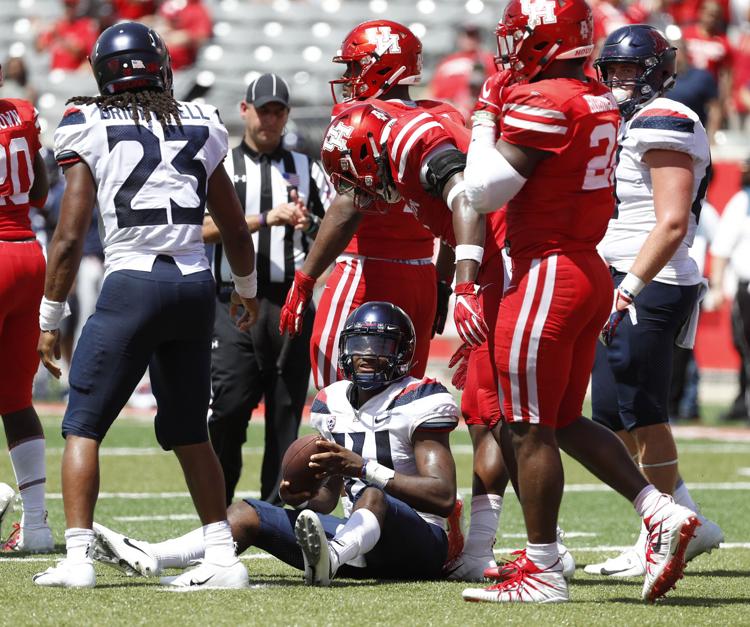 Whether it's the adjustment to a new system, the ankle injury he suffered early vs. Houston or something else, junior quarterback Khalil Tate isn't playing well.
Tate isn't running the ball often or effectively, netting a scant 22 yards on 15 rushing attempts. Take out the one time he's been sacked, and it's 34 yards on 14 carries.
Tate averaged 128.3 rushing yards in 11 games last season. That includes the NAU and Houston games, in which he made only brief relief appearances, and the ASU game, when he got hurt on the last play of the first half and barely played in the second.
Tate completed 62.0 percent of his passes last season with a 14-9 touchdown-to-interception ratio. This year he's at 51.9 with 1-2 TD-INT ratio. His average per attempt has fallen from 8.9 to 6.8.
Yes, it's a small sample size. Yes, there are mitigating circumstances, including Arizona playing from behind the majority of the time. And yes, there are 10 other guys on the field with Tate, including an inexperienced offensive line.
But it always comes back to the quarterback. Through two games, Tate hasn't approached the lofty standard he set last season.
Missed opportunities
Arizona drove into scoring range on its first possession of the season. A holding penalty on first-and-10 from the 25-yard line pushed the Wildcats back. They had to settle for a field-goal attempt, which the Cougars blocked.
On the next possession, Arizona advanced to the BYU 41. On third-and-5, Tate took that lone sack, losing 12 yards. The Wildcats had to punt.
On the first possession against Houston, Arizona quickly advanced to its 47. On the next play, Tate couldn't push off on his ankle and went down for a loss of 3 yards. On the play after that, he threw an interception.
In the second quarter, the Wildcats faced fourth-and-1 at the UH 26. Gary Brightwell took a pitch to the right but bobbled the ball, resulting in a 9-yard loss.
Late in the second quarter, Arizona reached the Houston 35. A holding penalty turned third-and-7 into third-and-17. The Wildcats ended up punting.
Early in the third quarter, Arizona advanced to the UH 36. On third-and-7, Tate threw another interception.
The final indignity came late in the fourth. A 46-yard pass from Tate to Tony Ellison set up first-and-goal at the 1. The Wildcats couldn't score.
Interestingly, that's the only time Arizona has failed to produce points in seven trips into the red zone.
Puzzling play-calling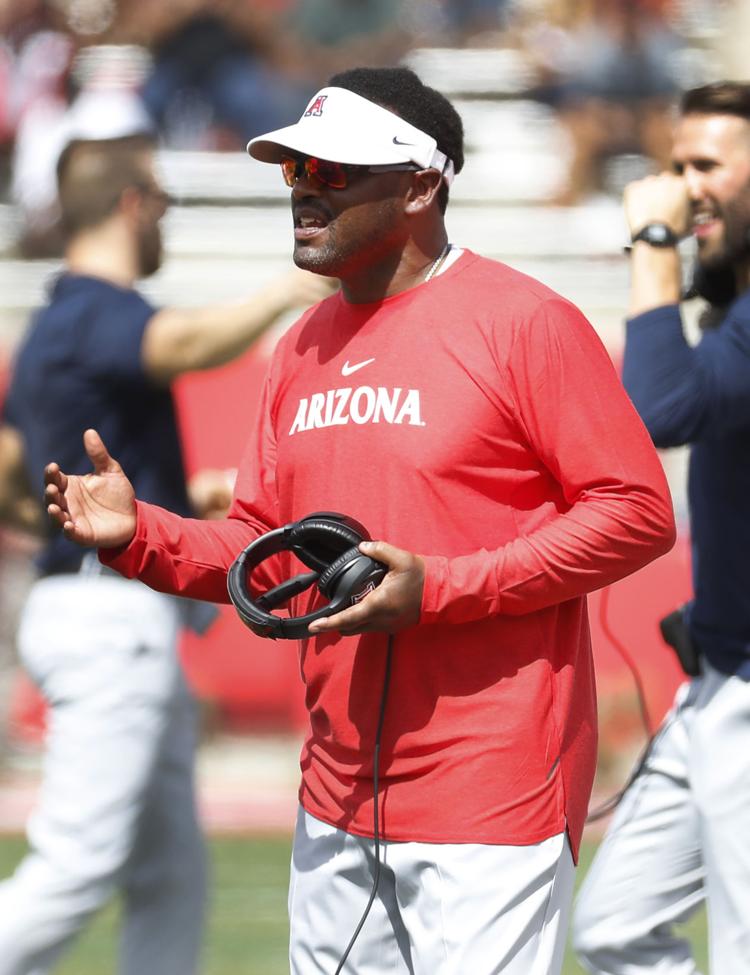 If the quarterback is the lowest-hanging fruit for criticism, play-calling is the next lowest. But some of what we've seen the first two weeks is just too inexplicable to overlook.
The BYU game plan had pundits and fans scratching their heads. Offensive coordinator Noel Mazzone called few, if any, designed quarterback runs. Tate repeatedly threw the ball downfield, with minimal success.
Against Houston, Arizona faced third-and-5 from its 33 in the second quarter. The play: an inside handoff to 5-6, 184-pound tailback J.J. Taylor, who found no running room against a Houston defensive front headlined by All-American Ed Oliver. Taylor was tackled for no gain.
On the goal-to-go sequence, Arizona ran four straight times between the tackles out of the shotgun. Three attempts were by running backs; one was by Tate.
Mazzone didn't try to get Tate to the perimeter — he seemed to be feeling better on a 2-yard keeper for a TD around left end earlier in the quarter — or attempt a play-action pass. UA coach Kevin Sumlin said there was a purpose behind the play-calling.
"We ran the same play," he said. "It was kind of a point just to make sure our team understands it. Right or wrong, that's what we wanted to do.
"Hopefully it's a learning experience, because things are going to happen down there. When you when need to get a yard, you need to get a yard. That didn't happen."
In Mazzone's defense, Sumlin said the staff had to scrap much of its game plan, which included more Tate runs, after he got hurt. It's unclear to what extent, if any, Tate will be limited this week and beyond.
This much is certain: No matter how many snaps he takes, they need to produce points at a greater rate.