Each week throughout the football season, we'll take an in-depth look at the Arizona Wildcats from a statistical perspective. Here's the latest edition of "Cats Stats."
Wildcats QBs haven't passed for accuracy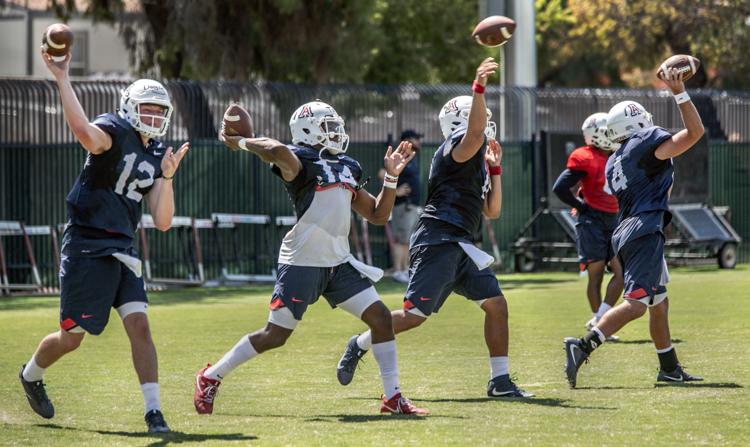 Whether it's Khalil Tate or Rhett Rodriguez at quarterback, the Arizona Wildcats aren't completing passes at a high enough rate.
Arizona's completion percentage of 53.3 ranks last in the Pac-12 and 112th in the nation. Only one other Pac-12 school is under 60 percent: USC, whose starting quarterback, JT Daniels, is a true freshman. Only six Power conference schools rank below Arizona in completion percentage.
A year ago, with Tate taking the majority of the snaps, Arizona completed 62 percent of its passes. Even the much-criticized Brandon Dawkins came in at 61.4.
What's behind the drop? How has it impacted the UA offense? What needs to change?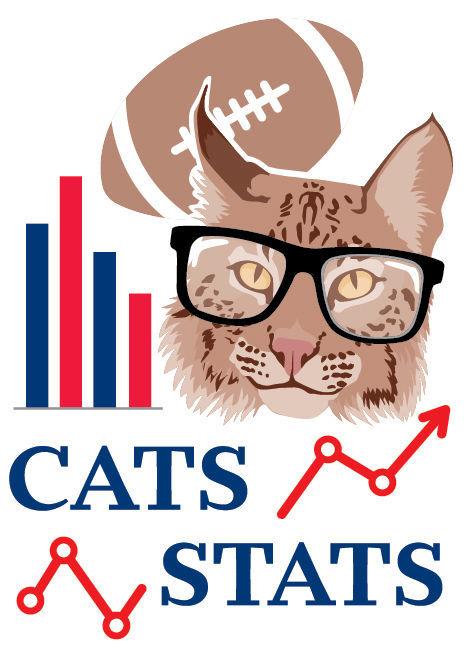 Before we attempt to answer those questions, let's take a closer look at the numbers to put them in the proper perspective.
As mentioned, Arizona's completion percentage is way down from last year. It's also well below the current nationwide mark, which is 60.3.
The trend toward spreading the field has produced a rise in completion rate. In 2003, the national average was 56.8. In 2008, it was 59.0. In 2013, it was 59.7. Now it's north of 60.
Arizona's mark of 53.3 percent is more than 10 points below the rest of the conference — 63.9 — if you take the Wildcats out of the equation. Should it hold, the figure would represent their second-lowest percentage over the past seven seasons.
In six years under Rich Rodriguez, Arizona was over 60 percent three times and under 60 three times. Last year represented the high-water mark. The previous season — an injury-plagued, 3-9 nightmare — was the low point. A collection of quarterbacks, including a 17-year-old Tate and converted tight end Matt Morin, completed just 51.3 percent of their passes.
Things changed last season when opponents became consumed with stopping Tate's running. With eight (or more) defenders crowding the line of scrimmage, Arizona's receivers frequently faced one-on-one coverage. Sometimes it was one-on-none. Tate completed 62.0 percent of his throws.
Even after defenses supposedly figured him out, Tate's completion rate was higher than this year's 53.4 percent. Over the final five games of 2017, starting with USC, Tate completed 58.0 percent of his throws. In the last two, against Arizona State and Purdue, he was at 71.8.
What's happened since?
Here are some of the biggest factors and theories:
Tate isn't the same runner.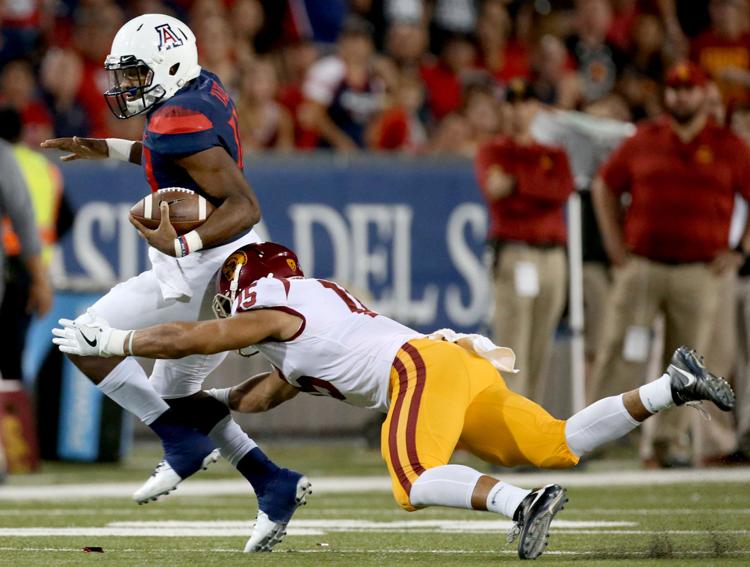 Whether it's his sprained ankle, his approach to the game, the way he's being used or the way opponents are defending him, Tate is nowhere near the running threat he was a year ago.
Tate averaged 9.2 yards per carry last season and had six games with at least 137 rushing yards. This year he's averaging 2.5 and has 113 total yards.
While opponents — in particular BYU — have structured their game plans toward containing Tate, Arizona hasn't seen as many loaded boxes. With Tate running less, and less effectively, defenses are able to keep safeties back, making it harder to pass.
Tate initially hurt his ankle in Week 2 against Houston. It has bothered him on and off since, and he sat out last week's game at UCLA.
UA coach Kevin Sumlin hadn't announced a starting quarterback as of Wednesday and might not do so before Saturday's homecoming game against Oregon. If Rhett Rodriguez again starts, don't necessarily assume a spike in completion rate.
That hasn't been the case the past two weeks. Which leads us to this:
Have opponents caught up to offensive coordinator Noel Mazzone?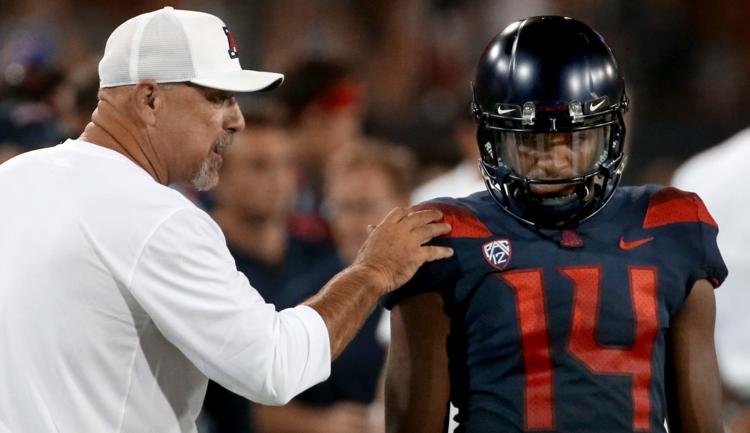 This is difficult to substantiate and immediately would be shot down by Sumlin and his players. Senior receiver Tony Ellison repeatedly has praised Arizona's game plans, blaming its inconsistent offensive output on poor execution.
There might be a little something to it if viewed solely through the lens of completion percentage.
In Mazzone's two seasons as the offensive coordinator at Arizona State (2010-11) and his first three at UCLA (2012-14), his quarterbacks never completed fewer than 60 percent of their passes over a full campaign. Led by Brett Hundley, Bruins quarterbacks completed at least 65.3 percent of their throws from 2012-14.
Since then, every Mazzone offense has been under 60 percent. Context is important here, though. In two of the past four seasons, Mazzone's primary quarterbacks were true freshmen: Josh Rosen in 2015 at UCLA and Kellen Mond last year at Texas A&M.
Tate is a junior. Rodriguez is a sophomore. The past two weeks represented the latter's first substantial action in college.
Perceived as more of a game manager than the freelancing Tate, Rodriguez nonetheless completed only 48.6 percent of his throws. He had seven throwaways at Utah and has struggled the most in the red zone, where passing windows are tighter. Rodriguez's completion percentage inside the 20-yard line is 38.5; elsewhere, it's 54.5. (All splits are courtesy of ESPN.com.)
Do the collective struggles of Tate and Rodriguez prove that defenses have figured out Mazzone's system? No.
As Sumlin put it, "It's not like everything's broken." Arizona scored 30 points at UCLA. That ought to be enough to win most weeks. The bigger issue is when the Wildcats are scoring. Which brings us to factor/theory No. 3:
Playing from behind all the time is hard.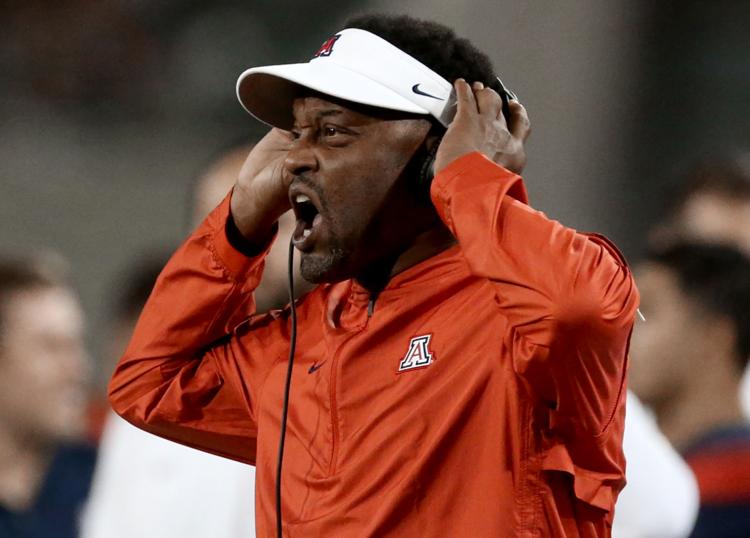 It stands to reason that your completion percentage will be lower if your team is losing by a wide margin. Passing is the quickest way to move the ball down the field. But that becomes a more difficult proposition if the other team knows it's coming.
Arizona has trailed early and often this season — 38-0 at Houston, 24-0 vs. USC, 35-0 at Utah, and 10-0 at UCLA. As a result, Tate and Rodriguez have thrown a disproportionate number of passes when the Wildcats were losing.
Tate has attempted 178 passes this season — 62.4 percent of them coming while Arizona is behind. His completion rate on those passes is 47.7 percent. When the score is tied, Tate's completion rate is 59.3 percent. When the Wildcats are ahead, it's 65 percent.
Tate attempted 179 passes last season, but only 49.2 percent while Arizona was trailing. His completion rates in the three game scenarios were as follows: winning, 70.7 percent; tied, 72.7 percent; losing, 52.3 percent.
Rodriguez is constantly fighting an uphill battle. A mind-blowing 91.1 percent of his pass attempts — 72 of 77 — have come with the Wildcats behind. A large chunk happened in the Utah game, but Rodriguez didn't take a single snap against UCLA when Arizona was ahead. The Wildcats twice took the lead in the second half but immediately gave it up.
Now, the quarterbacks obviously play a role in those slow starts. While the defense has struggled early in games, the offense often hasn't done its part. The quarterbacks are at least somewhat culpable.
Sumlin is quick to point out that when the passing offense bogs down, it isn't always the quarterback's fault. The offensive line has been a season-long issue for Arizona. And Mazzone's system, while sharing some traits with RichRod's, introduced new protocols and concepts. Growing pains were inevitable.
But given the talent and experience on hand — plus Sumlin and Mazzone's past successes with quarterbacks — the Wildcats' completion percentage should be higher than it is.
A lot higher.