Notes and takeaways from Arizona Wildcats coach Kevin Sumlin's weekly Monday news conference at the Lowell-Stevens Football Facility:
* Sumlin said senior cornerback Jace Whittaker "probably" will return for this week's game at Houston after sitting out vs. BYU because of an undisclosed injury. Sumlin also indicated that sophomore Scottie Young Jr., who was suspended for Week 1, would be part of the rotation at safety. Getting both back would boost Arizona's depth, experience and talent in the secondary.
* The biggest theme of Sumlin's address was the idea that the coaches need to "put our players in a better position to be successful." I'll have more on that latter, particularly how it pertains to Khalil Tate.
* Sumlin emphasized that the offense needs to be more efficient. Arizona ran 43 plays in the first half but scored only 10 points. Tate completed only 50 percent of his passes.
* Sumlin brought up the fact that senior receiver Shun Brown had only one touch on offense and said, "That's not OK." Look for Brown to be more involved this week.
* Sumlin said the cramping issue would be addressed in two ways: better hydration and a greater commitment to rotating players. He said the coaches need to show more confidence in the second unit.
* Sumlin knew the offensive line would endure growing pains and was pleased with how the unit performed in the fourth quarter. He reiterated that he and the staff have to coach up the players they have.
* Sumlin thought the defensive line did an adequate job of occupying blockers so that linebackers Tony Fields II and Colin Schooler could make plays. But Sumlin also would like to see that unit make more plays on its own.
* Sumlin on Houston's All-American defensive tackle, Ed Oliver: "He's a great player. Not a good player. A great player."
* Saturday's game will be Sumlin's first at Houston since he left the school in late 2011. Sumlin, who served as the Cougars' head coach for four seasons, said he has too many fond memories of his time there to pinpoint just one.
* Sumlin said J.J. Taylor was the top choice to return kickoffs because he's "explosive" and he "wants to do it."
* Players who were injured or not in uniform were not on the sideline against BYU. Sumlin said not having 40 or so extra bodies makes it easier for the coaches to communicate with the active players. The ones who weren't dressed had the option of sitting in the stands with friends and family.
---
Khalil Tate vs. Ed Oliver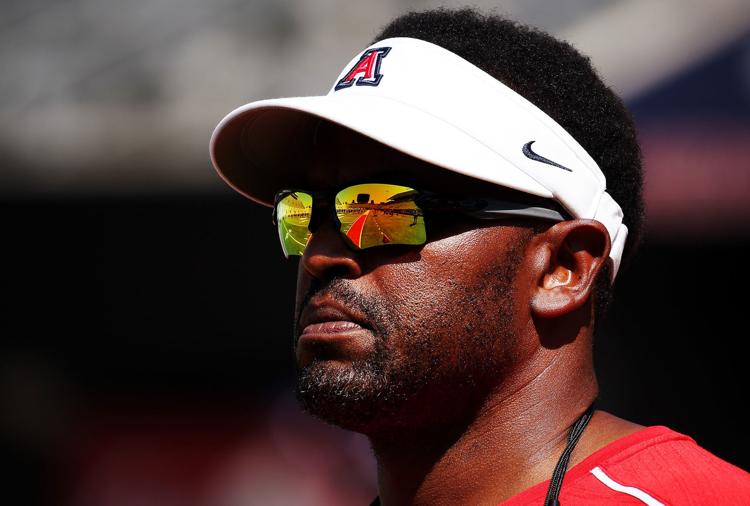 Every time the Arizona offense takes the field against Houston on Saturday, Khalil Tate will stare down another Heisman hopeful in defensive tackle Ed Oliver. 
Oliver is also projected to be one of the top picks in the 2019 NFL Draft. After a 28-23 loss to BYU to start the Kevin Sumlin era, the Wildcats have their work cut out for them. 
It's also Sumlin's first return to his old stomping grounds since he left UH for Texas A&M in 2011. Sumlin held his weekly press conference on Monday and reflected on the loss to BYU, Khalil Tate's poise and returning to east Texas this weekend.
Ed Oliver
Kevin Sumlin on Houston DL Ed Oliver: "He's a very, very special talent, and one of the best players in college football. ... You can't ignore his talent." pic.twitter.com/uNwSnsU2XN

— The Wildcaster (@TheWildcaster) September 3, 2018
Importance of Jace Whittaker, Scottie Young Jr.
Kevin Sumlin says Scottie Young Jr. and Jace Whittaker add depth and experience to Arizona's defense. Sumlin also explains why certain players weren't on the sideline against BYU. pic.twitter.com/JleIWn7gHe

— The Wildcaster (@TheWildcaster) September 3, 2018