Imagine that you're a recruit with an offer from the Arizona Wildcats.
Now imagine Arizona safeties coach Chuck Cecil, a Wildcats legend, is pitching you on attending the UA.
"The nine months that you're here, there's no better weather on the planet. And then, the whole social atmosphere of the campus is second to none," Cecil said. "And then — oh, by the way, just a little side note — if you want to get a great education, it's available here as well. The business school, as good as it gets; the med school, as good as it gets; the astronomy — you name it, it's here! … All I know in my life is football. It's all I've done. I've done it in the NFL, I've done it in college — here's the deal: I know what it is.
"I know the good, I know the bad, I know the ugly; I've seen them all different ways. Coach (Jedd) Fisch knows what it is and knows how to go about it and is going to get it done. He is not here to win a couple games. He's here to win a couple championships, a lot of championships, mega-championships. That's it and that will be done. That's why I came back and why I'm here. The University of Arizona has never won a Pac-10, now the Pac-12. I'm not leaving until that happens."
"Is it hard for me to tell kids to come to the University of Arizona? Are you kidding me? My life is a fairy tale," Cecil added. "I'm almost 57 years old and I've never had a job. … If there's ever a fairy-tale life, it's mine, and it started here at the University of Arizona and it's because of the University of Arizona. … This is the best place there is."
Sixteen players have have verbally committed to the Wildcats' 2022 recruiting class so far. Arizona has the fourth-best group in the Pac-12 and the 34th-best class nationally, according to 247Sports.com's national rankings.
UA coaches scattered across the country this week to meet with current commits and sell the school to prospects who are still undecided. Here are five notable commits and how they're faring this season:
Noah Fifita
Hometown (high school): Anaheim, California (Servite)
Notable offers: Cal, Fresno State, Hawaii, New Mexico, Utah State
The rundown: Fifita, who models his game after Seattle Seahawks star Russell Wilson, and the Servite Friars are tearing through Southern California this season. Fifita has 1,414 yards, 20 all-purpose touchdowns and two interceptions through five games; he's averaging 282.8 yards per game. Oregon Ducks commit and wide receiver Tetairoa McMillan, who the Wildcats nearly picked up for '22, has 30 receptions for 588 yards and nine touchdowns.
Keyan Burnett
Hometown (high school): Anaheim, California (Servite)
Notable offers: USC, Miami, Nebraska, ASU, Cal, Washington
The rundown: The highest-rated tight end to commit to Arizona since Rob Gronkowski in 2007 is one of Fifia's go-to options, averaging 19.8 yards per catch. Servite has a formidable back-half of the regular season schedule, including the final two games against Mater Dei Catholic and St. John Bosco. Yikes. The final games of the season will establish the pecking order of superiority in the L.A.-area football scene. Regardless, Arizona's Servite stars have displayed why they could play immediately in 2022 as true freshmen.
Sterling Lane
Hometown (high school): Westlake Village, California (Oaks Christian)
Notable offers: LSU, Oregon, Arkansas, Tennessee, Michigan, Missouri
The rundown: "Deuce" plays defensive end in a 4-3 defense at Oaks Christian. In four games, Lane has 31 tackles, a sack, eight stops for loss and two forced fumbles. Lane had three tackles for loss and four tackles in last week's 44-0 over the Birmingham Patriots. Lane's top performance this season was a 12-tackle outing in a 20-9 loss to Sierra Canyon.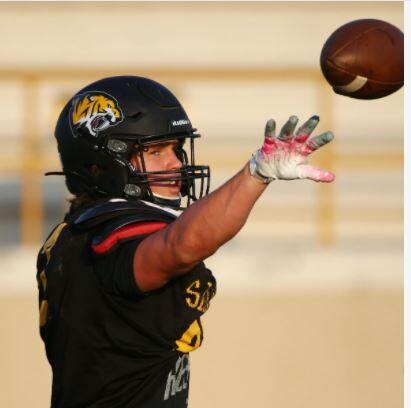 Tristan Monday
Hometown (high school): Scottsdale (Saguaro)
Notable offers: Baylor, Colorado, Florida State, Iowa State
The rundown: Monday is an edge rusher that could be a Clay Matthews-esque outside linebacker or a hand-in-the-dirt, rush-the-quarterback defensive end like J.J. Watt. (After all, he wears No. 99.) Monday has 18 tackles, nine TFLs and a sack so far this season. He'll face one of his toughest challenges of the season on Friday, when he battles Salpointe Catholic sophomore offensive tackle Luis Cordova in a showdown between the two powers. Cordova also has an offer from the UA and is garnering attention from other colleges.
Kyron Chambers
Hometown (high school): Dallas (South Oak Cliff)
Notable offers: South Carolina, Texas Tech, ASU, Indiana, Cal, Oklahoma State
The rundown: Cornerback is a position of need, and the Wildcats have lined up three in their 2022 recruiting class: Chambers, Tacario Davis (Long Beach, California) and Zeke Berry (Concord, California). Arizona's lone Lone Star State commit has 11 tackles and an interception this season for the South Oak Cliff Bears.
Contact sports producer Justin Spears at 573-4312 or jspears@tucson.com. On Twitter: @JustinESports