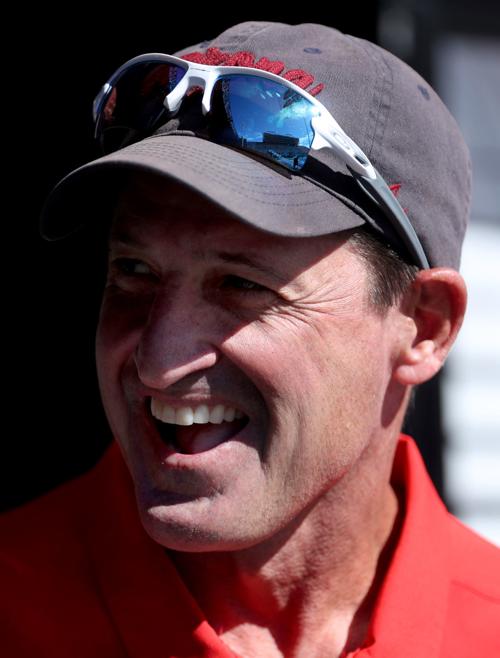 During the 1995 season, his last as an NFL player, Chuck Cecil suffered a dislocated shoulder while tackling a Cincinnati Bengals running back.
Cecil was listed at 6 feet, 185 pounds. He was on the wrong side of 30 by then.
"He was just one of those rare guys," said Jeff Fisher, Cecil's coach with the '95 Houston Oilers. "He was 180 pounds soaking wet. But, oh my gosh, did he know the game. And would he hit you."
Cecil was as tough as they came. After getting X-rayed and fitted with a harness, he finished the game.
When practice resumed a few days later, Fisher figured Cecil would miss a couple of weeks. This is what happened instead:
"He cleared out the training room," Fisher said. "He demanded that everybody come out to practice."
Cecil wouldn't go down without a fight, and he expected the same of his teammates. He suited up the following Sunday. He appeared in 14 of 16 games in that final season.
Cecil had been a scrapper his entire career, going from walk-on at Arizona to Pac-10 Defensive Player of the Year to NFL Pro Bowler. He has brought that underdog mentality to every stop since.
Cecil will need it again with another challenge staring him straight in the jaw.
One of the all-time great Wildcats has taken over as his alma mater's defensive coordinator. Second-year UA coach Kevin Sumlin fired Marcel Yates two-thirds of the way into this season. Sumlin promoted Cecil, who had been serving as an off-field analyst.
Cecil had six days to get ready for his first game, and it didn't go well; Arizona lost to Oregon State 56-38. Even with a bye this week, he faces an uphill struggle. Cecil has been tasked with mending a damaged defense amid the toughest stretch on the Wildcats' schedule. Arizona closes at No. 7 Oregon, vs. No. 8 Utah and at Arizona State.
Is that enough time to make a tangible difference? Is it a big enough window to make a favorable impression on Sumlin, who might have had a long-term coordinator candidate in mind when he made the move?
Even those who have worked with Cecil in the past — and believe in him to this day — are skeptical.
"I know Chuck's going to do everything right," Fisher said.
"The question is: Does he have an opportunity to see this thing trending in the right direction?"
'From the bottom rung'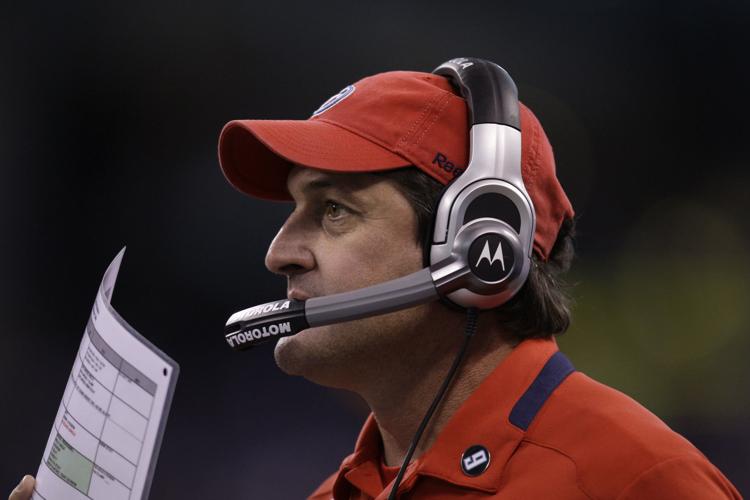 Cecil played in the NFL from 1988-95 with the Packers, Cardinals and Oilers. He recorded 461 tackles and 16 interceptions in seven hard-hitting seasons. He made the Pro Bowl after the '92 season with Green Bay.
Cecil began his coaching career under Fisher with the Tennessee Titans in 2001. Cecil started out as a defensive assistant/quality-control coach — the coaching equivalent of being a walk-on.
"He was willing to start out his coaching career from the bottom rung," said Dave McGinnis, the former Cardinals head coach who would work alongside Cecil for over a decade with the Titans and St. Louis Rams. "Those are the kind of people who impress me in this business."
Cecil coached defensive backs for Tennessee from 2004-08 before becoming the Titans' defensive coordinator from 2009-10. He helped players such as Cortland Finnegan, Michael Griffin and Chris Hope make the Pro Bowl.
Finnegan was the least likely success story among those three — a seventh-round draft pick from FCS Samford.
He had an advocate in Cecil.
"Not every coach believes in you," Finnegan said. "That's what takes a good player to an excellent player. Like a father, he sees things in you that you don't see."
When he first started working with him, Finnegan didn't know Cecil's story. Later, when he learned that Cecil had been a walk-on who worked his way up, their connection made sense.
"I love your tenacity," Cecil told Finnegan early on. "You've got something to prove. I can work with that."
Cecil emphasized hustle and heart, Finnegan said. Cecil also taught Finnegan that "every snap is precious."
"He said that with tears in his eyes multiple times," said Finnegan, who played for Cecil from 2006-10 with Tennessee and 2012-13 with St. Louis.
Cecil drove that point home during a film session in Finnegan's rookie season.
"There was a receiver that was pushing a guy around, after the play, roughing the DB up pretty good," Finnegan recalled. "He stops the film. With his left hand, he starts pounding the screen. 'This, right here, does not happen.' "
Chris Long played defensive end for the Rams, but he spent countless hours watching film with Cecil. Long also would eat with Cecil at the team hotel. The former safety would tell stories from his playing days.
"I used to love watching Chuck Cecil tape," Long said. "As a player, he embodied all-out intensity. As a coach, he wasn't much different. I made it a point to spend a minute with him before every game to get myself hyped."
McGinnis used the words "intelligence" and "passion" to sum up his former colleague. Cecil played for the Packers while McGinnis coached linebackers for the Chicago Bears. He echoed Long's view that Cecil coached the way he played.
McGinnis also appreciated that Cecil could relate to players with disparate backgrounds and abilities.
"Chuck gets it from all levels," McGinnis said. "He could relate to the first-round draft pick as well as the free agent.
"A lot of great players don't become great coaches, because they think what came easy to them should come easy to everybody."
Nothing has come easy to Arizona's defensive players lately. Can Cecil get through to them?
Evaluation situation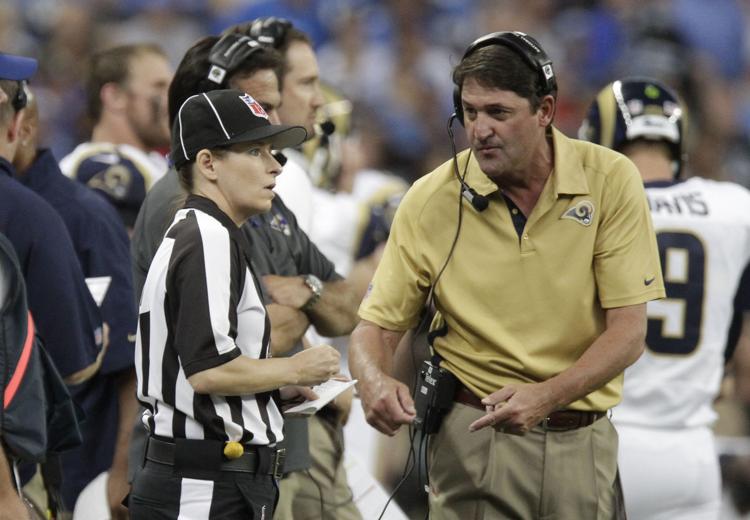 Fisher and McGinnis both began their head-coaching careers as interims — Fisher with the Oilers in 1994, McGinnis with the Cardinals in 2000. They understand how difficult it is to take over a team in the middle of a season.
"It's not an easy task," Fisher said. "There's a reason for the change. In someone's opinion, the job wasn't getting done — whether it was level of play, the production was not there for some reason, there's a mismatch in personnel or there are scheme issues, technique issues, game-planning issues. To be able to correct those things after (six) days or three or four weeks, it's hard to do."
Sumlin made the change at defensive coordinator on the Sunday before Arizona's Nov. 2 homecoming game against Oregon State. Sumlin knew the Wildcats had a bye the following week, a period during which Cecil, theoretically, could get some things done. The UA visits Oregon next Saturday.
Cecil, 55, has not been made available to the media, in keeping with Sumlin's in-season policy regarding assistant coaches. Although they aren't familiar with the inner workings of Arizona football, Fisher and McGinnis know what can be accomplished during a bye week.
Both said Cecil and his fellow coaches will have spent a good chunk of the week self-scouting — trying to determine the Wildcats' strengths and weaknesses, where changes could be made to personnel or scheme.
"He understands this situation is difficult, not only for him, but it's an adjustment for the players too," McGinnis said. "He will have empathy for the whole situation. He will approach it very realistically."
Said Fisher: "He's got to, simply put, evaluate where they are, who he's playing with, make the adjustments and get the guys feeling good about themselves and playing with confidence. And he can do that."
That last part might be the tallest task. The UA defense appeared to be devoid of confidence against OSU. The players' body language on that side of the ball signified frustration and dejection. The Wildcats did not play as if every snap were precious.
Cecil's former colleagues suggested he would take an incremental approach to restore that sense of confidence — showing the players where they needed to get to and the steps required to make it happen.
"It's taking ownership," Finnegan said. "As long as you do your job, that'll be enough. That was probably his first conversation."
Fisher said Cecil is among the most loyal people he has ever known — that he'll devote himself over this final month of the season to supporting his school and helping his head coach and players win games. Whether that would be enough to earn the coordinator job on a permanent basis remains to be seen.
The odds aren't favorable. The Wildcats will be underdogs the rest of the way. Evidence of Cecil's influence could be hard to come by.
"The intangibles Chuck has, you'll never find that on somebody's résumé," Finnegan said. "But you've gotta win. That's the industry he's in."