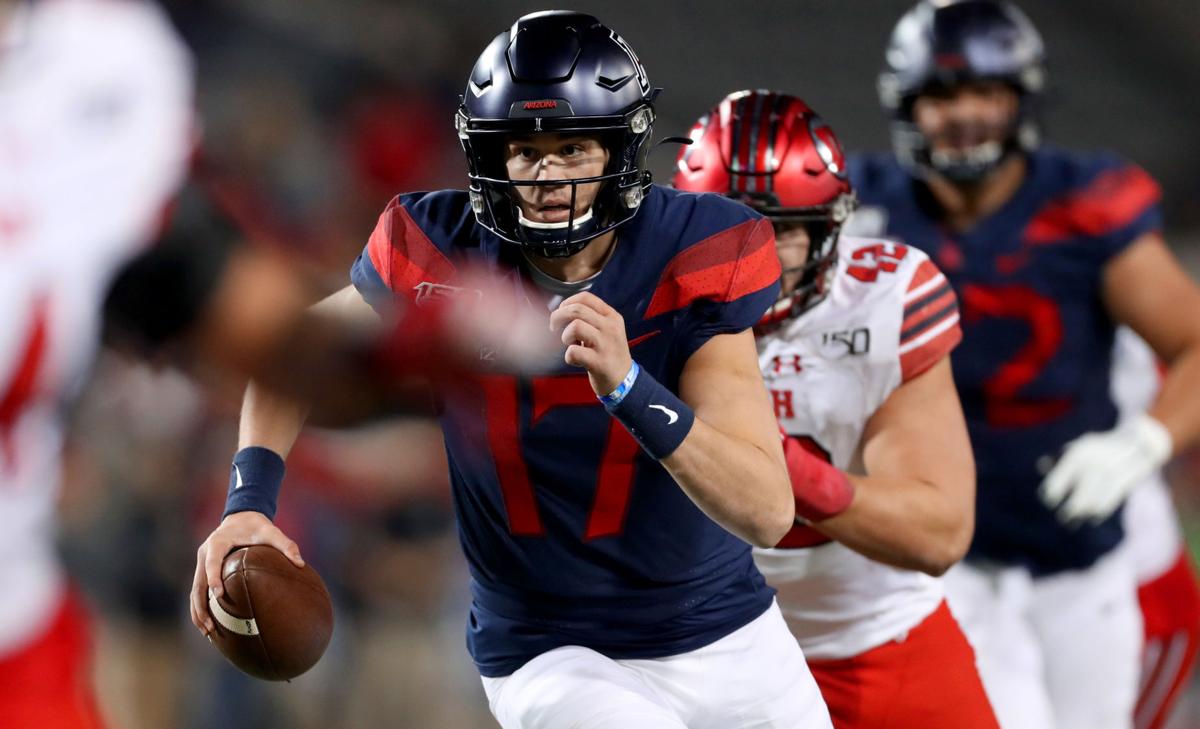 The parents of three prominent Arizona Wildcats said they unequivocally support the idea of their sons playing football this fall — and would sign a liability waiver to ensure that it happens.
Chris Gunnell, the father of sophomore quarterback Grant Gunnell; and Tom Schooler, the father of receiver Brenden Schooler and linebacker Colin Schooler, told the Star their sons want to play this fall despite lingering, widespread concerns about the coronavirus pandemic. Those concerns reached a new level Monday after an ESPN report linked COVID-19 to the heart condition myocarditis in a small percentage of cases.
"I'm not a doctor. I do understand where they're coming from," said Chris Gunnell, a VP of sales for the medical firm Elekta. "But that being said, a large number of kids, parents and coaches feel like the kids are better off where they are than dispersed across the countryside. I believe 100%, at least at the University of Arizona, that they've got the absolute best medical team looking out for their interests."
Grant Gunnell let his feelings be known when he joined the #WeWantToPlay social-media movement Sunday night. Players from across the country — including fellow quarterbacks Trevor Lawrence (Clemson), Justin Fields (Ohio State) and Jayden Daniels (Arizona State) — tweeted their desire to play this fall under certain conditions. They include universal health and safety protocols; the option to opt out (which already exists); guaranteed eligibility; and having a say in key decisions, even to the point of unionizing.
Brenden Schooler, a graduate transfer from Oregon who came to Arizona to play with his brother, tweeted the #WeWantToPlay hashtag Monday, as did a handful of other Wildcats.
"We as parents see no reason why they shouldn't play," said Tom Schooler, who coached his sons in high school and played college football. His wife, Christine, played volleyball in college and is a neonatal nurse.
"We believe they're probably safer where they are," Tom Schooler continued. "Even with kids coming back to campus, they're still so separated from the general population. They're getting tested. They're able to be around the trainers and doctors.
"Every day being around that situation, it's a reminder to them to be smart about what they do and not be the ones who blow it for their teammates. That type of environment is good for younger folks. I think they're fine right where they are."
The Schooler brothers are both seniors in terms of their football eligibility, so this season likely represents their last go-round as college players. Their father has indicated that they probably would train for the NFL draft in lieu of a spring season, an alternative that has been discussed among university and athletic-department leaders.
This season also could be the last chance the Schooler brothers have to play together, so they're extremely motivated to do everything right off the field. The players, who currently are participating in summer workouts on campus, won't be as isolated when the student body returns over the next two weeks.
"Absolutely, that's a concern," Tom Schooler said. "But they could go get it today by going to the grocery store. It doesn't matter where they get it. The fact of the matter is, it can be gotten. You do the best you can to mitigate that.
"You're going to have to leave it up to the players to be smart. With the testing you're going to have, there's less of a likelihood of doing something stupid."
Chris Gunnell said his son is "very careful" and strives to be a role model for his teammates. Chris visited Grant over the weekend and came away sensing that the nucleus of the team is "laser-focused" on the upcoming season.
"This has not been fun," Chris Gunnell said, referring to the restrictions placed upon the players for their safety. "To not get to the fruits of their labor would be very disappointing."
Both dads said they'd be willing to sign waivers absolving the UA of any responsibility if something happened to their sons.
"If you want us to sign a waiver, we'll sign a waiver," Tom Schooler said, adding that he understands and sympathizes with the families that have opted out. One UA player, reserve quarterback Kevin Doyle, has elected not to play this season.
"If you want to sit out, that's fine," Schooler said. "Everybody's got their own reasons for what they want to do.
"My kids want to play. I want them to play. They are willing to make that choice with all the information that has been gathered."
Chris Gunnell said he'd be more concerned about his son getting hurt playing two seasons in 2021 (spring and fall) than suffering a "catastrophic event" related to COVID-19. He added that he's worried about the mental health of the players if there's no season.
"These kids need interaction," Chris Gunnell said. "That's their family unit. They need to be together."
Be the first to know
Get local news delivered to your inbox!