LOS ANGELES — Before Chip Kelly strolled to the stage to conclude the afternoon interview session, no coach at Pac-12 Media Day drew a bigger crowd than Herm Edwards. So many reporters held up their smartphones to record videos that the first-year Arizona State coach wasn't sure where to look.
Edwards found his bearings, adapting to the situation as quickly and easily as he has reacclimated to coaching after almost a decade away from the sidelines.
That Edwards seems at ease as the coach of the Sun Devils might come as a surprise to those who derided ASU's decision to hire him. Skeptics said he was too old (64) and too far removed from the college game (his last gig: DB coach at San Jose State from 1987-89).
It didn't take Edwards long to win over his players.
"He's a man of his word," ASU junior receiver N'Keal Harry said. "He's a very wise man. Everything he says really does stick with you."
Said senior quarterback Manny Wilkins: "The same way he acts with you guys, the same way acts every day — you guys have seen him — he acts the same way with us. I think he's somebody who's true to what he is. He's not worried about what anybody has to say about him."
The players are well aware of the jokes made at Edwards' and ASU's expense — especially after the school framed his addition as the centerpiece of a "New Leadership Model."
"Of course you hear about it, because it's all over social media, it's all around us," Harry said. "But … it's not going to matter when the season starts. Right now, the goal is to prove everybody wrong."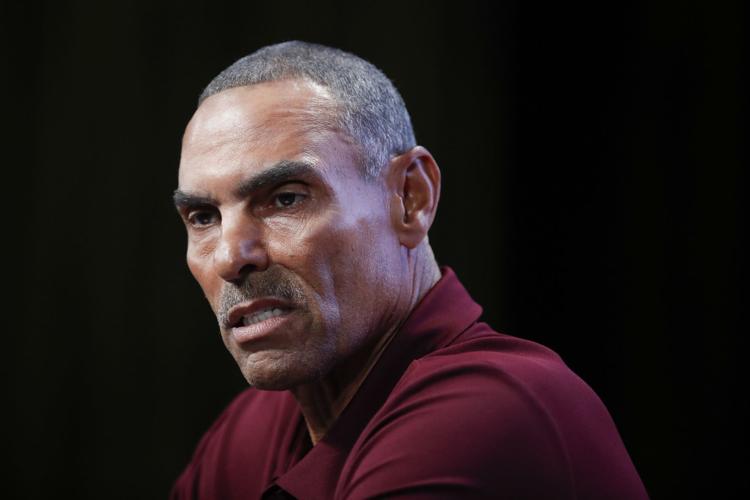 Although he spent most of the past decade in the media, as an NFL commentator for ESPN, Edwards said he was unaware of the reaction to his hiring. Either that or he's choosing not to acknowledge it.
"I don't know what happens in the outside world," Edwards said. "And I'm not saying that to belittle what you guys do. I was in your world. I was in people's homes every night, every morning.
"I don't read it. I don't watch it. I am a football coach. When I'm not a football coach, I'm trying to be the best father I can be. That's what I concern myself with.
"I don't concern myself with the outside elements because the outside elements don't coach the team. I've got to coach coaches and players, and that's my obligation. I've got to stay focused on that."
Edwards already seems to be having an influence. Wilkins has heard all the questions: "Can he do it? Does he still know football?" In response, Wilkins channels his inner Edwards.
"At the end of the day, there's a defense, there's an offense, there's special teams," Wilkins said. "At the end of the day, it's just football."
Chip shots
The last time Kelly appeared at Pac-12 Media Day, he was the coach at Oregon. A lot has changed since 2012.
"When I first came into this league, there weren't many spread offenses and we were the only team that had shiny helmets," said Kelly, now the coach at UCLA. "Now everybody runs the spread offense, and everybody has shiny helmets.
"I think the game itself has changed. So I think you have to change with it. I've had great experience since I left Oregon from a football standpoint. So being in the NFL for four years, and then last year being out and getting a chance to study the game was … I think it will help me."
After a wildly successful run in Eugene from 2009-12 — including three straight conference championships — Kelly became the coach of the Philadelphia Eagles.
He went 10-6 in each of his first two seasons before slipping to 6-9 and getting fired in 2015. A disastrous 2-14 season with the San Francisco 49ers followed, and Kelly again was fired. He spent last year as Edwards' teammate at ESPN, analyzing college football.
"It was my gap year," Kelly said. "I had always talked to our players about getting out of their comfort zone, so that was as far out of my comfort zone as I've been.
"But I worked with really good people. It was a lot of fun. I got a chance to spend a lot of time during the week watching film. Had to break down college tape from different conferences to prepare for games on Saturday.
"So not focusing on one opponent, which you usually do during the week, but focusing on just the overall, taking a macro view of things, was beneficial."
Arizona update
Some news and notes on the Arizona Wildcats:
Coach Kevin Sumlin said sophomore safety Scottie Young Jr.'s status is "still pending." Young was suspended for spring practice.
Although it was reported that he had transferred to Arizona, receiver Keyshawn Johnson Jr. is not on the Wildcats' roster for training camp. Johnson also did not participate in spring ball.
Sumlin is unsure whether offensive lineman Robert Congel, a transfer from Texas A&M, will be eligible this season.
Offensive line is the position that concerns Sumlin the most entering training camp, which begins Aug. 3.
Tailback Gary Brightwell, who hurt his knee during spring practice, is "full speed," Sumlin said.
Tight end Bryce Wolma and his roommate, QB Rhett Rodriguez, each earned 4.0 GPAs last semester, Sumlin said.
Quarterback Khalil Tate said senior receiver Shawn Poindexter joined him for workouts in the L.A. area this summer.
Defensive end Jose Ramirez, who redshirted as a freshman last year, is transferring.