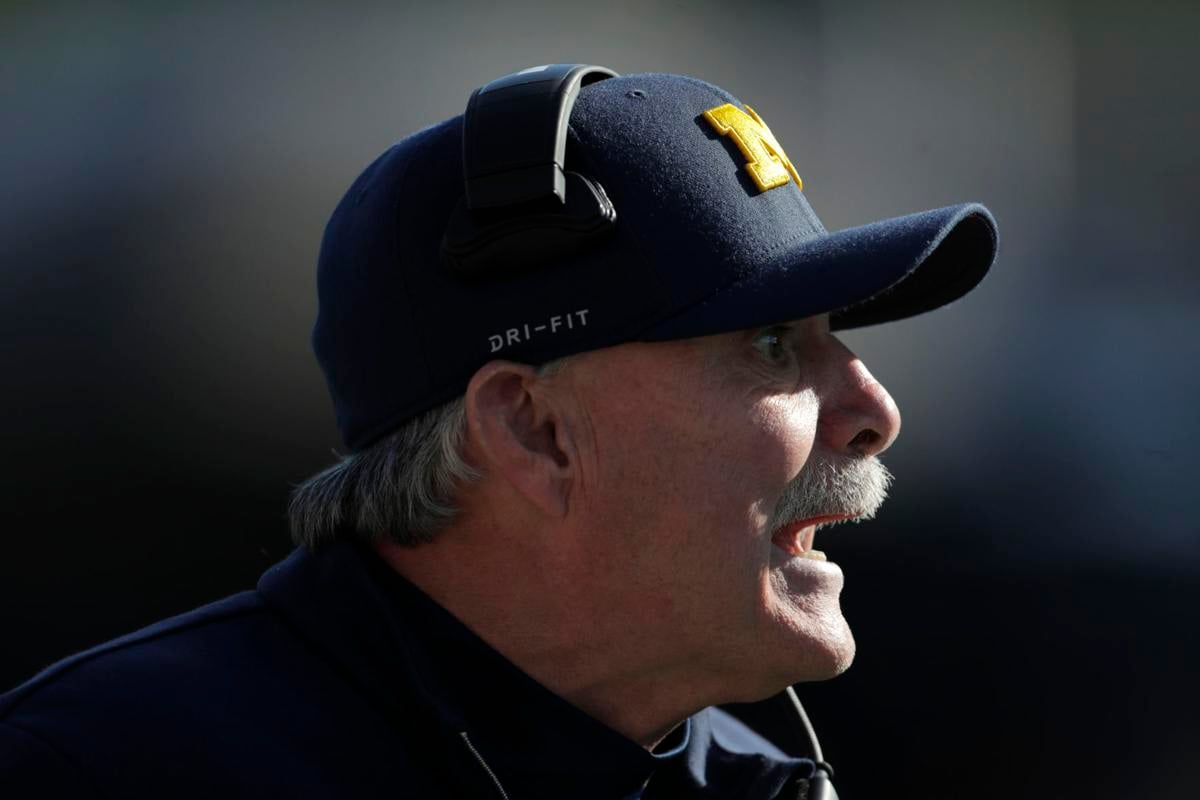 Arizona coach Jedd Fisch needed only one sentence to summarize the impact new defensive coordinator Don Brown could have on the Wildcats.
"Today is a huge day for Arizona football," Fisch said Thursday, "as we have the opportunity to welcome 'Dr. Blitz' to our football program."
Defensive coordinator is the most important hire the offensively inclined Fisch has made so far, and Brown has a sterling résumé that includes six consecutive top-12 finishes in total defense with Boston College and Michigan.
The "Dr. Blitz" reference Fisch dropped alludes to Brown's aggressive style. It's pretty unlikely that the three-man pass rush — an at-times effective ploy used by Brown's predecessors that perpetually frustrated UA fans — will continue to be a staple of the Arizona defense.
With the exception of 2020 — an outlier in so many ways — Brown's defenses at Michigan, Boston College, UConn and Maryland averaged more than six tackles for loss per game for 10 consecutive seasons. Three of those units ranked in the top two nationally with averages of 8.8 per game or higher.
Arizona, meanwhile, has topped six tackles per loss per game only once (2018) in the past six seasons. Whereas Brown's defenses ranked in the top 35 in that category eight times over the past decade, Arizona has reached that level only once – in 2014, when Scooby Wright had 29 TFLs and was the national defensive player of the year.
"Don Brown has coordinated the most elite defenses in all of college football, year in and year out," Fisch said. "I have known Don since 2016, when we worked together (at Michigan), but have respected and admired him as a coach for many years prior. He is incredibly passionate and a phenomenal teacher. He brings an energy and enthusiasm to play an attacking style of defense, one which all former and current players, football alumni and our fan base will be proud of and genuinely excited to watch on Saturdays in the fall."
Brown was fired at the conclusion of this past season, when Michigan fell to 89th in total defense.
Brown, 65, is a five-time nominee and was a 2016 finalist for the Broyles Award, which is annually given to the nation's top assistant coach. Over the past decade, 29 defenders who played under Brown have been selected in the NFL draft.
"I promise to work tirelessly to make our defense into something that our players, alumni and fans can be proud of," Brown said. "My focus will also be to develop our student-athletes so they can play at an elite level and achieve success, which requires dedication, a tremendous work ethic and building great relationships. I can't wait to get to Tucson and be a part of the program Coach Fisch is building."
Arizona has ranked 92nd or worse in total defense for seven consecutive seasons. Brown has proved he can turn around a defense in short order.
At Boston College, Brown's first unit ranked 92nd nationally in total defense. The next two seasons, the Eagles ranked in the top 12.
At UConn, the Huskies climbed from 51st in Year 1 under Brown to ninth in Year 2. At Maryland, the Terrapins ascended from 83rd to 39th.
Prior to those stints as a defensive coordinator, Brown served as a head coach at Plymouth State, Northeastern and Massachusetts. He compiled a 94-45 record.
Arizona did not specify whether Brown would coach a particular position. Fisch has hired Ricky Hunley to coach defensive linemen, Chuck Cecil to coach safeties and DeWayne Walker to coach cornerbacks, so linebackers would be a natural fit for Brown. He coached that position, or shared those duties, at Michigan and Boston College.
The UA has one more on-field slot to fill and could hire a linebackers coach, a special-teams coordinator or some who can do both
WRs Joiner, Wright back
Fisch and his staff have hit the ground running on the recruiting – and re-recruiting — trail.
Wide recievers Jamarye Joiner and Ma'jon Wright recommitted to Arizona on Thursday. Both had been in the NCAA transfer portal.
After meeting with Fisch and new receivers coach Kevin Cummings this week, Joiner, a redshirt sophomore, announced that he will return to the Wildcats.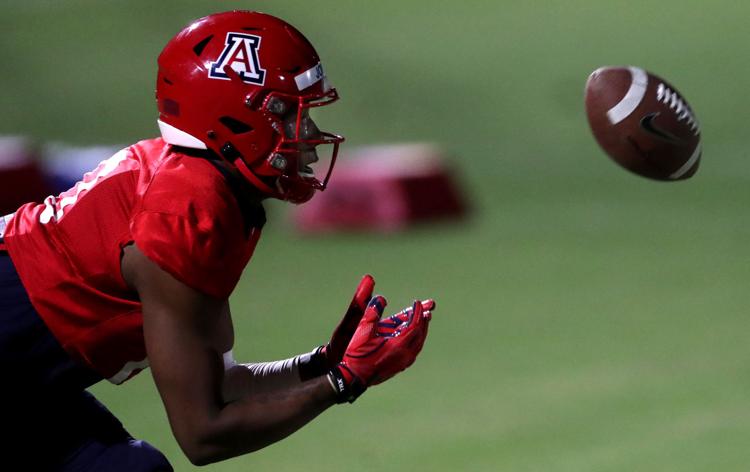 Joiner, who attended Cienega High School, has caught 46 passes for 663 yards and six touchdowns over the past two seasons.
The bulk of Joiner's production came in 2019, which included a 140-yard, two-touchdown performance in the season-ending Territorial Cup. Joiner finished the year with a team-high 552 yards and five touchdowns on 34 catches.
In October, Joiner (6-1, 214) revealed he most likely played the 2019 season with a fractured foot, which he thought was discomfort from his cleats.
Joiner missed Arizona's brief spring practice period after it was discovered the pain in his foot was a Jones fracture — a breakage at the base of the fifth metatarsal. After walking around in a protective boot, Joiner underwent surgery in May, sidelining him for a few months.
Wright was the Wildcats' top freshman in 2020. The Fort Lauderdale, Florida, product ranked second on the team with 15 catches for 176 yards. He has excellent size at 6-2, 197 pounds and displayed an impressive catch radius while climbing the depth chart.
Another veteran receiver, Boobie Curry, also reportedly removed himself from the transfer portal. However, Curry had not made his plans public at press time.
CB commits to Cats
Fisch and his staff landed a newcomer from the portal for the second straight day. The latest addition could be the biggest — and most-needed — one yet.
Former four-star cornerback Isaiah Rutherford committed to the UA via Twitter on Thursday. Rutherford spent his first two seasons at Notre Dame.
The 6-foot, 192-pound Rutherford, who's from the Sacramento area, signed with the Fighting Irish over Alabama, LSU, Oklahoma, Nebraska, Oregon, USC and Tennessee, among others.
Rutherford appeared in three games for Notre Dame this season and did not record any stats.
Rutherford became the latest pickup for the Wildcats through the transfer portal, which Fisch said he would utilize similarly to "free agency."
Rutherford joined former four-star defensive end Jason Harris, Northwestern safety Gunner Maldonado and NU running back Drake Anderson as players to transfer to Arizona since Fisch was hired.
Cornerback is arguably Arizona's greatest position of need, and the Wildcats probably will add more by Feb. 3's National Signing Day.
Lopez to enter NFL draft
Defensive tackle Roy Lopez, who joined the UA program last year as a graduate transfer, announced he is entering the NFL draft.
Lopez, an Arizona native who played his first four seasons at New Mexico State, recorded 18 tackles, including four stops for losses, in five games for the Wildcats. He was the second-highest-graded interior defender in the Pac-12, per Pro Football Focus.
Lopez (6-2, 318) amassed 137 tackles, including 20 TFLs, in 40 games at NMSU before transferring to Arizona.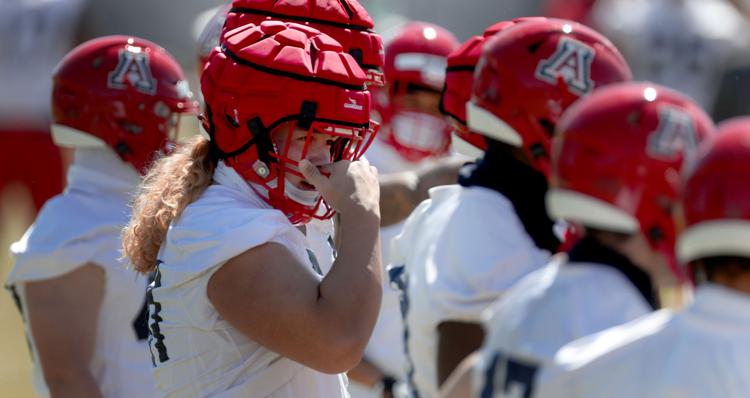 "Beyond blessed to be in this situation and fulfilling a lifelong dream," Lopez posted on Twitter. "Thank you to my family, friends and everyone who has supported me the past five years. The next step is now. God bless."
3 more returning
The Star has confirmed the return of three more upperclassmen whose status for 2021 was unclear at the end of the season.
Seniors Anthony Pandy and Myles Tapusoa will utilize the extra year of eligibility granted to all players by the NCAA because of the coronavirus pandemic. Cornerback McKenzie Barnes, who opted out during the '20 season, also will return to the team.
Pandy, a linebacker, led Arizona with 30 tackles and two interceptions last season. He had 66 tackles, including five TFLs, an interception and a forced fumble in 2019.
After playing inside linebacker by necessity last season, Pandy could move back outside in Brown's scheme, which is expected to be a base 4-3.
Tapusoa (6-1, 345) joined the program as a junior-college transfer in 2019. The nose guard has recorded 19 tackles, including three stops for losses, in 16 games.
Barnes (6-2, 203) has appeared in 19 games over three seasons, recording 12 tackles and two passes defensed.
New analyst
Derron Montgomery, the son of former Philadelphia Eagles running back Wilbert Montgomery, has joined the UA staff as an offensive analyst. He served in a similar capacity at Georgia and was a graduate assistant at Michigan in 2015, when Fisch was on the U-M staff.