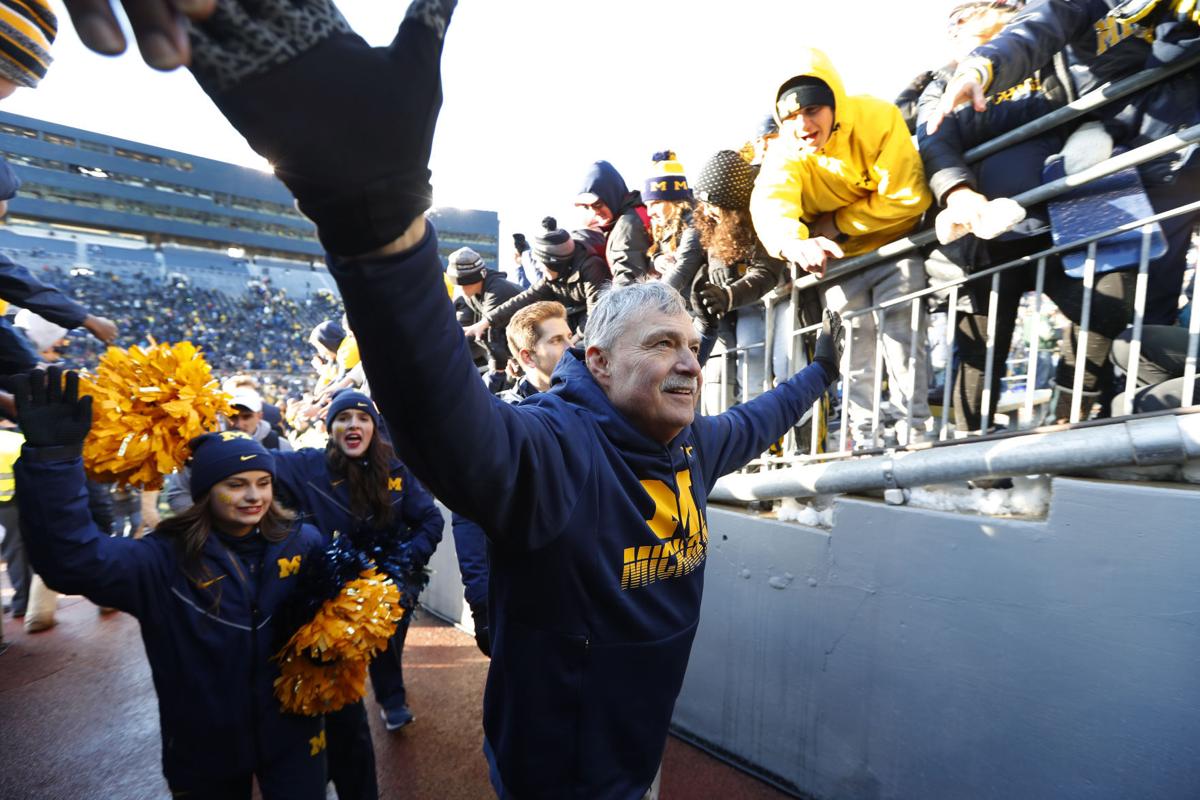 Don Brown is expected to be named Arizona's defensive coordinator, and his track record is a massive departure from anything the Wildcats have produced in recent seasons.
Brown's addition to Jedd Fisch's staff wasn't announced Wednesday, but Fisch revealed that he had gotten his man.
Fisch tweeted an image Tuesday night of an "Arizona Lottery" ticket showing two rows of six numbers. The top row: 14, 15, 16, 17, 18, 19. The bottom: 11, 1, 1, 3, 2, 11.
The second set of numbers corresponds to the national total defense rankings for Boston College and Michigan under Brown in those seasons (2014-19).
Brown, 65, was fired by Michigan last month after the Wolverines slipped to 89th in total defense in 2020. Arizona hasn't finished higher than 89th in total defense — average yards allowed per game — since 2013. The Wildcats were 62nd nationally that year.
Since then, Arizona has had only one ranking inside the top 100 — it finished 92nd in 2018. The Wildcats have been 114th or worse in five of the past six seasons.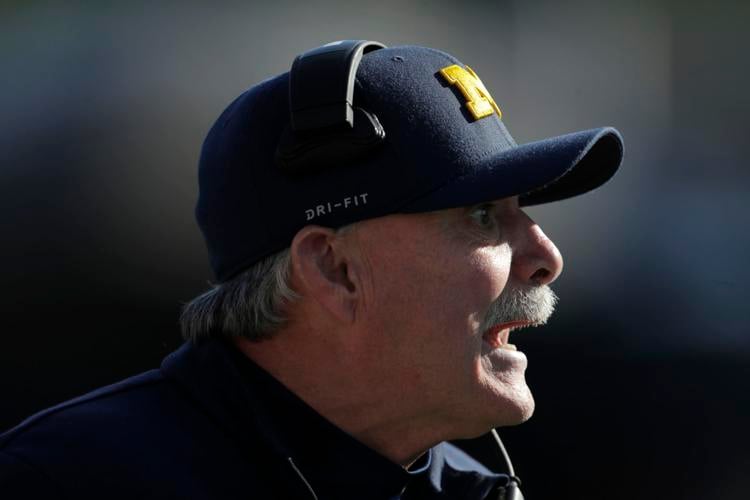 Brown would succeed Paul Rhoads, who came to Arizona in December 2019 but coached only five games at the UA. He dealt with a roster severely depleted by transfers, opt-outs and injuries in the linebacking corps and defensive backfield.
In Brown's first four seasons at Michigan — one of which, 2016, overlapped with Fisch's time in Ann Arbor — the Wolverines twice ranked in the top two nationally in passing defense and third-down defense. Additionally, 43 of 44 defensive starters over those four seasons earned All-Big Ten recognition.
Brown is known for his aggressive schemes, earning the nickname "Dr. Blitz."
Before Michigan, Brown served as the defensive coordinator at Boston College (2013-15), Connecticut (2011-12) and Maryland (2009-10). He was the head coach at UMass (2004-08) and Northeastern (2000-03).
Brown is originally from Spencer, Massachusetts. He began his college coaching career at Dartmouth in 1982.
Brown would join a defensive staff that features Ricky Hunley (defensive line), Chuck Cecil (safeties) and DeWayne Walker (cornerbacks/nickel backs).
Brown could coach linebackers or share that position with another coach. Arizona needs one more on-field assistant to complete Fisch's first staff. If that coach exclusively handles special teams, Brown likely would be in charge of the linebackers.
Jason Harris to join brother at UA
Former Colorado linebacker Jason Harris, a Gilbert Higley High School product and brother of current Arizona linebacker Jalen Harris, said Wednesday night that he will transfer to the UA.
The 6-foot-7-inch, 240-pound Harris is the son of "Desert Swarm"-era linebacker Sean Harris and ex-Arizona women's basketball player Cha-Ron Harris. He is the third transfer to join the Wildcats since head coach Jedd Fisch's hiring, joining Northwestern running back Drake Anderson and safety Gunner Maldonado, both of whom are also Phoenix-area natives.
Harris was initially recruited by Kevin Sumlin's staff for 2020 class, but the four-star prospect spurned the UA for Colorado. Buffaloes coach Mel Tucker accepted the same position at Michigan State following Harris' commitment.
Walker welcomed
Arizona officially welcomed Walker to the staff Wednesday.
Fisch noted that their careers overlapped in 2013 and '14, when both were coaches with the Jacksonville Jaguars. Walker has coached 14 seasons in the NFL with New England, the New York Giants, Washington Jacksonville and Cleveland.
"Coach Walker and I have known one another since 2004," Fisch said in a news release. "He is a fantastic coach and person who understands the importance of being smart, tough and fundamentally sound. By adding DeWayne to our program, we have added incredible experience and a great resource for our student-athletes and coaches."
Walker, 60, was the head coach at New Mexico State from 2009-12. He was the defensive coordinator at UCLA from 2006-08.
Walker worked under Pete Carroll in New England (1998-99) and at USC (2001). Carroll's son, Brennan, is the Wildcats' new offensive coordinator and offensive line coach.
"This is a great opportunity for me to work with Coach Fisch as part of his coaching staff at Arizona," Walker said. "We talked about him eventually becoming a head coach of his own program while we were together with the Jaguars, and it's a special moment to see that dream come to fruition.
"I believe this is where I belong, because coaching and developing young men in the college game is where I started and it's my passion. I can't wait to get to Tucson to coach alongside Jedd and his outstanding staff to work with the young men in the program to be successful on the field and in life after football."
Walker is originally from Los Angeles and began his coaching career at Mt. San Antonio College in 1988.
Walker and Cecil were both named defensive backs coaches for Arizona. However, Walker is expected to work with the cornerbacks and nickel backs, while Cecil works with the safeties.
Blackwell, others back
Veteran help is on the way for Brown, Walker and the other new coaches.
Senior defensive tackle Aaron Blackwell will return to Arizona for the 2021 season.
Blackwell joined the Wildcats as a graduate transfer from New Mexico last year. He is taking advantage of the NCAA ruling that grants all players an extra year of eligibility because of the coronavirus pandemic.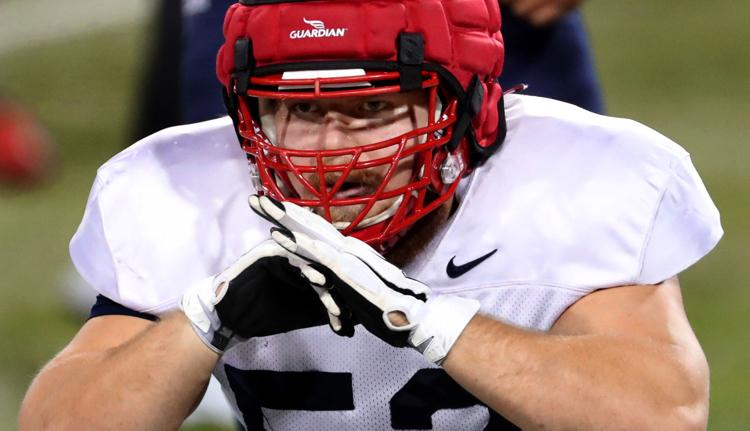 The 6-foot-2-inch, 293-pound Blackwell was credited with six tackles, including two stops for losses, in five games.
On Tuesday, two other veteran defensive linemen, Trevon Mason and JB Brown, confirmed that they also will be returning for the '21 season.
The Star has learned that five other players whose status was up in the air will be coming back for 2021: center Josh McCauley, tight end Bryce Wolma, safety Christian Young, cornerback Malik Hausman and defensive lineman Jalen Cochran.
Like Blackwell, veterans McCauley, Wolma and Cochran fall into that "super senior" category of players who are taking advantage of the extra year of eligibility.
McCauley and Wolma are multiyear starters. McCauley started all five games last season despite missing most of training camp because of a knee injury. Wolma hasn't been utilized in the passing game much since his freshman season but should have more opportunities in Fisch's offense. Cochran has been plagued by injuries but showed flashes of potential when healthy for a stretch in 2018.
Young and Hausman opted out during the 2020 season, when both dealt with injuries. Young, a junior, appeared in only one game after recording 39 tackles in 23 contests over the previous two seasons. Hausman, a redshirt junior, has appeared in 10 games over the past three seasons, recording five tackles.