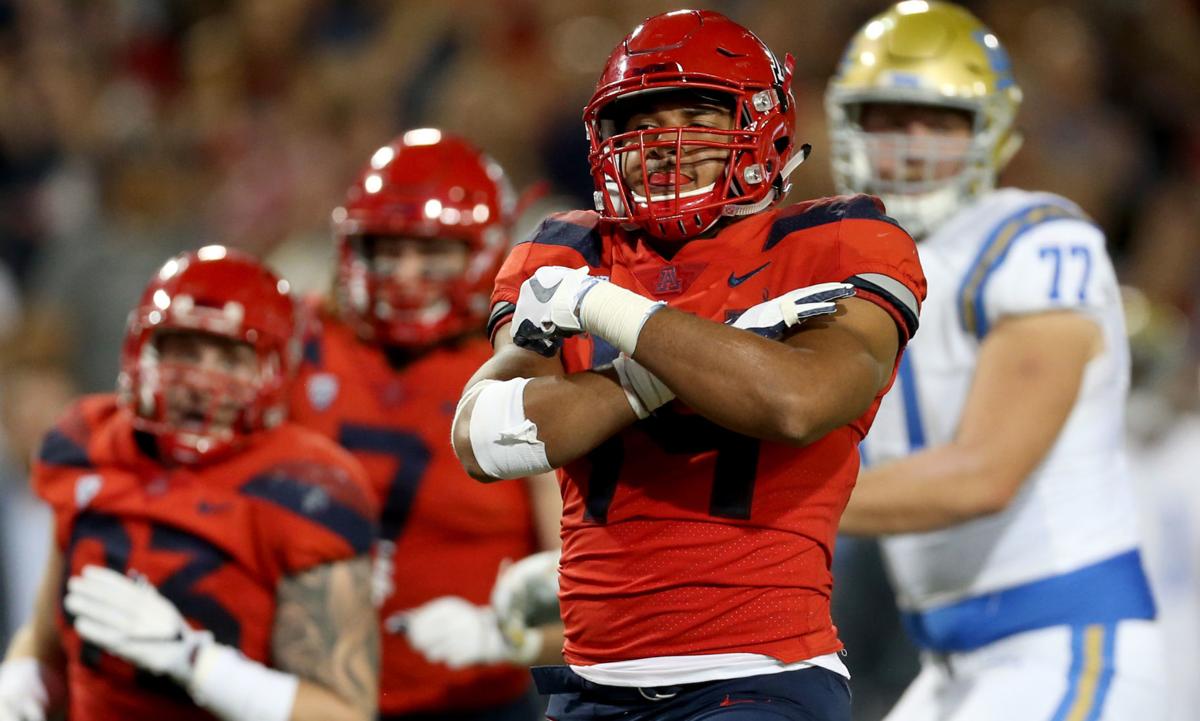 Another veteran Arizona Wildcats defensive player is leaving the program.
Senior edge rusher Kylan Wilborn announced Monday that he is entering the NCAA transfer portal.
Wilborn earned Freshman All-America recognition in 2017, when he and classmates Tony Fields II, Colin Schooler and Scottie Young Jr. piled up big numbers and established themselves as the foundation for a rebuilding UA defense. Now all four are gone.
Fields and Young transferred to West Virginia earlier this year. Schooler transferred to Texas Tech to try to play this fall when it appeared the Pac-12 Conference wouldn't. All four players were recruited by former coach Rich Rodriguez and his staff.
"I want to thank the city of Tucson and the University of Arizona for three years of growth," Wilborn tweeted. "Being a Wildcat has been an absolute privilege and learning experience."
Wilborn said he is departing as a graduate transfer, meaning he'll be eligible to play immediately. Whether he can find a landing spot for 2020 remains to be seen.
The SEC, Big Ten and Pac-12 have yet to start their seasons. The SEC is kicking off this week. The Big Ten is launching Oct. 24. The Pac-12 is expected to lift its postponement and begin Oct. 31 or Nov. 7. An announcement is expected Thursday.
Wilborn hasn't used a redshirt year, so he also could sit out this season and play elsewhere in 2021.
Wilborn (6-2, 252) compiled 54 tackles, 13.5 stops for losses (including 9.5 sacks) and five forced fumbles in three seasons. But most of that production came during his freshman year.
Wilborn had 33 tackles, 9.5 TFLs, 7.5 sacks and four forced fumbles in 2017. Over the past two seasons, he had 21 tackles, four TFLs, two sacks and one forced fumble.
Wilborn hurt his shoulder during the 2017 Foster Farms Bowl and was never quite right the following season. His role diminished further last year.
The transfers of Fields and Schooler, the Wildcats' starting inside linebackers, created a void at the position that Wilborn's departure only will exacerbate.
Wilborn's transfer leaves Arizona with six scholarship players who are listed as linebackers on the recently updated online roster. That's not an ideal number for a team that's supposed to be transitioning to a 3-4 front. And one of those six, freshman Jabar Triplett, is recovering from an Achilles' injury.
Redshirt freshman Eddie Siaumau-Sanitoa, who is listed as a defensive lineman, could be a candidate to play outside linebacker. Arizona also has seven walk-on linebackers listed on the roster; redshirt sophomore Dante Smith is one who could have a larger role than expected. The dearth or linebackers could force new defensive coordinator Paul Rhoads to alter his scheme.
Reinforcements are coming in the class of 2021, which features at least five players projected to play linebacker. But that won't help the Wildcats if/when the delayed 2020 season begins.
Contact sports reporter Michael Lev at 573-4148 or mlev@tucson.com. On Twitter @michaeljlev
Be the first to know
Get local news delivered to your inbox!