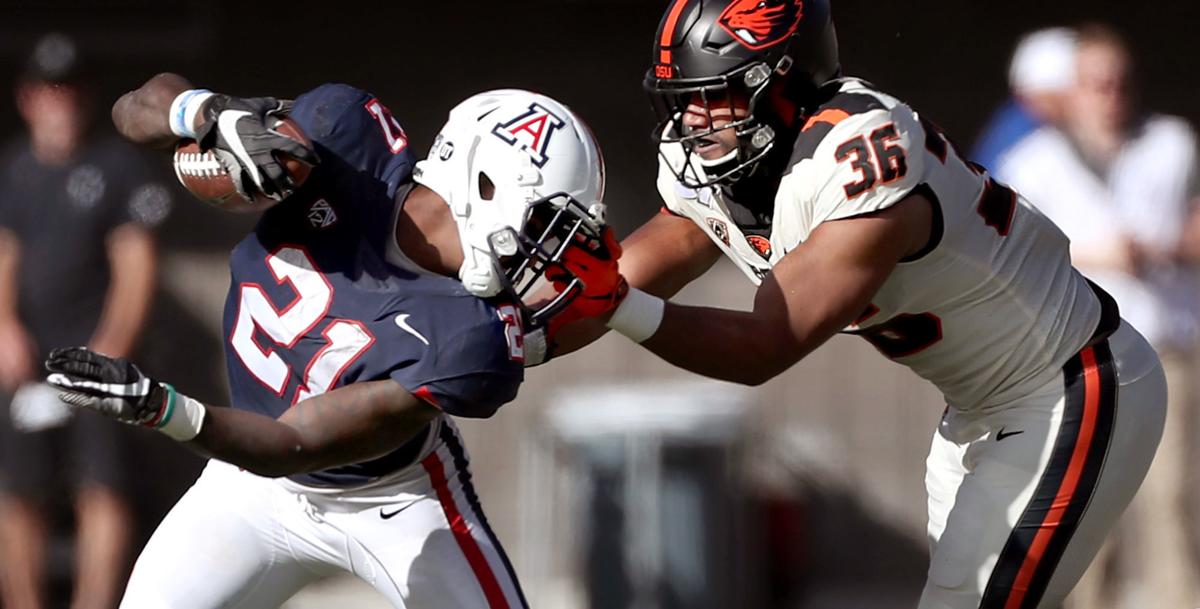 The score didn't matter to J.J. Taylor.
The Arizona Wildcats trailed Oregon State by 18 points in the fourth quarter Saturday afternoon, but Taylor was still giving his all. If he had to run over an OSU defender to gain an extra yard or two, that's exactly what he did.
The Cats lost to the Beavers 56-38. Taylor led Arizona in rushing, receiving and effort.
"The mindset is to never give up," the redshirt junior said. "I don't care what the score is. If we're up by 50 or down by 50 or if it's a tie game, it doesn't matter. You have to play. You have to have love for the game and give it everything you got."
Taylor carried the ball 21 times for 78 yards and two touchdowns. He notched career highs with seven catches for 89 yards.
His facemask got twisted multiples times. He trucked multiple OSU defensive players. Even on a last-gasp third-and-8, when the game was all but over, Taylor gained 18 yards on an outlet pass from Grant Gunnell.
"His effort was phenomenal," UA coach Kevin Sumlin said. "He's a leader by example. He ran hard. He made guys miss. He caught balls.
"With the issues we were having health-wise on our offensive line, I thought his performance was outstanding."
Sumlin said Taylor's plays in the second half were the sort he could show his struggling team. The way Taylor performed is the way Sumlin would like everyone to perform.
"He plays like that all the time, regardless of score, regardless of situation," Sumlin said. "That's who he is. You want to have a hundred of those guys on your team."
OL injuries
Arizona's offensive line already was missing one of its best players entering Saturday. Then two more starters went down — on the same play.
After Gary Brightwell rushed for 9 yards to the OSU 6-yard line in the first quarter, two UA linemen lay prone on the turf. Center Josh McCauley and right guard Bryson Cain — starting for the injured Cody Creason — had to be helped off the field.
McCauley, who hasn't missed a game since becoming the starter last season, did not return. He had an ice pack on his right knee.
Cain, a part-time starter since last year who has battled injuries throughout his UA career, tried to come back but couldn't continue. He had his left ankle wrapped by trainers on the sideline. Steven Bailey replaced McCauley. Jon Jacobs subbed for Cain.
Arizona also had to use freshman Jordan Morgan when left tackle Donovan Laie missed some snaps. It was Morgan's fourth appearance of the season, putting right at the threshold to preserve his redshirt.
"Every series it was like a different group in there," Sumlin said. "We had guys coming on and off.
"We had some times where we just got flat beat. Physically, it was an issue with some guys being able to move. But it gave some opportunities to get some other guys in there. Those guys went in there and battled."
Creason missed his third consecutive game because of an unspecified lower-body injury.
Extra points
Bobby Wolfe dressed and played after sitting out last week's game against Stanford because of what Sumlin termed an "internal" matter.
Former Arizona center Nathan Eldridge, who grad-transferred to Oregon State in the offseason, dressed but did not play. He has been out since early September because of an ankle injury.
OSU tailback Jermar Jefferson
, who also has been battling an ankle injury, returned to the lineup and rushed for 105 yards. Teammate
Be the first to know
Get local news delivered to your inbox!