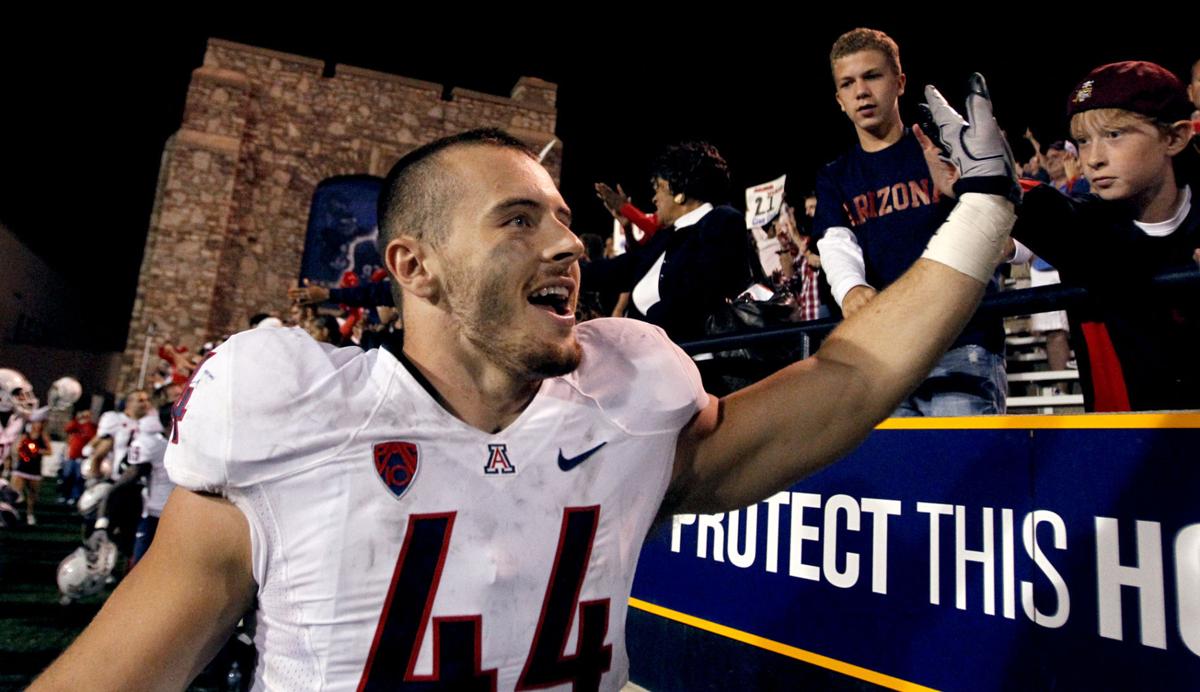 Jedd Fisch has plans to leave his own stamp on the Arizona football program. At the same time, he's embracing the Wildcats' history.
UA legends Chuck Cecil and Ricky Hunley, arguably two of the best defensive players in program history, are on Fisch's first on-field staff. Tedy Bruschi, who had breakfast with Arizona's new leader the morning after Fisch was named head coach, is now a senior advisor for the prorgram. Brandon Sanders is a support-staffer.
Fisch's connections to ex-Wildcats extend beyond his coaching staff. Ricky Elmore, a three-year starter from 2008-10, has spoken to Fisch multiple times since Arizona's spring game.
Elmore joined The Star's Justin Spears on ESPN Tucson's "Spears and Ali" last week to discuss his relationship with Fisch, his favorite memories at Arizona and what it was like being teammates with Rob Gronkowski:
What's your first impression of the new coaching regime?
A: "I think the coaching staff has done a wonderful job of building hype and getting people excited. We were actually spending some time with Jedd Fisch in San Diego, and I got a chance to sit down with him and talk to him about what's going to happen this year and what he's excited about. When you look at this football team, everybody's young and has an opportunity to make their name. When you're coming in as a young college athlete, that's what you want — you want opportunity, and there is so much opportunity on this team right now, which is great, because everyone can compete and iron sharpens iron; that's only going to make people better. Everyone, including myself, is very excited for this group."
What's the impact of Fisch having an open-door policy for former players?
A: "I'll tell you what: My last season was in 2010 and there have been a few coaches since then, but none are like Coach Fisch. Nobody's done what Coach Fisch has done. I've probably been on 10 Zoom calls with Coach Fisch, spent time with him at multiple events in person. I've spent more time with Coach Fisch than all the other coaches combined since my time there, so I think he's doing a lot of great things. He hit the ground running and the community loves it, the alumni love it — and if you look at what he's done for the players, I know the players love it as well. He's doing all the right things."
After talking to him in-person, what stands out?
A: "He comes with a really great background. He has experience with some of the best coaches in our game, and I think when you're a young player, you want to be around someone with that experience, who has those contacts. Because for a lot of players, college is a stepping spot to their ultimate goal, which is being in the NFL. Not everybody will do that, but when you have a head coach with that kind of experience and that type of connection, the players get super excited. But looking at what he's done compared to what other coaches have done — I mean, he's got players over at his house, he's building that family atmosphere, that's something a lot of coaches miss out (on) and don't do, and he's done a good job of doing that."
What was unique about your time at the UA?
A: "I look back and reminisce, but it was a great opportunity for myself and I was fortunate enough to play a few years after college. But Mike Stoops and Mark Stoops, I liked playing for them. They kept us on the edge of our seats, they kept us all super-accountable, their hearts were on fire every single day. Unfortunately, we were a couple plays away from playing in a Rose Bowl, but those guys went to war every single day; it didn't matter if it was practice or film on Sunday. Those guys were maniacs, but they kept all the guys on the team on the edge of our seats so we could play at our full potential."
If you could change one outcome of the 2009 season, what would it be?
A: "Everyone knows about the Washington call that was bad."
The game where Nick Foles' bubble-screen pass grazed Delashaun Dean's foot and the ground, and the ball was caught by Washington's Mason Foster for a touchdown and was ruled an interception instead of an incomplete pass?
A: "Yeah! But you don't want to get stuck thinking like that. If you want to go to the Rose Bowl, you don't want to be one play away. There's a lot of things we could've done better that year. When I first came to the U of A, we were a 4-8 team. So, just what we had done in those last three years, going to three consecutive bowl games, every season was at least eight or nine wins. I don't look back and have any regrets, you just can't look at it like that. It was a complete bummer, because everyone wanted to go to the Rose Bowl and that's what everyone always talked about. We were so close! We had a lot of great athletes. We had Nick Foles, Rob Gronkowski, Brooks Reed, D'Aundre Reed, Eben Britton, there were just so many NFL athletes on those teams. We had the talent, we were just a couple plays."
What was it like being teammates with "Gronk?"
A: "Whenever I think of Gronk, I think of the opportunity I had to play against him every day in practice. He made me a better football player. I really didn't know who he was until we did run-defense versus run-offense, and that's when I knew that guy was the real deal. He's everything as advertised. He's crazy, he's fun, he likes to have a good time, but when he gets on the field, you better raise your game. Most tight ends don't like to block. Rob was a great blocker and a great receiving tight end as well. I've played against Vernon Davis and some other guys, but Rob would just smash you. It was different. He was a great athlete and made everyone better."
When Gronkowski was a freshman, how different was he compared to the others?
A: "Uh, he's a man-child. There's guys that go in there and they're physically — he was just on a different level. He was at an elite level. It took two guys to stop him. He could bury a defensive end or a defensive tackle, or go to the second level and block linebackers, because he had the speed and coordination to do that. He was just on his own level."
When you look back at your time at Arizona, what was the highlight moment for you?
A: "Beating (Arizona State) at ASU my junior year was a lot of fun. There was a dropped punt, we recovered and ended up beating them late in the game. Another one is beating Oregon my sophomore year on national TV, when (ESPN's) Lee Corso said we had the same percent chance of winning as rain in Tucson that night; there was a 5% chance of rain. We won and it rained that night. Cool stuff like that. Now that I'm 10 years removed and I see all the guys I went to war with all the time, having those relationships while we all have families and careers is what I cherish the most now."
Contact sports producer Justin Spears at 573-4312 or jspears@tucson.com. On Twitter: @JustinESports