Expectations outside the Lowell-Stevens Football Facility are not as high in 2019 as they were a year ago.
With Kevin Sumlin joining forces with Khalil Tate, some thought the Arizona Wildcats could win the Pac-12 South. They fell well short, finishing 5-7 and lowering the bar for 2019.
The Wildcats — whom the media picked to finish fifth in the six-team South Division this year — don't mind being underestimated. They're used to it, and they kind of like it.
"Everybody's overlooking us, as always," senior receiver Cedric Peterson said. "It's a motivation thing. Just keeps us pushing it. Little chip on our shoulder."
The truth is, Arizona should be better this season. The players and coaches are more familiar with each other a year removed from last year's sudden change at the top. Tate is healthier and more comfortable in Noel Mazzone's offense. The sophomores who played key roles in 2018 are now upperclassmen. And depth has improved at multiple positions.
Whether that translates to a better record remains to be seen. The Wildcats' conference schedule features five road games. Stanford and Washington, meanwhile, rejoin the rotation.
Here's a closer look at the 2019 UA roster: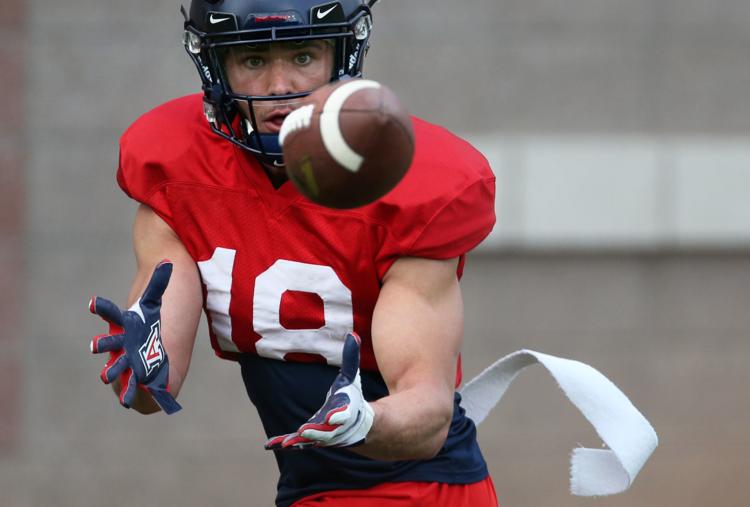 Offense
Tate returns for his senior season after a bumpy 2018. While achieving career highs in passing yards (2,530) and touchdown passes (26), he struggled to stay healthy and never looked completely comfortable in Mazzone's system.
Tate impressed the coaches with a more serious approach to the offseason and seems poised for a bounce-back campaign, especially as a runner.
If Tate should get hurt or falter, freshman Grant Gunnell might be next in line. After setting multiple Texas high school records, Gunnell enrolled in January and climbed the depth chart in training camp. He has the look of a future star.
Tate and Gunnell have different playing styles; the constant in Arizona's offense is the ground game. The Wildcats have led the league in rushing three straight seasons. Well-rounded redshirt junior J.J. Taylor (1,434 rushing yards) leads a deep corps of running backs. Arizona has at least four backs the coaching staff trusts, possibly five. Expect running and play-action to be the foundation of the offense.
Arizona lost four of its top five pass catchers. Peterson is the only returning wide receiver with any meaningful experience. But the group has more size and upside than last year's unit. Converted quarterback Jamarye Joiner made a quick transition to receiver and could be on the verge of a breakout. Fellow slot receiver Brian Casteel is another bounce-back candidate after missing 2018 because of injury. Another ex-QB from Tucson, Drew Dixon, is one of several young, big-bodied wideouts vying for snaps on the outside opposite Peterson.
Junior tight end Bryce Wolma has appeared in 25 games with 14 starts. He hopes to be more involved in the passing game after recording only five receptions last season.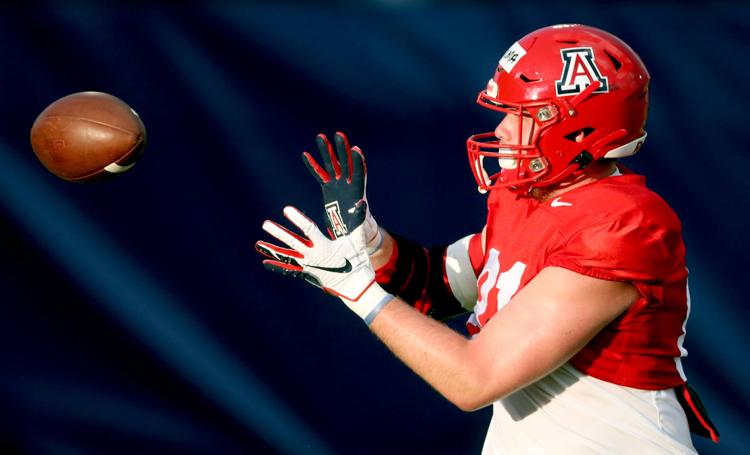 Wolma has worked hard to improve as a blocker. The offensive line as a whole features three returning stalwarts and two question marks. The three known commodities are left tackle Donovan Laie, center Josh McCauley and right guard Cody Creason.
Laie started all 12 games as a true freshman, primarily at right tackle. McCauley went from walk-on to irreplaceable starter. Creason can play any position besides center. Left guard and right tackle were still being sorted out as the Wildcats broke camp.
One of Arizona's overarching goals on offense is to improve in the red zone, where the Wildcats ranked 11th in the Pac-12 with a touchdown rate of 51.1%.
Defense
The UA defense has made moderate gains in three seasons under Marcel Yates but has yet to break through into the upper half of the Pac-12. So the pressure is on Yates in Year 4.
Despite losing massive defensive tackle PJ Johnson to the NFL, the defensive line should be better and deeper in 2019. Arizona shored up the interior by signing junior college tackles Trevon Mason and Myles Tapusoa, who should have significant roles in the rotation. Junior JB Brown, who tied for the team lead with 3.5 sacks last season, can play inside or outside. Fellow third-year pass rusher Jalen Harris, blessed with ideal length and impressive quickness, is perhaps Arizona's biggest breakout candidate.
If junior Kylan Wilborn can recover some semblance of his freshman form, the Wildcats could have a consistent pass rush for the first time in years.
Junior linebackers Colin Schooler and Tony Fields II provide a steadying presence in the middle of the field.
Schooler led the Wildcats with 119 tackles and ranked second in the Pac-12 with 21.5 stops for losses. He is the undisputed quarterback of the defense.
Fields, who has started 25 straight games at the UA, has compiled 193 tackles and seven sacks in two seasons.
Both players slimmed down this season to improve their quickness and stamina.
There's little drop-off from the starters to top backup Anthony Pandy, who could have an expanded role in certain packages.
Senior cornerback Jace Whittaker returns after missing almost all of last season because of injuries. Arizona missed his smarts and toughness. Redshirt junior Lorenzo Burns wasn't as effective without Whittaker on the opposite side but had a quietly impressive training camp.
Depth is much improved at corner with the emergence of sophomore McKenzie Barnes and the arrivals of freshman Christian Roland-Wallace and transfer Samari Springs. The days of Whittaker and Burns playing 75 snaps a game should be over.
Junior free safety Scottie Young Jr. is yet another breakout candidate after his first full offseason with the program. Senior Tristan Cooper plays with an edge at the Spur safety spot. Sophomore Christian Young, who flashed as a freshman, takes over for Demetrius Flannigan-Fowles at Bandit.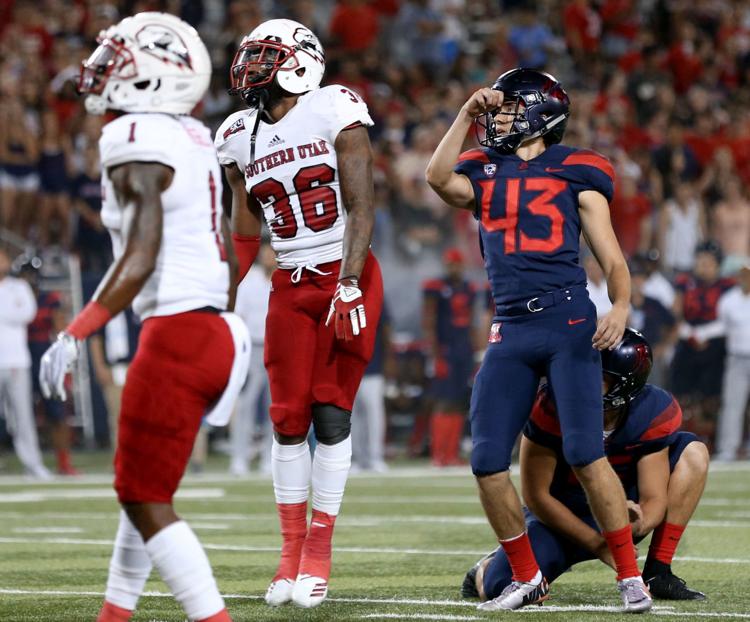 Special teams
Sumlin invests significant practice time on special teams, which were a mixed bag a year ago.
Junior Lucas Havrisik takes over as the full-time place-kicker after making 6 of 11 field goal attempts last season. Havrisik had a strong offseason, and he has a powerful leg. He ranked ninth among FBS kickers with a touchback rate of 81.1%.
Matt Aragon will take over as the starting punter. Despite being a fifth-year senior, Aragon has minimal experience, having appeared in only one career game three years ago. However, the former part-time receiver devoted his full attention to punting in the offseason and made tremendous strides, according to special teams coordinator Jeremy Springer.
Taylor doubled as the kickoff returner last season and averaged 24.5 yards per return with one touchdown. The Wildcats don't have an obvious successor to Shun Brown at punt returner, but Springer seemed confident in the pool of candidates coming out of training camp.