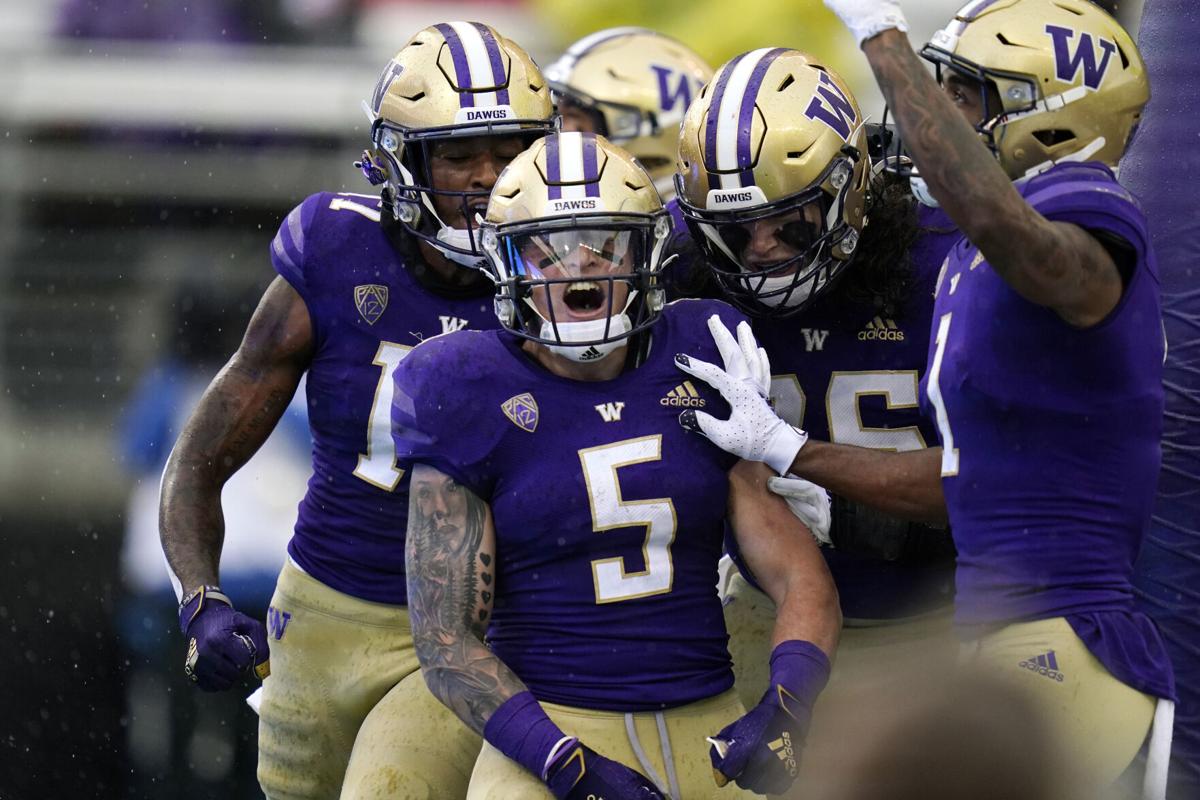 WASHINGTON AT ARIZONA
TIME: 7:30 p.m. TV: ESPN2
RADIO: 1290-AM, 107.5-FM
Preview and predictions by Michael Lev
---
All about Washington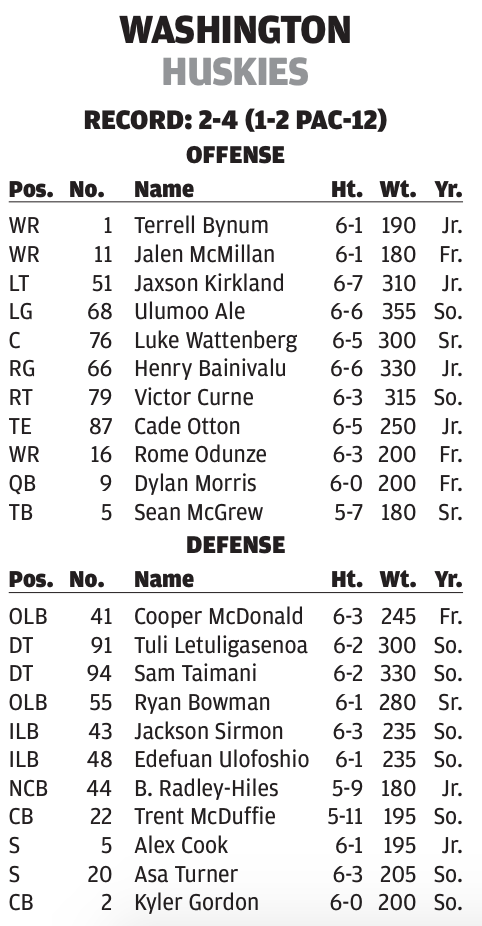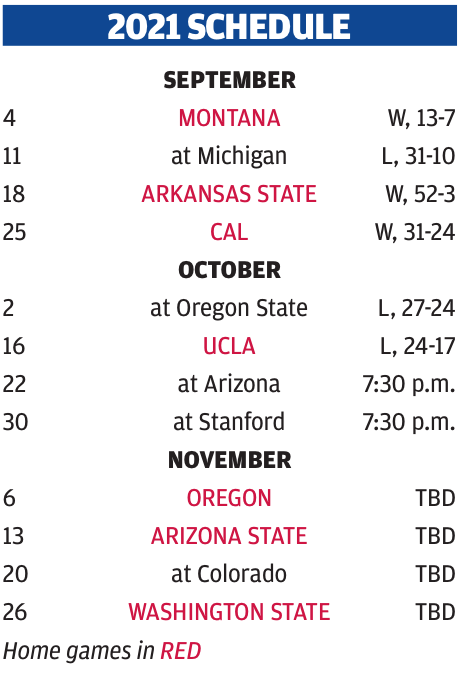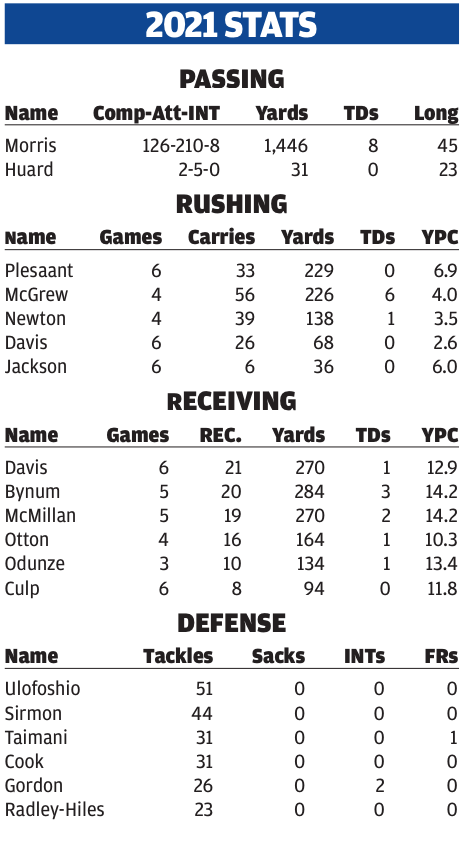 ---
All about Arizona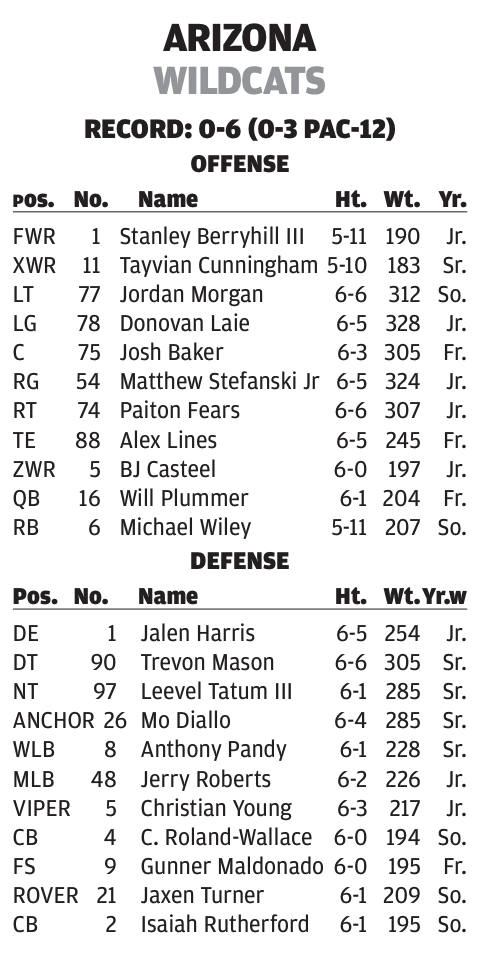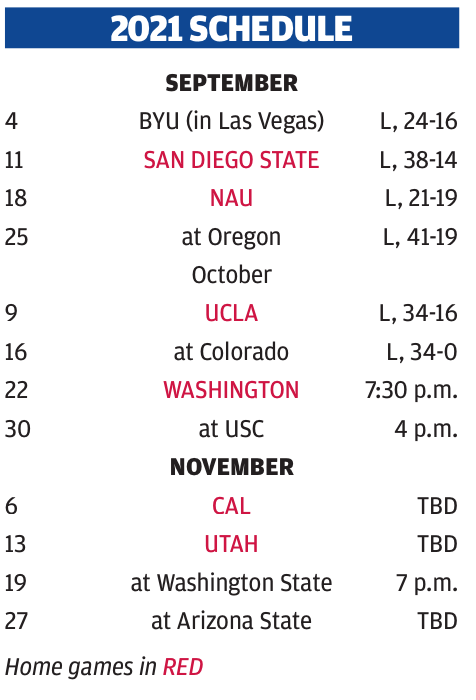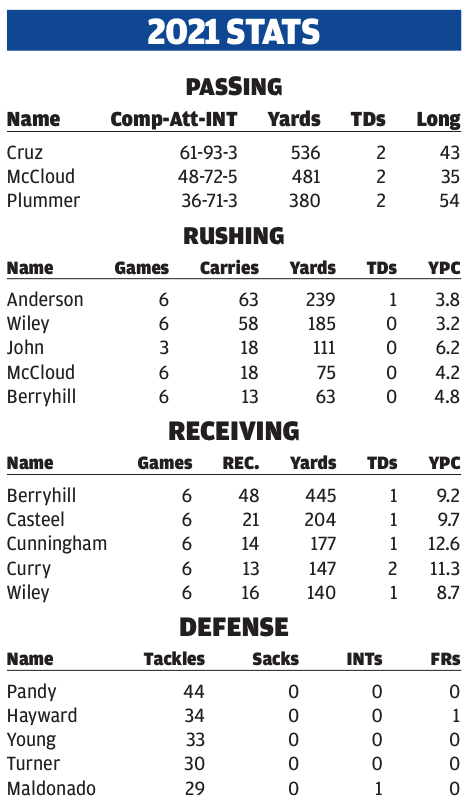 ---
Matchups to watch
HEAD TO HEAD
5 Sean McGrew vs. 8 Anthony Pandy
The Huskies use a committee approach at RB, but when it comes to scoring, McGrew is the guy. His six touchdowns represent a third of UW's team total. McGrew had 13 carries for 106 yards vs. Arizona in 2019. He had a TD in last year's meeting.
Pandy has been the most consistent presence in the Arizona LB corps for two seasons. He leads the Wildcats in tackles and has played the most snaps among front-seven players. The best way to attack him is in pass coverage (team-high 13 receptions against, per Pro Football Focus).
55 Ryan Bowman vs. 74 Paiton Fears
Bowman is tied for second on the team with two sacks, but that doesn't tell the full story. PFF credits him with a team-high 14 QB pressures, including 10 hurries. Bowman is listed as an outside linebacker but is essentially a rush end at 280 pounds.
Fears has improved in his third season as a Wildcat, becoming one of Arizona's most durable and dependable linemen. He's still vulnerable at times, though, yielding a time-high 14 pressures, per PFF. With injuries decimating the QB room, it's essential for Arizona to keep Will Plummer upright.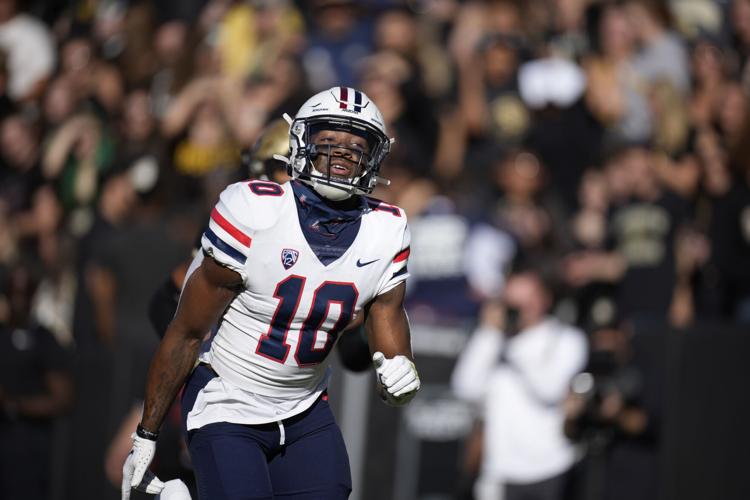 ---
When Washington has the ball …
Despite a veteran-laden offensive line, the Huskies have struggled to move the ball. They rank in the bottom third of the Pac-12 in scoring, total offense and rushing. UW is averaging 66.3 fewer yards on the ground per game this year (111.0) vs. last year (176.3). Meanwhile, QB Dylan Morris has the most interceptions (eight) in the conference. The Wildcats can't let another struggling quarterback find his form against them, as Colorado's Brendon Lewis did last week.
When Arizona has the ball …
The QB carousel has stopped at Plummer, by default; the other two scholarship passers, Gunner Cruz and Jordan McCloud, are out for the season. Plummer has been the most aggressive of the three but needs to improve his accuracy (50.7% completion rate) and decision-making (2-3 TD-INT ratio). Arizona's best bet to move the ball is to rely on the run game. The Huskies rank 10th in the Pac-12 in run defense (189.2 ypg). They're first in pass defense (153.2).
---
Prediction: Washington 23, Arizona 17
The Huskies are vulnerable. They have struggled to score (17.8 ppg against everyone but Arkansas State), and they don't have an elite quarterback. But you could say all the same things about Colorado, and how did that go? Any chance of Washington looking past Arizona disappeared when UW lost to UCLA for its second straight defeat. It's hard to back the Wildcats against anyone until they get consistent play at quarterback. McCloud was providing it. Can Plummer? 
Contact sports reporter Michael Lev at 573-4148 or mlev@tucson.com. On Twitter @michaeljlev