Field pass: Matchups, starters and stats to know for Arizona-Houston
Star reporter Michael Lev breaks down key matchups, strategy and starters for both Arizona and Houston, and offers a prediction for Saturday's game.
Game info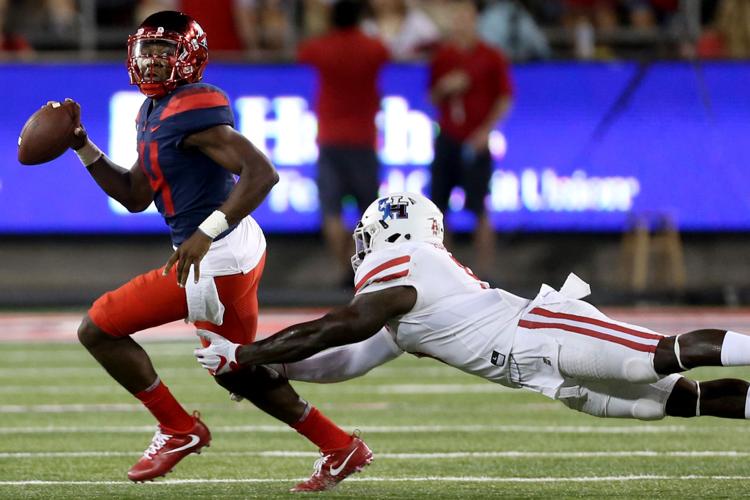 Who: Arizona Wildcats (0-1) at Houston Cougars (1-0)
Where: TDECU Stadium, Houston, Texas
When: 9 a.m. Saturday
Watch: Ch. 9 (Tucson) or ESPN2
Listen: 1290-AM, 107.5-FM
Follow: @TheWildcaster on Twitter / TheWildcaster on Facebook
Head to head: Donovan Laie vs. Isaiah Chambers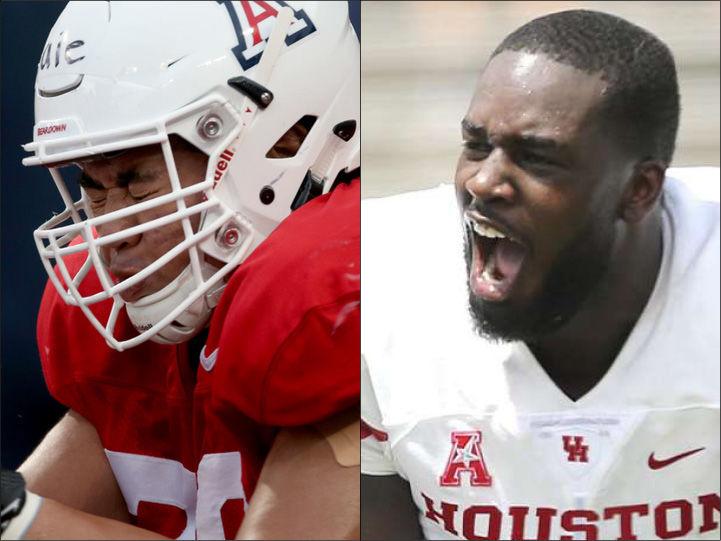 78 Donovan Laie, Arizona
The true freshman acquitted himself well in his first college start. It'll only get harder in Week 2. Because of the presence of Ed Oliver in the middle of Houston's defense, Laie likely won't get much double-team help from LG Tshiyombu Lukusa.
94 Isaiah Chambers, Houston
Chambers also made his college debut last week after redshirting at TCU in 2016 and sitting out '17 as a transfer. All he did was record three sacks off the bench. Chambers was the No. 7 strong-side defensive end in the class of '16, per 247Sports.com.
Head to head: Lorenzo Burns vs. Marquez Stevenson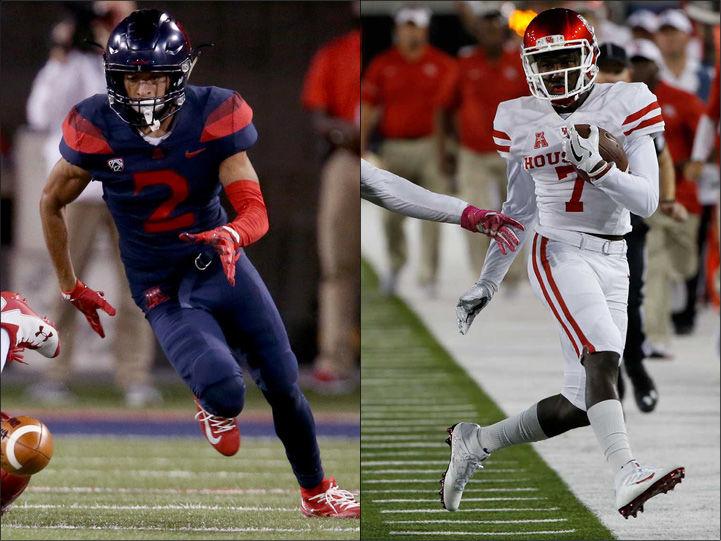 2 Lorenzo Burns, Arizona
Burns recorded a career-high three pass breakups vs. BYU. Burns' coverage was sticky all night. He had trouble at times last season against bigger receivers. Every wideout in Houston's two-deep is listed at 6 feet or taller.
5 Marquez Stevenson, Houston
Stevenson isn't the biggest UH receiver, but he might be the most explosive. After missing most of his first two seasons because of injuries, Stevenson caught five passes for 107 yards, including a 57-yard TD, against Rice.
When Arizona has the ball...
The Wildcats need to find a rhythm early and sustain it. The offense was choppy against BYU, unable to establish the run and relying far too much on low-percentage passes. It won't be easy against a Houston defense anchored by Oliver, who might be the most disruptive player in America. Arizona will try to offset him with quick passes, screens and draws. But at some point, Khalil Tate will have to use his athleticism to make plays. 
When Houston has the ball...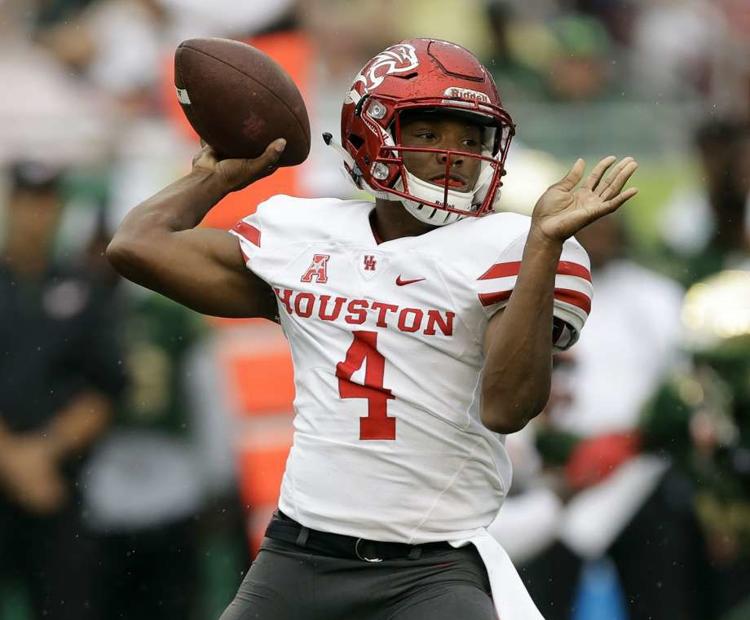 New coordinator Kendal Briles directed some of the most prolific offenses in the country over the past three seasons at Florida Atlantic and Baylor. Houston will play fast, spread the field and take shots. D'Eriq King, who split time between receiver and QB the past two years, averaged 13.3 yards per attempt and threw three TD passes vs. Rice. UA's secondary, even with Jace Whittaker and Scottie Young Jr. back, will be tested.
Lev's prediction
After losing to BYU, Arizona is unquestionably the more desperate team. Houston struggled at times against Rice, which had a 10-point lead midway through the third quarter. So it's not hard to see the path to a UA victory. Unfortunately, that road goes through Oliver and his D-line mates. If the Cougars control that matchup, the Wildcats will struggle to beat them.
Prediction: Houston 30, Arizona 27 
Wildcats projected starters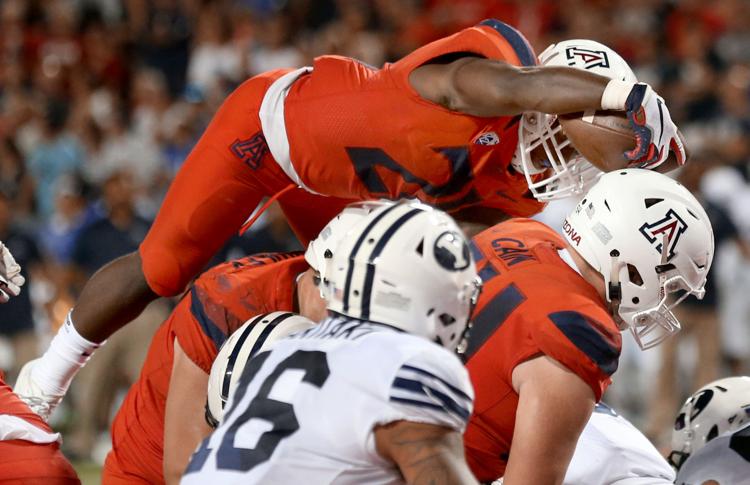 Offense
WR 18 Cedric Peterson 5-11 193 Junior
SLOT 6 Shun Brown 5-10 188 Senior
LT 78 Donovan Laie 6-4 318 Freshman
LG 70 Tshiyombu Lukusa 6-5 308 Sophomore
C 50 Josh McCauley 6-3 292 Sophomore
RG 54 Bryson Cain 6-4 306 Sophomore
RT 76 Cody Creason 6-4 294 Junior
TE 81 Bryce Wolma 6-3 252 Sophomore
WR 19 Shawn Poindexter 6-5 218 Senior
RB 21 J.J. Taylor 5-6 184 Sophomore
Defense
DE 86 Justin Belknap 6-3 259 Junior
NT 99 Dereck Boles 6-2 306 Senior
DT 52 PJ Johnson 6-4 335 Junior
STUD 14 Kylan Wilborn 6-2 248 Sophomore
MLB 7 Colin Schooler 6-0 236 Sophomore
WLB 1 Tony Fields II 6-1 230 Sophomore
SPUR 19 Scottie Young Jr. 5-11 195 Sophomore
BANDIT 6 D. Flannigan-Fowles 6-2 209 Senior
BC 2 Lorenzo Burns 5-10 181 Sophomore
FC 17 Jace Whittaker 5-11 189 Senior
FS 21 Isaiah Hayes 6-0 191 Sophomore
Cougars projected starters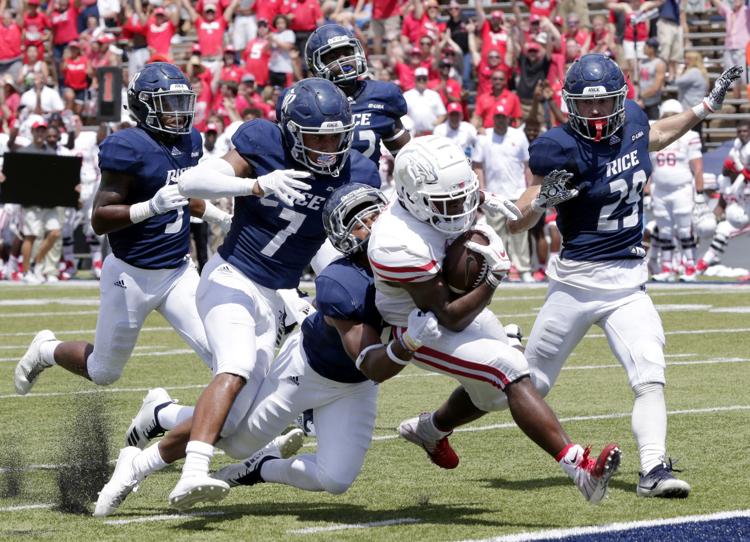 Offense
WR 9 Courtney Lark 6-2 200 Junior
WR 5 Marquez Stevenson 6-0 190 Sophomore
LT 74 Josh Jones 6-7 310 Junior
LG 72 Mason Denley 6-5 310 Senior
C 69 Will Noble 6-5 295 Senior
RG 52 Braylon Jones 6-4 315 Junior
RT 62 Jarrid Williams 6-7 305 Junior
TE 82 Romello Brooker 6-5 253 Senior
WR 15 Raelon Singleton 6-3 215 Senior
QB 4 D'Eriq King 5-11 195 Junior
RB 21 Patrick Carr 5-10 205 Junior
Defense
DE 94 Isaiah Chambers 6-5 265 Sophomore
DT 10 Ed Oliver 6-3 292 Junior
DE 52 Jerard Carter 6-3 295 Senior
OLB 8 Emeke Egbule 6-4 240 Senior
ILB 20 Roman Brown 6-2 230 Senior
ILB 22 Austin Robinson 6-3 240 Senior
OLB 4 Leroy Godfrey 6-3 240 Junior
CB 14 Isaiah Johnson 6-4 203 Senior
S 1 Garrett Davis 6-2 210 Senior
S 2 Deontay Anderson 6-2 217 Sophomore
CB 9 Nick Watkins 6-1 205 Senior
Arizona statistics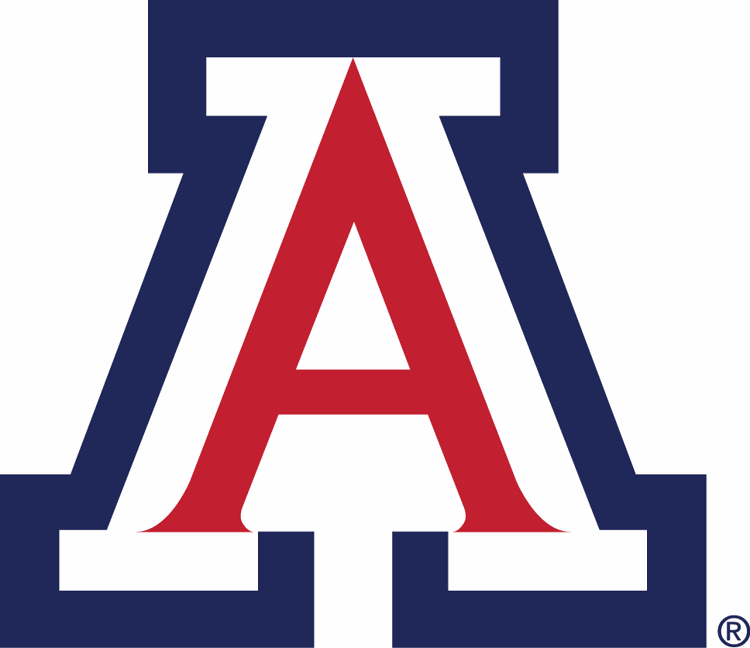 Passing
Tate 17-34-1 Cmp-Att-Int, 198 Yds, 1 TD, 33 Lg
Rushing
Taylor 1 game, 18 Car., 85 Yds, 1 TD, 4.7 Avg
Brightwell 1 game, 9 Car., 30 Yds, 0 TD, 3.3 Avg
Tate 1 game, 8 Car., 14 Yds, 0 TD, 1.8 Avg
Receiving
Poindexter 1 game, 4 Rec., 68 Yds, 0 TD, 17.0 Avg
Ellison 1 game, 4 Rec., 45 Yds, 1 TD, 11.2 Avg
Taylor 1 game, 4 Rec., 27 Yds, 0 TD, 6.8 Avg
Peterson 1 game, 2 Rec., 24 Yds, 0 TD, 12.0 Avg
Defense
Schooler 16 Tk, 0 Sk, 0 Int, 0 FR
Hayes 13 Tk, 0 Sk, 0 Int, 0 FR
Flannigan-Fowles 12 Tk, 0 Sk, 0 Int, 0 FR
Fields II 11 Tk, 0 Sk, 0 Int, 0 FR
Houston statistics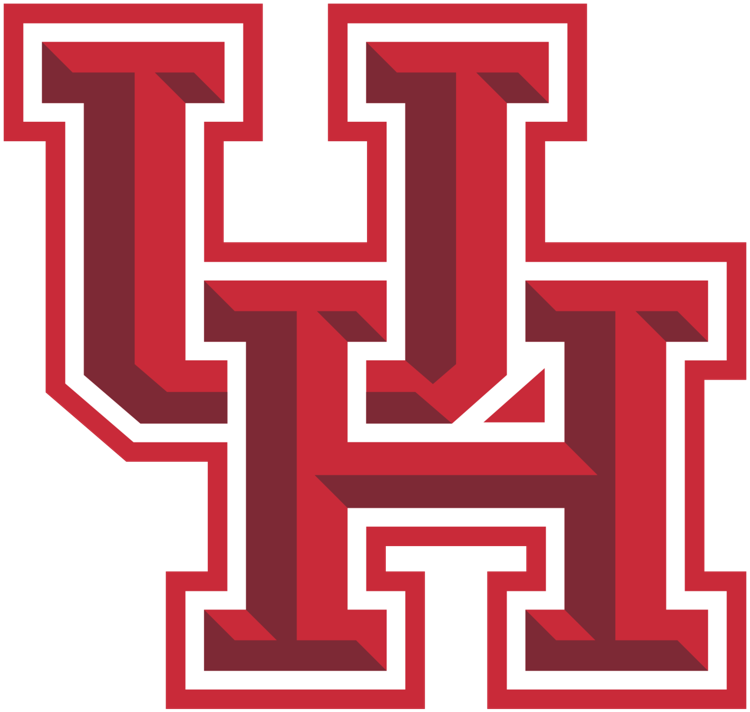 Passing
King 17-24-0 Cmp-Att-Int, 320 Yds, 3 TD, 57 Lg
Smith 1-1-0 Cmp-Att-Int, 0 Yds, 0 TD, 0 Lg
Rushing
Carr 1 game, 8 Car., 74 Yds, 1 TD, 9.2 Avg
Stevenson 1 game, 2 Car., 60 Yds, 1 TD, 30.0 Avg
Car 1 game, 7 Car., 41 Yds, 0 TD, 4.9 Avg
King 1 game, 7 Car., 33 Yds, 1 TD, 4.7 Avg
Smith 1 game, 4 Car., 23 Yds, 0 TD, 5.8 Avg
Williams 1 game, 7 Car., 16 Yds, 0 TD, 2.3 Avg
Receiving 
Stevenson 1 game, 5 Rec., 107 Yds, 1 TD, 21.4 Avg
Lark 1 game, 4 Rec., 82 Yds, 2 TD, 20.5 Avg
Corbin 1 game, 3 Rec., 93 Yds, 0 TD, 31.0 Avg
Defense
Oliver 13 Tk, 0 Sk, 0 Int, 0 FR
Brown 11 Tk, 0 Sk, 0 INT, 0 FR
Robinson 9 Tk, 0 Sk, 0 INT, 0 FR
Anderson 8 Tk, 0 Sk, 0 INT, 0 FR
Johnson 8 Tk, 0 Sk, 0 INT, 0 FR