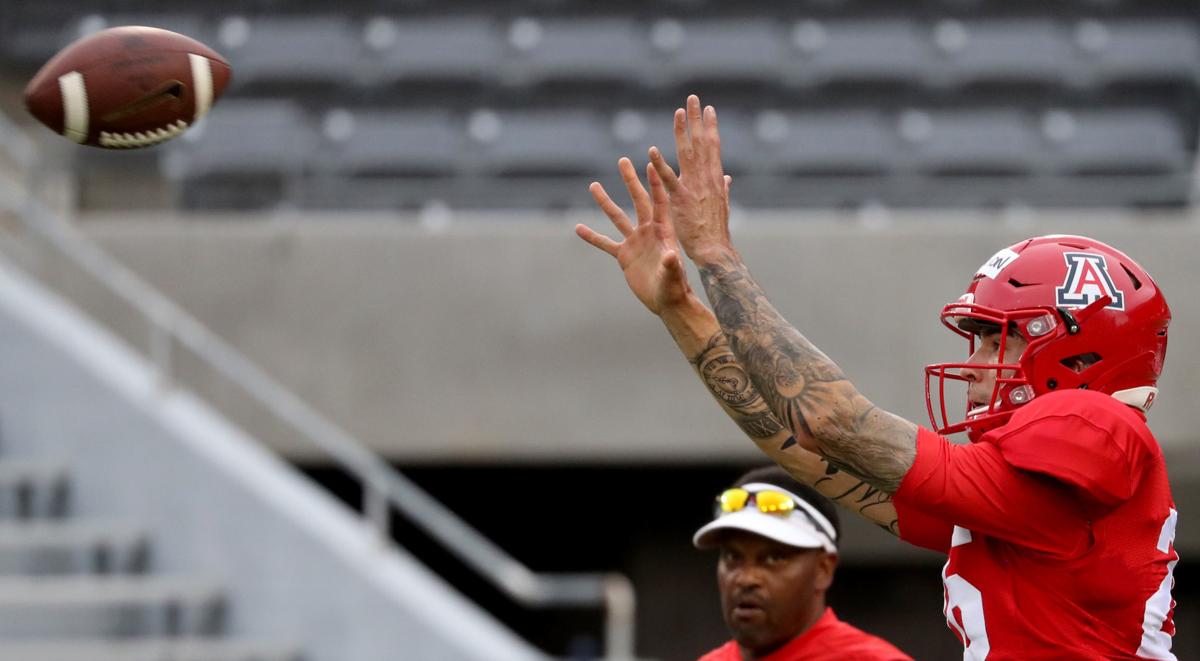 When the Arizona Wildcats released their first depth chart of the season Monday afternoon, one Tucson native was locked in as a starter.
No, it wasn't wide receiver Drew Dixon. Or quarterback-turned-wide receiver Jamarye Joiner. Or Stanley Berryhill, another pass-catcher from Tucson expected to make an impact. Dixon and Joiner are listed as co-starters and have "or" next to their names. Both will contribute, but they're not penciled in as the lone starter.
It was Matt Aragon. And the punter's road to the top spot didn't occur overnight.
Aragon joined the Wildcats in 2015 as a preferred walk-on following a three-year varsity career at Cienega High School. When Aragon first arrived at the UA, Drew Riggleman was the starting punter. Aragon played in one game as a redshirt freshman, then got stuck behind Josh Pollack and Jake Glatting in 2017 and grad transfer Dylan Klumph last season.
This summer, after four seasons — and three special teams coordinators — Aragon earned a starting spot, beating out freshman Kyle Ostendorp. Saturday's game against Hawaii will mark his first appearance in nearly three full years.
Second-year special teams coordinator Jeremy Springer said Aragon's development has been from "zero to 100."
"He has so much upside, and I think he finally realized that," Springer said.
The Star talked to Aragon about his time in college, earning the starting spot and life as a father. (His daughter, Malaya-Ai, is 6 months old). Here's what he said: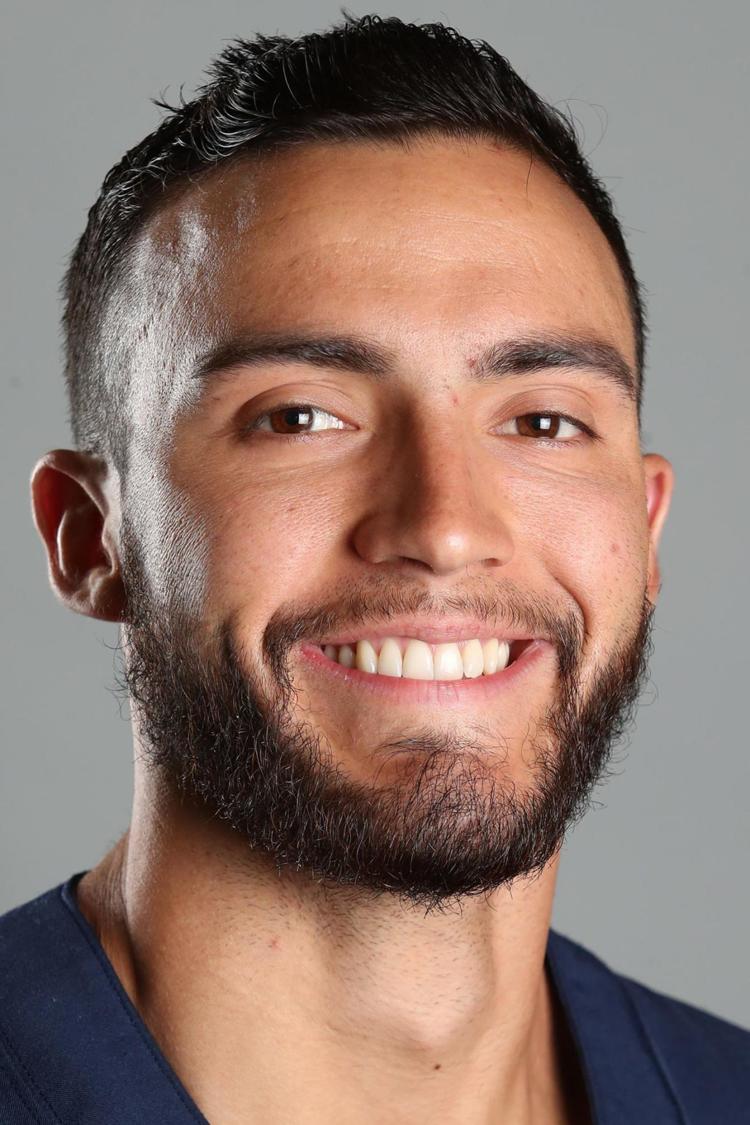 How has the process been going from a freshman walk-on in 2015 to your final year?
A: "It's been something that is truly special to me. A lot of people don't realize how it is being a local kid from Tucson. A lot guys always tell me, 'I don't know how you stuck it out that long waiting for an opportunity.' In Tucson, Arizona, the only thing going on Saturday nights is Arizona football. We don't have the Suns, we don't have the Cardinals. I bleed red and blue, (and have) since I was a young kid. It's been an opportunity for me to grow not only as an athlete, but as a person."
How did you get the opportunity to play for the UA?
A:"My senior year (at Cienega), I had a few schools I was looking at. I never had any big-time offers and to be honest with you, I never really expected to play college ball. I played quarterback and wide receiver, and punting was something I enjoyed doing, but I didn't know it would take me anywhere. I got in touch with (former UA special teams coach Charlie) Ragle my freshman, they had me come to an open walk-on tryout and the rest was history."
When did you realize that punting was your calling as a football player?
A: "About halfway through my freshman year (at the UA). These guys would always come out to these camps and they always told me, 'You have a lot of potential to be a great punter.' I never really thought about it, because I could never sit still. I was more focused on playing receiver, because I could move around more. Freshman year, when I got here and I started punting with Drew Riggleman, I looked at his punts, looked at my punts. I said, 'I might have an opportunity to do something here.' So I stuck with it and bought into learning the technique to punting."
Did you ever grow impatient when other punters were named the starter over you?
A: "Absolutely. That's been the whole ride for me. Freshman year, I knew Drew was going to be the guy. He was a senior and that's who they expected to handle the punting duties in 2015. In 2016, I was in a battle with Jake Glatting and Josh Pollack. I ended up punting one game and I did get impatient. It got to a point where I said, 'I have to be able to contribute to the team somehow.' That's when I talked to Coach (Rich Rodriguez) and I was moved to receiver. I was doing both punting and receiving. That was tougher for me, because I was trying to perfect two positions instead of focusing on one."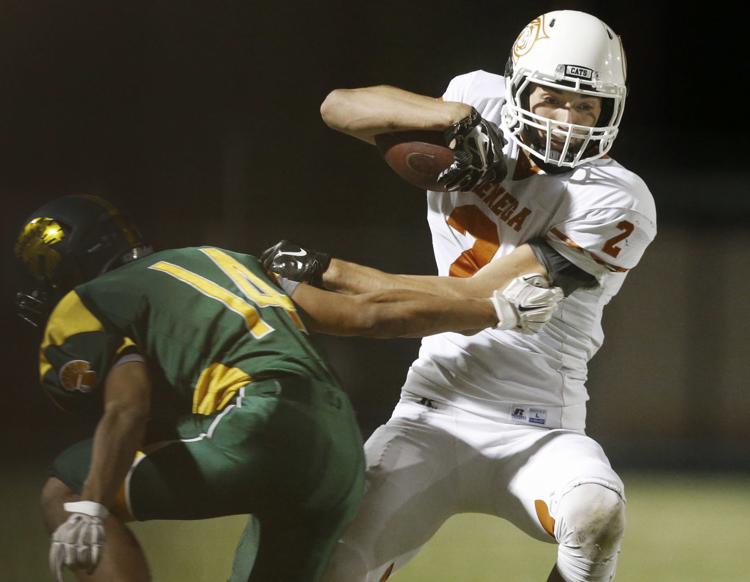 What do you remember about UA football growing up in Tucson?
A: "I remember we had season tickets growing up. We had season tickets with my mom and my family. It's funny, the other day someone came across some old pictures of me probably 3 or 4 months old in U of A clothes at the games. I've had pictures from the time I was born until now in U of A clothes. … The Stoops era, that was probably the funnest to watch, because he was so entertaining as a coach. He was always screaming his head off. I loved watching when they had Nick Foles with big wide receivers on the outside going deep. It was fun to watch."
How has becoming a father changed your life?
A: "When you're going through the process of becoming a dad, you have so many people who are fathers telling you, 'It's going to change your life having your daughter.' You kind of acknowledge it, but in your head, you hear it so much, you're like, 'Man, I get it.' When she was born, it truly did change my life. You wake up every morning and you get to see her smiling at you and it's a miniature version of you. It's so much fun, man."
Does she have your personality yet?
A: "She has a little bit more of her mom's personality as far as the attitude, because I'm an angel. It's funny, there's a lot of things that I see in her of myself; it's a trip."
What are you hoping to get out of your final year?
A: "This year I'm hoping to contribute to winning some football games. I've waited a long time to get where I'm at and I'm thankful to be in a position where I can finally help out. I'm hoping to be that leader that sets the standard for the guys that are coming after me. In the spring, I didn't have anyone following me around, which is what I enjoy to do. I enjoy being in a leadership role and helping the young guys and making sure they're heading in the right direction."
Be the first to know
Get local news delivered to your inbox!