Five lingering questions entering the Arizona Wildcats' spring football game
The Wildcats conclude their first spring camp under Kevin Sumlin on Saturday at Arizona Stadium.
By Michael Lev / Arizona Daily Star
Final go-around for spring practice
For the Arizona Wildcats, this spring has been about "getting to know each other." So said first-year UA coach Kevin Sumlin in an interview on "The Jim Rome Show" earlier this week.
Sumlin and his staff are becoming acquainted with their players, and vice versa. It's an ongoing process that will continue – but won't conclude – during Saturday's spring game at Arizona Stadium.
The event will mark the second and final opportunity for UA fans to get a glimpse of the 2018 squad before training camp opens in late July or early August. In all likelihood, much will change between now and then – with more changes to come between the start of camp and the Sept. 1 opener against BYU.
But the basic installation of the offense and defense is done, and the nucleus of the team will be on display. If you're planning to attend the game or watch it on Pac-12 Networks (5-7 p.m.), here are five questions that could be answered Saturday:
1. Will the offense run more smoothly?
It wasn't a seamless operation during the team's open scrimmage last Saturday – not that anyone was expecting it to be. Unlike the defense under the direction of third-year coordinator Marcel Yates, the offense is learning a new system. Growing pains are inescapable.
In last week's scrimmage, the offense turned the ball over once, surrendered a safety and committed several false-start penalties. One time, the offense lined up without a quarterback behind center.
Again, none of this is unexpected or unusual for spring football with a mostly new coaching staff. But there's little doubt Sumlin and offensive coordinator Noel Mazzone will want to see crisper execution during the spring game. The goal is to keep building and improving. The Wildcats will have had a week to iron out the wrinkles.
2. Will Khalil Tate be allowed to run?
Typically in practice settings, coaches blow the whistle shortly after quarterbacks take off running. Coaches want to run as many plays as possible. And when the purpose of a play is to complete a pass, they want to see how that part of it is executed.
Khalil Tate is a different kind of quarterback, as UA fans know. With Lamar Jackson headed to the NFL, Tate might be the most electric runner – at quarterback or any position – in college football.
Although the main focus this spring has been on helping Tate improve as a passer – transforming him, as Sumlin put it, "from an athlete that's a quarterback to a quarterback that's an athlete" – he remains a formidable threat as a runner. The question Saturday is whether the coaches will let him do his thing.
It's tricky, because they don't want him to get hurt. Tate is unquestionably Arizona's most indispensable player. But running, whether by design or happenstance, is a big part of Tate's game and will remain part of Arizona's offense.
3. Will the receivers win more contested catches?
Last week's scrimmage opened with receiver Shawn Poindexter hauling in a one-handed catch on a deep pass from Tate. Poindexter had only one arm free because cornerback Lorenzo Burns had ahold of the other one.
Later, Tate again threw long for Poindexter, with Burns again covering him. Burns broke up the pass.
The latter was more representative of how the scrimmage went. The Wildcats' defensive backs generally seemed more physical than their receivers.
Whether that's been the case throughout spring is uncertain; last week's scrimmage was the only opportunity for media to watch "team" drills before the spring game.
But receiver is a position where the new coaching staff might be looking for something different than the previous regime. Taylor Mazzone, who's coaching the outside receivers, said speed is the No. 1 priority. But size matters too, and Arizona doesn't have many receivers over 6 feet besides the 6-5 Poindexter.
That group grows if you include tight ends Jamie Nunley and Bryce Wolma, whose receiving skills Noel Mazzone plans to utilize. Additionally, transfer Keyshawn Johnson Jr. could be a factor in the fall, although he hasn't been practicing with the team for unspecified reasons.
4. Will the defensive front continue to be a disruptive force?
For the most part, the defensive front got the better of the offensive line in last week's scrimmage. That's good news for a UA defense that needs to make more game-changing plays in the backfield.
Even better news: Many of the plays were made by defensive tackles.
Newcomers PJ Johnson and Mykee Irving looked like they belonged. Transfer Sione Taufahema, who sat out last season because of a knee injury, looked healthy. And returnees Dereck Boles and Finton Connolly (who had the safety) looked like they were ready to build off promising 2017 campaigns.
Assuming they remain healthy, linebackers Tony Fields II and Colin Schooler and "Stud" Kylan Wilborn – Arizona's most productive returning defenders – will remain the focal point of the defensive front. But if they can get consistent help from their friends, the UA defense as a whole will be much more effective.
5. Will any of the key players who missed the scrimmage participate in the spring game?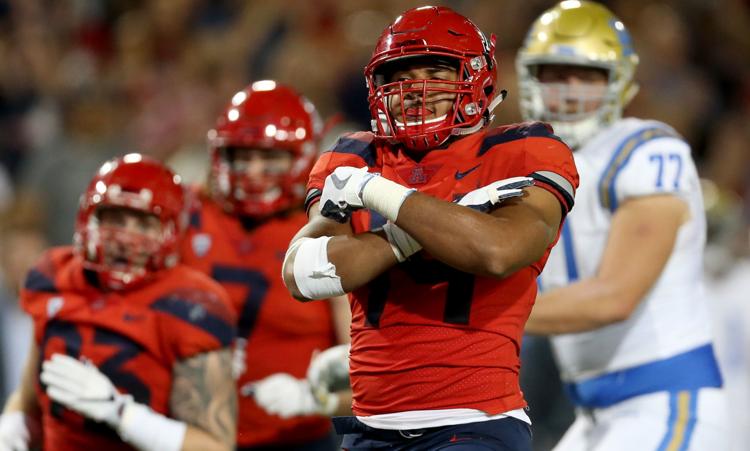 Wilborn dressed but did not play. Likewise fellow "Stud" Jalen Harris. Safety Isaiah Hayes was missing from the secondary. Nathan Eldridge and Tshiyombu Lukusa were absent from the offensive line.
It's unclear whether any or all will play Saturday. Defensive coordinator Marcel Yates indicated that Wilborn and Harris were held out for precautionary reasons. Wilborn missed most of the season-ending Foster Farms Bowl because of a shoulder injury, and Harris missed most of last season because of a shoulder issue.
Hayes missed all of last season because of shoulder surgery. He has been participating in practice but for the most part has been held out of contact drills.
Eldridge started every game at center last season. He often has ice packs on his knees after practice and is another veteran whose reps are being monitored. Lukusa, the intriguing transfer from Michigan State, missed the scrimmage because of a sprained ankle but was seen without a walking boot after practice this week.
One other player whose status is unknown is sophomore safety Scottie Young Jr., who started most of last season but hasn't been participating in spring ball. Sumlin is expected to address Young's situation after the spring game.