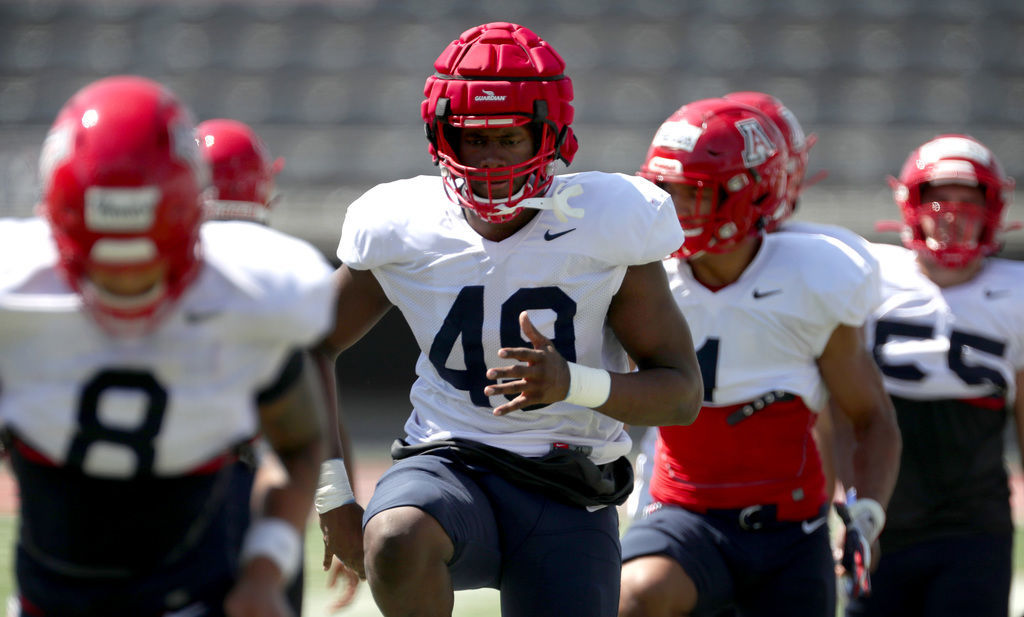 JB Brown and Jalen Harris have something in common besides being rising third-year pass rushers for the Arizona Wildcats.
The defensive linemen both come from football families. All three of Brown's older brothers played college football, including Jayon, who's a starting linebacker for the Tennessee Titans. Harris' father, Sean, starred at linebacker for Arizona before playing seven seasons in the NFL.
Brown and Harris wouldn't be who they are without those positive role models.
"When they go sit around the dinner table, you know what you're getting," UA defensive coordinator Marcel Yates said. "Those expectations aren't just set in our building with those two. Those come from home."
Expectations are at peak levels for Brown and Harris entering the 2019 season. The two combined for 57 tackles and 6.5 sacks as part-time starters last season. It wouldn't be unreasonable for each to hit or surpass those marks this year with expanded roles and stronger bodies.
Harris took over as the starting "Stud" late last season, was the MVP of Arizona's spring game and hasn't slowed down since. Brown started most of last season at defensive end after Justin Belknap got hurt. Brown since has moved to defensive tackle. He did so willingly, because that's what football players do. They put the team ahead of themselves.
"He's a team player," Harris said. "Whatever the coaching staff wants him to do, he's gonna get it done."
Brown grew up on football. His oldest brother, Jason, played at Idaho in 2005. Juwuan played at Southern Oregon from 2009-12. Jayon played at UCLA from 2013-16.
"I'm around football 24/7," JB Brown said. "So even my breaks back home, I'm with pro athletes, working out with my brother (Jayon).
"From a little kid, I've gone to high school football game. So the IQ of the game has always been there for me."
Still, Brown was the youngest brother. That comes with perks, but also pain.
"There was a lot of aggressive stuff going on," he said. "Typical brother stuff."
A breakthrough came when Brown finally could hold his own against his brothers in the "Madden" video game. Some victories are more significant than others.
"I remember it was a big deal," Brown said. "I told my mom and everything."
Brown primarily played middle linebacker at Long Beach (California) Poly. He moved to end as a UA freshman and has made a seemingly seamless transition to the 3-technique position defensive tackle spot. Harris believes his buddy will thrive there.
"I think he'll be really good," Harris said. "He's fast, physical. He uses his hands great. I think he'll be able to work there, get pressure on the quarterback, move O-linemen out of the way and make plays."
Although Harris is the eldest of three siblings, he didn't exactly have it easy growing up. His parents — Sean and Cha-Ron, a former UA basketball player — held him to the highest standards. Cha-Ron recalled Sean breaking down film with Jalen when the younger Harris was in Pop Warner.
"It wasn't something Jalen enjoyed then," Cha-Ron said. "But I'm sure it holds a ton of value now."
At the time, Jalen Harris didn't appreciate how his father pushed him to get better. Nor did he understand why.
"I hated it," Harris said. "I (just) wanted to play video games all the time."
Now, as a player who might be on the verge of a breakout at his parents' alma mater, Harris gets it. Those early lessons about competitiveness, work ethic and determination have stuck with him.
"I think it's helped tremendously," Cha-Ron said, "especially in terms of maturity, growth and dedication to improving."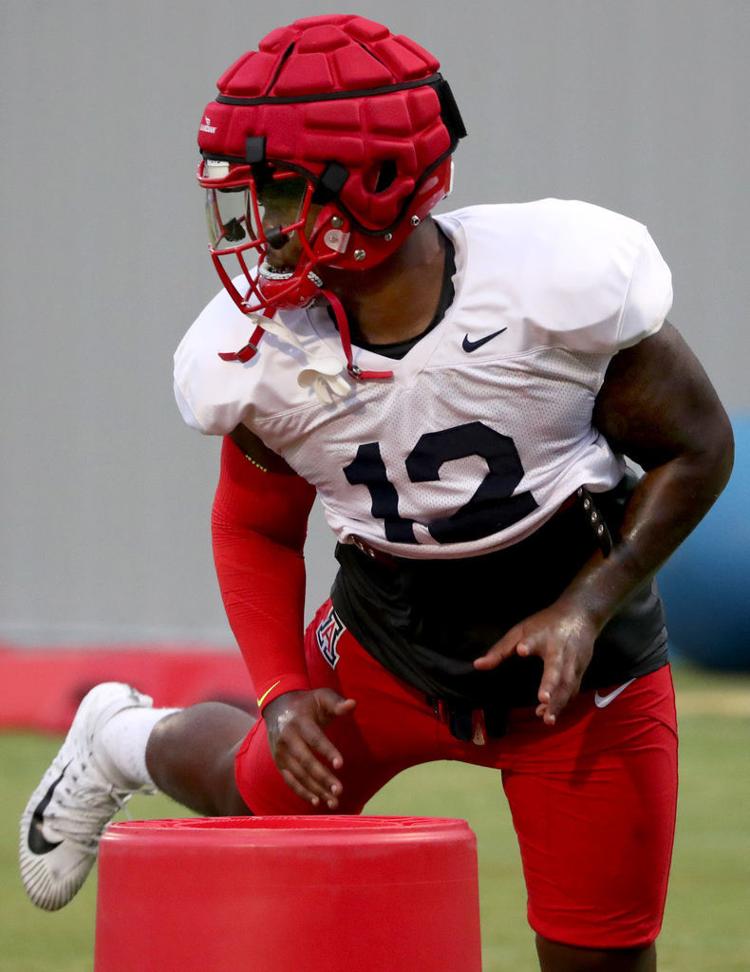 Harris' physical growth has been a storyline since he arrived on campus in the summer of 2017. He was listed at 6-4, 212 pounds when he checked in for his first training camp. He's now 6-5, 250.
At least some of the credit belongs to mom. One of Jalen's favorite dishes is Cha-Ron's macaroni and cheese. She borrowed the recipe from Oprah Winfrey's magazine a couple of Thanksgivings ago and has been serving it ever since. It features five cheeses and a breadcrumb topping, and Jalen can't get enough of it.
"I don't like every mac and cheese," Harris said. "My mom's mac and cheese? I love it.
"Whenever she makes it, I'll bring a big ol' bowl of it here. It'll be gone the next day, though. Then I'll want more."
If all goes according to plan, Harris and Brown will achieve a "You get a sack! And you get a sack!" synergy this season. Brown, who ought to know, sees Harris developing into a first-round NFL draft pick by the time he's done at Arizona.
"He has a high ceiling," Brown said. "A very high ceiling."
Brown's brother is playing at the highest level. So did Harris' father. Count UA coach Kevin Sumlin among those who believe that matters.
"Guys that played the game at a high level, they know what it looks like," Sumlin said. "When we coach them, they're getting the same sound at home. Sometimes those family standards are as high as can be."
Extra points
Defensive tackle Kane Bradford is not expected to enroll at Arizona this fall because of academic issues. Bradford posted on Instagram that he's leaving home in January, which would make him a candidate to grayshirt at the UA if he comes here. But a concrete plan hasn't been finalized as of yet. Bradford is the only member of the Wildcats' 2019 class who won't make it to campus for this season.
The team practiced inside the Cole and Jeannie Davis Sports Center because of rain and lightning in the area.
Freshman edge rusher Eddie Siaumau returned to practice after missing the back half of last week to attend to a personal matter. Freshman receiver Jalen Johnson did not participate. Freshman receiver Jaden Mitchell and sophomore cornerback McKenzie Barnes worked on the side.
Three players worked at punt returner during the open portion of practice: Stanley Berryhill III, Tayvian Cunningham and Bam Smith.
Robert Congel and Paiton Fears got work with the first-team offensive line at left guard and right tackle, respectively.
Defensive tackles Trevon Mason and Myles Tapusoa got some looks with the first-string defense.
Freshman receiver Boobie Curry made the standout play in one-on-ones, a tumbling catch over Malcolm Holland on a deep ball.
Former NFL defensive tackle Garrison Smith, who spent some time with the Cardinals, is working for the UA as a graduate assistant.