Star reporters Michael Lev and Zack Rosenblatt take you inside the key storylines as the Arizona Wildcats prepare for a Senior Night matchup against the Oregon State Beavers. After a close loss at USC last week, the Wildcats will look to rebound against an Oregon State team still in search of its first conference win.
From 'back road' to starting lineup, Shawn Poindexter hopes his ride isn't over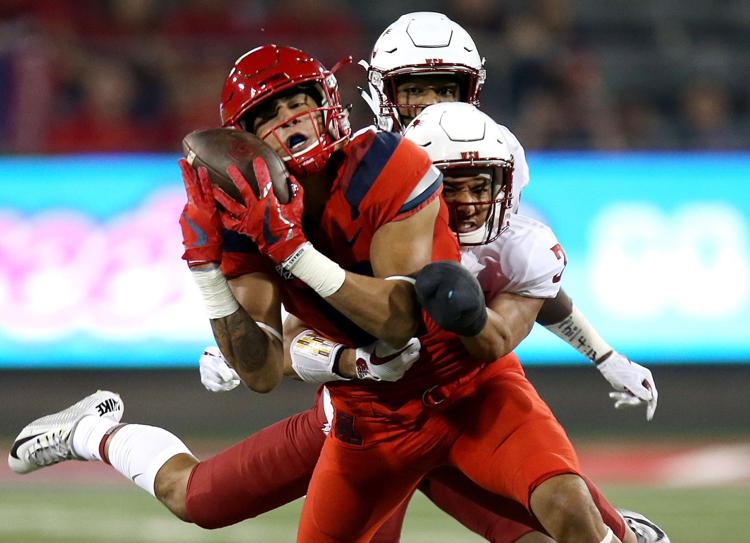 This might not be the end of the road for Arizona Wildcats receiver Shawn Poindexter.
Yes, Poindexter participated in the post-practice senior sendoff Thursday. And he will participate in the Senior Night ceremony before Arizona's game against Oregon State on Saturday.
But Poindexter is seeking an additional year of eligibility, and he thinks he has a strong case.
Poindexter graduated from Peoria Centennial High School in 2012 and signed with Cal Baptist to play volleyball. But he withdrew from school because of what he described as a "financial hardship."
Poindexter's mother had a medical issue. He spent most of the next two years working. He helped his stepfather, who's an electrician. He bused tables at Valle Luna, a Mexican restaurant chain in Phoenix. He worked at a Cinnabon bakery.
It wasn't until 2015 that Poindexter resumed his athletic career, joining the football team at Glendale Community College. He is about to finish his third season of football — the last two at Arizona.
Student-athletes generally get five years to play four, so it'll be up to the NCAA — a notoriously fickle organization — to determine when Poindexter's eligibility clock started and stopped.
"We're gonna go through the senior ceremony and see what the appeal says afterward," Poindexter said. "We all feel good about it. I think my case is very sensitive. I feel like the NCAA should respect what I went through."
Poindexter's experiences give him a different perspective than most Division I football players. Poindexter was barely recruited out of Glendale Community College. Arizona discovered him late in the process and took a flier on the raw but promising 6-foot-5-inch athlete.
"I've always had to take the back road to get where I'm going," Poindexter said. "I know that I'm going to have to take the back road for the rest of my life.
"It just puts a chip on my shoulder. You've always gotta work hard. You don't take anything for granted. This is a way better job than working at a restaurant or pulling wires through homes."
Poindexter has emerged as a starter this season. He is the best blocker among the wide receivers and has caught 10 passes for 142 yards.
But he's still learning, and he'd like to get another year to hone his skill set and help the team. Poindexter didn't feel as if he played his best against USC last week. He blamed his indecisiveness for some of the sacks Khalil Tate ended up taking.
"There was a route where I stuck a post, then I double-dipped Khalil and he hung on to the ball for a little bit," Poindexter said. "We don't have too many opportunities because we run the ball so well. So every time we get an opportunity, we've gotta win it."
RichRod, others sing praises of Arizona's 'terrific' senior class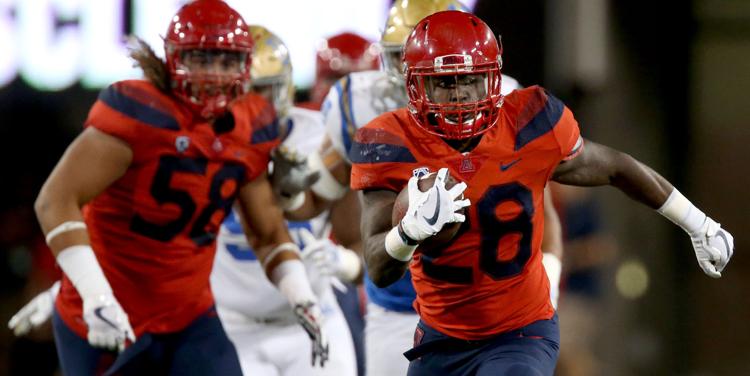 Arizona's 2017 class has experienced the program's rise, its peak, its fall and its rebirth. Rich Rodriguez was happy to have those seniors along for the ride.
"Their whole attitude has just been terrific, on and off the field," Rodriguez said. "The way they've led, the way they've represented our program. The importance of the school and the community to them. To a man, I appreciate everything they've done."
The Star spoke to and about several seniors over the course of this week. Here's what they said:
Senior running back Nick Wilson on his hopes for the Wildcats after he's gone: "I want this program to succeed. This is my home. This is my school. I've lived here for the past four years."
Running backs coach Calvin Magee on senior tailback Zach Green, who's having his best season: "He understood that he had to do a little extra. And it's paying off for him. He knows the offense. He's smart. I'm proud of him. He graduated in three years. He's about to leave here with a master's degree. When you go to college and try to achieve something, he's done it. Whatever happens in the future, he's OK."
Senior wide receiver Shawn Poindexter on the classmate who's meant the most to him: "I would say DeAndre' Miller more than anybody. Last spring is when I really started to branch out a little bit. The first year being here, I was a little to myself. Then I started hanging out with DeAndre' and doing more things. He was very helpful for me. Just life outside of football. Which was great."
Freshman defensive tackle Kurtis Brown on senior defensive tackle Parker Zellers serving as his mentor: "I wasn't very good on the pass rush. After each pass rush, Parker is always there telling me what to do, how to handle this. Parker has been the most influential person for me overall. He helps me. Every single rep, he's always there talking to me."
Senior guard Jacob Alsadek on his top highlight as a Wildcat: "Beating UCLA, for sure. A lot of people talk about, 'ASU, ASU – I hate ASU.' There's something about UCLA. I just don't like them. After the game I was like, 'Oh my god, we did it.' Nobody ever expected us to do this. Being able to rub it in their face is a pretty good feeling."
Speedy Tyrell Johnson ready for final college game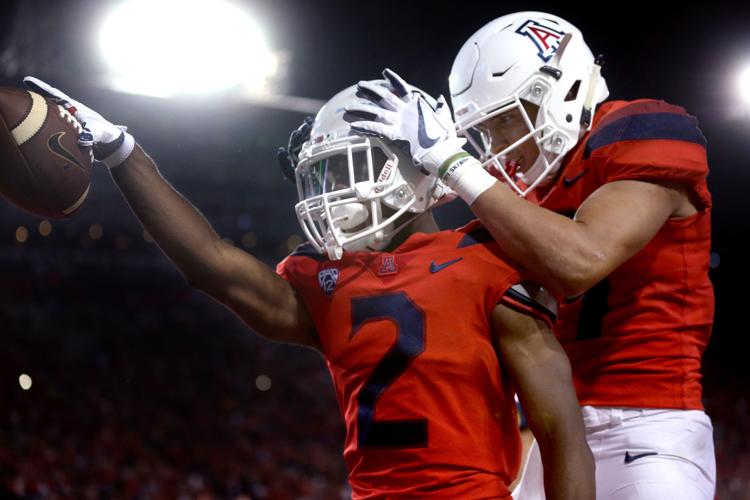 Tyrell Johnson is fast, the fastest player on Arizona's roster four years running. But he really wasn't quick getting to this point.
Saturday will be Johnson's Senior Night, his last home game with the Wildcats.
"It hasn't hit me yet," Johnson said. "It'll probably hit me when I run out the tunnel like, dang, it's my last home game. It hasn't hit me yet."
He's the only senior receiver on Arizona's roster who's spent his entire career with the team, although he wasn't always a receiver.
Johnson is only 5 feet 7 inches and 165 pounds. Coaches envisioned him as a slot receiver and a gadget player who could occasionally carry the ball out of the backfield on end-arounds.
As a freshman, Johnson was Arizona's lead kick returner and a reserve receiver, amassing 826 all-purpose yards and two receiving touchdowns. He was Arizona's best kick returner again as a sophomore, but missed five games due to a foot injury.
Last year, as Arizona dealt with a multitude of injuries at running back, UA coaches moved Johnson back to running back, where he received the first start of his career against Utah. He finished the season with 330 all-purpose yards.
Now, he's a receiver again — and healthy — and he's providing Arizona with the speedy weapon it envisioned all along.
Johnson has a career-best 155 receiving yards. His 13 catches are one away from a career-high.
"It's been a great journey," Johnson said. "Sophomore year was pretty tough, I had a couple of injuries that year, I had a couple injuries junior year.
"My senior year I've just been in the weight room and training room, staying healthy, trying to help the team out in any way possible."
Coach Rich Rodriguez said earlier this week that he will make a concerted effort to get Johnson the ball more. With starting slot receiver Shun Brown battling a foot injury, that seems likely against Oregon State.
"His speed, it's impressive," said UA receivers coach Theron Aych. "When he gets his shoulders squared, he really can show. We're trying to continue to find ways to get the ball in his hands and even down the field besides just reverses and returns because he's a pretty versatile athlete."
Oregon State trio still stung by Arizona's reluctance to recruit them out of Pima College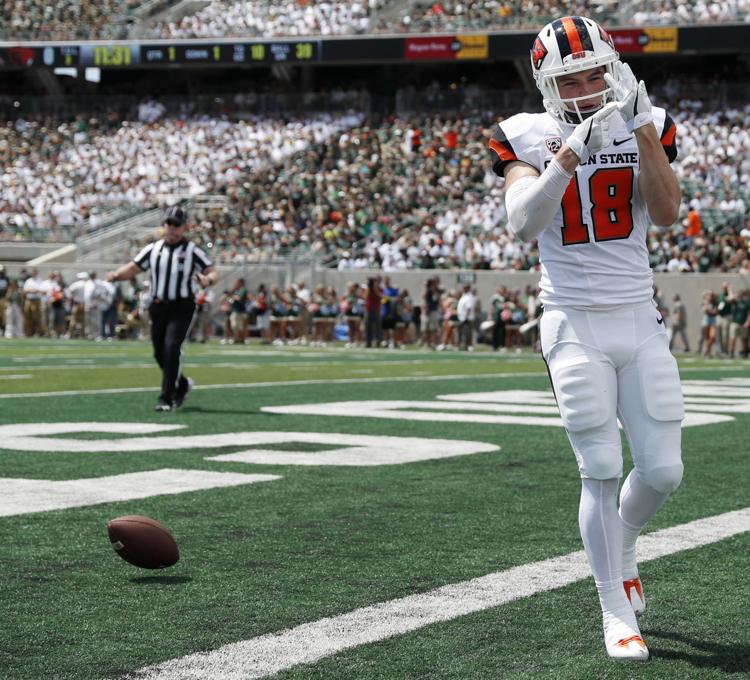 Before the season started, Landry Payne, Wesley Payne and Timmy Hernandez circled Nov. 11 on their schedules.
Oregon State at Arizona, back in Tucson — where the Beavers trio once played for at Pima College.
Hernandez and Wesley Payne — Landry was out with a knee injury — both played in last year's 42-17 Oregon State shellacking in Corvallis. Wesley didn't record any tackles in that game playing special teams, but Hernandez had a remarkable, diving 27-yard touchdown grab in the OSU win.
Landry celebrated with him on the sideline.
"As soon as he came to the sideline I was like, you owe RichRod that one," said Payne, a senior safety.
The Beavers may be struggling this year, but the Pima trio has been playing well.
Hernandez has 16 catches for 221 yards and a touchdown.
Wesley Payne has 10 tackles (one for loss) and Landry Payne has 14 tackles, a pass breakup and a forced fumble.
Landry started against Stanford a few weeks ago, and managed a career-high 10 tackles.
He said that game is "what you dream of" as a football player. Even better — he gets to continue to play college football alongside his brother, Wesley, a linebacker.
"It's been a miracle," he said. "Me and him have had this dream all our lives and to be able to keep doing what we do together on the same team is a blessing. It's something that I don't take for granted.
"It's a blessing."
Saturday's game will have something extra, too.
The Payne brothers and Hernandez haven't forgotten about Arizona overlooking them.
"We can't wait to play Arizona," Landry said. "We're going down there with vengeance on our minds and we're going to make sure we come back with the W."
Attendance down in the Zoo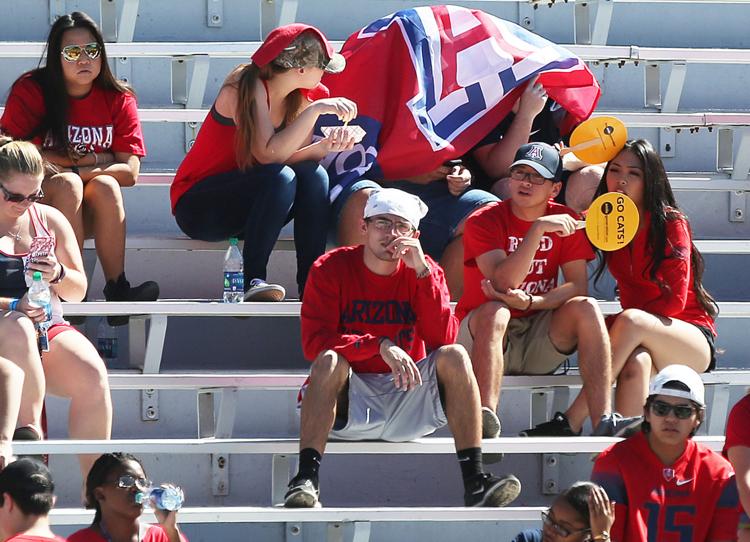 It's no secret that the Wildcats have struggled to fill Arizona Stadium for its home games. Despite being the surprise of the Pac-12, the Wildcats have the fourth-worst average attendance in the conference.
Few expect it to get much better for an 8:15 p.m. kickoff against the Pac-12's worst team on Saturday.
The troubles have extended to the ZonaZoo, too.
The capacity of the section has reduced, from about 10,000 to 7,800. Even in that smaller area, the optics are bad. The UA is averaging about 4,500 students per game, according to ZonaZoo executive director Brian Goldstein.
There's a variety of factors — namely, late kickoffs and low expectations — but Goldstein feels that at least one aspect of the student turnout is being over-looked.
That is, retention.
When Greg Byrne was Arizona's athletic director, he required the ZonaZoo directors to include a "ZonaZoo stays the whole game message" on the back of the section's T-shirt. That didn't help much, as students often left after halftime.
The Zoo is smaller, but more loyal, this year.
"We've seen the turnouts and what they've been this past year, but I've actually been pretty happy with them," Goldstein said. "Yes, our numbers are down from other years but I think the biggest thing people don't notice is our retention rate.
"We'll get to games and stuff and we'll have maybe 4,500 students check in and they'll stay mostly the whole game."
Goldstein said he sees the criticism — photos of the Zoo are often tweeted out by media members before the game and at halftime.
"People on Twitter will come at us on Twitter and say the Zoo isn't full. It was hard because of the season we had," he said. "From last year, they weren't expecting us to be the team we are currently. It's almost like if you're the Cleveland Browns. If you have that atmosphere around you, and there's all this negative press about you, all that negative press we get influences the students. I think that definitely is a big part in that."
This year's Zoo is getting more involvement from athletic director Dave Heeke and president Robert Robbins. Heeke took part in the Zoo's pregame "Zona Thunder" ritual on homecoming. The AD banged a large drum and the section clapped along. Robbins will do the same this week.
Heeke says he's noticed some of the ZonaZoo's issues, and will take steps to fix them.
"We've always had one of the most robust student groups in the country. We want to continue to be headed in that direction," Heeke said.
"It's similar to how things are going in the entire stadium – that you see that there aren't people always fully engaged and coming. Why is that? It's just changing dynamics. We've got to make sure that we're meeting the needs of those folks and they want to be there."