Grant Gunnell 'drives the car' for one of Texas' best teams; next stop: Tucson
Michael Lev spent a Friday night in Houston to scout Arizona Wildcats commit Grant Gunnell. He highlights the St. Puis X High School quarterback bound for Tucson in 2019, including film from Gunnell's start last week.
Future Wildcats quarterback is one of Texas' best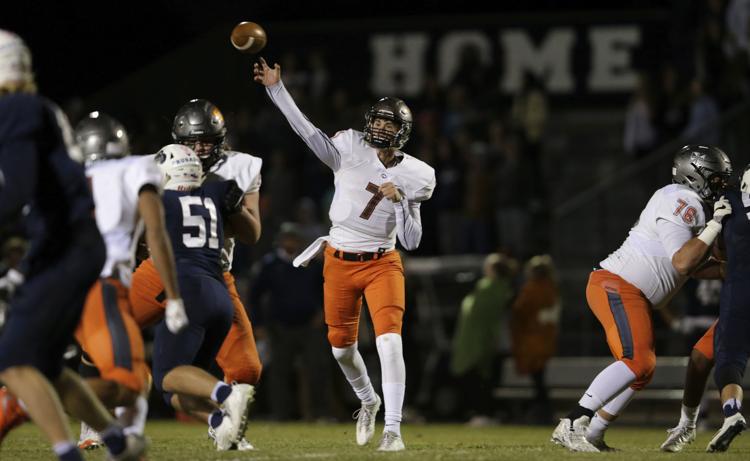 HOUSTON — Noel Mazzone sometimes calls him "Brock."
All it takes is one quick glance to get in on the joke. Physically, 6-foot-6-inch Grant Gunnell resembles 6-7 Brock Osweiler, whom Mazzone, Arizona's offensive coordinator, coached at Arizona State.
So here's the question, Wildcats fans: Can you accept that the best comp for the player who might be the next great UA quarterback is a Sun Devil?
What if a better projection is actually a 6-6 quarterback who made the move from Texas to Tucson, is unfailingly polite and always has performed better in pads than shorts?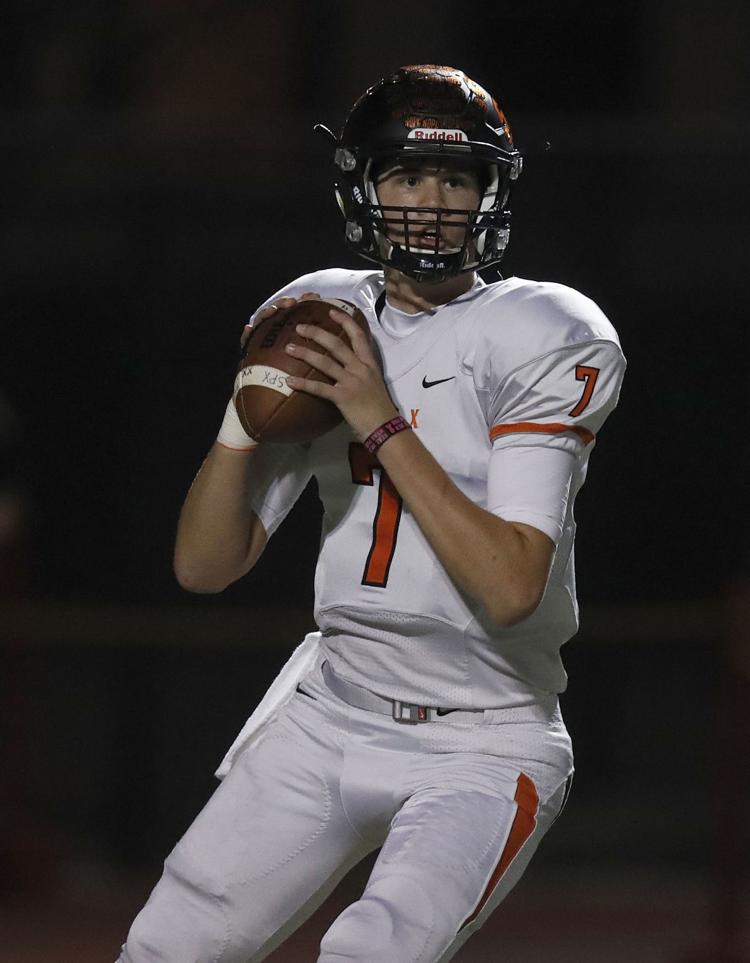 It's far too soon to compare Gunnell to reigning Super Bowl champ Nick Foles. But when you meet and talk to Gunnell, the prolific quarterback from St. Pius X High School who's committed to Arizona's 2019 class, that's the vibe you get. He seems humble, composed and mature beyond his 18 years.
"A once-in-a-generation-type quarterback," St. Pius X coach Erik DeHaven said. "Everything he does on the field is the same as what he does off the field. There's no difference between the two. He's a positive leader of our young men. He is who he is. He's special."
Gunnell has a chance to finish his high school career as the all-time Texas leader in passing yards and touchdowns. He led St. Pius X to the 2017 Texas Association of Private and Parochial Schools Division I state championship game, where the Panthers lost by a point to Plano Prestonwood.
Gunnell said that defeat haunts him and drives him every day.
Mostly, though, Gunnell looks forward.
Not only can the towering Texan see over the line to read the defense, he can envision what the future holds. It's as clear as a blitzing safety who doesn't adequately mask his intentions.
Gunnell can see himself as Mazzone's next Osweiler, who passed for 4,036 yards and 26 touchdowns in 2011 at ASU, became a second-round draft pick and remains in the NFL. Or perhaps 6-4 Josh Rosen, whom Mazzone recruited and coached for one season at UCLA. Rosen was the Cardinals' first-round pick this year.
"Those are guys that look like me — spitting images," Gunnell said. "That was one of the main things I was looking for. I'm kind of what he wants."
As Gunnell spoke to a pair of reporters after another stellar, winning performance last Friday night, Mazzone's son, Taylor, waited patiently nearby. Taylor Mazzone is Arizona's outside receivers coach. The UA would face Houston in about 12 hours.
But first the younger Mazzone had to check in on Gunnell. The two talked as they walked from Kubiak Stadium to the Panthers' locker room. Gunnell was previously committed to Texas A&M, so he has known the Mazzones and Kevin Sumlin for a while.
"They're just awesome," Gunnell said. "I can't wait to get there."
'Never stop grinding'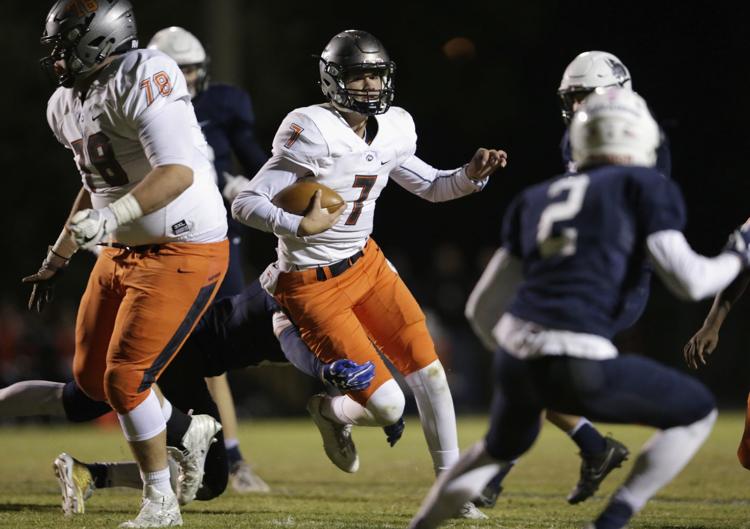 It's a steamy night in northwest Houston. It rained hard earlier in the day, leaving the grass at Kubiak Stadium — yes, it's named after Gary Kubiak, the former NFL quarterback and coach — soggy and the sidelines muddy.
Nothing can dampen the enthusiasm of the fans who nearly fill the stadium to capacity. The students stand throughout, chanting and cheering. Panther loyalists don orange and black to show their support. They know they have something good going, and they know it won't last forever.
"I don't want to talk about that," DeHaven says when a visitor suggests he'll miss Gunnell when he's gone.
Since he became the full-time starter in 2016, Gunnell has averaged more than 400 yards and more than five touchdown passes per game. He has completed more than 70 percent of his throws. He's rewriting the Texas state record book despite often exiting games before the fourth quarter because St. Pius X is ahead by so much.
That is again the case on this particular Friday night. St. Pius X leads La Marque 52-7 at halftime and wins 65-21. Gunnell, who barely throws the ball in the second half, passes for 388 yards and six touchdowns. Several go toward the south end zone, where a silver pickup truck, courtesy of sponsor Doggett Ford, is parked behind the end line.
DeHaven will miss Gunnell's production, of course. But that isn't what DeHaven will miss most.
After one of his out-of-town showcases this summer, Gunnell got home about 4 a.m.
"And shows up here at 6 a.m. for weights," DeHaven said. "He's that guy who wants to be with his team and lead his team."
DeHaven, who took over as coach this year after serving as the Panthers' defensive coordinator, has given Gunnell an unusual amount of responsibility.
"We used to say our offensive coordinator was the one who drove the car. Now Grant drives the car," DeHaven said. "He's the one making the pre-snap checks, the reads. He goes with what he sees."
Continuing the analogy, DeHaven says offensive coordinator Aaron Carpenter — who exchanges hand signals with Gunnell throughout the game, the two communicating in a language all their own — now sits "in the passenger seat."
Reading coverages is where Gunnell has grown the most, in DeHaven's estimation. Gunnell is relatively inexperienced as a dropback quarterback. He wasn't always 6-6.
Gunnell played running back as a youth. In junior high, he moved to quarterback — and ran a veer offense. "I threw a pass a game, maybe," said Gunnell. Gunnell has averaged 37 attempts per game over the past two-plus seasons.
For a while, Gunnell struggled to adjust to his growing body. He suffered from Osgood-Schlatter Disease, which affects growing athletes. In eighth grade, he said, "I couldn't even walk at one point."
Now he's running for first downs. He even broke out an open-field spin move against La Marque.
DeHaven and Gunnell firmly believe his best days are ahead.
"I think I'm at the lowest part of my potential honestly," Gunnell said. "That's in my head. I know to never stop grinding. That's a constant thing — to keep learning."
Room for improvement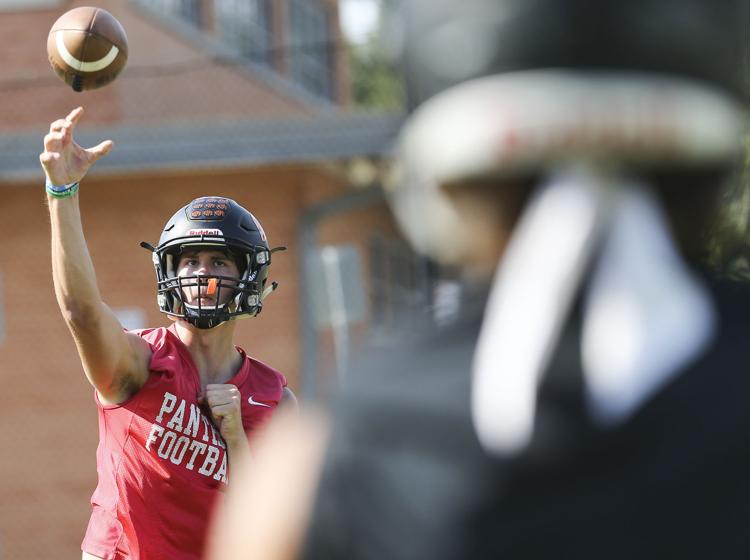 Frankly, the summer quarterback circuit wasn't kind to Gunnell. At the prestigious Elite 11 competition, he did not advance to the finals.
When he committed to Arizona in early June, Gunnell was rated as a four-star prospect and a consensus top-100 player. Now he's viewed as a three-star prospect by those same outlets. According to 247Sports Composite rankings, Gunnell is the No. 14 pocket passer and No. 384 overall player in the class of 2019.
Did Gunnell's performance over the summer in drills and 7-on-7 events frustrate him? Did it discourage him in any way?
Nope.
"It definitely showed me my weaknesses that I never got to see just playing high school football," Gunnell said. "Also, I made some great friendships. I'm going to talk to those guys for the rest of my life. They'll be in my wedding."
While others fixated on his rating, Gunnell focused on relationships. The entire experience strengthened his resolve. He knew he needed to get stronger, that his release needed to get quicker. Summer camps confirmed as much. So Gunnell went back to work.
He said he was unaware that his rating had dropped. The news did not shake his self-confidence.
"I know what I can do," Gunnell said.
Said DeHaven: "I think they'll know soon enough when he gets to college — if he progresses the way he's progressed in high school, when he makes that next step into the NFL. They have no clue about his character as a human being."
Gunnell plans to attend Arizona's game against Southern Utah on Saturday night as an unofficial visitor. His older brother, Will, joined the team as a walk-on this summer. The receiver could play in the second half if the game is a blowout.
Grant Gunnell's intention is to enroll at the UA in January. The sooner he can get to campus and get started, the better.
"He's scratching the surface," DeHaven said. "He really is."
You don't have to be 6-6 to see the possibilities.
Watch: Gunnell on his game, upside and future