Seen and heard from Arizona Stadium during the Wildcats' Pac-12 opener against UCLA.
Welcome to the club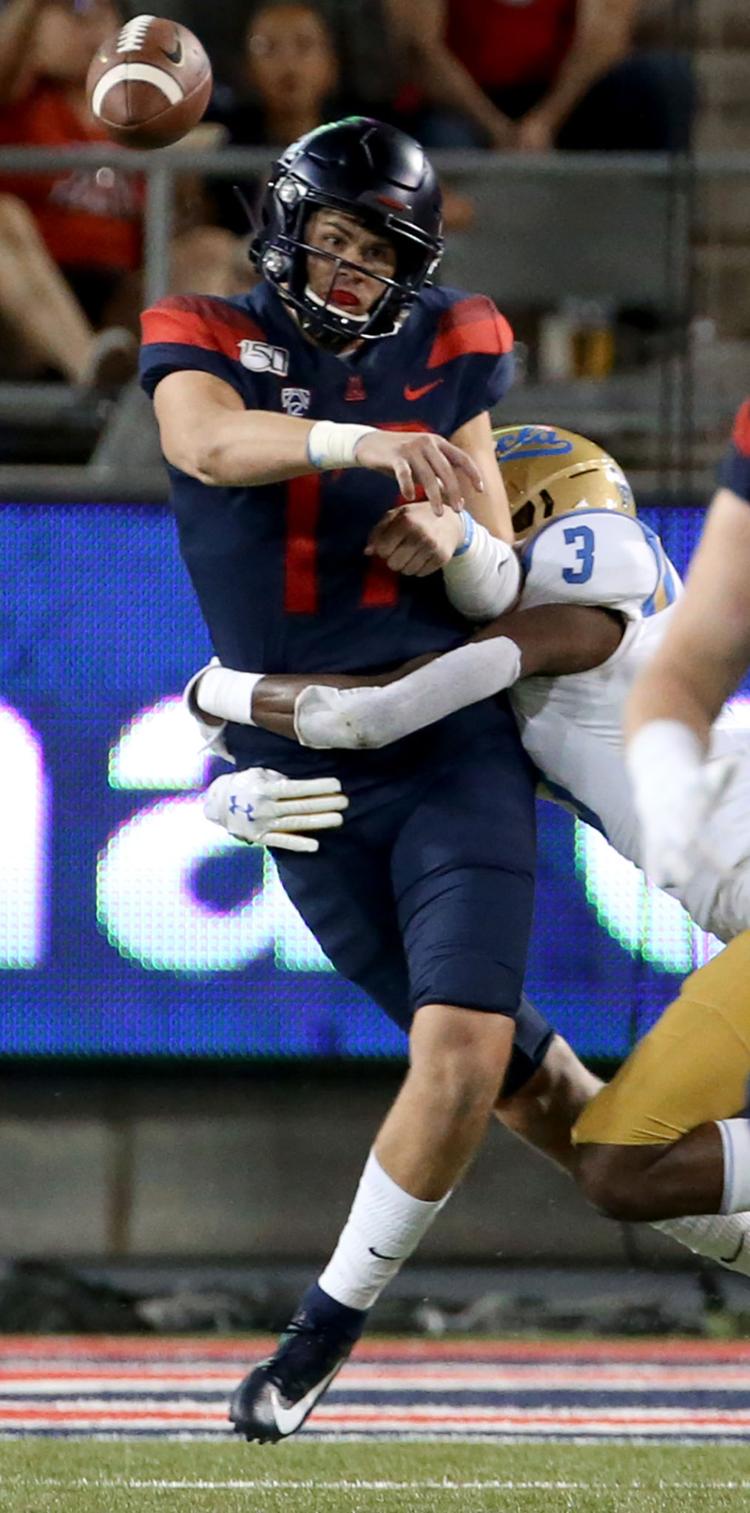 Khalil Tate missed Saturday's game with a hamstring injury, and true freshman quarterback Grant Gunnell made his first college start.
Gunnell has been in the Wildcats' plans ever since he committed to the UA in June 2018.
The 6-foot-6-inch, 225-pound Gunnell was a star quarterback at St. Pius X High School in Houston. While there, he threw for 16,108 yards and 195 touchdowns, both state records. His high school numbers were considerably better than those of several great Texas quarterbacks — including Drew Brees, Patrick Mahomes, Andrew Luck, Kyler Murray, Baker Mayfield and … former UA standout Nick Foles.
Gunnell is the latest true freshman to start for the Wildcats at quarterback. Others to be in Gunnell's shoes: Tate (2016), Willie Tuitama (2004), Kris Heavner (2003) and Tom Tunnicliffe (1980).
---
Bringing it back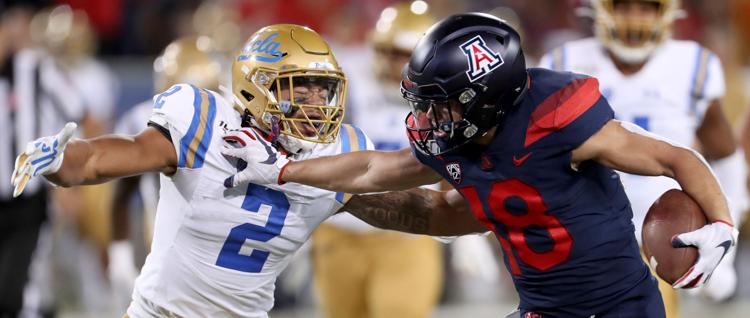 Notice anything different about Arizona's helmets on Saturday?
The Wildcats brought back their traditional red, white and blue "Block A" helmet logo after using an all-red "A" on their navy lids the last few seasons.
The last time Arizona wore the sticker was Nov. 5, 2016, when the UA lost 69-7 to Washington State in Pullman.
Arizona wore the all-red "A" helmet sticker four times in 2017 and three times last season.
For those keeping track — OK, maybe it's just us — Arizona has worn a different helmet each week this season. The team wore a USS Arizona-inspired white helmet against Hawaii, a "candy" red lid against Northern Arizona and white helmets (with navy facemasks) against Texas Tech.
---
Honorary captain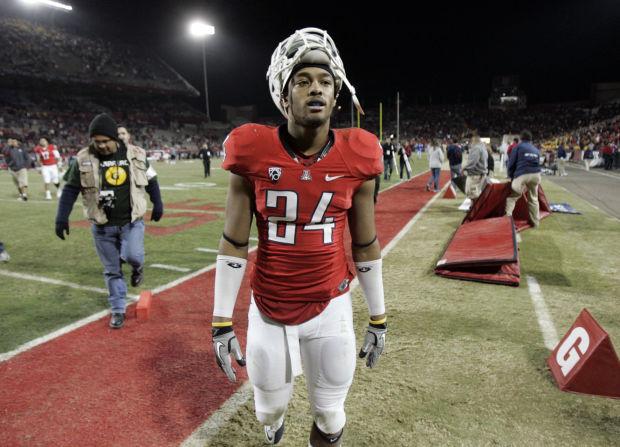 Saturday night's honorary captain was former Arizona cornerback Trevin Wade, who played under Mike Stoops from 2007-11 and recorded 182 tackles and 12 interceptions.
Wade played in the 2008 Las Vegas Bowl, the '09 Holiday Bowl and the '10 Alamo Bowl before moving on to the NFL, where he played six seasons. Wade last played for the Baltimore Ravens in 2017.
---
UA celebrates Hispanic Heritage Month
Hispanic Heritage Month started on Sept. 15 and ends on Oct. 15. On Saturday, Arizona Stadium honored it with a special halftime performance of mariachi bands. Arizona Stadium also added a Spanish touch to the names on the scoreboard.
Arizona was the "Gatos" on Saturday. Their opponents? The "Osos de UCLA." (Osos are technically bears, not bruins — who are baby bears — but it was close enough).
---
Adding walk-ons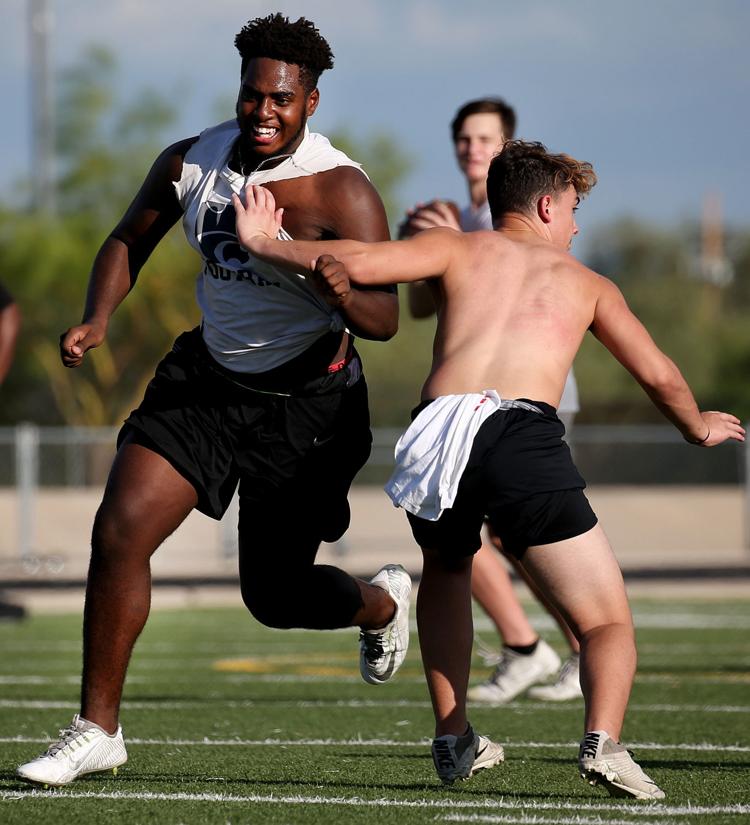 Arizona added a handful of walk-ons to the roster, and most of the new batch of Wildcats didn't have to travel far.
The walk-on list includes several players with in-state high school ties: Punter Jacob Meeker-Hackett (Cienega), tight end Tristen D'Angelo (Chandler Basha), wide receiver Daniel Egbo (Gilbert Highland), linebacker Calib McRae (Mountain View) and Chandler Kelly (Chandler Basha).
McRae played at Mountain View last season, where he was coached by his father, Bam McRae, who played for the Wildcats from 2003-04. Meeker-Hackett punted at Pima College and Texas State before enrolling at the UA.
Arizona also added wide receiver Jashon Butler from Lynnwood, Washington and defensive tackle Naz Higgins, who hails from Pottstown, Pennsylvania.
---
The big numbers
20,000
Estimated number of jumps by professional skydiver and stuntman Jeff Provenzano since 1995. Provenzano, 43, touched down at Arizona Stadium before the Wildcats took the field. Provenzano, a member of the Red Bull Air Force team who has appeared in the movies "Iron Man" and "Godzilla," lives in Eloy.
38,823
Attendance for Saturday's game. The previous two home games averaged 39,024 fans.