It costs the UA close to $300,000 to stage every football game at Arizona Stadium. Ushers. Traffic-flow guys. Ticket-scanners. The bomb squad and their dogs. People who make sure everyone who parks at the UA Mall's tailgate section has a season pass to prove they paid $500 for the privilege.
This year, there are more gameday expenses than ever.
Four people work at the desk of a brand new (and crowded) souvenir shop in the $25 million ZonaZoo neighborhood. They sell No. 48 Rob Gronkowski Arizona jerseys for $69 each. Nearby, someone is paid to monitor use of the 52 long-legged tables available to those in the vast ZonaZoo concessions pavilion.
And then there's this: A man in a red vest near room E145-A — a remote walkway in the far southeast side of the Zona Zoo makeover — is in charge of the beer room.
Yes, there is such a thing as a beer room in most Pac-12 stadiums now. That's the latest revenue source in college sports. Beer.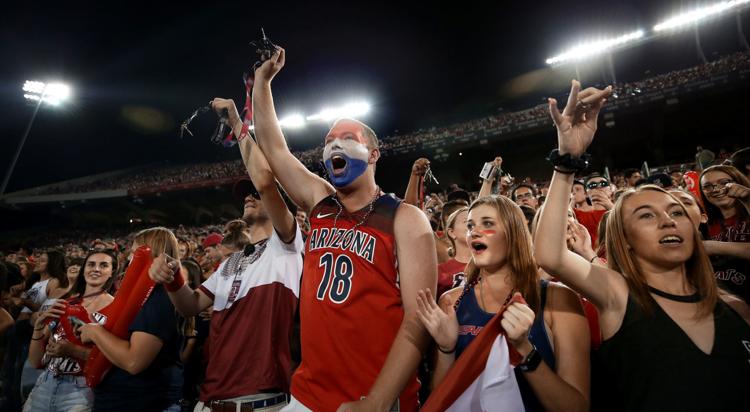 A man in the red vest unlocked the door to a large storage room on a night it was 96 degrees at kickoff. Underneath the east grandstands, it felt like 196.
As the door opened, a blast of 35-degree air hit me and Star photographer Kelly Presnell in the face. It was an unexpected piece of football heaven.
Why didn't someone think of this years ago?
There were 150 kegs of beer and 30 cases of wine in the AC-blessed storage room.
"We're probably going to have to open another storage facility up in the north end zone," said the man in the red vest. "It's difficult hauling the beer way up there."
As I pulled into the Sixth Street parking garage at 5:30 Saturday afternoon, a large black-and-white SUV with the words "DUI ENFORCEMENT" in block letters parked next to me. It was unit No. 48 from Oro Valley.
That is also part of the new Game Day Experience at Arizona Stadium and, I'm sure, at other Pac-12 stadiums.
Arizona is desperate to improve on last season's desultory average attendance of 42,632, and the Game Day Experience, aimed at expanding that number to 52,000 or so, is the newest term in college football in Tucson and elsewhere.
The UA drew what looked to be about 35,000 Saturday night in its sometimes-laborious 62-31 victory over Southern Utah, a game that furthered the growing worry that this could be a dark season for Arizona.
Selling beer isn't going to fill the 56,000 seats at Arizona Stadium. The UA is hopeful it can attract thousands of new fans who will buy tickets no matter how late the games start, or how hot it is, or how unattractive the opponent, such as the Big Sky Conference's Southern Utah. Or no matter how unimpressive the home team is.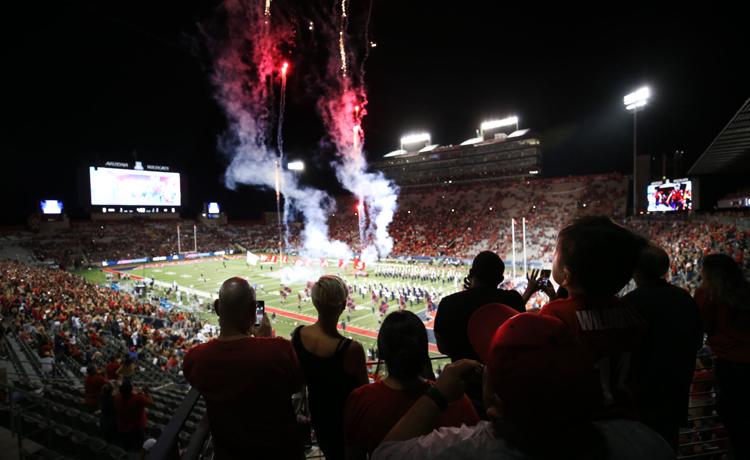 Arizona employs three full-time employees in its "Fan Engagement" department and eight FTEs in "Event Management." Every school in the league has a similar brigade, if under different names. Arizona State refers to its gameday staff as "Game Presentation." At Alabama, former UA athletic director Greg Byrne refers to it as "Crimson Tide Hospitality."
Two hours before Saturday's kickoff, Steve Galassi, president of Thermal Engineering of Tucson, stood in the shade of an awning he erected in the middle of the day's most intense heat. Galassi has been tailgating on the UA Mall for almost 10 years, and buying season tickets for 20.
"I'd say they've improved the gameday experience, but it's also a problem that they haven't modernized the restroom facilities in our area (gate 101) on the east side," he said. "And this year the Wildcat Walk has been diminished. It's like the players and coaches don't want you to get near them.
"I almost never miss a game, but it's starting to be a problem getting home at midnight. We leave for the stadium about 1:30 in the afternoon. That's a very long day. I don't know how many people they stop buying tickets every year, but it's a problem. As for now, I'm sticking with it."
The improvements of Arizona Stadium's gameday experience arrive in stages. Stage I was the Zona Zoo makeover, which is near completion. There are four new restrooms each for men and women. The vital numbers: there are 26 total urinals now available on the Zona Zoo concourse.
The west side is similarly desperate for a re-do. No announcement has been made, but it's possible the school could raze the entire west side and start over. It is a dungeon. When it is finally torn down, it wouldn't be a surprise if football archaeologists found artifacts from the original 1929 construction.
Some of the drinking fountains appear to have been used by coach Tex Oliver and the 1937 "Blue Brigade."
If you want a beer on the west side of Arizona Stadium, you must purchase it on the ground level, where 10 porta-potties have been put into place. It is then a numbing walk, back and forth, up four 30-yard long ramps to get to mid-level seats.
That's not an easy climb for the middle-age, and up, fans who dominate the west side seats.
But at least improvements are being made. The Pride of Arizona Marching Band is no longer irrelevant; it is no longer shut out by between-series video advertisements. On Saturday night, "Bear Down, Arizona" was played three times in the first half.
Now the Wildcats need to make similar improvements on the field.
Those Gronk jerseys and a few cold ones won't keep the customers satisfied long.