It was 70 degrees Wednesday at 2 p.m., when Arizona offensive line coach Joe Gilbert escaped from his office into radiant sunlight. He took a lap around McKale Center and the UA's soon-to-be-completed $25-million indoor sports center.
If you trust expressions, Gilbert was a happy man.
Dressed in a red Arizona shirt and shorts, a phone pressed to his ear, Gilbert surely spoke in merry tones on what might've been the best day of UA football since Kevin Sumlin was hired nearly a year ago.
Sumlin's regime at last appears to be settled and on point.
The feeling of accomplishment won't show up on paper; Rivals.com ranks Arizona's recruiting class No. 55 nationally, a neighborhood populated with Dukes and Wake Forests. But that's old news in Tucson. The Wildcats haven't had a top-20 recruiting class since 2007.
Those in a shrinking audience who occupy the seats at Arizona Stadium learned long ago it's not the four-star recruits who win games for the Wildcats, but mostly those like two-star Scooby Wright and a skinny walk-on like Chuck Cecil.
"We hit all spots," Sumlin said, the break-in season look of burden gone from his face.
If nothing else, Arizona now has enough size and depth to properly fight back. The Class of 2019 should be good enough to move Sumlin to Phase 2, out of the sheet rock and wiring stage and into a period in which the Wildcats can order some furniture.
"We got started a little bit later than probably everybody else this year," said Sumlin, who wasn't hired until Jan. 14. His learning curve must've been like a punch in the gut.
At Texas A&M, Sumlin signed a prodigious 71 four- and five-star recruits from 2012-17. He had recruiting classes ranked as high as No. 6 in the country, none lower than No. 15. By comparison, Arizona's top-rated Rivals.com class this century was No. 18 in 2006.
In the same period, Arizona signed just 12 four-star recruits. Of that group, only running back Nick Wilson and Khalil Tate ever performed like a four-star talent.
"I get it," Sumlin said, when asked about the star-rating system, but said he trusted his staff's evaluation skills more than those of a website scouting service.
Perhaps the best example of Arizona's belief that its Class of 2019 can help change the team's trajectory is the presence of Gilbert as offensive line coach. The 53-year-old was an O-line coach in the NFL from 2013-17. He turned in one of the Pac-12's most impressive coaching jobs in his final season, piecing together four new linemen into a useful starting group.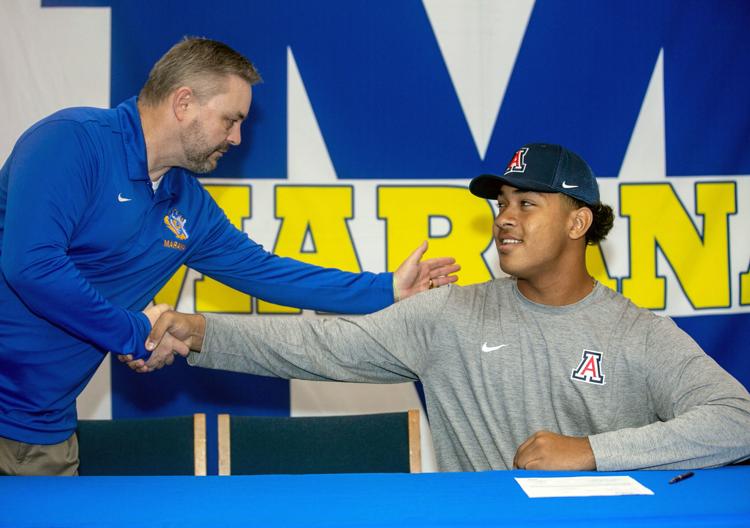 On Wednesday, Gilbert added size, age and depth that Arizona desperately needed for the rag-tag bunch that was forced to play in 2018.
Gilbert arrived early at the Lowell-Stevens compound and probably enjoyed his finest moments since moving to Tucson. He took part in four highlight videos posted by the UA on Wednesday morning.
Between 8:30 a.m. and 9:45 a.m., Gilbert introduced a four-man offensive line class that will be pivotal in the success of the Class of 2019 and beyond.
Gilbert said Arizona beat Auburn, West Virginia, Florida State and Texas to land 6-foot-6-inch tackle Paiton Fears of Kansas' Hutchinson Junior College.
The 6-3, 310-pound guard Jamari Williams of Fort Lauderdale, Florida, had "about 30 offers after decommitting from Louisville," Gilbert said.
Of 6-6, 315-pound guard Josh Donovan of Trinity Valley Community College, Gilbert said "the big thing is his (football) nastiness; he loves to finish and get after people."
And 6-5, 270-pound tackle Jordan Morgan of Marana High School has "got exceptional length; he's very, very explosive and flexible."
Gilbert pronounced Marana as "ma-RAIN-uh" which is telling. The UA football staff remains so new to Southern Arizona that it's still working on names and faces.
At another time, the confirmation that Tate will return for his senior season might've been the lead story. But the quarterback struggled so much last season that there seemed to be some ambivalence about his 2019 destination.
Part of it is that Texas prep passing record-breaker Grant Gunnell — all 6 feet 6 inches of him — became the most high-profile part of the 20-piece signing class.
Sumlin said the proliferation of 7-on-7 high school passing leagues have accelerated the readiness of young quarterbacks like Gunnell. He compared it to AAU basketball, and how it has led to year-round development and more game-ready freshmen.
Whatever it was that limited Tate last season remains unclear. Quarterbacks coach Noel Mazzone did not speak to the media all season. But on Wednesday, the school released a video of Mazzone analyzing Gunnell. Mazzone said the priorities of a QB in his system are (1) accuracy, (2) decision-making, (3) making plays and (4) arm strength.
In 2018, Tate was proficient and consistent only in (4) arm strength. Sumlin said Tate "left some yards out there." Thus, the arrival of Gunnell, who will enroll in school next month, gives Arizona a possible Option B at quarterback.
Most winning teams have a safety net at quarterback; Arizona got through 2018 without one. It also got through a 5-7 season without proper Pac-12 depth and size on both lines, and with a makeshift secondary.
On Wednesday, Arizona made a move toward fixing those woes, breaking .500 and selling more tickets. Consider it a down payment toward the 2020s.