Greg Hansen: 'Mr. Football' on the best Khalil in the league, an exhilarating October
Before the 22-ranked Wildcats take on No. 17 USC in Los Angeles on Saturday, Mr. Football breaks down the best Khalils in college football, Rich Rodriguez as a player, the SoCal recruiting vein and some Desert Swarm defense. Plus, a score prediction for the Pac-12 South showdown.
Dear Mr. Football: Is someone named Khalil the best player in college football?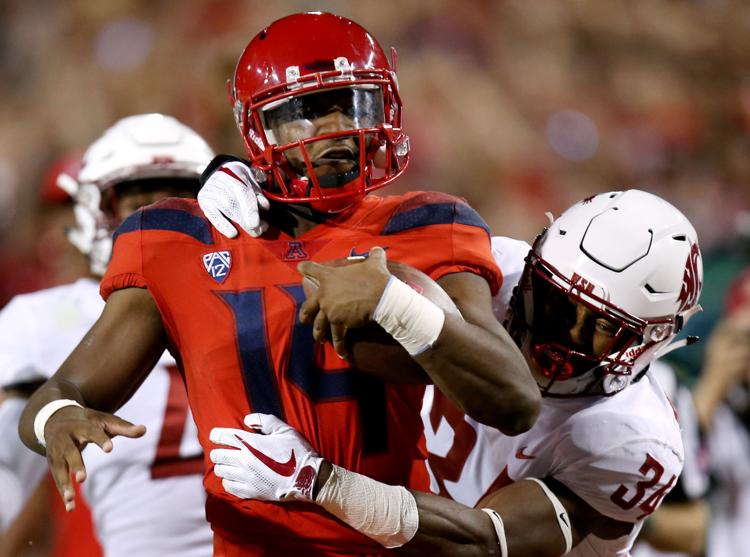 You've heard of Five Guys Burgers and Fries? College football in 2017 should create an award called Five Guys Named Khalil Cooking Up Trouble.
At Arizona, Khalil Tate, the man without a nickname, has become the most feared player in the Pac-12. (My new attempt at a Tate nickname is Special K.)
At Buffalo, linebacker Khalil Hodge is second in the NCAA with 119 tackles. That's 36 more tackles than anyone in the Pac-12.
At Middle Tennessee State, linebacker Khalil Brooks has 11 tackles-for-loss and 5½ sacks, both of which would be in the top three in the Pac-12.
At Houston, defensive back Khalil Williams has 47 tackles, including eight for losses; he sacked Arizona quarterbacks twice in Tucson.
At Kansas, tailback Khalil Herbert has rushed for 544 yards, averaging 6.3 yards per carry, a lone star for a 1-7 team that is otherwise impotent.
Most famous football Khalil ever? It is Khalil Hodge's predecessor at Buffalo, Khalil Mack, the No. 5 overall pick in the 2014 NFL draft.
Dear Mr. Football: Has anyone in Power 5 Conference football ever won four consecutive player of the week awards besides Special K?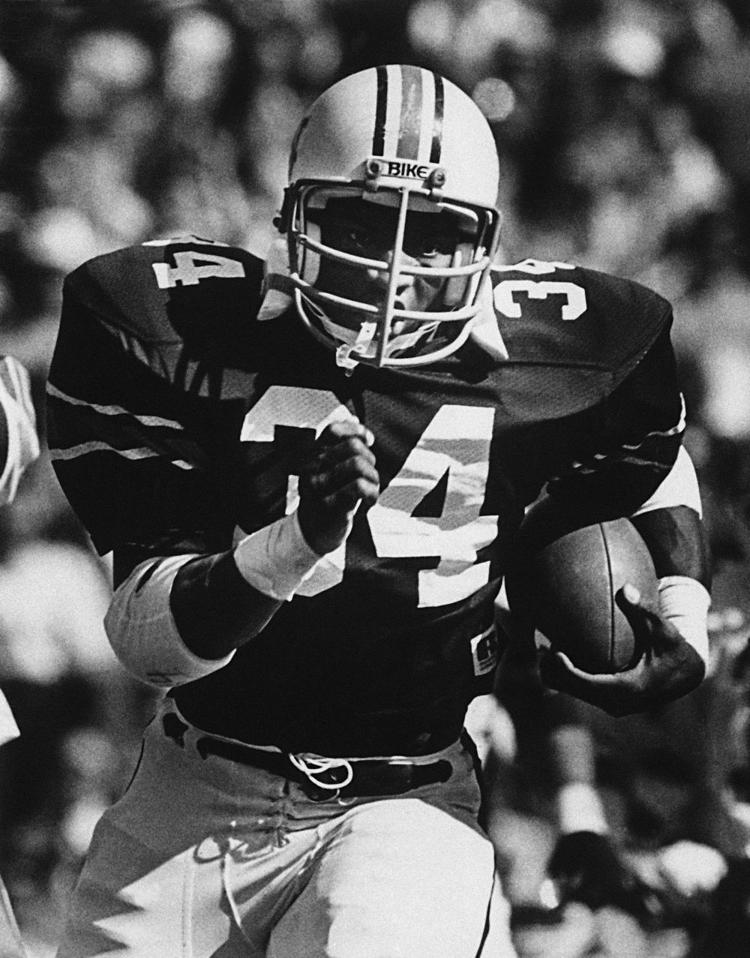 Seven have won their conference award four times. Among them: the incomparable Bo Jackson at Auburn in 1985; Heisman Trophy winner Desmond Howard at Michigan in 1991; Heisman winner Ron Dayne at Wisconsin in 1999; Purdue quarterback Drew Brees in 2000; and Michigan quarterback Denard Robinson in 2011. 
That should provide context on what it is Tate has accomplished. No one named Joe Smith has done it.
Most conferences began awarding a player-of-the-week honor in the early 1980s; only two Power 5 offensive players have won five of them: Cam Newton at Auburn in 2010 and Heisman winner Ricky Williams of Texas in 1999. Williams won four times in five weeks, but Tate is the only man to win it four times in a row.
Dear Mr. Football: Did Rich Rodriguez ever win an award as a college football player?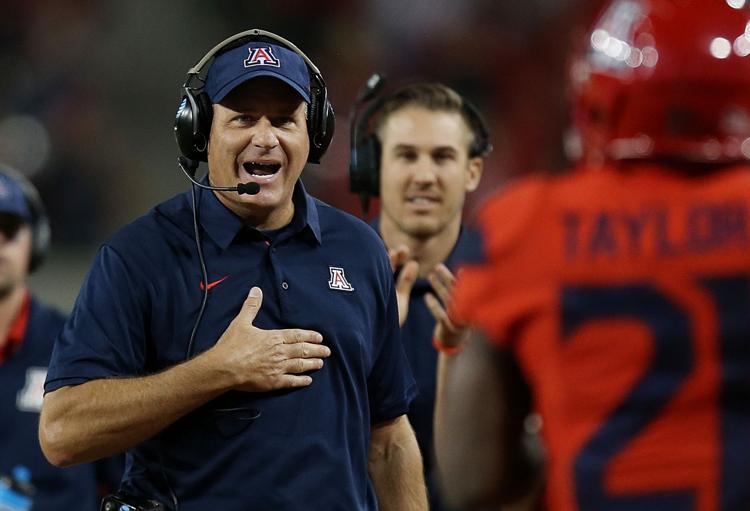 At the year-end banquet for the 1984 West Virginia Mountaineers, RichRod — a former walk-on defensive back — was summoned to the stage to much applause when it was announced he was recipient of the Ideal Mountaineer Award. It is WVU's coveted honor voted to the player deemed to exhibit a combination of academics, perseverance, citizenship and football.
A generation later, another WVU defensive back, Jahmile Addae, was presented the Ideal Mountaineer Award. Addae is in his second season as Arizona's safeties coach, and, if the season ended now, he would be strongly considered as the Pac-12's secondary coach of the year.
So far this year, Addae has started true freshman Scottie Young and redshirt freshman Jarrius Wallace at free safety, with junior Demetrius Flannagan-Fowles  and oft-used true freshman Troy Young manning the bandit-safety spot.
What looked to be one of the club's weakest areas has been productive.
Dear Mr. Football: How did Arizona respond the last time it went 4-0 in October?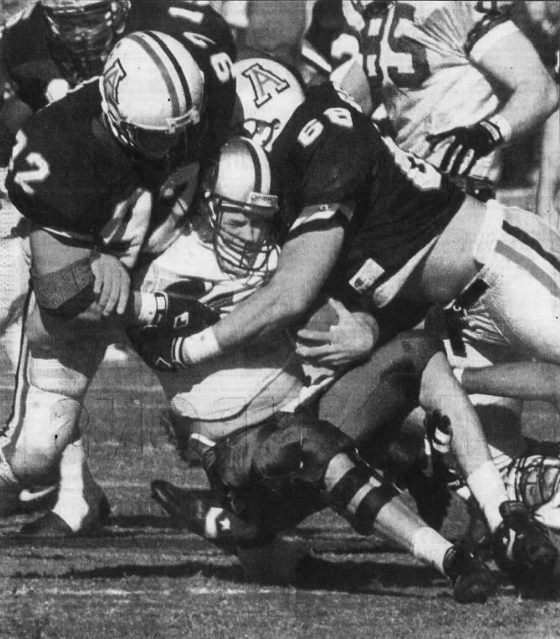 The stunning emergence of the 1992 Desert Swarm defense was the last time Arizona had a 4-0 October. The Wildcats soared to No. 12 nationally and then stunned No. 1 Washington to make it five straight.
What's often lost in the hyperbole about Desert Swarm's break-out season is that it collapsed after that 5-0 streak. The streak ended with — you guessed it — a loss at USC. After that, Arizona stumbled with losses to Arizona State and Baylor for an unfulfilling 6-5-1 finish.
Similarly, the most difficult three games of Arizona's season remain: at USC, at Oregon and at ASU. Given what's at stake in November, It's almost as if Arizona's undefeated October might've been window dressing.
Dear Mr. Football: How fortunate was Arizona to tap into SoCal's Serra High School football recruiting vein?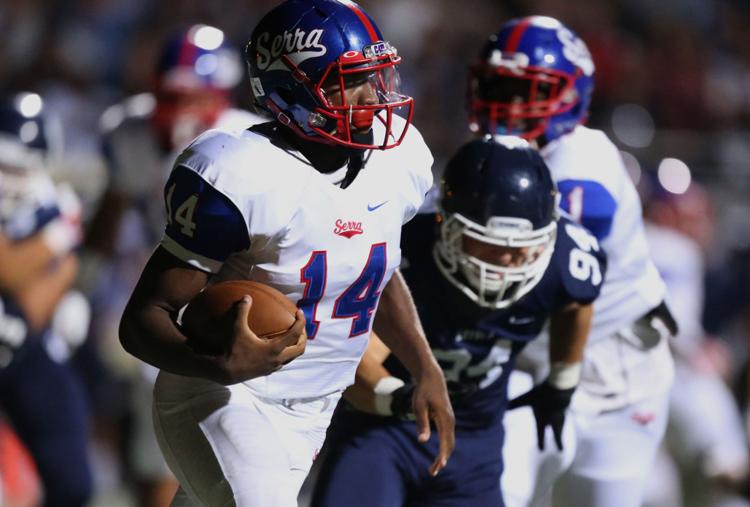 Over the last decade, Serra High, located in Gardena 11 miles from USC's campus, has become the most fertile college football recruiting site in California. It ranks with the top high schools in Florida and Texas.
The Trojans have eight Serra grads on this year's team, including NFL prospects such as defensive linemen John Houston and Rasheem Green, receivers Jalen Greene and Deontay Burnett and future stars like linebacker Wole Betike.
Ironically, Greene was Serra's starting quarterback — Tate was his backup — when the Cavaliers went 13-1 in 2013.  Greene was sensational, passing for 2,544 yards and rushing for 1,229. But the Trojans switched Greene from QB to receiver, which Tate feared would happen to him if he followed the Serra pipeline to USC.
That's why he's a Wildcat, not a Trojan.
Ten years ago, 2007, when Pete Carroll's Trojans were the most feared program in college football, Serra was not yet a recruiting hot spot. The '07 Trojans had just one Serra Cavalier in 2007. USC was powerful because it dominated the traditional SoCal recruiting caches at Mater Dei, Long Beach Poly, Bishop Amat and in the Inland Empire. It was then that Serra started assembly-lining players like Khalil Tate.
This year's Serra team is unexpectedly vulnerable, 5-4 through games of last week, but coach Scott Altenberg's club has at least eight Pac-12 caliber recruits. It includes two who have been offered scholarships by Arizona: four-star athlete Byron Addison, who is being pursued by ASU, Washington and Michigan, and four-star cornerback Merlin Robertson, who has also been offered by Oklahoma.
Funny story: Altenberg, the coach whose players line up to play for the Trojans, is a UCLA grad.
Dear Mr. Football: Can Arizona beat USC?
Flaws? The Trojans are just 75th nationally in total defense, which is absurd given their level of talent.
Quarterback Sam Darnold has thrown 10 interceptions, which is third-worst in the league, but, c'mon, that's only one pick per 32 attempts.
And USC is playing without a bye this season. In 2015, when Colorado and Arizona were given the dreaded "no bye" schedule by the Pac-12, the Wildcats and Buffaloes both sagged down the stretch. Arizona went 1-4 to finish the regular season, giving up an average of 43 points a game.
The '15 Buffaloes went 0-5 to finish the season.
USC can be forgiven its mail-it-in performance at Notre Dame, losing 49-14. It had been through a gauntlet of Stanford, Texas and a road game at Washington State. If the Trojans played Arizona's schedule, they would surely be 8-0 and ranked No. 2 or No. 3 nationally.
For Arizona, the gauntlet begins now. If it can go 2-2 down the stretch, Arizona would be one of the most compelling stories in college football. But it might have to wait a week to be compelling again.
Trojans 47, Wildcats 31