Greg Hansen: 'Mr. Football' weighs in on Khalil Tate comparisons, Mike Leach and one infamous blowout in Pullman
Ahead of the Arizona Wildcats' homecoming showdown against Washington State, Mr. Football takes a look at Khalil Tate's football hero, Logan High School pitcher Luke Falk, the Leach history, and the Pac-12's dungeon of misery. Plus, a prediction for Saturday's big game.
Dear Mr. Football: Has Arizona Stadium ever been sold out for a Washington State game?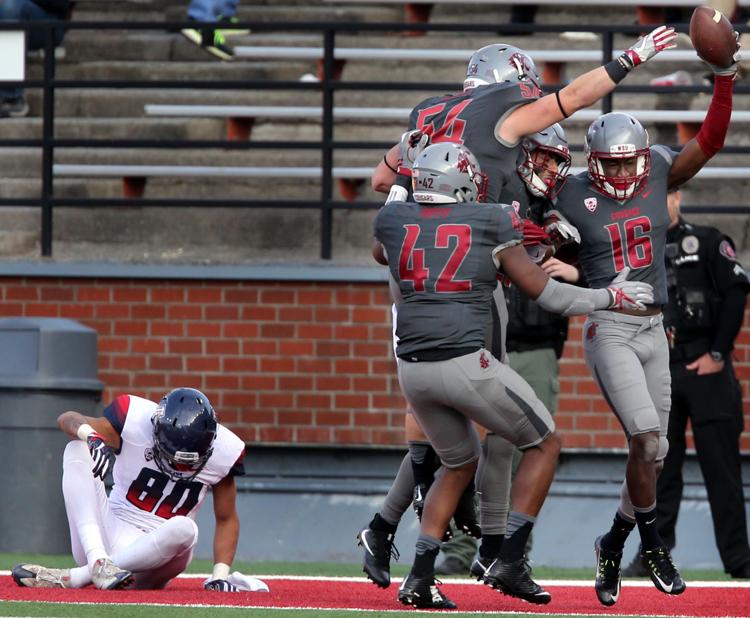 The Cougars have played 18 games in Tucson since the formation of the Pac-10 and have averaged 46,127 fans, or about 10,000 empty seats per game. Only once, in 1990, did the Cougars fill the old place – 55,520 – and in retrospect the positive variables were in place for that near-sellout.
Arizona (5-2) was coming off a rousing 35-26 victory at No. 15 USC, and the only live telecast was on Prime Ticket, a fringe cable outfit from Southern California. Tucson's KMSB, Channel 11, announced it would televise the game live, piggy-backing Prime Ticket's feed, but a Tucson judge banned Channel 11 from doing so.
Perhaps more important, Arizona had not played in Tucson for 28 days. Former UA athletic directors Cedric Dempsey and Jim Livengood frequently said the middle-class Tucson football fan could not afford week-after-week ticket purchases. When home games were spaced with two or three weeks in between, more tickets were sold.
The most compelling UA-WSU game ever played in Tucson was in 1993, yet it drew a mere 46,675 when Desert Swarm was 6-0 and ranked No.7 and Washington's State's "Palouse Noose" defense, No. 2 in NCAA total defense nationally, arrived ranked No. 25.
The game kicked off at 12:30 p.m., televised on ABC, and it was 84 degrees at kickoff. Yet there were 10,000 empty seats. Few UA games in history were more attractive: the Wildcats were coming off back-to-back victories against USC and Stanford in front of sold-out crowds. Alas, all three were played in Tucson and the middle class fan couldn't afford to attend all three.
So they chose glamour teams Stanford and USC and watched the WSU game on network TV. Arizona won 9-6.
Dear Mr. Football: Is Rodney Peete the football idol of Khalil Tate?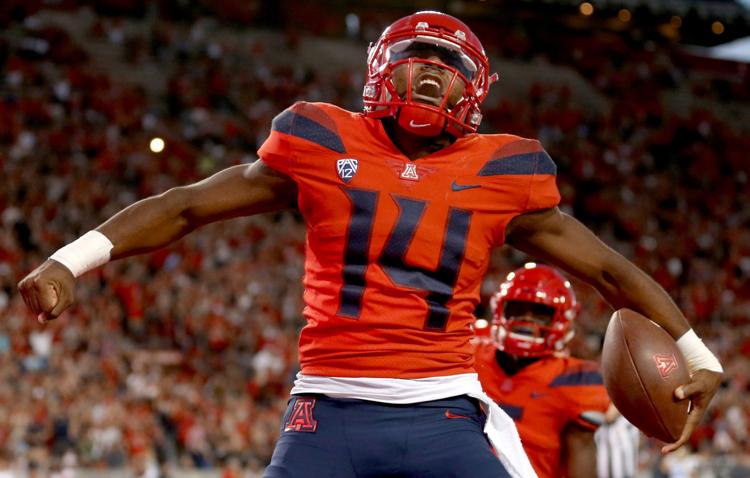 "My guy was Donovan McNabb," says Tate. "He wore jersey No. 5."
McNabb, who grew up in Chicago, was a lot like Tate; he was 6 feet 2 inches and about 230 pounds who was only offered a chance to play quarterback by Syracuse and Nebraska. The other Big Ten schools preferred McNabb play receiver or safety. McNabb rushed for 1,554 yards at Syracuse, making him one of the top running quarterbacks of the 1990s.
But Peete is the only other Pac-12 quarterback, like Tate, to win the league's offensive player of the week three times in succession. Their performances couldn't be more different.
Peete, who grew up in Tucson and played at Sahuaro High School, threw for 892 yards and only rushed for 37 in 1988 victories against Arizona State, Cal and UCLA. Tate threw for 468 yards and rushed for 694 in Arizona's wins against Colorado, Cal and UCLA.
Peete and Tate have this much in common: a day after his '88 victory at UCLA, his third straight Pac-10 weekly honor, Peete was decked by the measles. On Monday, the day Tate learned he won his third weekly honor, he missed school with flu-like symptoms.
If Tate wishes to meet Peete, that can be arranged. Peete will be in Tucson over the weekend while being inducted into the Pima County Sports Hall of Fame. Sunday's luncheon at the DoubleTree Hotel starts at 12:30 p.m.
Dear Mr. Football: Did Washington State quarterback Luke Falk solo in football?
As a freshman at Logan (Utah) High School, Falk played baseball for the Grizzlies — my alma mater. My brother, Mike, was his coach.
"He was a pitcher with tremendous ability," Mike says now. "But his mother took him out of baseball and he didn't play baseball again."
Falk's football roots go deep; his grandfather, Jack Falk, grew up on a farm about 70 miles north of Logan and became a standout fullback at Eden High School in Idaho. A structural steel engineer who built bridges in the Intermountain West, Jack Falk would often travel to Pullman to watch his grandson play for the Cougars. Sadly, he died on Tuesday at age 88.
Dear Mr. Football: Did WSU coach Mike Leach inherit football genes from his father?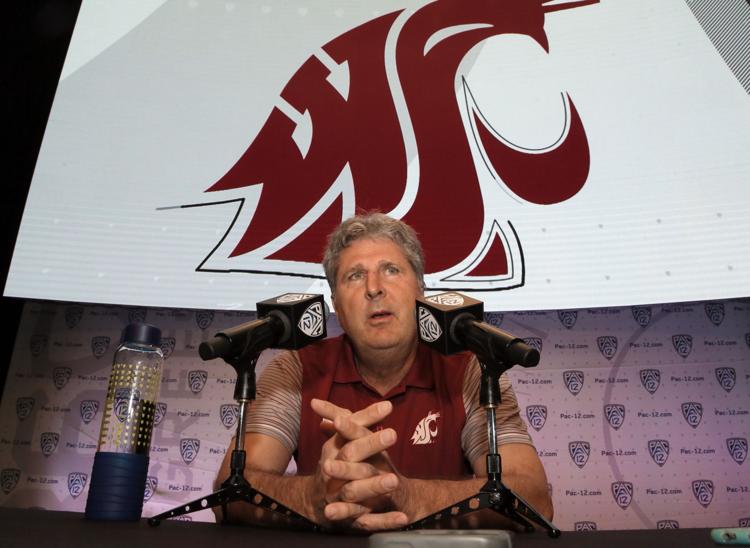 Leach is one of five Pac-12 head coaches whose fathers were not heavily involved in football. His father, a Mormon who raised the Leach family in Susanville, California, is an Air Force veteran who served in the Korean War.
The other non-football backgrounds: Rich Rodriguez's father, Vince, was a welder at a mine; ex-Oregon State coach Gary Andersen's dad worked for the phone company in Salt Lake City; and Oregon coach Willie Taggart's dad was a farm laborer in Florida.
ASU coach Todd Graham's father left his family when Graham was young and was not part of his life.
The league's other coaches grew up in football. Washington coach Chris Petersen's dad was a high school and junior college coach in Yuba City, California. Colorado coach Mike MacIntyre's father was the head coach at Vanderbilt. Cal coach Justin Wilcox's dad is in the NFL Hall of Fame.
The fathers of UCLA's Jim Mora, Stanford's David Shaw, USC's Clay Helton and Utah's Kyle Whittingham all made a living as college or pro coaches.
Dear Mr. Football: Is there any precedent for losing by 62 points to a team one year and beating them the next season?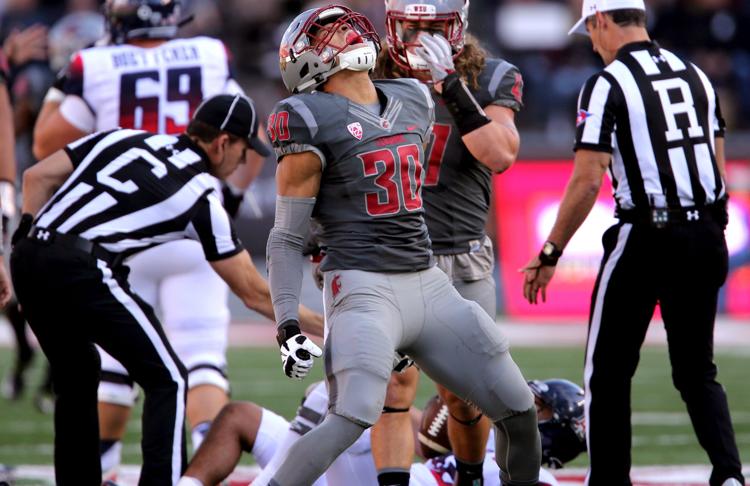 No team in Pac-12 history has lost by 60 or more and beat that team a year later. Only once has a team lost a conference game by 50 or more and beat that team a season later.
And it happened in Tucson.
In 1991, No. 3 Washington pole-axed Arizona 54-0 in Seattle. It was so bad that UA quarterback George Malauulu was sacked six times and was either intercepted or lost a fumble six times.
But 13 months later at Arizona Stadium, the No. 12 Wildcats beat No 1 Washington 16-3.
I don't think last year's 69-7 loss at WSU was any worse than the 54-0 punishment 26 years ago in Seattle. The '91 game was like a WWE beatdown. The '16 game in Pullman was like trying to keep up with Bernard Lagat in a 5,000-meter race.
Dear Mr. Football: What's the dungeon of misery in Pac-12 football?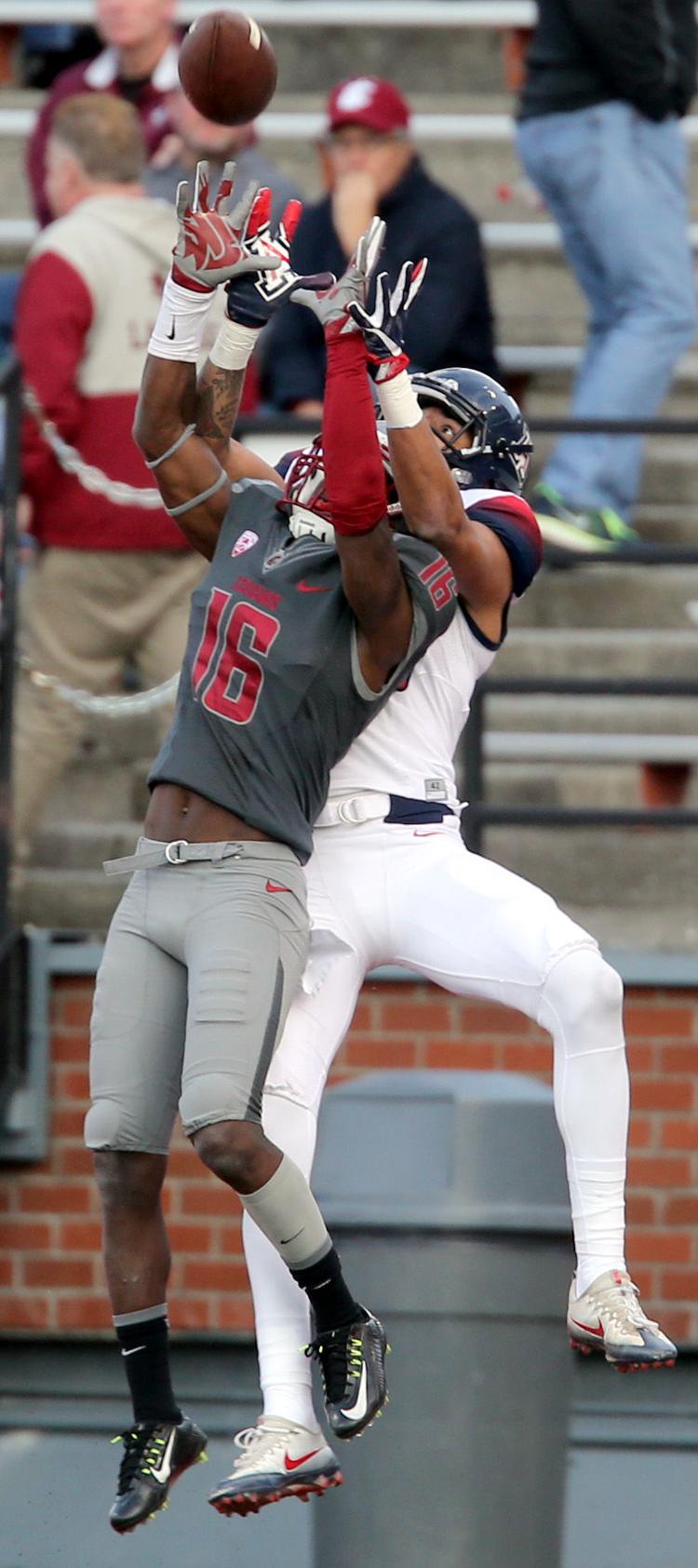 Dilly, dilly, it's when Washington State combines its ridiculously confusing spread-you-out-and-get-multiple-receivers-open-in-space offense with a shut-down defense.
Leach got the credit for last year's 69-7 embarrassment, but defensive coordinator Alex Grinch might've been just as effective. His defense allowed Arizona a season-low 286 yards; only once did the UA get inside WSU's 20-yard line.
Grinch is so highly respected in college football that he is paid $600,000 this year, which is more than any UA assistant coach. He is also likely to be No. 1 or No. 1-A in the head coaching searches in December.
If the Cougars win the Pac-12 North, beating Washington in the Apple Cup, it'll be Grinch's work on defense that makes the difference. A week ago, Colorado was an unfathomable 1 for 17 on third downs while losing 28-0 at Washington State.
A year ago in Pullman, the Cougars completed 47 of 52 passes. Khalil Tate got a brief chance to play in that game. He was not good: 1-for-6 passing with an interception.
No one referred to him as the Tate Train that day.
About the only way Arizona wins today is if the 19-year-old quarterback continues his See-You-Later Tater routine.
But I suspect Arizona's defense needs another year of development before it can win a game like this.
Cougars 41, Wildcats 35.