Greg Hansen: 'Mr. Football' weighs in on Khalil Tate's tears, attendance woes, TV ratings
The Star's columnist also predicts Saturday's winner.
Dear Mr. Football: Is there crying in football?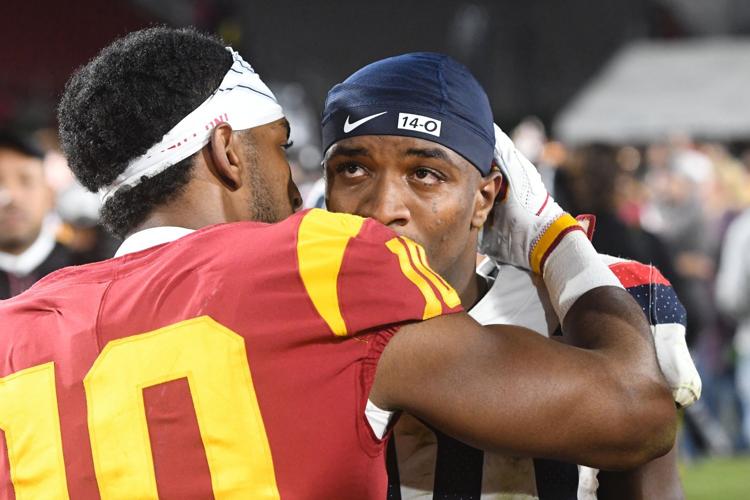 A: I've seen tears from basketball players Kenny Lofton to Aaron Gordon, and a flood of weeping softball souls from Danielle O'Toole to Jennie Finch.
But until UA quarterback Khalil Tate broke down after losing at USC last week, I had witnessed tears of sorrow from just one UA football player: All-American cornerback Darryll Lewis.
The 1990 Jim Thorpe Award winner was crushed by Arizona's 1990 loss against a ghastly Oregon State team that would finish 1-10. The No. 21 Wildcats arrived in Corvallis looking to the next week's colossal game at USC. The UA's two starting receivers, Terry Vaughn and Jimmy Butler, were not allowed to play because they missed a team meeting the night before the game — a meeting held in the same Oregon hotel at which they slept.
Talk about sleeping on an opponent.
A day later, when the door creaked open to the UA's old and moldy locker room in the basement of Gill Coliseum, Lewis, sitting in the first chair by the door, was sobbing.
A week later the Wildcats shocked USC 35-26 in Los Angeles. Crazy game.
Dear Mr. Football: Is there any reason a UA football fan should shed tears?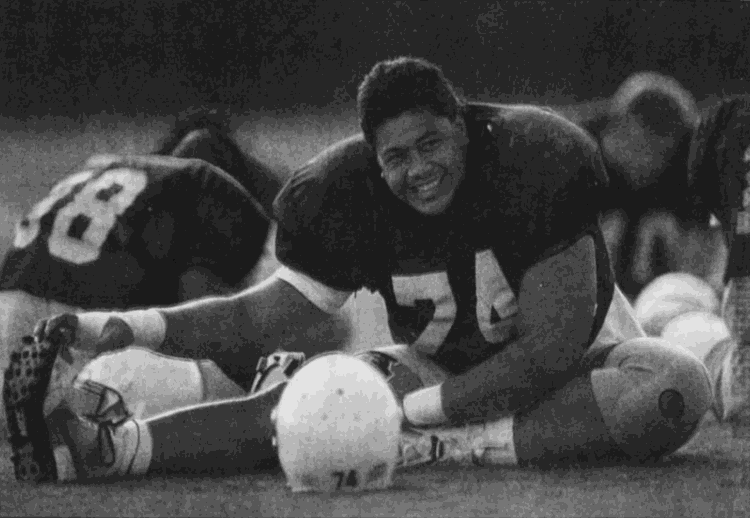 A: Three-year Arizona starting offensive lineman Mu Tagoai died last week in Florida. He was only 45. A celebration of his life will be held Nov. 18 in Burnsville, Minnesota.
An unusually high number of Arizona football players from the Pac-12 era have died far too young. Tagoai is the 11th. Those on his early-1990s UA teams who preceded him in death were fullback Mike Streidnig, linebacker Akil Jackson, lineman Pulu Poumele and tackle Chuck Osborne.
Those who played in the Larry Smith years years of the '80s who died are center Joe Tofflemire, guard Val Bichekas, receiver Derek Hill, nose guard Joe Drake and defensive back Dave Liggins. Sadly, defensive tackle Young Thompson, Class of 2002, died in Tucson when just 28.
That puts a football game in perspective.
Dear Mr. Football: Are Arizona fans likely to respond to the last chance to watch Ka-Thrill Tate in Tucson and exceed 50,000 in attendance?
A: I asked UA athletic director Dave Heeke if a crowd of 50,000 possible.
"No," he said.
This will be just the fifth year Arizona hasn't drawn at least 50,000 to a game since the Wildcats entered the conference in 1978. Other years: 1983, 2001, 2002, 2003.
"I've heard 100 reasons and I want to understand better why our attendance has dropped," Heeke said. "We'll pause a little bit after the season and survey everybody. I'm concerned about the pricing structure. We'll look into something there."
Dear Mr. Football: Did Arizona get any help recruiting Ka-Thrill from Serra High School in Gardena, California?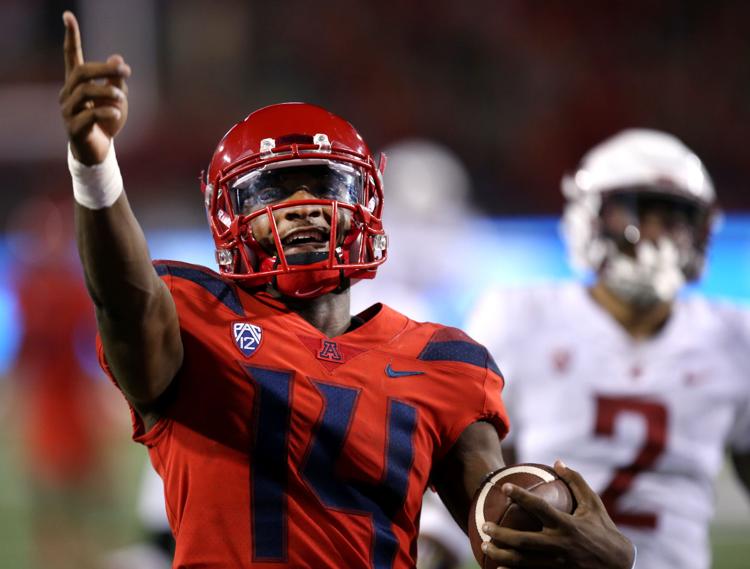 A: Charles Nash was the head coach at Serra from 1994-98, one of the top two-sports athletes in UA history, a sprinter-receiver from 1974-76, drafted by the Cleveland Browns.
When Tate was in the process of choosing a college, current Serra coach Scott Altenberg contacted Nash, who moved with his wife Shirley to Tucson after being an assistant coach at San Jose State.
Altenberg asked Nash to talk to Tate.
Nash told Tate that Tucson would be a good place for him to go to school and play football. And why not? Nash's son, Charles Nash Sr., played at Arizona in 1998, and his nephew, Brandon Nash, was a key receiver on Arizona's 12-1 team of 1998.
Dear Mr. Football: Is a football heavy?
A: Legendary USC coach John McKay's famous response when asked if O.J. Simpson might get worn down by carrying 30 or more times a game: "Why, the football's not heavy."
A week ago, Tate carried a Pac-12 quarterback-record 26 times at USC.
Carrying 26 times a game isn't recommended in an era when "concussion protocol'' has become one of the most oft-used phrases in the game. Arizona has a not-so-happy history about allowing QBs to get hit so often.
In 1987, freshman Ronald Veal made his starting debut with a 23-carry, 134-yard game against Bowling Green. He was sensational. Two weeks later Veal carried 22 times for 142 yards against Oregon State, followed by a 24-carry game against Washington State. Veal was hit so hard so often that he only gained 35 yards on those 24 carries, which had been the league's QB record until last week.
A week later against Washington, Veal was injured – he hurt both ankles — after 19 carries. Arizona inserted a safety, Jeff Hammerschmidt, to run the option offense; he carried 12 more times, giving Arizona QBs 31 carries in a game.
Veal was never the same after that early burden of 121 carries in six games. Over the next three years, he carried 20 or more times just once, ultimately splitting time with Bobby Watters and George Malauulu.
Dear Mr. Football: Do people in Massachusetts and Delaware know who Ka-Thrill Tate is?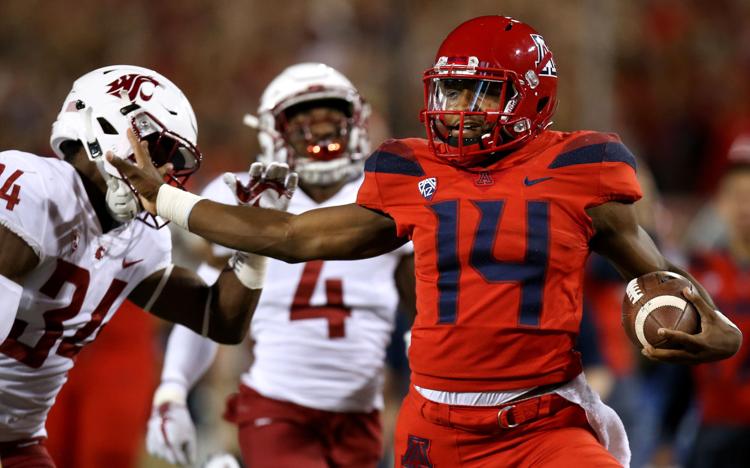 A: Last week's UA-USC game on ESPN drew an audience of 1.93 million viewers. The last time Arizona played in a game not televised by the Pac-12 Networks, against Utah in the pre-Tate days, it drew 581,000 on Fox Sports 1.
Many TV industry people have suggested the Pac-12 Networks usually draw about 75,000 viewers for a Saturday night football game.
Here's the power of ESPN: the mid-September Arizona-UTEP game drew 829,000 viewers on ESPN. Tate did not play in that game. 
Dear Mr. Football: What is the dreaded "600 Club?"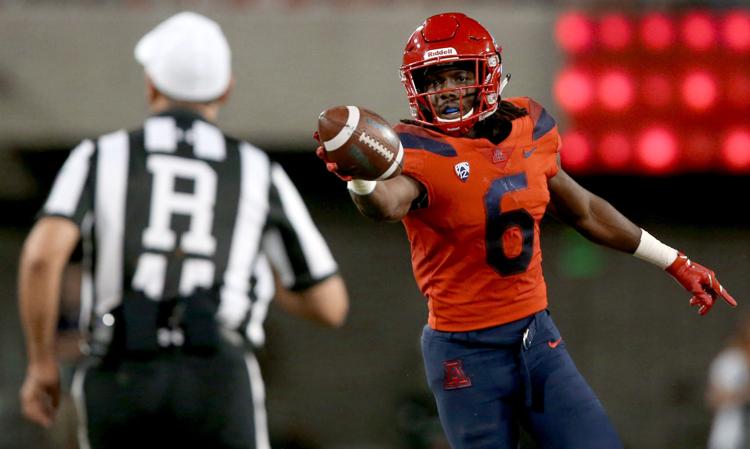 A: Arizona's defense has yielded 600 or more yards against NAU (603), Washington State (646) and USC (642).
That's got to stop if Arizona is to beat Oregon and Arizona State — or even split — later this month.
RichRod's defenses have yielded at least 600 yards in 11 games at Arizona and they are 5-6. That's astonishing, but it's also a reflection on how college football has changed.
The woebegone Beavers last gained 600 yards in September 2012. That was the night the Beavers beat the Wildcats 38-35 in Tucson when OSU had future NFL offensive standouts Sean Mannion and Brandin Cooks.
Now the star-power belongs to Arizona.
Wildcats 52, Beavers 24