A football game planner and play caller with the chops of Arizona's Noel Mazzone is paid about $10,000 a week, often much more, to detect and exploit imperfections in an opponent's defense.
How tough can it be? You've got four full-time assistant coaches, two graduate assistants and two full-time offensive analysts to help break the code of a team like Oregon.
But sometimes, no matter what vulnerabilities an offense coordinator like Mazzone finds, his schemes don't work because (a) his quarterback has a sprained ankle, (b) his defense gives up 38 points in the first half at Houston or (c) the defensive game planner at BYU makes you look like you took the summer off.
Finally, after two months of trial and error — mostly error and a lot of injuries — Mazzone's lab work became a thing of beauty.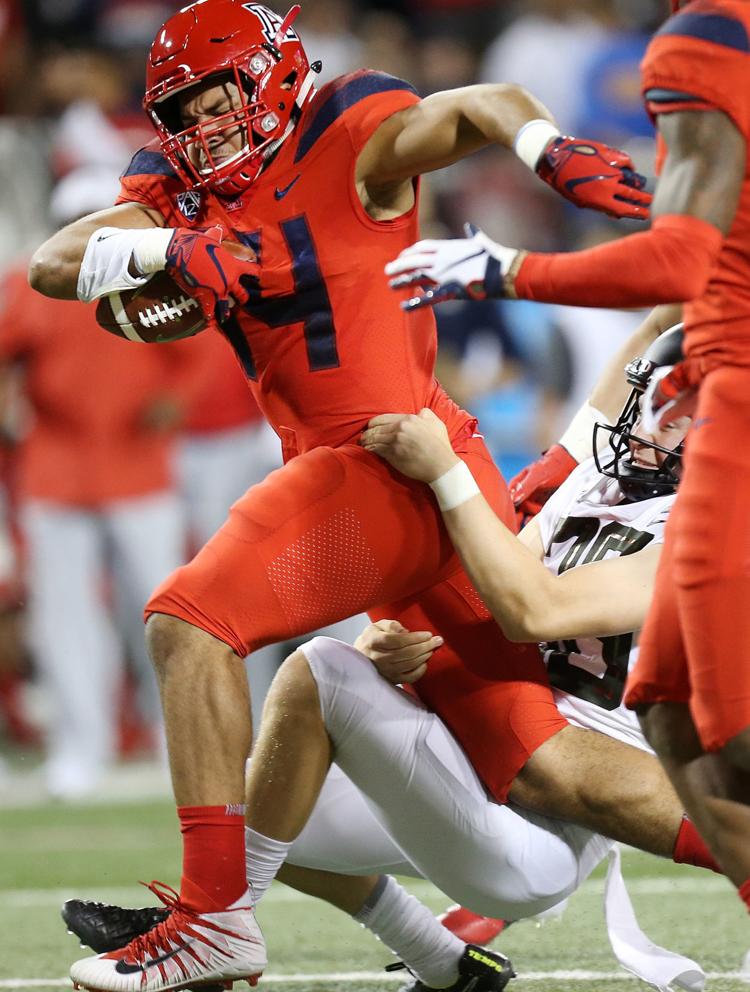 When quarterback Khalil Tate threw a short touchdown pass to wide open Shawn Poindexter to give Arizona a 37-8 lead over Oregon on Saturday night, the frustration lifted. Mazzone kicked his left leg into the air, regained his balance and then kicked his right leg into the air.
It wasn't quite a ballet or a pirouette, but it was a victory dance that few in college football expected. Arizona dominated the Ducks, winning 44-15. It was part football game, part clinic, on both sides of the ball.
How did the Wildcats go from being so lifeless to so invigorated so unexpectedly?
A lot of it was that Mazzone's game plan — quick passes against a soft Oregon defense, and cannonball-type bursts from running back J.J. Taylor that caught the Ducks web-footed — played to the UA's strengths.
Mazzone kept it simple; he did not ask Tate to do too much, and, after two months in Mazzone's new system, Tate has clearly learned not to try to do too much.
But there was another element in Arizona's football ballet that completed a weekend of misery in which the Pac-12's power franchises at USC, UCLA, Stanford and Washington went splat.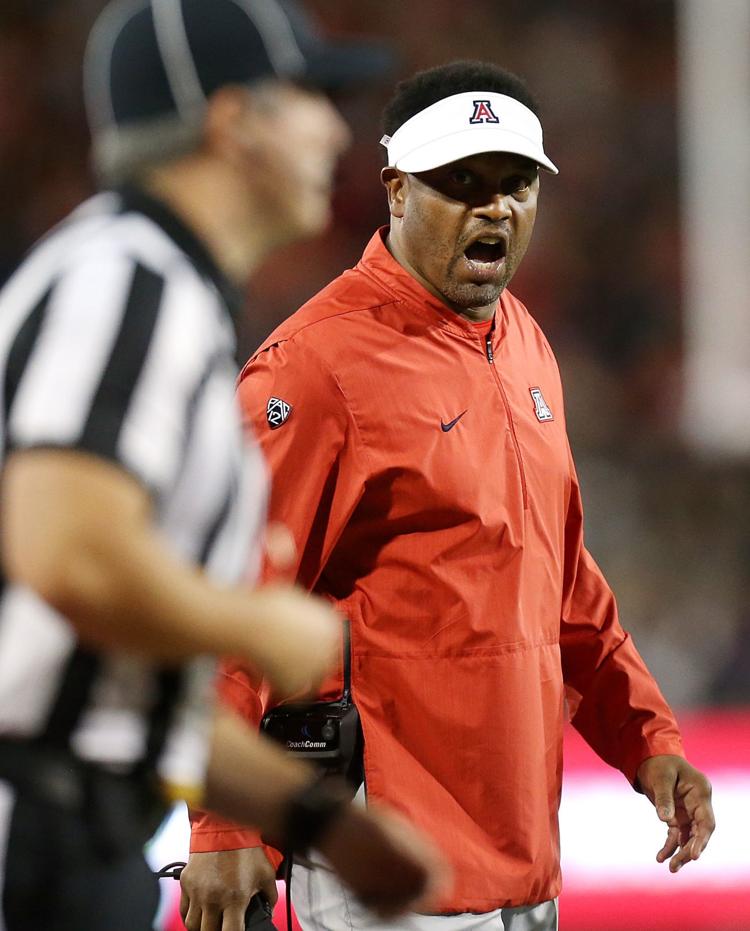 The Ducks mailed it in. If they had any interest in playing football Saturday night, it didn't show.
You've seen it before in Pac-12 basketball. Arizona completes a weekend sweep of UCLA and USC and flies to Maples Pavilion for a late Thursday night game against Stanford and gets bushwhacked by a team wearing its uniforms inside out.
On Saturday, the Wildcats turned Oregon inside out, and, in retrospect, it isn't that much of a shock.
The Ducks of 2018 don't pass the eye test. All of those NFL-type bodies that used to ransack the Pac-12 — DeForest Buckner, Arik Armstead, Dion Jordan, Kiko Alonso, Royce Freeman and on and on — have left town.
Oregon is working on its third head coach in three seasons and its 16-17 record since 2015 doesn't lie.
What's more, this talent-challenged Oregon team was probably mentally bankrupt by the time it arrived at Arizona Stadium. In its last four games, the Ducks played four Top 25 teams (on game day) that had a combined 16-2 record .
Last week Oregon fell behind the league's best team, Washington State, 27-0, in the first half, taking, as it usually does, the opponent's best shot. After a month of "best shots," the Ducks walked into an Arizona ambush.
It was almost a one-punch fight.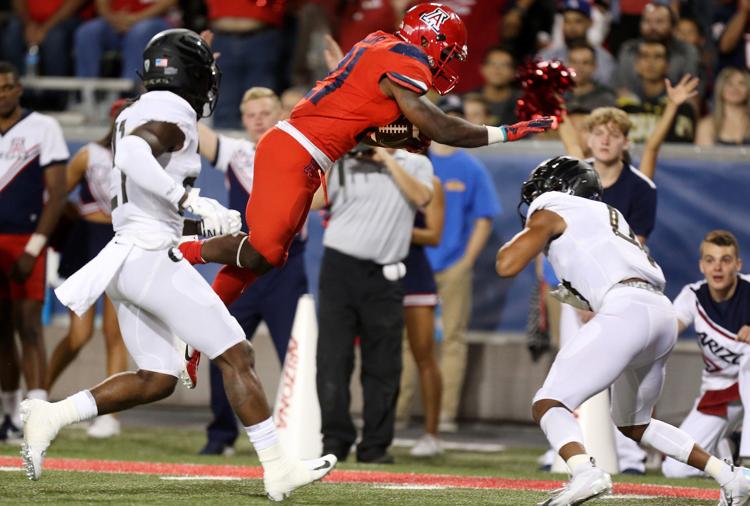 On its first six possessions, Oregon had three 3-and-outs, lost a fumble, threw an interception and punted four times.
UA defensive coordinator Marcel Yates, who is paid less than half of Oregon defensive coordinator's Jim Leavitt's $1.2 million per year, left touted Ducks quarterback Justin Herbert dazed and confused.
Entering garbage time in the final four minutes, Herbert had completed just 18 of 40 passes and the Ducks had gained a scant 211 yards. That's about a third of what a few Oregon teams have gained against Arizona in the last 15 years.
Yates has been an easy target for long-suffering UA fans, but he had so little to work with — a painful combination of lack of size and experience — that it took him weeks to reconfigure his defense to include first-year players JB Brown, PJ Johnson and several others who weren't on the depth chart in August.
Now November no longer looks like a hurry-and-get-it-over-with finish to a painful season.
Colorado's season has gone south, and although Arizona State won Saturday at USC, beating the Trojans is no longer a save-the-season triumph. Use your imagination. Is it possible the Wildcats can beat the Buffaloes and Sun Devils and qualify for a bowl game?
Twenty-four hours ago that would've been the impossible dream.
After the game, Mazzone lingered, the last UA coach on the field, meeting with family, friends, recruits and some of the ex-Wildcats in town for a reunion of the 12-1 team of 1998.
Finally, UA athletic director Dave Heeke greeted Mazzone with a handshake and bro-hug in the end zone.
For once, it was familiar territory for the Wildcats.