Star columnist Greg Hansen provides an inside look at college football in 2019.
Star columnist takes you inside the 2019 season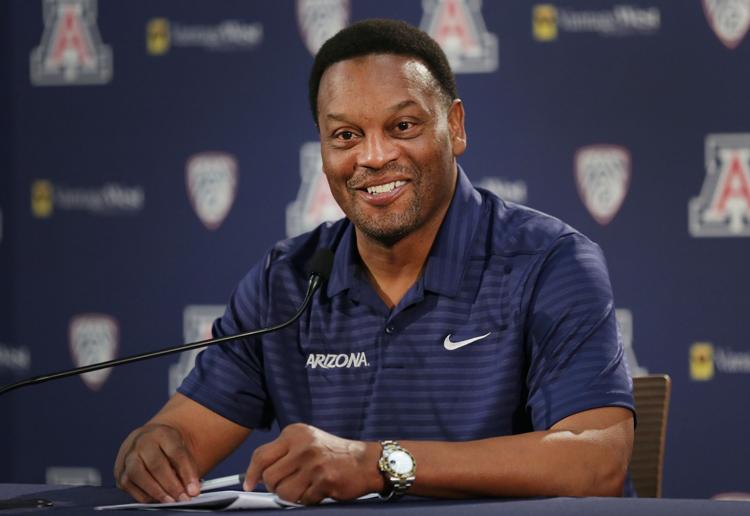 Arizona Daily Star's Greg Hansen dives into how the Pac-12 South will shape up, fightin' words and five things you can book this season. 
Editor's note: This story is part of the 2019 college football preview, which will be available in Sunday's Arizona Daily Star. 
Three ways college football has changed since Arizona's first-ever game against Hawaii, Dec. 21, 1951, in Honolulu: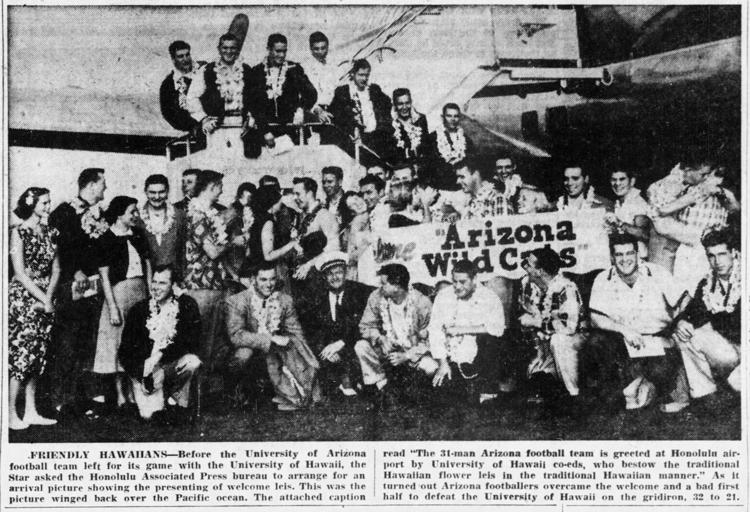 1. The 1951 Wildcats took just 31 players and two assistant coaches to Honolulu. They arrived 27 hours before a Friday-night kickoff. This time, Arizona took 70 players, 10 assistant coaches and a staff of almost 25 people to Honolulu. The Wildcats arrived about 80 hours before kickoff.
2. The 1951 game was broadcast on KCNA-AM radio in Tucson, using Hawaii's play-by-play announcer. Kickoff time in Tucson was 10:30 p.m. This time, the CBS Sports Network broadcast the game beginning at 7:30 p.m. Tucson time.
3. Arizona, 5-5, had not played for 27 days before beating Hawaii 32-21 (although it trailed early 14-0). Hawaii, 4-5, had lost the previous week to the Camp Pendleton Marines and before that to the Naval Sub-Pac team from San Diego. Its record book lists two of its 1951 victories against "Town Team." Attendance was 7,500.
Three things about the CBS Sports Network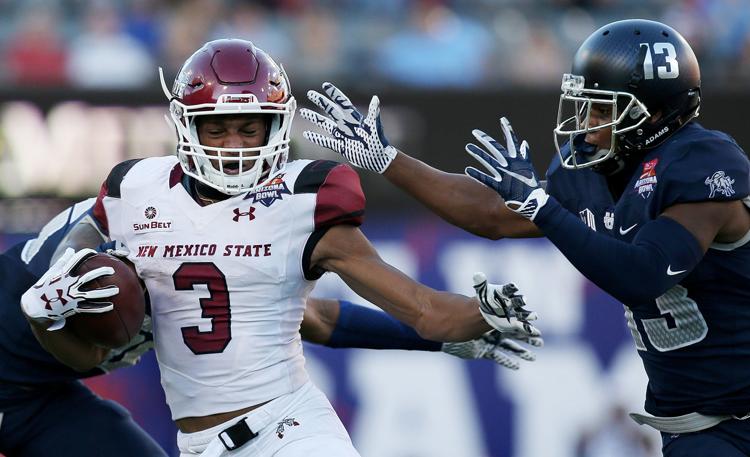 1. It has about 60 million subscribers — about half of ESPN's reach — and is perceived as the home of the military academy football teams. Army will play eight games on the CBS Sports Network, Navy six games and Air Force five.
2. Its second home is the Mountain West Conference; Boise State has five games on the CBS Sports Network and Utah State four. Its final game of a 71-game 2019 schedule is Tucson's Nova Home Loans Arizona bowl on New Year's Eve afternoon.
3. The only Power 5 conference teams scheduled to play on the CBS Sports Network this season are Arizona, Purdue, Indiana, Missouri, Minnesota, Maryland, Baylor and Texas.
A few observations about UA running back J.J. Taylor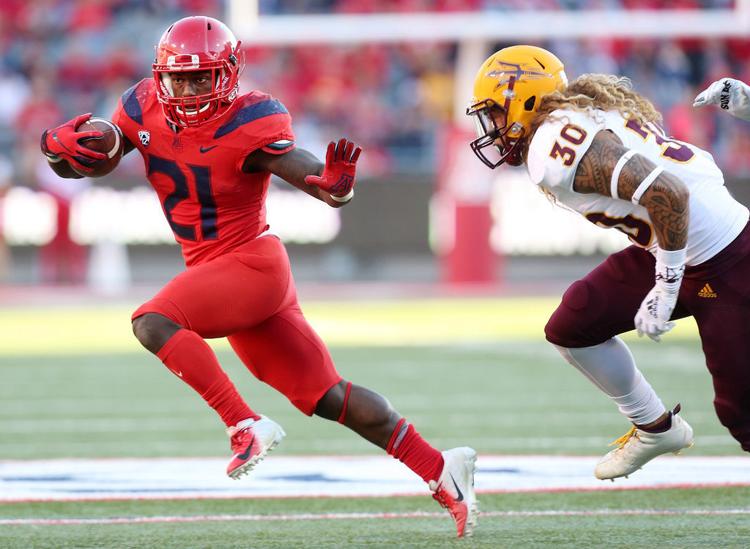 1. He needs to gain 1,698 yards to pass Ka'Deem Carey and become Arizona's career rushing leader. Taylor has 2,542 yards; Carey had 4,239. If Taylor remains healthy for two seasons, he should get more than 1,698 yards. Try to get a grasp on that possibility.
2. Taylor chose Arizona over Washington State and Sacramento State after his prep career at Centennial High School in Southern California's Inland Empire. With 468 yards this season he'll become the eighth Arizona back to gain 3,000 yards, joining Carey, Trung Canidate, Ontiwaun Carter, Art Luppino, Mike Bell, Hubie Oliver and Nick Wilson.
3. The top rusher at each Pac-12 school is not necessarily perceived as the leading running back in that school's history. UCLA's top rusher? Johnathan Franklin. Washington's is Myles Gaskin. Stanford's is Stepfan Taylor and Utah's is Eddie Johnson. That's almost a "Who's That?" list. Arizona State's career rushing leader is J.R. Redmond, whose profile probably doesn't match that of eight previous Sun Devil runners — Wilford White, John Henry Johnson, Art Malone, Benny Malone, Mario Bates, Darryl Clack, Woody Green, Leon Burton. Even USC's Charles White, a Heisman Trophy winner who leads the Pac-12 with 6,245 yards, might not be one of the top three backs in Trojan history, following O.J. Simpson, Marcus Allen and Reggie Bush.
Three can't-miss Pac-12 nonconference games
1. Utah at BYU, Aug. 29, 8:15 p.m., Tucson time, ESPN. It doesn't get the attention of the Apple Cup, Civil War, Territorial Cup or Big Game, but the Utes and Cougars have a rivalry that makes the term "bitter" seem mild.
2. Oregon vs. Auburn, Aug. 31, 5:30 p.m. Tucson time, Ch 9. Played in the Dallas Cowboys stadium in Texas, this is the best chance for the Pac-12 to return to some type of national relevance.
3. Oklahoma at UCLA, Sept. 14, 6 p.m., Tucson time, Ch 11. No coach in America will get more attention than UCLA's Chip Kelly in that week's lead-up to kickoff at the Rose Bowl. But it could be that OU's young Lincoln Riley is the "new Chip Kelly."
Five things you can book for Pac-12 football in 2019
1. WSU coach Mike Leach will do more with less and force UA fans to ask themselves why Greg Byrne hired Rich Rodriguez and not Leach in 2012.
2. Utah will win a game or two with special teams and kicking.
3. If he stays healthy, Colorado receiver Laviska Shenault will be the league's most feared player.
4. Oregon State will go 0-9 in conference games, and it doesn't even have to play USC.
5. Oregon isn't cool any more — do you even know the name of Oregon's head coach? — but the Ducks are so loaded on offense that they can outscore most of their defensive issues and enter the Pac-12 championship game favored against Utah.
Why Pac-12 nonconference schedules merit criticism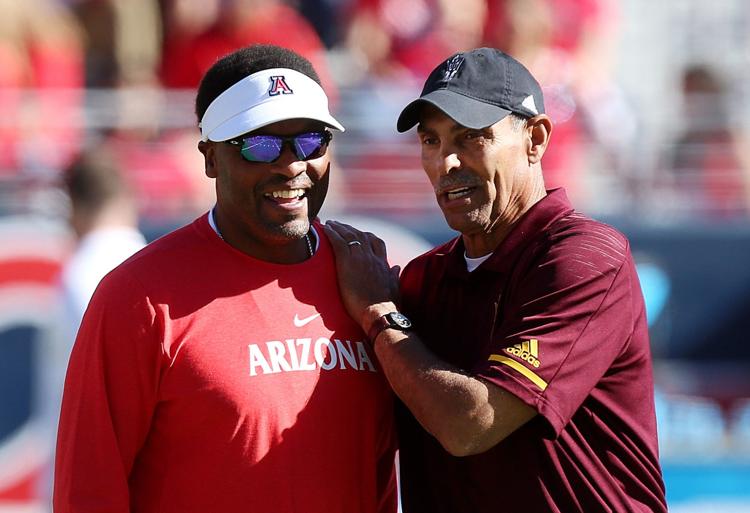 Last year's three Pac-12 powers — Utah, Washington and WSU — do not play a single Power 5 conference opponent this season. The league plays a combined total of 10 games against Power 5 foes. That's absurd. No wonder tickets are often slow to move in Pac-12 cities.
One exception is Stanford, which takes on the big boys every season. This year, the Cardinal will play Notre Dame and Northwestern, as well as feared mid-major power Central Florida.
The rest of the league continues its wimps-are-us scheduling philosophy, which is especially true for the six schools perceived to be in the bottom half of Pac-12 football. Here's a look at the next five years of nonconference schedules for the Bottom Half, 2020-24:
Arizona. The Wildcats play Texas Tech, two games with Mississippi State and one with Kansas State. But they will play NAU three times in those five years. It sounds like an Arizona State basketball schedule.
ASU. The Sun Devils play just two Power 5 schools at home the next five years, Oklahoma State and Mississippi State, but have filled the home schedule with Southern Utah (twice), NAU, Eastern Michigan, UNLV, Texas State and Wyoming.
Cal. The Bears play TCU and Auburn at home over the next five years but have stocked up with neighbors UC Davis (twice), Cal Poly, Sacramento State and San Jose State.
Colorado. The Buffaloes are the most bold of the Pac-12's bottom tier, scheduling eight Power 5 teams the next five seasons, including a home-and-home with Nebraska.
Oregon State. The Beavers aren't ready for prime time; their strongest nonconference foe the next five years is Purdue.
Washington State. The Cougars have a home-and-home with Wisconsin but otherwise don't take on much more than Houston, Utah State and BYU.
Them's fightin' words
Colorado's first-year coach Mel Tucker delivered the most bold quote among his Pac-12 peers during the offseason.
Tucker, who was the defensive coordinator at Georgia last season, was not complimentary about Pac-12 football and vows to make the Buffaloes a defense-first, physical team to compare with Utah's Kyle Whittingham and Washington's Chris Peterson.
"If you want to play in a tennis-shoes league, come out here," Tucker told Colorado reporters. He compared Pac-12 style of play to "flag football."
"That ain't good," he said.
If Tucker can infuse the Buffaloes with a sense of toughness, it'll be a rare show of muscle in the league. Since ASU joined the league in 1978, Sun Devil coach Frank Kush, Washington's Don James and Whittingham have led the league in muscle-first football.
Arizona is not alone searching for a football championship
The Wildcats enter the season with a painful history: they have not won an outright Pac-12 championship since joining the league in 1978; they tied for the 1993 championship, but UCLA had the tiebreaker to play in the Rose Bowl.
But Arizona has plenty of company. Here are the longest streaks without an outright league championship in Power 5 football:
Iowa State. The Cyclones haven't won a conference title since 1912, when they played in the old Missouri Valley Intercollegiate Athletic Association.
Mississippi State. The last MSU football championship — not to be confused with an SEC division title — was 1941.
Purdue last won an outright Big Ten championship in, ahem, 1929. The Boilermakers did get to go to the Rose Bowl after winning a three-team tiebreaker in the 2000 season.
Duke. The nation's top basketball school hasn't won the ACC football title since 1962; it tied in 1989 but lost a tiebreaker for the No. 1 spot.
Kentucky. When Adolph Rupp was the nation's most feared basketball coach at Kentucky, the Wildcats won their last outright SEC title, in 1950.
Cal. The Golden Bears tied for the Pac-8 title in 1975 but haven't played in the Rose Bowl since 1950.
Oregon State. It'll take Arizona another 22 years to match OSU's current 63-year drought without a Rose Bowl appearance.
Texas Tech. The Red Raiders will play at Arizona Stadium on Sept. 14 and they'll be able to feel some of Arizona's pain. Texas Tech hasn't won a conference title — SWC or Big 12 — since 1976.
Pac-12 football coaching isn't for the young
Becoming a head coach in Pac-12 football has rarely been a refuge for the Young Guns, although, ironically, the man who has coached more victories in the league than anyone else, UCLA's Terry Donahue, was hired by the Bruins at age 32.
The last so-called Young Gun to be a Pac-12 head coach, USC's Lane Kiffin, was 32 when he took over the Trojans in 2010. A dumpster fire ensued.
Here's how Pac-12 head coaches have climbed the ladder to their current jobs:
Arizona's Kevin Sumlin: Nine previous coaching positions over 20 years before being hired as Houston's head coach in 2008.
ASU's Herm Edwards: Three coaching jobs over 15 years before being hired as head coach of the New York Jets in 2001.
Cal's Justin Wilcox: Six coaching jobs over 16 years before being hired by Cal in 2017.
Colorado's Mel Tucker: Nine coaching jobs over 22 years before behind hired by the Buffaloes this year.
Oregon's Mario Cristobal: Five coaching jobs over nine years before getting his major-conference head coaching job, at Oregon, a year ago.
OSU's Jonathan Smith: Five coaching positions over 17 years before his alma mater hired him last year.
Stanford's David Shaw: Six coaching jobs over 17 years before taking over at Stanford a decade ago.
UCLA's Chip Kelly: Four coaching jobs over 20 years before being promoted from a coordinator's spot at Oregon.
USC's Clay Helton: Four coaching positions over 21 years before being elevated from within USC's staff.
Utah's Kyle Whittingham: Four coaching jobs over 21 years before taking over at Utah in 2005.
Washington's Chris Peterson: Five coaching positions over 20 years before being hired by Washington.
WSU's Mike Leach: Seven coaching spots over 14 years before Texas Tech hired him at the age of 39 in 2000.
Demise of JC football in Arizona has left a void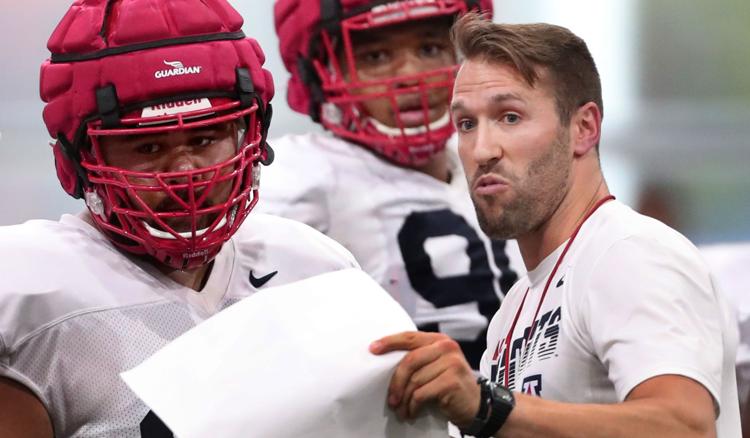 When all seven of Arizona's junior college football teams dropped the sport after the 2018 season, it meant that Utah's Snow College was the lone remaining team in the old WSFL.
This year, Snow College — a perennial national power — has had to fill in its schedule with games against New Jersey's Lackawanna College, Florida's ASA Miami program, and against JCs in Iowa and Kansas.
Snow College has just eight games scheduled, and has bye weeks on Sept. 28, Oct. 5 and Oct. 26. Not good.
Arizona recruited just one player from the old WSFL this year, defensive lineman Myles Tapusoa of Eastern Arizona. He is one of four JC players — all coveted linemen — on the UA's 2019 roster. Here's what those four Wildcats saw in junior college last year:
Tapusoa: His EAC team went 9-3 and beat Snow College for the WSFL title. Sixteen of his teammates signed with four-year football schools.
Paiton Fears, Hutchinson Community College, Kansas: The Blue Dragons have long been a national power, sending 85 players to Power 5 schools since 1993.
Josh Donovan, Trinity Valley CC, Texas: The Texas JC system is one of the few that can play a reasonably regional schedule. Donovan, an offensive lineman, played against fellow Texas schools Kilgore, Blinn, Cisco and Navarro, as well as old Pima College foes New Mexico Military Institute and Air Force Prep.
Trevon Mason, Navarro CC: The big defensive lineman played in one of the NJCAA's powerhouse programs; Navarro has been ranked No. 1 16 times in school history.
How the Pac-12 South will finish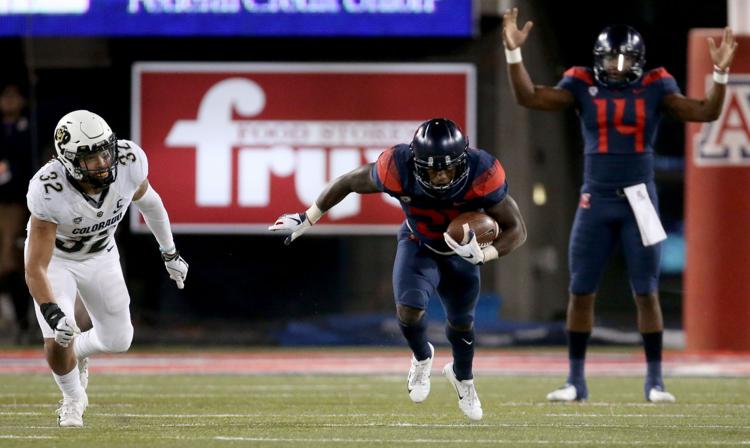 1. Utah: The Utes probably have the league's top defensive line, eight returning starters on offense and two difference makers — QB Tyler Huntley and receiver/return man Britain Covey — and, in my opinion, the top coaching staff in the league.
2. Arizona State: While the Los Angeles schools try to rediscover themselves, Herm Edwards was handed a conference schedule that doesn't include Stanford and Washington. Now's the time for the young Sun Devils.
3. USC: The Trojans have typically wonderful personnel, but something is amiss and the Trojans don't intimidate any more.
4. Arizona: Let's say Khalil Tate works in concert with his coaching staff and rushes for close to 1,000 yards. If the Wildcats get a few breaks, they could go 6-3 and win the South. But the league schedule misses Cal and WSU and adds Stanford and Washington. Brutal.
5. UCLA: The Bruins have access to Top 25-type talent year after year. Let's see if Chip Kelly was a one-shot wonder at Oregon and that his NFL years reflect that opposing coaches have figured him out.
6. Colorado: This division is so tight that the Buffaloes could finish anywhere from second to sixth. But it all spins on QB Steven Montez, who's coming off a less-than-impressive junior year.