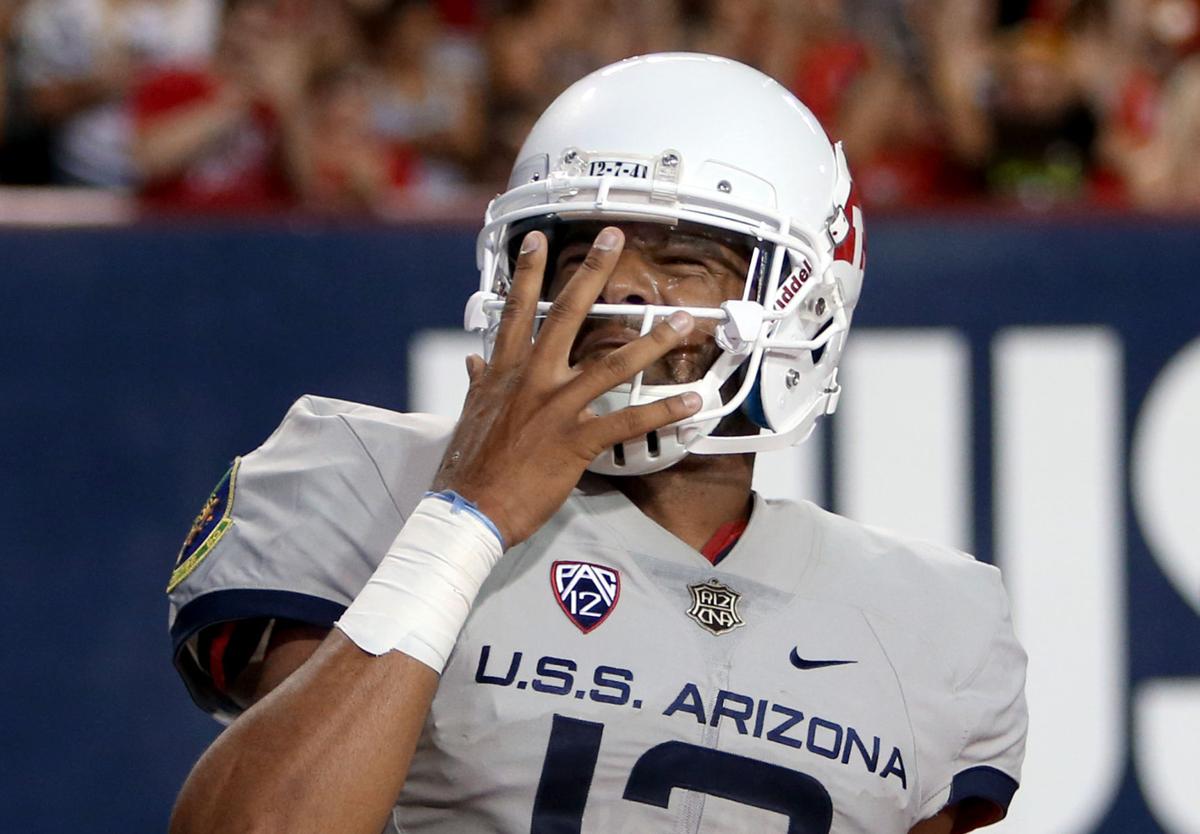 Anu Solomon is the .272-hitting second baseman, someone to move a runner from first to third, glue in the clubhouse. He bats eighth in the lineup.
The manager values his presence.
Brandon Dawkins is the top-of-the-order shortstop, a five-tool player who still strikes out too much and isn't yet a threat to win a Gold Glove.
The manager can't resist him.
This is the choice that inevitably awaits Rich Rodriguez. His quarterbacks are Mr. Night and Mr. Day, and someday soon — Saturday, perhaps — he will have to make a choice. Who starts? Who sits?
Solomon is 17-11 as Arizona's quarterback. He knows what it is to win (and lose) against Top 25 teams with fire all around.
Dawkins is 2-0. In baseball terms, he hasn't yet faced a No. 1 starter.
Only four times since Arizona joined the Pac-10 in 1978 has a Wildcat coach faced a quarterback choice like the one RichRod faces now, possibly as early as Saturday night against No. 9 Washington.
It could be a program-changing decision that not only affects Arizona's future for years, but also RichRod's coaching legacy.
The steady, veteran second baseman?
Or the kid shortstop with some punch?
Good news: Arizona's coaches are 4 for 4 in the school's most notable quarterback choices of the last 35 years.
Bad news: Who goes 5 for 5 these days?
• 1981: Mark Fulcher or Tom Tunnicliffe?
Fulcher won the job as a 1980 sophomore, a drop-back QB with mobility who could throw the deep ball. He was the UA's first true NFL-type QB since Eddie Wilson in 1961. Then Fulcher broke his kneecap in a game at Cal.
By the time Fulcher returned, in 1981, Tunnicliffe thought the job was his. Offensive coordinator Steve Axman described Tunnicliffe as a "steady Eddie." And why not? He engineered massive upsets over No. 1 USC and No. 2 UCLA.
But Fulcher won the job in training camp — and then lost it as Arizona opened 0-2. He was booed unmercifully when a snap from center sailed over his head in a 14-13 loss to Cal.
"The fans blamed it on me," Fulcher said.
The two battled back and forth until a late October loss to Washington State. Coach Larry Smith then declared Tunnicliffe to be his man. Fulcher quit the team, although, in a rare twist, Smith announced it as a "one-week leave of absence."
Fulcher never returned. Over the next 2½ years, Tunnicliffe went 15-9-2 as a starter, stunning Arizona State twice, beating No. 9 Notre Dame and helping Arizona catapult to as high as No. 3 in the AP poll.
• 1984: John Conner or Alfred Jenkins.
Both were prototypical 1980s QBs, about 6-3, 195 pounds, with mobility. Conner was in his fifth year, having played in junior college and behind Tunnicliffe. Jenkins was the most highly-sought QB in school history, turning down an offer from USC because the Trojans toyed with the idea of making him a linebacker or a safety.
The rest of the UA lineup was a Rose Bowl contender.
Smith chose Conner as the Opening Night starter. Everything went wrong in a shocking loss to Fresno State. Conner threw a pass that was intercepted and returned for a touchdown. Attempting to make the tackle, he tore up his knee and wasn't able to play for eight weeks.
By the time Conner returned, Jenkins had the job locked up, leading Arizona to a 24-9-1 record as a starter through 1986.
• 1996: Keith Smith or Brady Batten.
Replacing productive Dan White from the Desert Swarm years seemed to be the job of junior Brady Batten, who knew the system, was a smart kid with a good arm, and had the requisite size — 6-2, 210.
His only competition was a former minor-league baseball shortstop, Keith Smith, who was only 5-10. Coach Dick Tomey chose Batten in the opener, a walkover against UTEP.
But a week later, losing at Iowa, Tomey took the wraps off Smith.
What a revelation. He was the fastest player on the field, sprinting elusively for a 20-yard touchdown late in the game as the Wildcats rallied (but lost) in a thrilling 21-20 game.
After that, when healthy, Smith was essentially Arizona's starting quarterback through 1999, a period in which Arizona won 30 games and rose as high as No. 4 in the AP poll. Unfortunately, Smith was injured several times, hobbled by, of all things, a long-lasting "turf toe," probably from taking too many hits when he chose to run from the pocket.
• 2009: Matt Scott or Nick Foles.
Offensive coordinator Sonny Dykes chose to replace standout Willie Tuitama with Scott, a sophomore. Scott was far more mobile than Foles, a Michigan State transfer who had an NFL-type arm, but, as with Scott, no extended game experience.
Scott looked terrific in opening wins over outmanned Central Michigan and NAU, but seemed overwhelmed in a loss at Iowa. Dykes inserted Foles in the fourth quarter at Iowa and then started him every game the rest of an 8-5 season.
Why did it take so long to pick Foles over Scott?
"If you had seen them in practice, you'd have known it wasn't close," Dykes said.
But when the lights came on, Foles was ready.
Arizona won 13 games behind Foles the next two seasons, including victories over No. 9 Iowa and No. 20 USC, as he broke many of the school's passing records.
In the four most ballyhooed quarterback controversies of Arizona's last 35 years, the correct choices were Tunnicliffe, Jenkins, Smith and Foles.
Now it's Solomon or Dawkins.
My money? Go for the long ball. Dawkins now and through 2018.