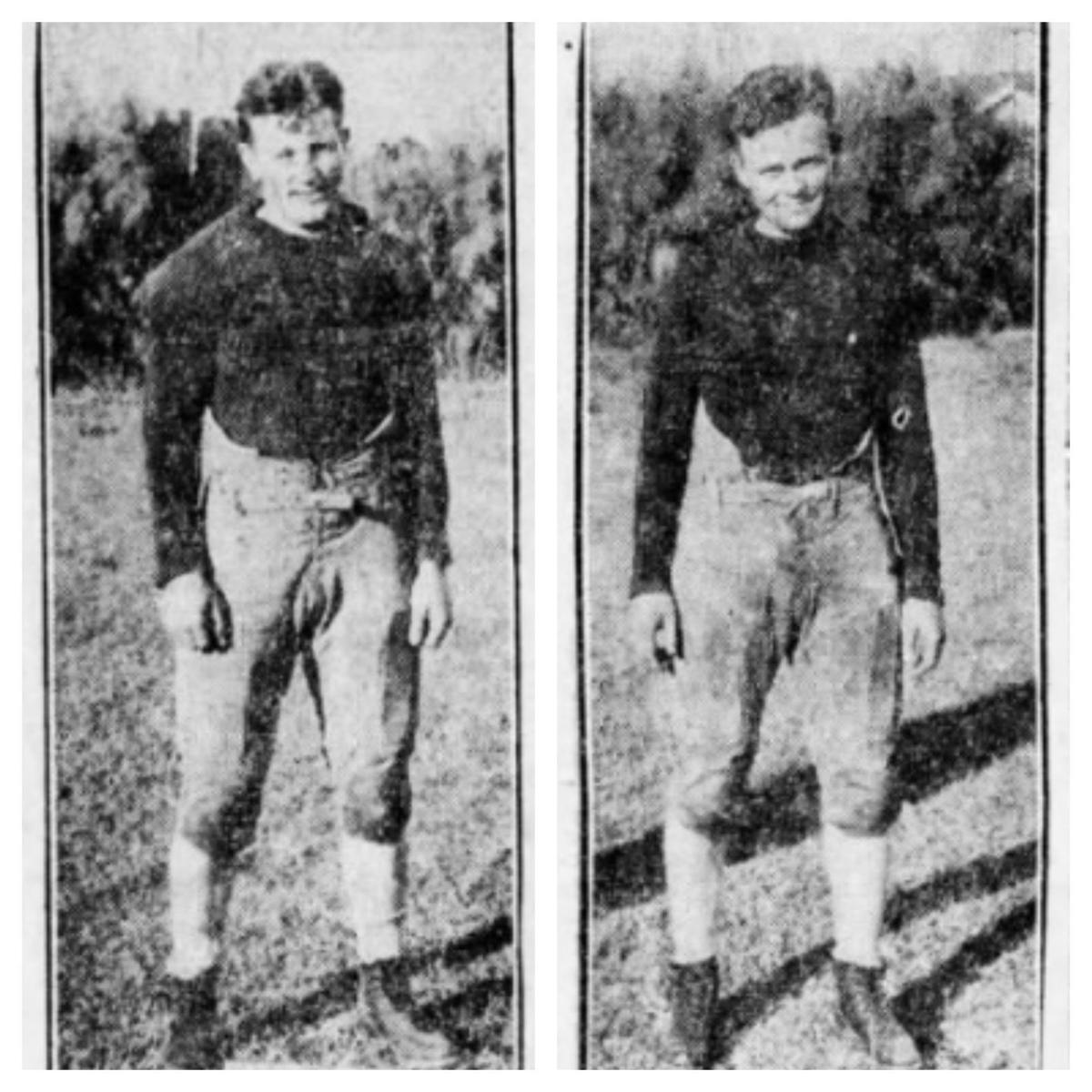 In the gathering darkness near Arizona Stadium last Saturday evening, a group of UA grads stood near a hamburger grill to talk about Wildcats football, about Button Salmon and the Bear Down legend, about the Territorial Cup and about Bob "Red" Crouch, one of the most esteemed men to wear an Arizona football uniform.
One of those UA grads, Dr. Bradley Butler, a Phoenix emergency-room physician, has missed just two UA homecoming games since he was a kid. Butler has a link to the Bear Down legend like few men alive.
"My earliest memory of UA football was walking onto the field holding grandpa's hand at the 50th anniversary of his graduation," he said. "I've got his letterman's jacket. I've got his 'A' blanket. I've got his college yearbooks from the 1920s."
More impressive, Butler has Robert Eustace "Red" Crouch's "Lifetime Pass" to UA sporting events. How do you put a value on that?
In 1928, the UA presented an all-copper, 2-inch by 4-inch document to Butler's grandfather that is inscribed with this declaration:
"This admits Eustace Crouch to all functions and contests held under the supervision of the University of Arizona."
"I found that pass before Pops died and he laughed and said, 'it's not really worth anything,'" his son, Bob Crouch, a Los Angeles architect and UA grad, said. "But it is a precious piece of history."
The UA distributed a limited number of the copper lifetime passes to prominent Wildcat athletes of the 1920s. Red Crouch certainly belonged in that group. His connection to UA legend John "Button" Salmon, dating to their schoolboy days in Bisbee, was unparalleled.
In the summer of 1927, Crouch was among those who climbed a ladder to the top of Bear Down Gym and helped maintenance workers paint BEAR DOWN in 40-foot-high red and blue letters.
Every few years, the letters are repainted. But they remain the same size and in the same place Red Crouch helped to apply the initial brushstrokes 92 years ago.
After the last football game Salmon played — Sept. 29, 1926, a scrimmage victory over the UA's freshman team — the Arizona Republic published a headline that read:
RED HEAD BACKFIELD IN VIEW FOR GRID TEAM
The newspaper referred to the boys from Bisbee as "possessors of flaming thatches" as part of an "all red haired backfield."
Three days later, Salmon, the UA student body president, was critically injured in a one-car turnover on the old highway between Tucson and Phoenix. He spent the next two weeks in St. Mary's Hospital, crippled and dying, his spine crushed.
Two days before Salmon died, the Wildcats played Arizona State at Varsity Field. His buddy and fellow redhead from Bisbee, Crouch played the game of his life, a Territorial Cup memory like few others.
A headline in the Star read:
Red Crouch was the captain of the 1926 Arizona football team. The Star reported "numberless times Captain Crouch hit the Tempe line like a battering ram."
Crouch scored three touchdowns in Arizona's 35-0 victory over ASU, or what was then known as the Tempe Teachers College Bulldogs.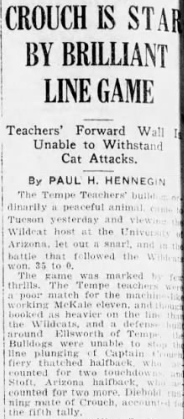 A day later, when asked by Arizona coach James "Pop" McKale what he should tell his football teammates, Salmon said: "Tell them … tell the team to Bear Down."
Salmon died the next morning. Red Crouch was among those who accompanied Button's body to Evergreen Cemetery for burial.
The Bear Down story has become one of the most cherished legends in college sports and it continues to thrive in the immediate family of Red Crouch, who went on to be a state championship football coach and athletic administrator at Glendale High School. Crouch died in 1990.
"What has always struck me is that my grandpa and Button looked so much alike," Butler says now. "They had so much in common. They were both a bit undersized, but it didn't hold them back."
Red Crouch was actually a prizefighter, earning money in his UA days under the alias "Kid Jones." Even then, 95 years ago, earning money outside of college athletics was deemed illegal, but Crouch, who, like Salmon, probably didn't weigh more than 155 pounds, found a way to feed his competitive zeal.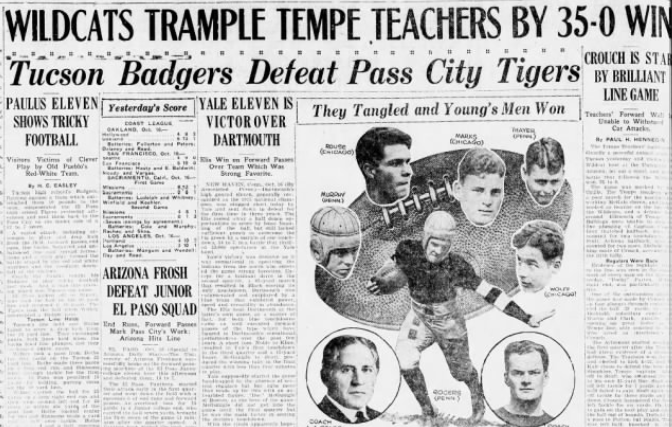 The UA booster group of the day, the Towncats, honored Crouch at the downtown Rialto Theater and Opera House at the end of the 1925 season, at which he was elected captain for the upcoming 1926 season. He was presented an "A" blanket.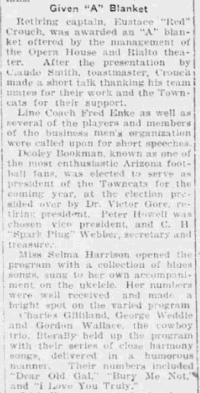 His buddy, Button, was soon elected student body president. That was a long way for the boys from Bisbee, even in the mid-1920s.
Crouch went on to play semipro football for the San Francisco Olympic Club before settling in as a football coach at Glendale and becoming a prep coaching legend.
"One thing my dad passed on to us was his love for the UA," Bob Crouch remembers. "The rivalry against ASU might not have been as intense then, but by the time I was a UA student in the early 1950s, it was consuming.
"I remember one day that an airplane flew over campus before the (Territorial Cup) game and dropped leaflets that really got us fired up. I still remember what they said:
Arizona may think it has academic function.
In Tempe, we call it Nogales Junction.
Now, almost 70 years later, Butler, Crouch's grandson, carries on the family feud with ASU.
At last week's tailgate party before the UA-Utah game, Crouch and his UA classmate Del Kyger, an Oro Valley orthodontist who attended Amphitheater High School, became animated when discussing the Territorial Cup showdown.
"I guess I'm one of the bad Arizona fans," Crouch said with a chuckle. "My favorite team is always the team that plays ASU. I've felt that way since I was a kid at UA homecoming games. My grandpa never lost that feeling, either."
Bob Crouch was an Arizona student when the UA hired bandmaster Jack Lee in 1952. While flying into Tucson for a job interview that year, Lee looked out the airplane window and saw the words "BEAR DOWN" on the top of the school's gymnasium.
Lee was intrigued; a few days after his interview in Tucson, he wrote the music and lyrics to the UA's enduring fight song.
"I was in school the first year we started singing 'Bear Down,'" Bob Crouch says now. "It was a big deal then."
Contact sports columnist Greg Hansen at 520-573-4362 or ghansen@tucson.com.
On Twitter: @ghansen711