It should've been so easy for Arizona to hire Dick Tomey away from Hawaii in 1987. The Wildcats offered him a $100,000 raise, from $65,000 to $165,000. They gave him use of two luxury cars and a membership to the new Jack Nicklaus-designed golf course at La Paloma Country Club.
He would be stepping up from the WAC to the Pac-10, and besides, this was a man whose name had been involved in recent coaching searches at Cal, Stanford and UCLA.
Dick Tomey was 48 and in the prime of his coaching life. He'd worked for Bo Schembechler and Homer Smith and Dick Vermeil, three of the ranking names in college football coaching.
If he was ever going to leave Hawaii, this was it.
"It was touch-and-go," former Arizona athletic director Cedric Dempsey said. "We almost called off the press conference. He got wrapped up in thinking about his players at Hawaii."
Finally, on the afternoon of Jan. 14, 1987, after three days of indecision, Tomey took an elevator to the Wildcat Club suite at Arizona Stadium and introduced himself to Tucson.
A day later, he flew back to Honolulu and changed his mind mid-flight. He would apologize to the UA, sure, but he could not imagine telling his beloved Rainbow Warriors mahalo and goodbye.
By the time the plane landed in Hawaii, Tomey had changed his mind again.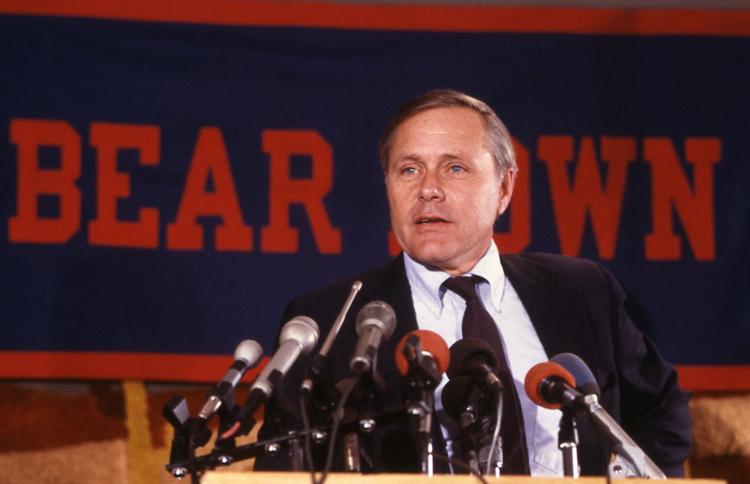 Hundreds of Tomey's former players, coaches, associates and friends from his days at UCLA, Kansas, Hawaii, Texas, San Jose State and South Florida are expected to gather at McKale Center on Friday morning to pay tribute to the man who coached Arizona to 95 victories from 1987-2000.
Dino Babers, head coach at Syracuse, will speak. So will Ken Niumatalolo , head coach at Navy, and two former Pac-10 head coaches, Vermeil of UCLA and Rich Brooks of Oregon. Two of the greatest players in UA history, Chuck Cecil and Joe Salave'a, will speak, as will lead players from Tomey's years at Hawaii and San Jose State.
Do you know what they are going to say? "We loved and admired this man." Each story will be different, each speaker feeling a special connection to the man whose treasured football family was built on respect for one another.
There was nothing fake or phony about it.
Eleven years ago this week, former Arizona defensive lineman Young Thompson died of a heart attack while playing in a Memorial Day softball game at Lakeside Park. He was 28, a custodian at a local church. Thompson, who grew up in Pago Pago, American Samoa, and was recruited by Tomey in 1997, played his final two Arizona seasons after Tomey resigned.
Thompson had no father figure in his life; his dad died when he was 5. Tomey was his father figure.
When Tomey learned of Thompson's death, he caught a flight from San Jose, California, to Tucson, arranged to help pay funeral costs and spoke emotionally about how much Thompson meant to him.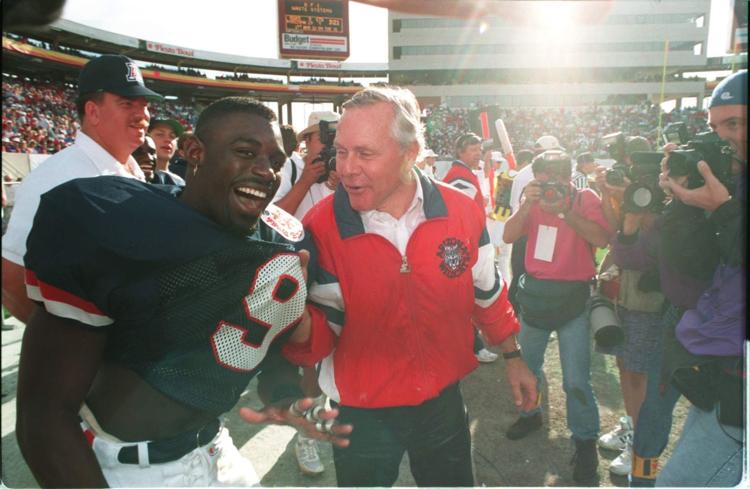 In the fall of 1980, Duane Akina, a former quarterback at the University of Washington, moved back to his hometown of Honolulu and got a job washing dishes at a Waikiki Beach bar.
He thought about getting an entry-level job as a high school coach, but instead called the football office at the University of Hawaii and offered to volunteer.
Akina was invited to sit in on Hawaii's defensive staff meetings, where he met Tomey and defensive coordinator Bob Wagner, later an Arizona coach.
"Dick told me he couldn't pay me, their budget was very small," Akina remembers now. "But he said if I would volunteer in the fall he would give me the money from his weekly radio show."
At the time, Tomey was paid $50,000. No one was getting rich coaching the Rainbow Warriors in those days. Tomey's radio show money was about $2,000.
With or without a big check, Akina's life was forever changed.
"I found my passion," he says. "When the ninth assistant job opened a year or so later, Dick hired me to be the linebackers coach, and then moved me to the secondary. We were playing BYU every year, our big rival, and they had all those great quarterbacks — Jim McMahon, Steve Young, Robbie Bosco — and I told Dick this was all new to me. I was pretty insecure."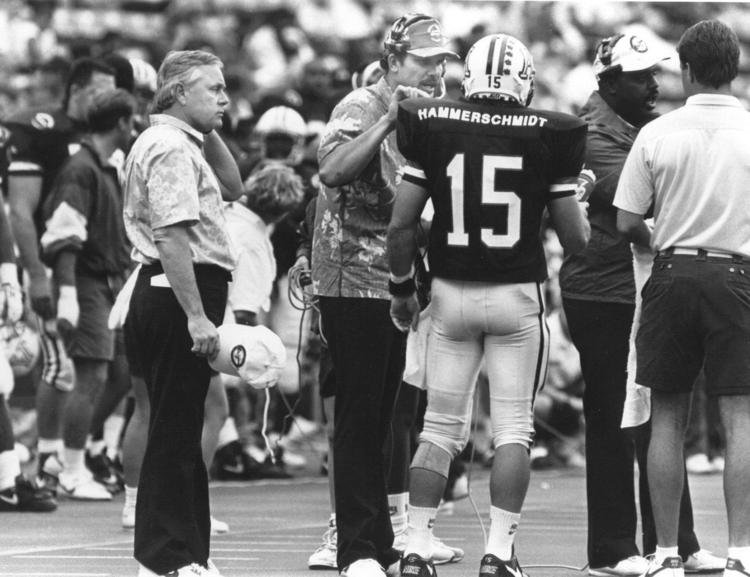 Tomey assured Akina that he would be fine. "He told me he had faith in me," says Akina. "I was never going to let him down. Over the next 21 years, I wore every conceivable hat for Dick — offensive coordinator, defensive coordinator, assistant head coach. It was a beautiful time of my life."
In 2004, Tomey and Akina were reunited on Mack Brown's coaching staff at Texas, which would go 11-1 and win the Rose Bowl.
"I haven't shared this before," Akina says, "but Dick changed the culture at Texas in the year he was on the staff. He helped change how we practice, gave us a blue collar mentality that we needed."
When the Longhorns began fall camp in 2004, Tomey assembled the players for his famous "circle drill," which doesn't need much imagination or explanation. "That's what we did at Arizona," Akina says. "This is why we were always so tough and physical.
"Dick turned his cap backward and I turned my cap backward. It was hot. It was tough. We were tackling and scrimmaging in practices. It changed us; Dick was just a cut above."
Akina was part of the coaching staff when the Longhorns won the 2006 national championship, and has been part of Stanford's Rose Bowl staffs since returning to the Pac-12.
"I've really been blessed to work with men like Don James, Mack Brown and David Shaw," he says. "But nothing beats those days at Arizona. We had a lot of big games. We really had it going. It was just so rewarding. I love Dick so much."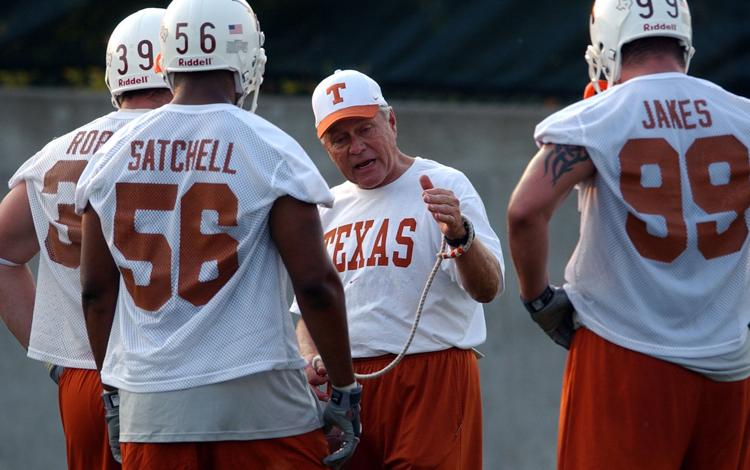 Mark Harlan, the athletic director at the University of Utah, will be the leadoff speaker at Tomey's memorial on Friday. It is fully appropriate.
Harlan met Tomey 44 years ago — when Harlan was 6 years old.
"I was looking over a tree in my friend's backyard and saw Rich Tomey (Dick's son) playing with a turtle in his backyard," says Harlan. "Dick was coaching at UCLA then and my friendship with Rich began that day. Our parents were close; we never lost touch, even when Dick went to Hawaii."
When Harlan graduated from high school in 1986, he planned to enroll at UC Santa Barbara. He changed his mind after Tomey was hired at Arizona.
"It was the greatest decision I ever made," Harlan says now.
He ultimately got a part-time job working in the athletic department's equipment room, starting at the bottom, working step by step until he became Tomey's on-campus recruiting coordinator, earned a degree and began a bound-for-success career working in Arizona's event management, fundraising department and administration, and then going to Northern Colorado and San Jose State, and back to Arizona and to UCLA.
In 2014 Harlan was hired as the athletic director at South Florida. One of his most important phone calls was to Tomey.
"I called him one day and asked him if he would like to work for me, which seemed pretty funny — Dick working for me," Harlan says. "I hired him to work with our football coach, Willie Taggart, and it was incredible. I knew Willie would love him and he did.
"Dick was just so amazing at solving problems. I miss him at so many levels. If I went two weeks without talking to him, it didn't feel right."
On Friday, Mark Harlan will return to Tucson to say the words he hoped he would never have to say: Mahalo, Coach.