Pac-12 referee Steven Strimling performed Saturday's pregame coin toss in Spanish. He referred to Arizona as Gatos and to USC as Troyanos and used a lot of other words I didn't understand.
At the conclusion of the toss, won by the Gatos, I could swear Strimling said "buena suerte, muchachos, lo necesitares."
Good luck, guys, you'll need it.
Whether my translation is accurate or not, "good luck guys, you'll need it" has become the unfortunate theme for Arizona's 2018 football season.
How badly did Arizona play in its 24-20 loss to the Trojans?
The Gatos committed five penalties in three plays in the early moments of the second quarter. Two Gatos were called for fouls on a USC punt. Then, on first down, two Gatos offensive linemen were whistled for false starts.
Finally, on second down, quarterback Khalil Tate threw an interception, a goofy play in which Arizona was again flagged for two penalties: one for offensive pass interference, the other for an illegal receiver downfield.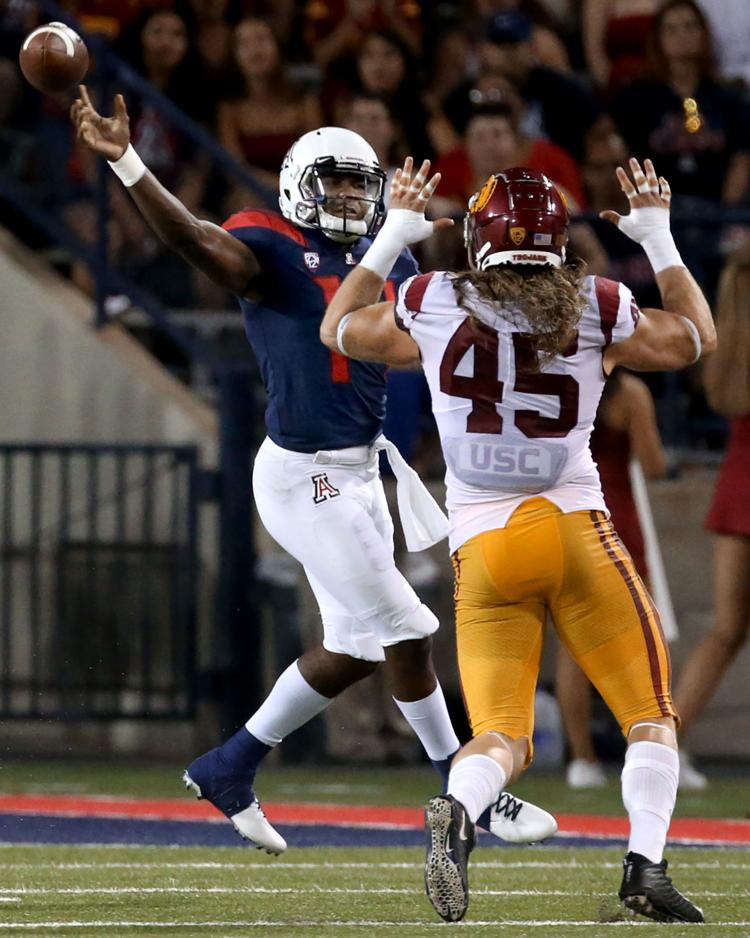 About the only thing the Gatos did well in the first half, trailing 17-0, was to debut an "injury tent" behind the bench. If nothing else, it could serve as a good place to hide the rest of what looks to be an agonizing transition season for new coach Kevin Sumlin.
The Gatos almost got a milagro — a miracle — in the final ticks of the fourth quarter, as USC all but self-destructed, committing 18 penalties for 169 yards.
But there would be no milagro because once Arizona used those penalties to get to USC's 5-yard line, the Gatos required seven plays to score. By then they had used their allotment of timeouts.
And even at that, Arizona missed the extra-point kick.
It was truly a game neither team seemed deserving to win.
After being scorched by the Troyanos on Saturday, the most daunting news is that Arizona must still play Oregon, Colorado, Washington State and a lot of other teams before coach Sumlin's first season reaches an end.
Saturday's loss was sobering on two fronts: First, the Gatos weren't really competitive until mop-up time. As USC built a 17-0 lead, the Troyanos accumulated a 238 to 52 edge in total offense. Second, only 43,573 showed up at Arizona Stadium. That's far below the Arizona Stadium average of 52,532 fans for UA-USC games in their Pac-10/12 history.
It was barely more than the 41,493 that showed up two weeks earlier to watch Arizona play Southern Utah.
Is that how far UA football has fallen from grace in this community? It can't even draw 50,000 fans for the USC game?
In the final 10 minutes of Saturday's game, there couldn't have been more than 4,000 fans remaining at Arizona Stadium.
The last time Arizona had a smaller crowd for the Troyanos was in November 2003. That's was at the end of a what would be a 2-10 season, a wreck of a campaign in which head coach John Mackovic was fired at mid-season and the Gatos showed up for the USC game with Mike Hankwitz as their head coach.
Even though USC was ranked No. 2, only 39,201 attended.
Fortunately, this is the other end of a UA football implosion. This time the Gatos are starting over, not at the end of a failed regime.
But through five game is certainly appears it's going to take so much longer to reconstruct UA football than most could've imagined.
Nor is this a vintage USC team. Before arriving in Tucson, it was pancaked 37-14 at Texas and stuffed 17-3 by Stanford. Yet on Saturday the Troyanos sent out relatively unknown senior tailback Aca'Cedric Ware and he gained 169 yards.
Ware has been waiting to break into the USC lineup for three years; on Saturday he looked like those USC Heisman Trophy winners against an Arizona defense that struggled to slow down true freshman quarterback JT Daniels.
But as vulnerable as USC was, Arizona couldn't take advantage.
Remember a week earlier when Arizona running back J.J. Taylor torched woeful Oregon State, rushing for 286 yards? This week Taylor rushed for 50 yards.
Tate was again one-dimensional for Arizona. He threw two remarkably impressive touchdown passes, getting the Gatos close in the final nine minutes, but otherwise USC's defense turned him into a pocket passer.
When Tate had a chance to scramble, with gaps everywhere in USC's defense, he was mostly tentative, looking for the deep ball.
At first, when Tate struggled in a season opening loss to BYU, and later in a collapse at Houston, it was written off to his unfamiliarity with a new coaching staff and scheme, and to some type of injury to his lower left leg.
Now it's five games into a fractured season and Tate is no closer to the Ka-Thrill Tate of October 2017, when he appeared to rescue Arizona from years and years of football mediocrity.
Since then, Arizona has gone 3-7, with its only victories over Oregon State and Southern Utah. The Wildcats gained just 330 yards on Saturday; except for the loss to BYU (326 yards), it is the fewest yards a Tate-led team has gained since last October.
In retrospect, Arizona's poor clock management at the end of the first half became a factor in the final three minutes of the game. With two timeouts and the ball at its 45, Arizona led the clock tick to :05 before it called a timeout.
Tate completed a 20-yard pass as time expired. But USC committed one of its 18 penalties, giving the Gatos a gift 38-yard field goal attempt with :00 on the clock.
And so, too, are the Gatos.