The man who donated millions of dollars so that Arizona could build the Lowell-Stevens Football Facility stood on the 50-yard line early Saturday afternoon, an honored guest at the Territorial Cup coin-toss ceremony.
David Lowell is 90 years old now and his career is in the bank. Since graduating from the UA 70 years ago, he has discovered and helped to dig many of the world's most profitable and deepest mines, everywhere from Chile to Paraguay and Peru.
But on Saturday he couldn't have dug a hole deep enough for his alma mater's football team to hide.
That's how mortifying Arizona's 41-40 loss to Arizona State was. And is. And always will be.
It was a collapse. A choke. A calamity.
It was a total eclipse of the heart.
With 17 seconds remaining, the sun had disappeared and a chill enveloped the old stadium. ASU led 41-40 but the Wildcats lined up for what would be a saving field goal, a redemptive kick that would make all of the late-game choking and collapsing forgettable.
At that moment, my nominee as the greatest player in UA football history, Ricky Hunley, stood under the goalpost in the north end zone. He thought back to the last game he ever played in a Wildcats uniform: Nov. 26, 1983, at Sun Devil Stadium.
"Max," he said. "We had Max."
On that happy afternoon 35 years ago, the inestimable Max Zendejas, the Sun Devils killer of all Sun Devils killers, walked onto the turf with :03 showing the clock. ASU led 15-14. Max lined up for a 45-yard field goal attempt.
I looked into the archives Saturday night and re-read Hunley's comments from that game. "The coach called it perfectly," Hunley said. "Run the clock and let Max drill it."
This time, there was no drilling. Just pain.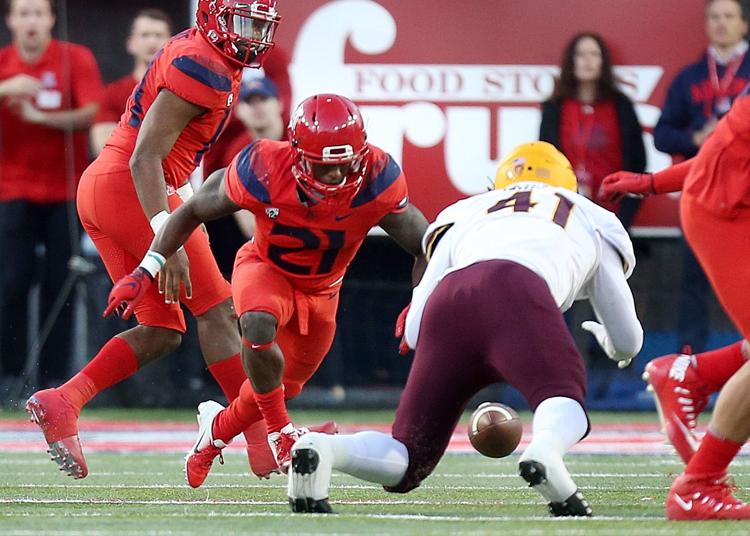 As Josh Pollack's 45-yard kick faded too far right, Hunley dropped the arms from over his head — prematurely signaling a successful kick.
I watched Pollack sink to his knees. You could feel the all-consuming ache from all but a few of the 51,805 at Arizona Stadium.
I turned to ask Hunley his reaction and he was gone. Poof. As if he had been the Ghost of Territorial Cups past.
Not always are there such happy endings.
For a fatal 7 minutes and 18 seconds in the fourth quarter, Arizona's coaches ran the clock the same way Larry Smith's coaching staff did in 1983. But sometimes that clock-killing stuff ends up choking the chef.
With a 40-24 lead, UA offensive coordinator Noel Mazzone ordered this series of plays in exact order:
Run by J.J. Taylor.
Run by J.J. Taylor.
Run by J.J. Taylor.
Run by J.J. Taylor.
Run by J.J. Taylor.
Run by J.J. Taylor.
Run by J.J. Taylor.
Run by J.J. Taylor.
Pass by Khalil Tate — intercepted.
Pass by Khalil Tate — loss of 3 yards.
Run by J.J. Taylor — lost fumble.
It took 11 offensive plays for Arizona to lose its lead.
The Wildcats didn't simply take their foot off the gas, they turned off the lights and put the keys in their pocket.
It was the perfect script for a defeat. Stop what you've been doing with such productivity and hide in the barn.
For 51 minutes, ASU did a good impression of Oregon State. ASU was genuinely one Arizona first down from handing the Territorial Cup to someone in a red jersey, getting on a bus and driving north on Interstate 10 with a feeling much worse than eating too much at Thanksgiving.
This time Arizona turned out to be the turkey.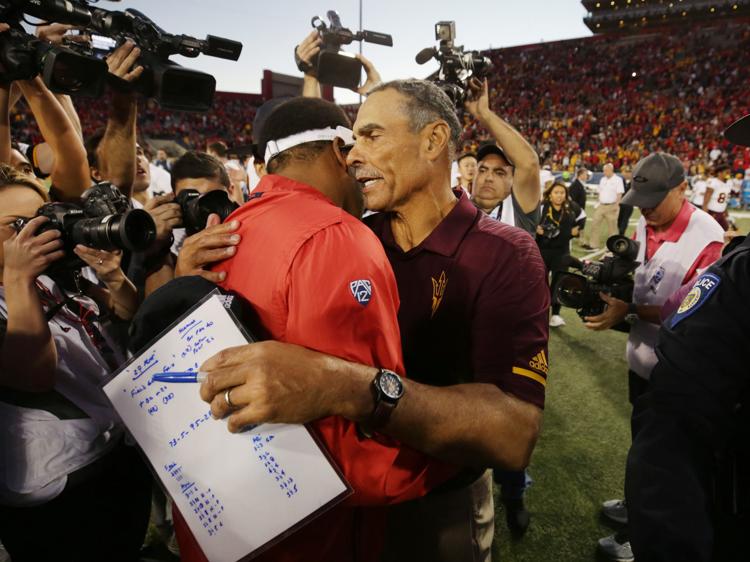 After the game, nobody was in much of a mood to discuss the UA's sad state of football. First-year coach Kevin Sumlin defended his failed attempts at earlier two-point conversion plays by saying he consults a mathematical formula that essentially relieves him from any decision-making.
It would've been better if he said he was "going with my gut" and it just didn't pan out.
Look, Arizona State is average. It's vanilla. So is Arizona.
There is nothing special about either team, yet first-year Sun Devils coach Herm Edwards found a way to beat Utah, USC and UCLA this season, three less-than-powerful teams that went a combined 3-0 against Arizona.
In its fourth consecutive unfulfilling season, Arizona found a way to lose to an inferior BYU team on opening night, and it invented a way to lose to a standard-issue ASU team on closing night.
The part between the opening and the closing wasn't much better.
Now that we've had 13 weeks to study Sumlin's first UA football team, it's pretty clear this was a .500 club, if that. Tate was not effective for much of the season. It is a team without star-level players, although J.J. Taylor and maybe linebacker Colin Schooler are likely to be chosen to the all-conference team this week.
When asked if he got about the maximum of the roster he inherited from Rich Rodriguez, Sumlin didn't leave much to the imagination.
"The two real constants we had this year were the two linebackers, our walk-on center and J.J.," said Sumlin.
That was more gentlemanly than him saying "how did we ever win five games?"
As Saturday's game passes into the 119-year history of the Territorial Cup, most will forget that the Wildcats took a 40-21 lead with 2:44 remaining in the third quarter. It was Hammer Time, and Arizona brought a hammer down on the Sun Devils with full authority.
On a third-and-long play, Tate sprinted for 21 yards, a dazzling reminder of his sophomore season.
Moments later, Taylor hurdled an ASU player for a 19-yard gain and another first down. Tate capped Hammer Time with a remarkable jump-pass, a touchdown to Tony Ellison.
The Wildcats were playing their best football of 2018 at just the right time.
And then they dropped the hammer on their toes. This one will hurt all winter.