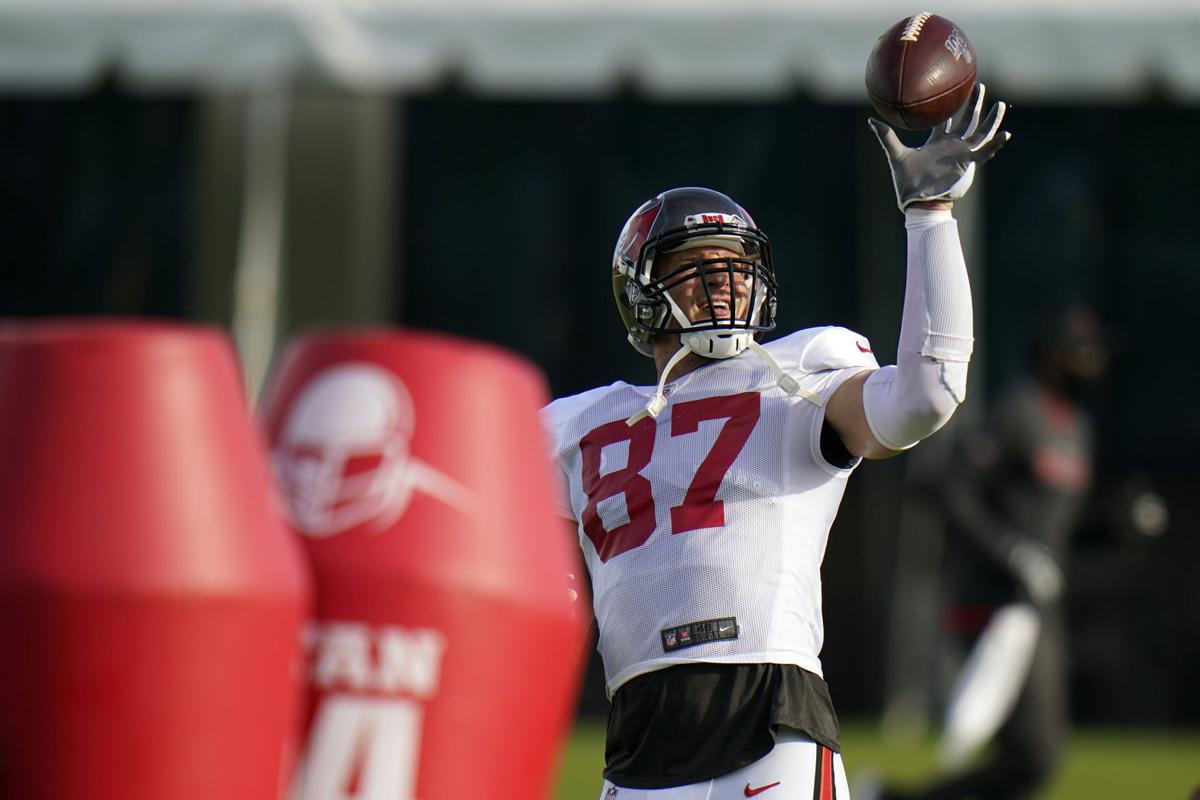 America's favorite Sunday sport is back.
The 2020 NFL season features nine players who have ties to either Tucson or the Arizona Wildcats. Two more players — former Wildcats cornerback Jace Whittaker (Cardinals) and ex-Mountain View High School and Pima College wide receiver Jeff Cotton (Chargers) — will open the season on their teams' practice squads.
Here's a breakdown of the nine Tucson natives and ex-Cats who will be either playing or standing on the sidelines this weekend:
Dane Cruikshank, S, Titans
The rundown: The third-year defensive back was placed on the short-term injured reserve list, but is expected to have an important role in Tennessee's secondary and special teams. Cruikshank served mostly as a special-teamer as a rookie out of the UA, but earned more reps on defense in 2019. Cruikshank batted down a Lamar Jackson pass to secure an AFC playoff win.
He said: "We saw the speed and the willingness to go in there and tackle were things that we thought that he could translate into a good special teams player." — Titans coach Mike Vrabel
Week 1 matchup: at Broncos, 7:10 p.m. Monday (ESPN)
Demetrius Flannigan-Fowles, LB/S, 49ers
The rundown: The biggest feel-good story among locals in the NFL belongs to Flannigan-Fowles, who has moved to linebacker after playing safety at the UA. Flannigan-Fowles signed with the 49ers as an undrafted free agent last fall, and spent the entire season on the practice squad. Now? He's on the 53-man roster. He will serve as a reserve player and special teams workhorse.
He said it: "He's one of the guys who's the first one in the building and the last one out, and I have nothing but good things to say about him. He's getting everything he deserves right now. … I'm just so happy for him. He's such a great athlete and has that physicality you want to see from a safety transitioning to linebacker. Can't say enough good things about Flan." — 49ers linebacker Fred Warner
Week 1 matchup: vs. Cardinals, 1:25 p.m. Sunday (Ch. 11)
Nick Foles, QB, Bears
The rundown: Stop us if you've heard this before: Foles lost a quarterback battle leading up to the season and will watch the first game from the sidelines as a backup. The Super Bowl MVP battled in training camp, but lost the QB1 spot to Matt Scott, er, Case Keenum, er, Alex Smith, er, Carson Wentz … we mean Mitchell Trubisky. The Bears gave up a fourth-round pick to Jacksonville to land Foles, who is due $8 million this season.
He said it: "It's not easy when you're competitive, and one person has to get named the starter. But Nick ended his conversation with me when I told him what we're gonna do — 'Can I call Mitch and congratulate him?' And if that doesn't speak to who he is as a human being, I think there is some realness that you all need to understand what kind of guy he is." — Bears coach Matt Nagy
Week 1 matchup: at Lions, 10 a.m. Sunday (Ch. 11)
Nick Folk, K, Patriots
The rundown: New England added the 35-year-old Folk from their practice squad on Saturday, meaning he'll be on the field for Sunday's opener against Miami. Folk has been a regular in the league since 2007, kicking for the Cowboys, Jets and Buccaneers before signing with the Pats a year ago. With starter Stephen Gostkowski injured, Folk made 14 of 17 field goals. The Patriots brought him back last month.
He said it: "I trained the whole time like I was gonna play." — Folk
Week 1 matchup: vs. Dolphins, 10 a.m. Sunday (Ch. 13)
Rob Gronkowski, TE, Buccaneers
The rundown: "Gronk" is back in the NFL after a year off, and he has a new home. Gronkowski will team up with Tom Brady in Tampa Bay on a roster that includes O.J. Howard, Mike Evans, Chris Godwin and the newly-added Leonard Fournette. The last catch Gronkowski made in the NFL was arguably the biggest of his career. His 29-yard catch near the goal line set up the Patriots' game-winning touchdown in Super Bowl LIII. Maybe now that he's in "Tom-pa Bay," the former Wildcat and Brady can recreate the magic they had in New England.
He said it: "The trash-talking is always cool. That's part of football. There's never gonna be just a pat on the back every single play or every single route, 'Oh, good job.' No. It's football. You gotta be mentally tough. You've gotta be mentally strong and you're gonna get called out at times if you're not doing things right." — Gronkowski, on the daily banter with coach Bruce Arians
Week 1 matchup: at Saints, 1:25 p.m. Sunday
Blake Martinez, LB, Giants
The rundown: Martinez is set to earn over $30 million for the next three years after signing with the Giants as a free agent. In three seasons with the Packers, the Canyon del Oro High School and Stanford product racked up 512 tackles — 155 of them 2019. Martinez spent the offseason at his world-class home training compound in Tucson, and was promptly named the Giants' defensive captain upon his arrival in the Big Apple.
He said it: "I pride myself on not being too flustered in any moments and being that rock for the defense. Especially obviously for me being the quote, unquote, quarterback on the defense. Being that guy that's always calm, cool, and collected." — Martinez, via Giants.com
Week 1 matchup: vs. Steelers, 4:15 p.m. Monday (ESPN)
Will Parks, S, Eagles
The rundown: "Philly Will" is back home following four seasons with the Broncos, but his Eagles debut will have to wait at least two more weeks. The ex-Wildcat suffered a hamstring injury earlier this month, and is on short-term injured reserve to start the season. The hard-hitting Parks played multiple positions in the Broncos' secondary, including safety and nickel back; he was also one of Denver's top special teams performers.
He said it: "I'm everywhere. Dime, corner, both safeties. I'm everywhere. I'm all over the field, and that's what I take pride in. I've lined up everywhere on the field. ... That just speaks to the way they expect my role to be here. I'll probably have a lot on my plate, and I'm a guy that likes challenges." — Parks
Week 1 matchup: at Washington, 10 a.m. Sunday
J.J. Taylor, RB, Patriots
The rundown: Taylor, an undrafted free agent out of the UA, entered training camp with the odds were stacked against him. New England running backs of Sony Michel, James White and Rex Burkhead were thought to be sure bets to make the roster. The 5-foot-6-inch, 185-pound Taylor defied doubters, however, and displayed his pass-catching ability. Taylor was initially assigned to New England's practice squad only to be summoned to the active roster when Damien Harris was ruled out with an injury.
He said it: "J.J. was a good college player. We signed him after the draft. He's been competitive. … But those evaluations of in-line running and in-line vision, open field tackling and running and so forth, those are skills that you can see a lot more when the actual game occurs. In his opportunities, he's done a good job. It'll be interesting to see how he plays and get a better evaluation of that." — Patriots coach Bill Belichick
Week 1 matchup: vs. Dolphins, 10 a.m. Sunday (Ch. 13)
Levi Wallace, CB, Bills
The rundown: Wallace could write a book about his journey from Tucson High to the NFL. Wallace had no scholarship offers out of high school, then attended Alabama as a walk-on. Once he became a full-time starter on Alabama's defense, Nick Saban rewarded him with a scholarship. Wallace started on a defense that won two national championships before signing with the Bills as an undrafted free agent in 2018. He started every game at cornerback last season, recording 76 tackles and intercepting two passes. Buffalo signed former Pro Bowl cornerback Josh Norman during the offseason, potentially cutting into Wallace's playing time. But Norman is out this week with a hamstring injury, which means Wallace is expected to start.
He said it: "Levi Wallace has played a lot of snaps for us as an undrafted player. We don't play the most expensive players. We don't play the highest draft picks. We play the best 53 or the best 11 on each side of the ball." — Bills general manager Brandon Beane
Week 1 matchup: vs. Jets, 10 a.m. Sunday
Be the first to know
Get local news delivered to your inbox!