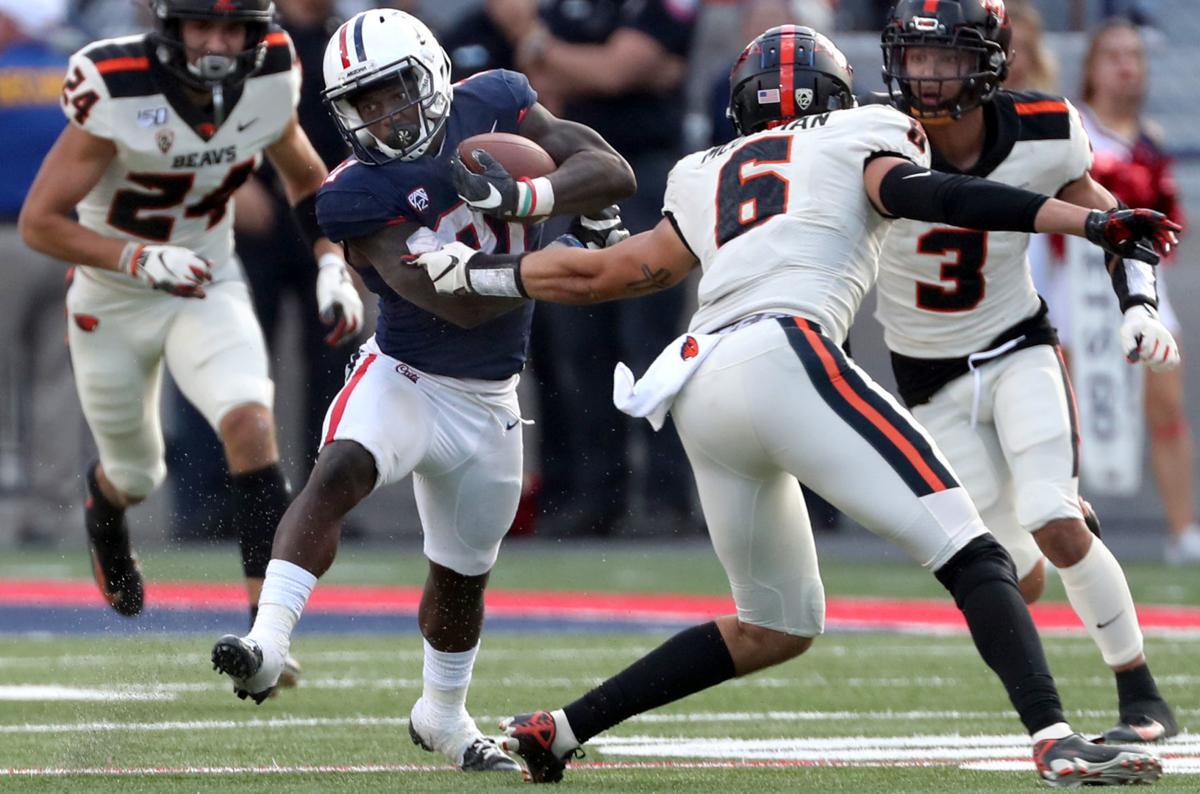 After Chuck Cecil took over as Arizona's defensive coordinator — an in-season change meant to shake the Wildcats defense out of its doldrums — senior defensive back Jace Whittaker summarized Cecil's message to the group:
"Four games left. Fight."
The last of those four words holds the most meaning.
What Cecil is seeking, what coach Kevin Sumlin is seeking — what the entire UA fan base is seeking — is a fight to the finish.
The odds are against Arizona (4-5, 2-4 Pac-12) winning at No. 6 Oregon (8-1, 6-0) on Saturday night. The odds are against the Wildcats qualifying for a bowl berth with No. 7 Utah up next and a trip to Arizona State to conclude the regular season.
There are three games left now. They want to win them all, of course. That's the whole point.
But a case could be made — especially in this game in Eugene — that how Arizona performs is more important than whether it wins.
Here's what can't happen, for the sake of Sumlin's approval rating and the trajectory of his program: The UA can't play like it did against Oregon State on homecoming.
Losing a game is one thing. Playing so listlessly — mainly on defense — that the fans question your investment is quite another.
Unfortunately, the UA faithful has seen this horror movie before. Arizona has made five trips to the Pacific Northwest on Halloween or later since 2015. The Wildcats are 0-5, losing by an average score of 55-17.
No-showing in Eugene, especially on the heels of a homecoming performance more than one player deemed embarrassing, wouldn't be acceptable to anyone.
Competing for 60 minutes — even in defeat — against a heavily favored, highly motivated opponent with legitimate College Football Playoff aspirations at least would provide hope. It could be a springboard to the ending Arizona still has a chance to author.
'Just keep going'
For better or worse — probably better — Arizona had a bye after the Oregon State game, a 56-38 loss on Nov. 2.
Sumlin lauded the energy level during the final bye-week practice before coaches hit the road to recruit and players went home for the weekend.
Multiple Wildcats said practice sessions, which are closed to the media, were more intense than usual.
"All the coaches are kinda on edge," senior safety Tristan Cooper said. "Nobody likes losing. We walk into the locker room, it's like, 'Dang, we're tired of being lectured. … We gotta step up our game.'
"So everybody comes in with a chip on their shoulder. That's how it's going to be if we're losing the games like that."
The OSU loss was Arizona's fourth straight. Each contest featured promising stretches — even from the beleaguered defense. But the Wildcats could not piece two halves together, and the defense seemed utterly dispirited at times against the Beavers.
But amid despair came inspiration. Tailback J.J. Taylor — the shortest player on the team — caught a swing pass from Grant Gunnell with a little over six minutes remaining and Arizona trailing by 18 points. Taylor barreled into and bounced off one OSU defender — then did it again.
Fifteen yards later, the Wildcats had a first down. Sumlin had a film clip he could show the rest of the team anytime its effort seemed to be lagging.
"The team can get a lot of lessons from that run," said Taylor's fellow tailback, Gary Brightwell. "My biggest lesson, just speaking on me, no matter how tough the game is, just keep going. It can't get no tougher."
It doesn't get much tougher than Eugene at night in mid-November. The Ducks are favored by almost four touchdowns, and they haven't forgotten how the Wildcats walloped them last year in Tucson.
That was the latest in a string of improbable UA upsets in the series. Receiver and Tucsonan Stanley Berryhill III played in that game and recalled attending the 2013 game in which Arizona blew out an Oregon team that was ranked fifth in the nation and had only one loss.
"We come out ready to play against Oregon no matter what," Berryhill said.
The redshirt sophomore has not lost his faith in his team. He believes the Wildcats are capable of winning out.
Asked what it would take to do that, Berryhill didn't cite execution or winning the turnover battle or anything related to X's and O's.
"Determination," he said. "Dedication. We can do it. Everybody doesn't think we can. But we know we can."
Abnormal effort required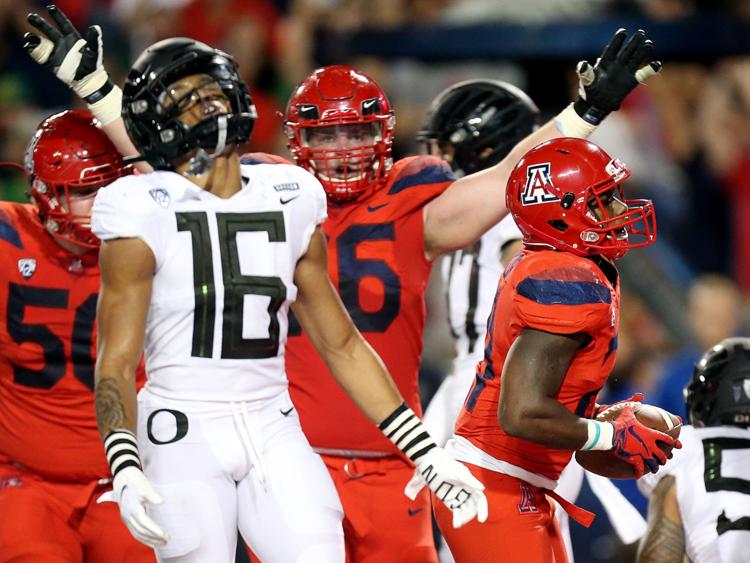 Berryhill and his teammates know they are the underdogs Saturday night. It's a position that's familiar to many of them and one they embrace.
"I was under-recruited in high school," said Berryhill, who began his UA career as a walk-on. "I wasn't the star player on my team. So I always had to work a little bit harder.
"So when we get moments like this, for us players who were under-recruited or underdogs growing up, this is normal. It's a normal day for us."
The Wildcats will need an abnormally superb effort to upend the Ducks again. Maybe having an extra week of practice to get used to Cecil will help the defense. Maybe switching to freshman Grant Gunnell at quarterback — a possibility, based on practice performance, per Sumlin — will ignite the offense.
Or maybe the vibe from practice — the amped-up intensity — will carry over into the game. Win or lose, Arizona needs something it can point to and build on, something that makes the Wildcats feel good about themselves and restores the faith of their followers.
"Guys still care," offensive lineman Steven Bailey said. "Guys aren't just going to go up there and say, 'Oh well, here comes the loss.' We're ready to go. We're ready to take on the challenge."