Hansen's Sunday Notebook: 14 thoughts from Dick Tomey's 14 years at UA
Star sports columnist Greg Hansen offers his opinion on recent sports news.
A fitting No. 14 for Coach Tomey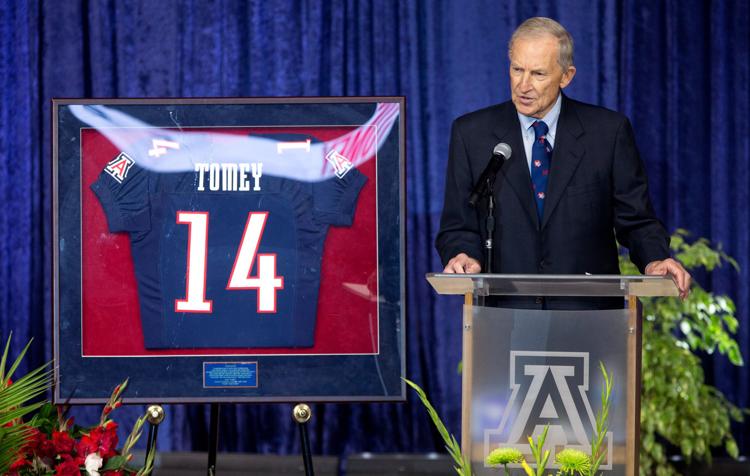 As Dick Tomey surely would've requested, the special football jersey on display at Friday's memorial at McKale Center was No. 14.
It reflected the number of years Tomey coached at Arizona. Maybe another coach would've wanted the number of victories (95) or insisted "Desert Swarm" be stitched across the back of the jersey, but Tomey's was simply 14 years.
Here are 14 thoughts from Friday's service and an evening reception:
1. The two most significant people in UA football history are Pop McKale and Dick Tomey. Bookends to the 20th century. At a time the UA's football program has little personality and identity, it should be a no-brainer to erect a statue or a highly visible memorial of Tomey at Arizona Stadium. It might be 100 years until another man like him comes along.
2. Arizona athletic director Dick Clausen, 1959-71, was the force that made sure McKale was suitably honored when Arizona built its basketball arena in 1972. Clausen pushed for McKale's name to be on the arena. Had it not been for Clausen, the UA's basketball facility might be named something like Wells Fargo Arena.
3. About 100 of Tomey's former players and coaches attended a Friday evening reception at Pat Manley's ranch near Fort Lowell and the Rillito River. What struck me was the large number of walk-ons and part-timers who were there. They were Tomey's guys; he made them feel as important as Tedy Bruschi or Chuck Cecil. Everywhere you turned, you'd see a Chris Corral or an Armando Rios or a Peter Hansen, Barrett Baker, Brad Brennan, Billy Prickett — and even Kirk Sibley, a former Wilbur T. Wildcat mascot who knew Tomey on a first-name basis.
4. Navy coach Ken Niumatalolo spent the day in Tucson. In January 2018, he briefly appeared to be Arizona's choice to succeed Rich Rodriguez. I'm not saying that Niumatalolo should've been chosen over Kevin Sumlin, but, wow, what an impressive man. It would've been like hiring another Dick Tomey.
5. The same thing goes for Utah athletic director Mark Harlan, the leadoff speaker Friday. Harlan spent 20 years at the UA in almost every conceivable capacity from equipment-room guy to assistant AD. Arizona had a chance to hire Harlan two years ago — he was then the AD at South Florida. As much as Harlan would've liked to be the AD at his alma mater, he is now a rising star in the business at a school beginning to flex its muscles.
6. Tomey won 56 percent of his games at Hawaii, Arizona and San Jose State. The College Football Hall of Fame has a relatively new requirement that coaches must win 60 percent to be on the ballot. The Class of 2019 will be announced this week, and the Southern Arizona Chapter of the Hall of Fame filed a 36-page appeal for Tomey to get special consideration given that eight coaches under 60 percent are in the Hall of Fame. When you coach at Hawaii, Arizona and San Jose State, winning 56 percent of your games is like winning 80 percent at Michigan or USC.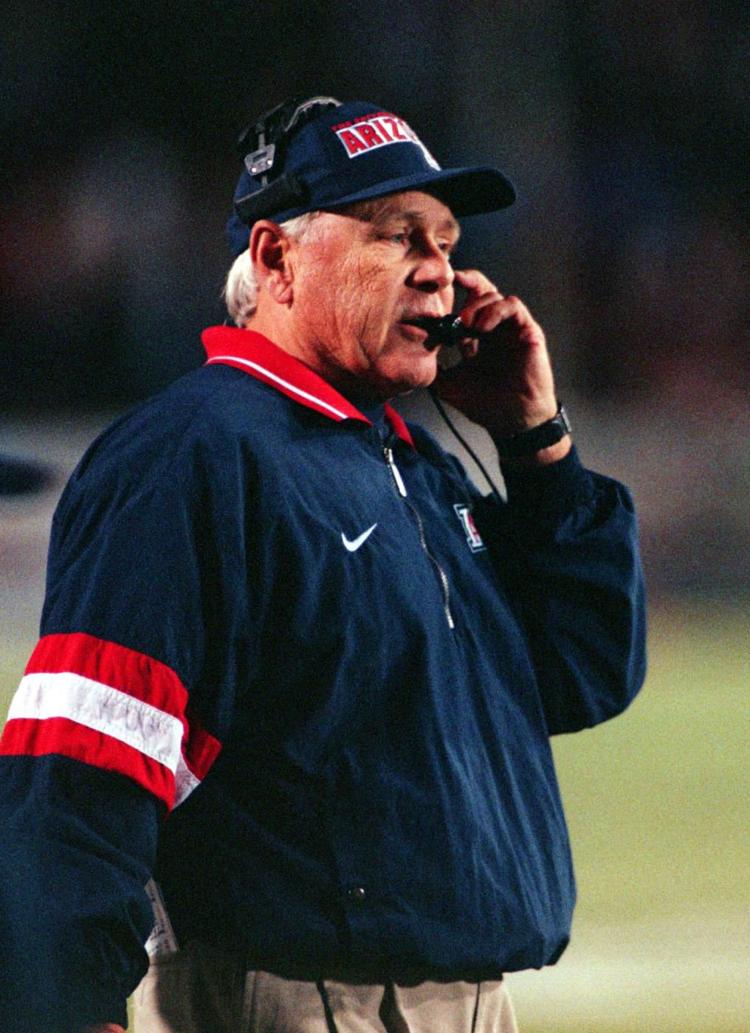 7. The only time I saw Tomey truly angry was after a 21-21 tie against Washington in 1987. I was among three or four reporters talking to kicker Gary Coston, who missed a 32-yard field goal attempt as time expired. Seeing that, Tomey picked up a folding chair and threw it against a wall in the old locker facility at Arizona Stadium. BOOM! "He didn't lose the game," Tomey said loudly. "I did more things to lose the game than anyone on this team."
8. Tomey was married to Kim Arquette when he became Arizona's coach. He always insisted on listing her son, Sonny, as his son in the official university bio. "Dick and I ended up divorcing amicably through mediation — no lawyers — and I remain a huge fan of his," she wrote in a recent email. "Sonny and Dick visited regularly whenever Dick and Nanci (a lovely woman in all ways) came to Hawaii. Another testimonial to a great man."
9. Among those who flew to Tucson for Tomey's memorial was Carl Peterson, former GM and CEO of the Kansas City Chiefs. They last coached together from 1972-76 at UCLA. Yet 43 years later, Peterson flew to Tucson to say goodbye to his old friend.
10. Tucson wasn't just a stop, a place to build a résumé, to most of its head football coaches from the modern era. After leaving the UA, Ed Doherty, Jim LaRue, Jim Young, Bob Weber, Larry Smith and Tomey all moved back and retired here.
11. None of the 18 speakers at Friday's celebration of Tomey's life mentioned a big win. Not the 1994 Fiesta Bowl shutout over Miami, not a stunning 1989 upset over No. 6 Oklahoma, not the 1998 Holiday Bowl win over Nebraska, not the upset over No. 1 Washington in 1992. The speakers chose to talk about his humanity and ability to touch people.
12. Tomey's coaching tree compares to anyone in the business. Those in Tucson Friday included San Jose State coach Brent Brennan, Syracuse coach Dino Babers; former Fresno State coach Pat Hill; former Utah coach Ron McBride; Young, a former Purdue coach; former Memphis coach Rip Scherer; former Hawaii coach Bob Wagner; former Army coach Rich Ellerson and former Eastern Michigan coach Jeff Woodruff.
13. Alabama athletic director Greg Byrne flew from Tuscaloosa to Tucson to spend two hours at Tomey's service. Byrne didn't work with Tomey but got to know him. That says a lot about Byrne's character.
14. Babers, whose team went 10-3 last year and rose to No. 12 in the AP poll, flew to Tucson in mid-April to spend six hours with Tomey. Before Babers flew back to New York, Tomey told him "always remember, you're doing this for others."
Tucson High's Carlie Scupin ranks with the best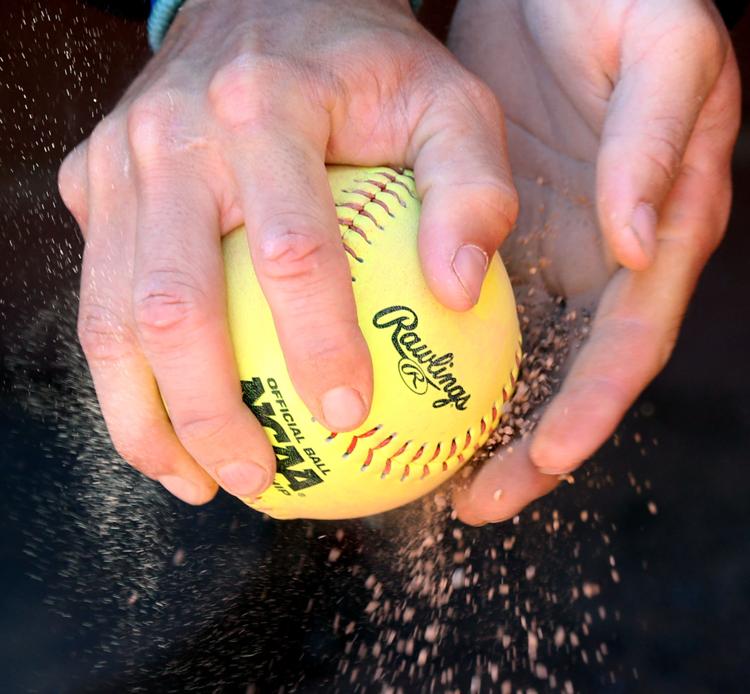 Tucson High first baseman Carlie Scupin was named the Gatorade Arizona Softball Player of the Year last week, joining Flowing Wells' Desiree Williams and CDO's Kenzie Fowler, Mattie Fowler and Kayla Bonstrom to do so over the last 20 years.
All went on to strong college careers at Texas, Arizona, Nebraska and Stanford, respectively
Scupin, a junior, hit .683 with 17 home runs this season. She has 41 career home runs, believed to be a record for Tucson prep softball. Ironwood Ridge third baseman Izzy Pacho, now a freshman at Arizona, hit 30 in her high school days.
The top individual season in Tucson softball history was probably that of Mattie Fowler, who led CDO to the 2011 state championship. She hit .589 with 17 home runs and a state-record 91 RBIs. She also went 14-0 pitching with an 0.85 ERA.
Scupin committed to play for Arizona's Mike Candrea two years ago.
Tucson pair, both New Mexico State stars, expected to be drafted high this week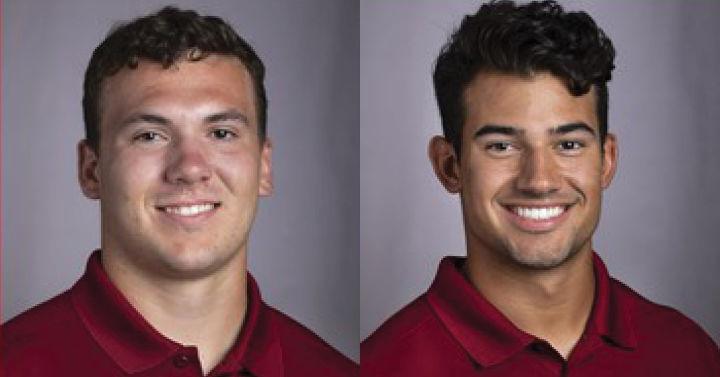 New Mexico State first baseman Tristan Peterson and second baseman Nick Gonzales were both selected first-team All-Americans by Collegiate Baseball last week. Peterson, a Canyon del Oro High School grad, hit .401 with 20 home runs and 90 RBIs; Gonzales, a Cienega High School product, hit .432 with 16 homers and 80 RBIs. If Gonzales returns to NMSU for his junior season, he can challenge some of the career marks set by long-time Sahuarita High softball and football coach Chris Fanning, who is No. 2 in NMSU history with 199 RBIs and 192 runs. Peterson is eligible for the MLB Draft, which begins Monday.
UA likely to add two Cats to the big leagues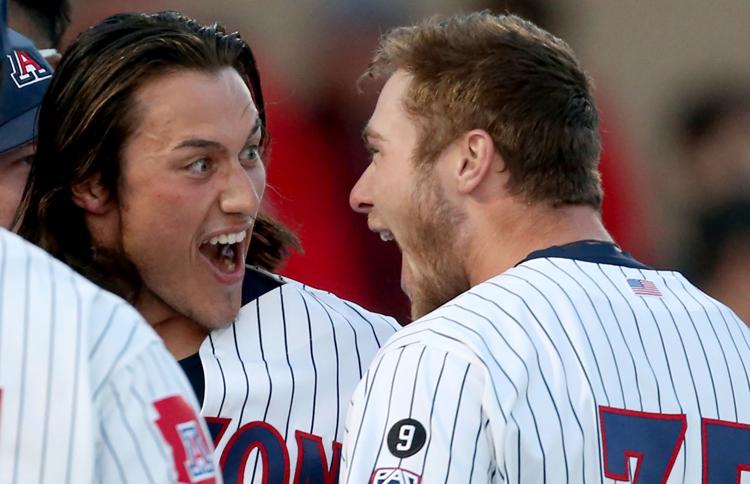 Arizona infielders Cameron Cannon and Nick Quintana are projected as top-100 picks, or somewhere in the second or third rounds. Both were named second-team All-Americans by Collegiate Baseball newspaper last week. Given Arizona's long and productive baseball history, it is odd that just nine Wildcats have been first-round draft picks. The list: shortstop Eddie Leon, 1966; outfielder Terry Francona, 1980; pitcher Joe Magrane, 1985; catcher Alan Zinter, 1989; pitcher Ben Diggins, 2000; outfielder Brian Anderson, 2003; outfielder Trevor Crowe, 2005; pitcher Ryan Perry, 2008; shortstop Kevin Newman, 2015.
Haley Moore's pro career will begin in Vegas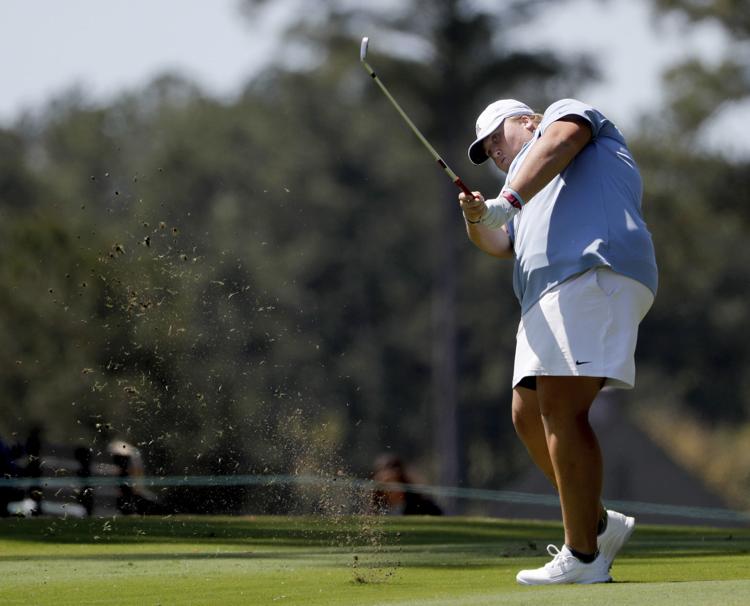 Arizona grad Haley Moore, whose clutch putt in 2018 gave Arizona the NCAA women's golf championship, begins her pro career this week at the Cactus Tour's Legacy event in Las Vegas. She'll play the Cactus Tour until the LPGA Qualifying School in August. Moore began a gofundme.com account last week, hoping to raise $30,000 to cover her travel expenses, caddy fees and entry fees in pro golf. It costs $577 to enter a Cactus Tour event; a year ago, former Salpointe Catholic High School state champion and UA golfer Krystal Quihuis earned $8,240 in five Cactus Tour events before moving on to the Symetra Tour, which is the Triple-A league for women's pro golfers.
Golden Pin Lanes to host Tucson Open starting Friday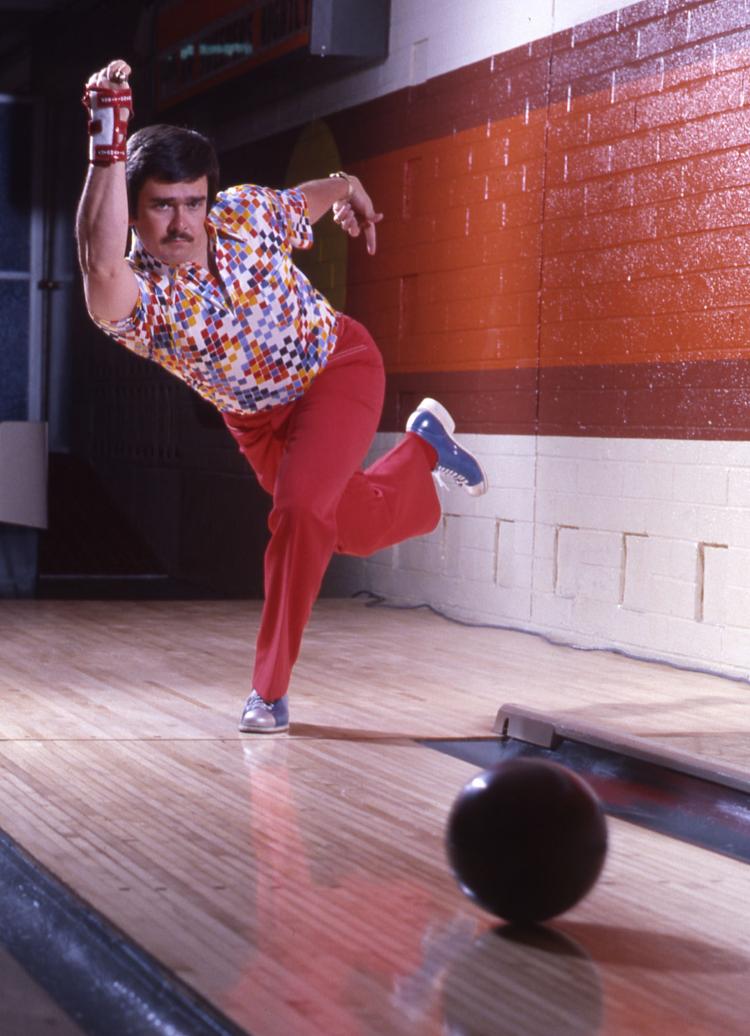 Perhaps the last pro bowling event at Tucson's iconic Golden Pin Lanes will be held Friday and Saturday. The PWBA's Tucson Open makes its first stop in Tucson since 1995; ultimately, the Miracle Mile facility is scheduled to be turned into a public services center for Pima County. CDO grad Bryanna Coté will get a lot of attention at the tournament. She is currently No. 12 on the PWBA money list at $7,400 with a 209 average. Coté won a PWBA event in 2016 and was twice a runner-up in 2018.
T.J. McConnell likely on his way out of Philly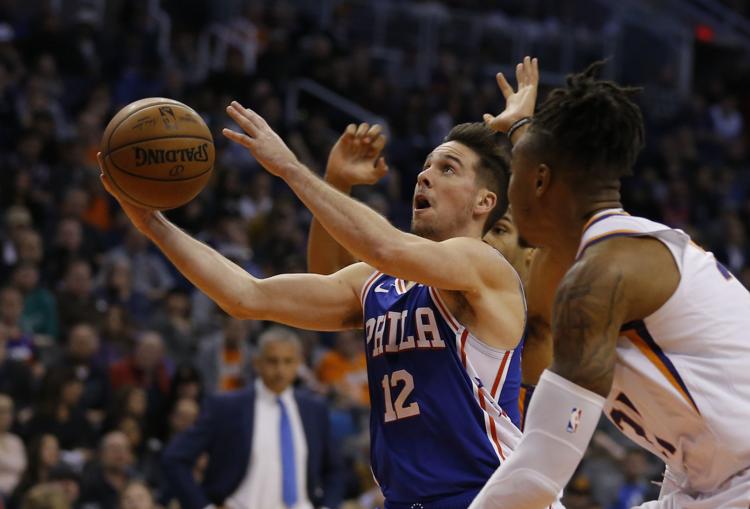 Arizona's Elite Eight point guard of 2014 and 2015, T.J. McConnell, becomes a free agent on July 1 and is almost sure to leave the Philadelphia 76ers. McConnell likely will get offered more money to move on than the Sixers could care to give to keep him. McConnell made $1.6 million this season. "Unless you're a star," he told Philadelphia reporters, "you rarely stay with one team."
Iguodala filled pockets with dimes while dishing them on the court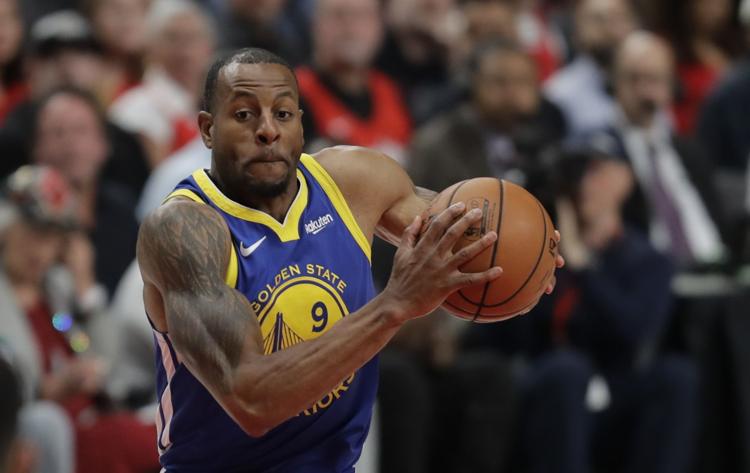 Andre Iguodala wasn't at Arizona long enough to establish a legacy, scoring 594 points and averaging 9.6 in two seasons. But his NBA career has been superb. He probably won't play long enough to pass Jason Terry as the highest-scoring Wildcat in the NBA — Terry has 18,881 points to Iguodala's 13,346 — but he will soon post his 5,000th assist, which is rare territory for anyone, especially a bigger man like Iguodala. Mike Bibby, with 5,517 and Terry, with 5,415, are the UA's top NBA assist men. The one coveted category Iguodala will soon lead is money-earned. He has already earned $136 million and is due $17 million next season. Gilbert Arenas, at $141 million, is currently the top-paid ex-Wildcat.
My two cents: Thoughts on recent Arizona basketball developments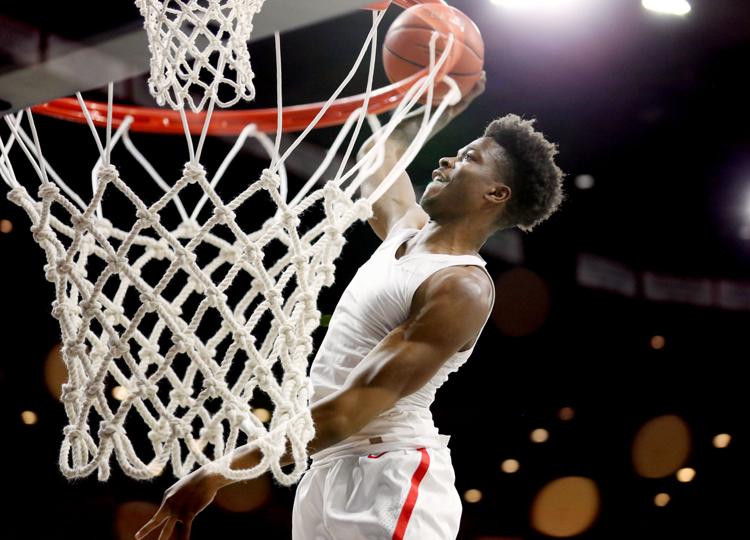 Four things about recent UA basketball developments:
1. Sean Miller's 2019-20 non-conference home basketball schedule — announced last week — leaves a lot to be desired. In a 40-day period from Nov. 24 to Jan. 2, Arizona will play just two home games (Nebraska-Omaha and Gonzaga). Only one November-December home game, against the Zags on Dec. 14, is on a Saturday. UA basketball fans continue to take a hit for what coaches and ADs now excuse as "the way the game has gone." Not good.
2. Arizona is taking applications for an assistant basketball coach, replacing Mark Phelps. It includes the following: "Work closely with compliance and stay abreast of all NCAA rules and regulations." Enough said.
3. Devonaire Doutrive, who is leaving the basketball program, was recruited during the FBI investigation and Arizona lowered its standards a bit, no longer insisting on "Arizona good" skills. Doutrive is going to need time, but if he redshirts and plays three more college seasons at say, some place like New Mexico or Saint Mary's, I could see him averaging 12-13 points and being a solid starter.
4. Miller has obviously re-set his recruiting standards back to pre-FBI levels. Last month, he offered scholarships to four point guards:
Devin Askew, Class of 2021, No. 15 ranked overall, Mater Dei High in SoCal.
Skyy Clark, Class of 2022, 5-star potential, Long Beach.
Aidan Mahaney, Class of 2022, Moraga, Calif., top 50 prospect.
Caleb Love, Class of 2020, No. 31 overall, St. Louis.
Perhaps Nico Mannion can re-start the Point Guard U legacy in 2019-20.