Every week throughout the season, we'll take a look back at the Arizona Wildcats' previous game after re-watching it via the TV broadcast. Here are five key takeaways from the UA's 24-20 loss to USC on Saturday: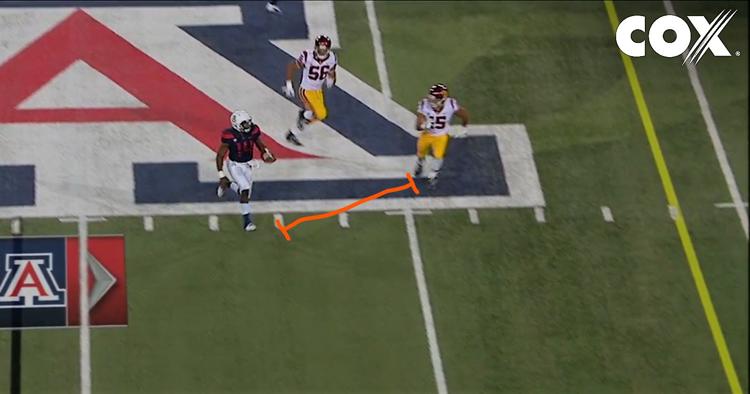 The ESPN2 announcing crew spent a large portion of the broadcast talking about UA quarterback Khalil Tate's health – specifically the left ankle he sprained in Week 2 that's clearly still bothering him. At one point, analyst Rod Gilmore said: "He's just not the same." How does that manifest itself? Simply put, there are certain plays Tate doesn't seem to be able to make that he made look easy last year. Case in point: Early in the third quarter, Tate pulled the ball and ran to his right. USC safety Talanoa Hufanga had a decent angle on him. A year ago, when Tate was running free and easy, he accelerated past defenders who appeared to have angles on him. This time, he couldn't beat Hufanga, who tripped him up. Tate gained 9 yards on the play; last year he might have had 19 or 29. "You see the same thing I see," UA coach Kevin Sumlin said afterward when asked about Tate's mobility. "He's not 100 percent. He's battling through it. … It's unfortunate, but that's where we are right now." Aside from affecting his speed, burst and cutting ability, the injury seems to be impacting Tate mentally. He just doesn't have that best-athlete-on-the-field confidence he had for most of 2017.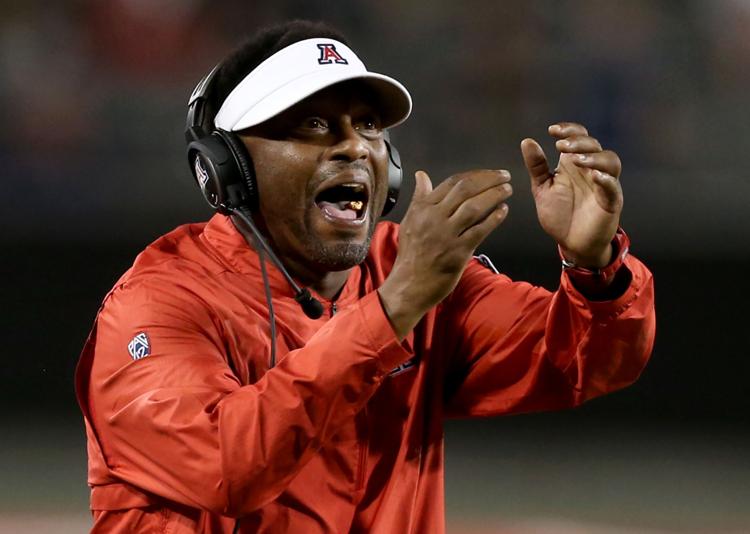 Tate said after the game that he and his teammates didn't play hard enough for four quarters. Linebacker Colin Schooler said the Wildcats didn't play with enough energy. Sumlin refuted that and cited the choppy nature of the game, which featured 26 penalties. The truth is, Arizona had a chance to get off to a fast start and ignite the crowd but didn't capitalize on it. Two play calls proved costly. The first came on the Wildcats' first possession. On third-and-8 from the UA 45-yard line, Tate and the offense appeared to get an audible from the sideline. The ensuing play, presumably from offensive coordinator Noel Mazzone, was a 5-yard run up the middle. Arizona then punted into the end zone. Penalties on USC and some sound defense created a third-and-13 for the Trojans at their 7. Marcel Yates called for the dime package but elected to send only four rushers, giving freshman quarterback JT Daniels time to complete a 20-yard pass to Michael Pittman Jr. USC would score on that drive and take a 7-0 lead. It's easy to second-guess play-calling, but neither of those calls made sense in the moment. They also sapped the energy from the stadium – and maybe even the Wildcats.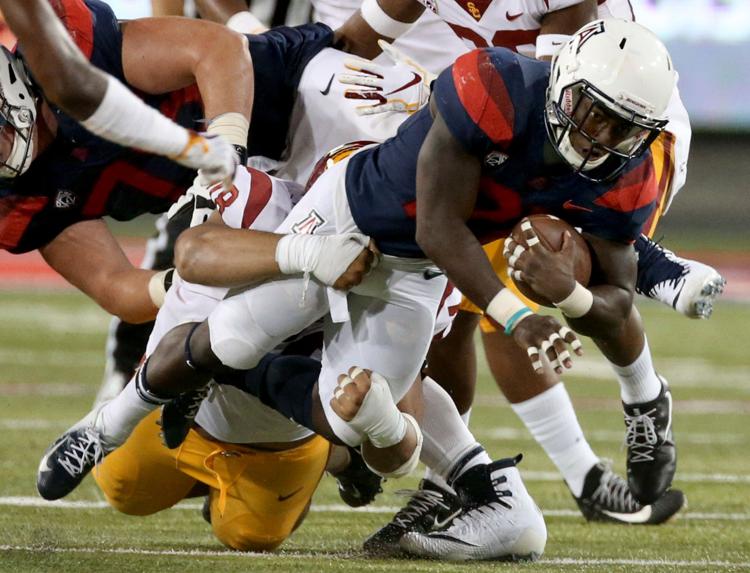 The difference between USC and Arizona's previous two opponents – Southern Utah and Oregon State – was most evident when the Wildcats had the ball and couldn't move it. Runs that went for 5 or 6 yards – or more – against the Thunderbirds and Beavers went for 2 or 3 against the Trojans. Big plays in the passing game turned into minimal gains or incompletions. Three examples: (1) On Arizona's second possession. Tate connected with J.J. Taylor in the right flat. USC cornerback Isaiah Langley did what no OSU defender could the previous week: bring down Taylor one on one in the open field. (2) On a third-and-10 play in the second quarter, Arizona set up a screen – a perfect call against the blitz. Gary Brightwell dropped the pass, but it wouldn't have mattered; USC's Hunter Echols beat Cody Creason to the spot and would've blown up Brightwell. (3) Later in the second quarter, Tate slightly underthrew Shun Brown on a deep pass to the left side. It looked as if it would be completed anyway, but USC's Ajene Harris leaped and deflected the pass. After facing the Trojans for the first time, Sumlin should have a better idea of the type of athletes he needs to recruit to close the talent gap.
4. THIS TIME IT'S PERSONNEL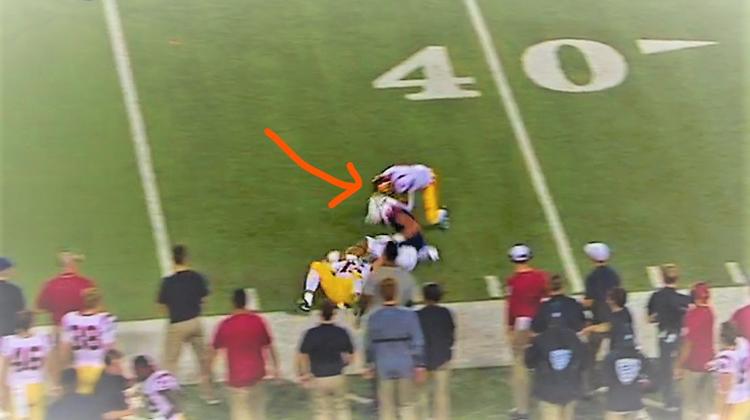 Each week we provide some notes on individual players, so here goes … Taylor is an excellent all-around player, but it's clear that Brightwell – who's 6-1, 206, compared to Taylor's 5-6, 184 – should be the goal-line back moving forward. … Freshman tackle Donovan Laie looked like a freshman for the first time this season. He was beaten for a sack and incurred multiple penalties. But if he learns from this and continues to improve, Laie has a bright future. … Receiver Shawn Poindexter seemed to be the victim of a targeting foul by USC's Olaijah Griffin, but the play wasn't reviewed. … Not only was Brown Arizona's most productive receiver, he also finished runs with authority. … PJ Johnson looked comfortable at defensive end. The 335-pounder has the quickness of a smaller man and made several plays that required him to run and chase. … Linebacker Jacob Colacion played well after replacing the injured Tony Fields II (shoulder). Arizona can get by with Colacion and Anthony Pandy (assuming he's reinstated from suspension) should Fields miss any games. … Reserve "Spur" safety Tristan Cooper had his best game of the season, making plays on special teams and all levels of the defense. … The blocked field goal at the end of the first half wasn't the fault of struggling kicker Lucas Havrisik. Wing blocker Jamie Nunley allowed Marvell Tell III to get an inside rush.
I noted this play during the game, wondered why Tate didn't try to put his shoulder down and get first. Previous play also ran out of bounds. If he can't make this play b/c of ankle, have to question whether he should be out there. pic.twitter.com/00oRjIeLtH

— Michael Lev (@MichaelJLev) October 1, 2018
There are several ways to look at what happened Saturday night. One is that USC is simply the superior team. Another is that Arizona found something it can build on late in the game, especially on defense. But it all comes back to Tate. If he isn't the dual-threat difference maker he was a year ago, Arizona is an ordinary team that will struggle to make a bowl game. If he can recapture the mojo he had in 2017 – or at least some facsimile thereof – the Wildcats can beat anyone on their schedule. It seems unlikely that the latter will happen if Tate isn't healthy. And he might not be able to get healthy without sitting out a week or two. Sumlin and his staff undoubtedly have debated whether that's the correct and necessary course of action. Arizona has a winnable game coming up against a Cal team that got blown out at home by Oregon on Saturday. The Golden Bears aren't sure who their quarterback should be. The Wildcats have their own set of issues at the game's most important position.