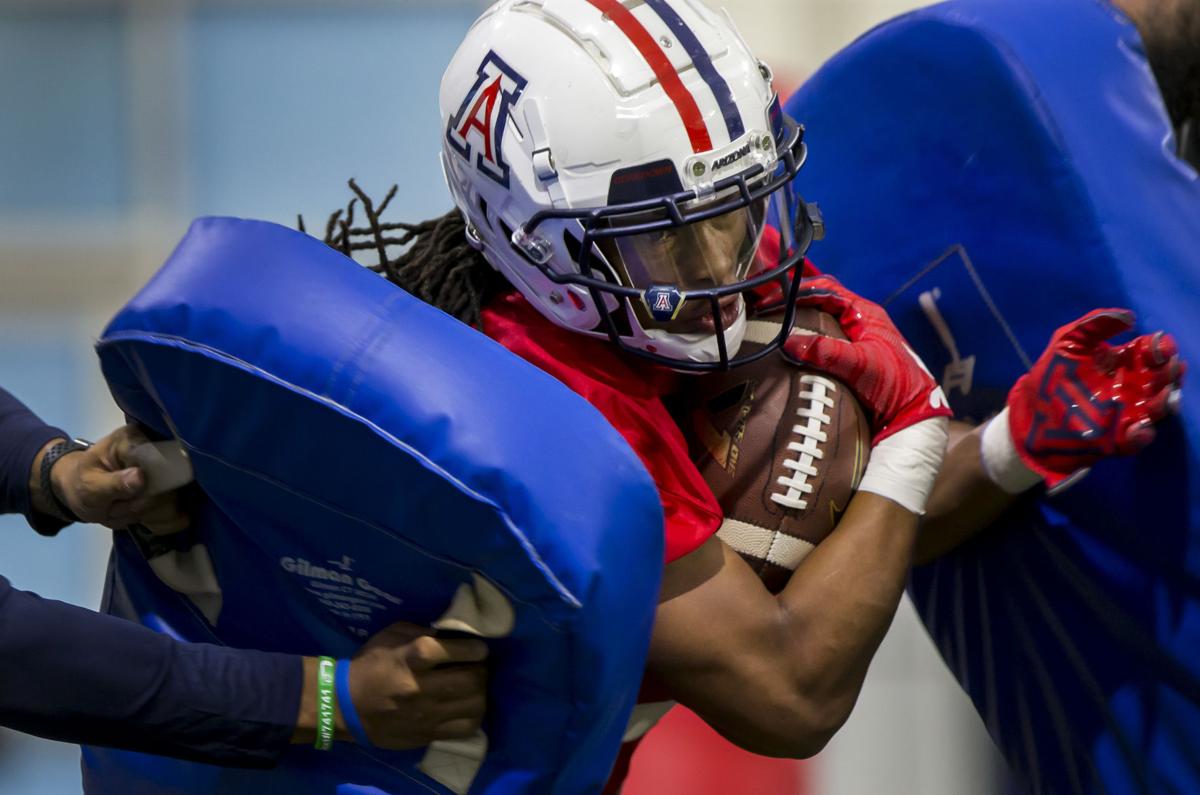 Editor's note: The Star is highlighting the best players, biggest questions and most interesting facts about the Arizona Wildcats, who open their season Nov. 7 at Utah.
Arizona is one week away from kicking off its first — and hopefully last — football season affected by the COVID-19 pandemic.
As the Wildcats embark on their seven-game, conference-only schedule, there are a couple things you need to know.
First, the opponents on Arizona's schedule include all the other Pac-12 South teams. The team plays one "crossover" game, against, Washington, on Nov. 21. Another crossover game, scheduled for Dec. 19, will be announced at a later date.
Secondly, the UA wasn't just voted to finish last in the Pac-12 South; it received the least amount of votes in the entire conference. When you lose three multi-year starters from a defensive unit that ranked among the worst in the Pac-12, and when you've lost seven games in a row entering the season, there isn't a ton of buzz around the program.
The only way to bring the excitement back is to win. Here's how the Wildcats can shock the experts:
Thin defense steps up
Let's take a gander at where Arizona finished in the Pac-12 defensively in 2019, shall we? Total defense? Last. Passing defense? Tenth. Rushing defense? Eleventh. Most allowed points? Last. See the trend?
The Wildcats' defensive staff was gutted, and the two anchors of last year's defense, linebackers Colin Schooler and Tony Fields II, transferred to Big 12 Conference schools because they were under the impression the Pac-12 wasn't having a football season. Losing Schooler to Texas Tech and Fields to West Virginia was a massive blow to a unit that already had depth issues.
First-year defensive coordinator Paul Rhoads has his work cut out for him. In Rhoads' 3-4 defense, linebackers need to be ready to go. Arizona's linebacking unit consists of Anthony Pandy, who bloomed into a leader on the UA's defense in 2019, freshman D.J. Mourning, Derrion Clark and outside linebacker Jalen Harris. Other outside linebackers expected to compete for playing time behind Harris this season include Kwabena Watson and Eddie Siaumau-Sanitoa.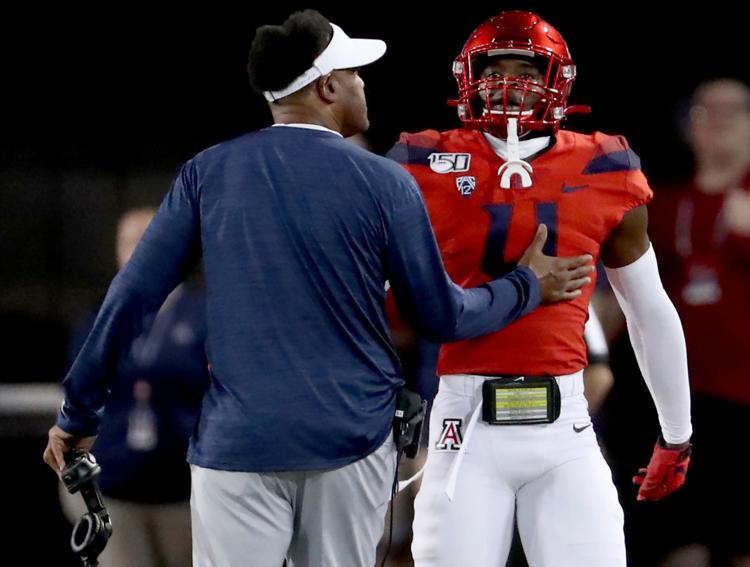 Fifth-year senior cornerback Lorenzo Burns has played the most snaps among the other defensive players, while others are upperclassmen who waited their turn for playing time or newcomers.
But Arizona's defense drips with potential.
Sophomore cornerback Christian Roland-Wallace became one of Arizona's top defensive backs as a freshman in 2019, and former four-star recruit Bobby Wolfe is a ball-hawk. Up front, the Wildcats return Trevon Mason, who was named a Reese's Senior Bowl Top 250 player in August, as well as Kyon Barrs, Mykee Irving and Myles Tapusoa. Graduate transfers Aaron Blackwell (New Mexico) and Roy Lopez (New Mexico State) give the Wildcats some depth on the line.
If Arizona is to win games, Rhoads will need to get the most out his defense — specifically at linebacker and safety.
Run game produces again
Want to know what helps a young and inexperienced defense? An offense that controls time of possession and keeps the defense on the sidelines as much as possible.
Running back is probably the deepest position group for the Wildcats, with senior Gary Brightwell as the top back after serving as the complimentary back to J.J. Taylor for the last two seasons. Along with Bam Smith, Michael Wiley and Nathan Tilford, Arizona's rushing attack produced the third-most yards in the Pac-12 last season.
The elusive Brightwell, who will don No. 0 for Arizona this season, rushed for 390 yards and five touchdowns in 2019. The powerful Tilford, multidimensional Wiley and freshmen Jalen John and Frank Brown give offensive coordinator Noel Mazzone some options. Brightwell said earlier this month that "if I was to go down, I feel like anybody in this room could step up and make plays."
The 6-foot, 200-pound Brown received praise from several UA teammates and coaches throughout training camp for what he can do in the passing game. In four years at Sterling High School in Houston, Brown caught 77 passes for 1,898 yards and 28 touchdowns while rushing for 3,378 yards and 49 touchdowns.
Special teams improves
UA ranked 10th in the Pac-12 in field goals in 2019, making 10 of 17 attempts. Lucas Havrisik was 2 of 5 from more than 50 yards away, but was just 1 of 3 from field goals between 30 and 39 yards. The job is still his to lose, but the Wildcats also signed freshman Tyler Loop from Texas. He was rated as the eighth-best kicker by Kohls Kicking.
Punting has been a problem, too. The Wildcats finished last in the Pac-12 with an average of 38.8 yards per punt. The punting competition in practice is between Phoenix native Kyle Ostendorp and Cienega High School product Jacob Meeker-Hackett. Both punters had good hang time and distance during practice.
Gunnell lives up to hype
Since high school, Grant Gunnell has been in the spotlight.
He was the ticket for St. Pius X High School's success on the football field in Houston, where he set the all-time Texas state passing record with 16,108 yards and 195 touchdowns.
Gunnell put up more yards at the high school level than Texas-born NFL stars Patrick Mahomes, Nick Foles, Drew Brees, Kyler Murray, Matthew Stafford, Andrew Luck and Johnny Manziel, among others.
Gunnell decommitted from Texas A&M and followed Sumlin and Mazzone to Tucson. His goal: to become the next great quarterback to run their pro-style system
As a freshman in 2019, Gunnell completed 101 of 155 passes for 1,239 yards, nine touchdowns and one interception while sharing time with Khalil Tate.
Backed by support from his teammates and coaches, Gunnell is the face of UA football.
But with expectations comes pressure. Will Gunnell use that pressure to turn this Arizona offense into a diamond? Who knows, but a loaded running backs group and wide receivers corps with Jamarye Joiner, Boobie Curry and Brian Casteel, among others, gives Gunnell options.
Gunnell could carry the Wildcats this season, especially if their defense struggles.
Good health, and some luck
The 2020 season could turn nightmarish in a hurry if the Wildcats don't stay healthy.
And it's not just sprained ankles and concussions that could derail them. The Wildcats are being urged to practice safe habits away from the football facility as the team navigates its season during a global pandemic.
This this week alone, Wisconsin postponed its game against Nebraska because of a COVID-19 outbreak and Clemson quarterback Trevor Lawrence, the presumptive No. 1 pick in the next NFL Draft, tested positive. Every week, COVID-19 finds a way to plague college football. On a roster like Arizona's, where every available player matters, a failed test could be disastrous.
As for luck? Arizona could use some good juju, whether it's an opposing team missing a field goal to win a game or odd sequences late in games. In a bizarre year, the football gods may need to sprinkling some dust on the Wildcats for Arizona to make a run.