Arizona safety Tristan Cooper had a career-high nine tackles against Colorado. The senior played an integral role in two critical fourth-quarter stops. He was named the Wildcats' defensive player of the game.
Two games earlier, Cooper took one for the team. He received the dreaded "DNP-coach's decision" designation against Texas Tech. Cooper didn't do anything wrong leading up to the game. Defensive coordinator Marcel Yates and his staff simply decided a different look would lead to a better matchup against the pass-heavy Red Raiders.
So Cooper sat. But he didn't stew. He had been through similar situations before. He understood why he wasn't part of the game plan and knew he'd be needed later in the season.
"I wasn't part of the personnel for that game, so I had to respect it," Cooper said Tuesday amid Arizona's preparations for Saturday's home game against Washington. "We still got the win.
"If we're getting the win, and we need different type of people in there … it is what it is."
Which isn't to say that Cooper was happy about the development. He's in his final season of college football. He wants to play.
"It sucks. Nobody's gonna be happy that they're not gonna play," Cooper said. "You have to bite the bullet, swallow it — understand that you're doing what's best for the team."
Knowing that Texas Tech would pass the majority of the time, Yates moved cornerback Jace Whittaker to the "Spur" safety position normally occupied by Cooper, who is more of an in-the-box player. The strategy worked. The Wildcats held the Red Raiders to 14 points, the lowest output by a UA opponent this season.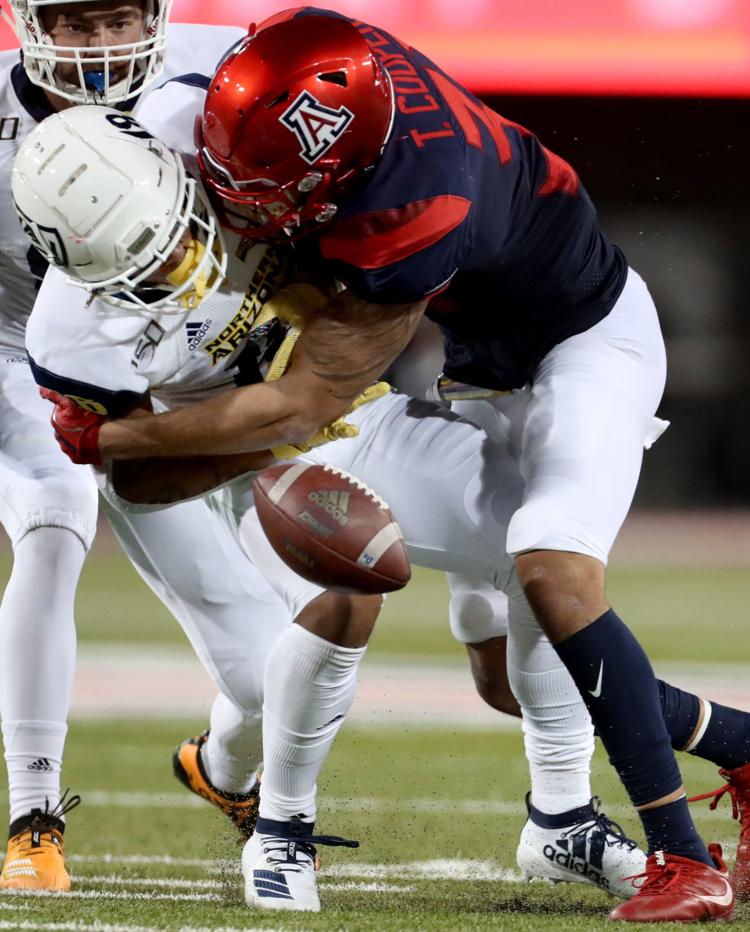 Cooper endured personal highs and lows earlier in his career. He started five times as a freshman in 2016, finishing the season with 35 tackles, a sack, a forced fumble and a pass breakup. But Yates decided the following season to move cornerback Dane Cruikshank to Spur. Cruikshank had an excellent year and got picked in the fifth round of the '18 NFL draft. Cooper played a minor role off the bench.
Cooper began last season as a starter before again moving to a reserve role. He returned to the lineup for the final four games, recording 17 tackles and three pass breakups.
If the coaches were trying to motivate him, it worked.
"You can't get content," Cooper said. "You can't just be like, 'OK, I got this starting position.' Every day, you gotta go out there and battle."
Contributing off the bench is one thing; not playing at all is another. Players in similar situations at other programs have hit the eject button.
Since he hadn't redshirted or appeared in more than four games in 2019 at that point, Cooper could have entered the NCAA transfer portal and played somewhere else next season. He said he never considered that option.
"No," Cooper said. "The only thing that crossed my mind was, I need to prove to my coaches that I need to be a player that cannot be taken off the field."
In a passing situation against Colorado, with the game on the line, Cooper showed he could be trusted. Tailing by five points late in the fourth quarter, the Buffaloes needed to convert on fourth-and-4 to keep their hopes alive. Cooper was assigned to receiver Dimitri Stanley in man coverage. Cooper thought he might get help from fellow safety Christian Young. But when tight end Brady Russell ran to the left flat, Cooper had to guard Stanley one on one crossing the field.
Cooper stuck with Stanley, and Steven Montez's pass flew past his intended target.
"I just broke on it as fast as I could," Cooper said. "Hopefully people kind of see that my coverage ability has improved over the years. I'm not gonna lie: My freshman and sophomore years, it was a little iffy. But junior and senior year, I really took pride in trying to learn the techniques that Coach Yates and Coach 'Meat' (cornerbacks coach Demetrice Martin) are teaching us and just apply it to the game."
Earlier in the quarter, Cooper made a solo tackle on tailback Alex Fontenot at the UA 3-yard line. A scrambling Montez had flicked the ball to Fontenot, who was off-balance when he caught it. But Cooper made sure Fontenot didn't reach the end zone, forcing Colorado to kick a field goal. The Wildcats' subsequent touchdown gave them that five-point edge.
The way Cooper handled his temporary demotion impressed his teammates as much as his clutch play against the Buffaloes.
"He kept his composure," Young said. "He put the team before himself. … Doing what the team needs to get a win, I feel like that's a very mature move."
"He came out last week and got player of the game," cornerback Lorenzo Burns said. "It kind of just goes to show that he's … not a selfish player."
Cooper is one of three remaining players who started against Washington the last time the Wildcats faced the Huskies in 2016. Tailback J.J. Taylor and defensive end Justin Belknap are the others.
Although he has proved he can play in space, Cooper is looking forward to what is likely to be Arizona's most physical game of the season so far.
"I remember playing them my freshman year. They were physical … great O-line," Cooper said. "I like playing in the box. It's a great challenge. I take pride in that.
"We're gonna have to hit our gaps, stay in our gaps, lock up, make tackles. We're gonna have to start blowing them up or something, because they're big."
Extra points
• Cooper was one of six Wildcats to make Pro Football Focus' All-Pac-12 Team for this past week. Freshman cornerback Christian Roland-Wallace also made the defensive squad. Receiver Brian Casteel (seven catches, 74 yards, one touchdown) and offensive linemen Cody Creason, Donovan Laie and Josh McCauley made the offensive unit. Arizona did not surrender a sack for the first time this season. The Wildcats have allowed the fewest sacks in the Pac-12 since the start of the 2016 season (74).
• Two former UA players were added to the player pool for the inaugural XFL draft: offensive lineman Gerhard de Beer and defensive lineman Larry Tharpe Jr. Additional players will be revealed throughout the week. The draft will be conducted next Tuesday and Wednesday.