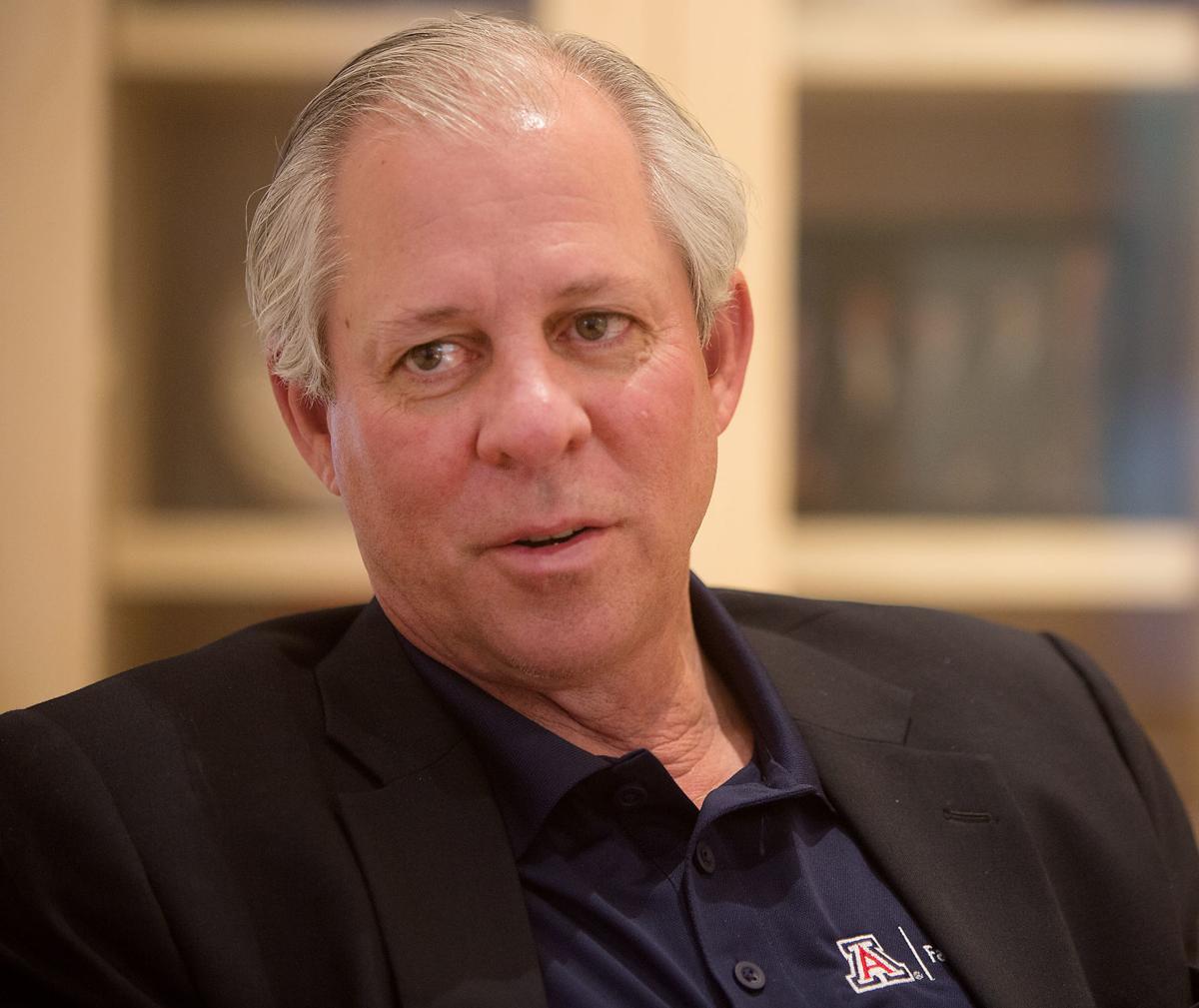 When he hears that the timing just might be right, Robert C. Robbins' eyes widen. The University of Arizona president is working it out in his head: Yep, it's gonna work.
On Sept. 8, Arizona visits Houston. Kickoff in Texas is 11 a.m. About seven hours later, Clemson plays at Texas A&M.
Robbins plans to attend both games.
"We can do it," he says giddily. "You can make it in an hour and a half, two hours."
Robbins has made the drive from Houston to College Station many times. In 2013, the former president and CEO of the Texas Medical Center went to see Alabama play at Texas A&M. As soon as it was over, he hopped in his car and sped to Austin to catch Ole Miss-Texas. Back in his Stanford days, Robbins once attended a 49ers game in the afternoon and a Raiders game that same evening.
"This could be my trifecta," he says.
It would be an understate- ment to label Robbins a big sports fan. He describes his fervor as "pathological." He's a doctor, so you take his word for it.
"If there's a ball and a score, I'm a fan," Robbins says. "But of course, growing up in the South, there's really two seasons: There's football and spring football."
Robbins, 60, grew up in Ellisville, Mississippi, where the population is about 4,500. ("Is it that much now?" Robbins asks. "It's a metropolis!") Ellisville is about a half-hour northeast of Hattiesburg, home of the University of Southern Mississippi. But like every budding quarterback in those parts in those days, Robbins worshipped Ole Miss star Archie Manning.
Robbins was a pretty good quarterback for South Jones High School, throwing 40-plus touchdown passes over his final two seasons. He planned to walk on at Ole Miss, but a knee injury suffered while water skiing sent him in a different direction.
Robbins eventually became head of cardiothoracic surgery at Stanford and the boss at Texas Medical Center. He fulfilled something of a career-long dream by becoming the 22nd president of the UA on June 1 of last year.
Seven months later, Robbins and Wildcats athletic director Dave Heeke decided to part ways with football coach Rich Rodriguez. The search for his successor would involve a former high school quarterback from SEC country whose tenure at TMC in Houston coincided with Texas A&M's arrival in the conference and the meteoric rise of Johnny Manziel.
Is it any wonder Arizona hired Kevin Sumlin?
"Certainly, he was engaged in the process," Heeke says of Robbins. "We had many conversations about where to go in the future. You have to be on the same page.
"I really looked for his thoughts and his opinions. I certainly shared mine. And then we came to the conclusion of what we thought was the right direction for our program — what we want Arizona football to be."
Between meetings at his Old Main office earlier this month, Robbins spoke to the Star about his love for sports and his admiration of Sumlin, whose team opens training camp Friday. Here's a portion of that conversation, which has been lightly edited for context and clarity.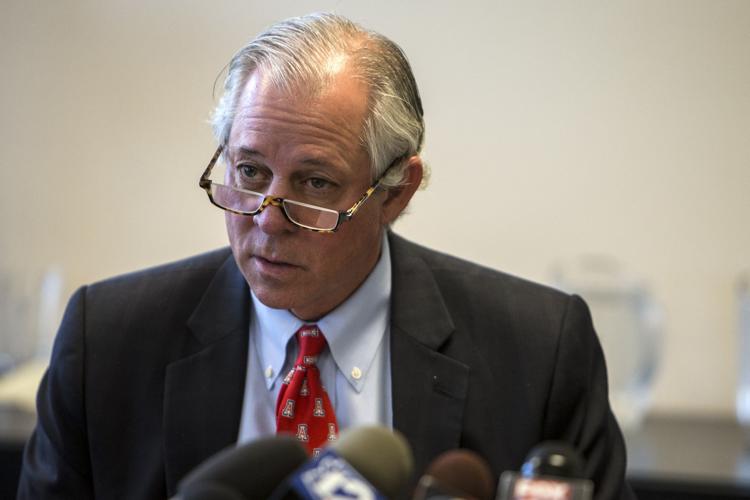 What sports did you play in high school?
A: "I played football, basketball and baseball. Played quarterback in football. I'm the same height as I was in the seventh grade. I was more of an inside man (in basketball) in junior high, then I transitioned to being the smallest guy on the team. I was a guard. Then baseball, I pitched. I liked being involved."
How good were you as a quarterback?
A: "As I get older, my career gets better. We ran an I-formation, sort of pro set. We went 10-0-1 my junior year and then 10-1 my senior year. … I wasn't good enough to play in the SEC; I just wasn't."
It could have been a Rudy-type story.
A: "I think I would have been better than Rudy. I was always watching Pat Haden (who was listed at 5-foot-11) at USC and thinking, 'God, if that guy can do it, I can do it.' I was all right."
When you went from the South to the West Coast, to Stanford, did things seem different in terms of the school's devotion to football?
A: "Oh yeah. Totally different. It was one of a variety of things. (Former Stanford AD) Bob Bowlsby lived across the street from me. He's the commissioner of the Big 12 now. He said he went to 30 different events one weekend on the campus. You've got water polo going on, cross-country, whatever — and you've got football. It's California. All those, quote, country-club sports are big. I can guarantee you: There is nothing going on in Tuscaloosa when there's an Alabama football game except 200,000 people on the campus and 100,000 of them going to the stadium."
Did you learn anything at Stanford that you've been able to apply here as far as your connection to the athletic program?
A: "I wore poor Bob Bowlsby out. I would say, 'Bob, I'm going to come sit at your feet like a little child. I want you to teach me everything about Division I athletics, the whole shooting match. Because one day I want to be a (university) president.' So I learned a tremendous amount from him."
Was there anything about Sumlin that you admired from afar?
A: "He won; he's a winner. When you go into Tuscaloosa and knock off Alabama and Nick Saban (in 2012), that gets people's attention. I had known about him, of course, from Houston. He won there. He won at A&M. And he's going to win at the University of Arizona."
A: "He's a great coach, No. 1. He's a great leader. And I think he's got some talent. Most people would say we're really young, especially on the defensive side of the ball. But as he keeps saying in his stump speeches, the great thing about freshmen is they become sophomores. They've got a year under their belt."
The guys describe him as a players' coach. Is that what you were looking for?
A: "My mentor, (Dr.) Norman Shumway, we'd be operating away, and he'd go, 'Isn't this fun? Isn't this great? What could be better?' You can have fun with serious things. You've got to take it seriously, do your work and pay meticulous attention to detail. And I think that's how Kevin is with the team. We'll see. Who knows? It's a tough league. It's a tough time to be here. He got into the recruiting game late.
"Coaches, they don't like it when you say, 'I expect you to win a national championship every year.' It puts too much pressure on them. He's kind of gone with it. I said, 'You know, Kevin, the one thing, if you did it, you'd be legendary at the U of A. Just get us to the Rose Bowl. We don't have to win the Rose Bowl; just get us there. But if we do get there, we're gonna win it, right?'
"He goes, 'Some coach, some University of Arizona team at some point, will go to the Rose Bowl. Why not me? Why not us? Why not this year?' "
You're from SEC country. You were around a lot of great coaches at Stanford. You saw Texas A&M take off. When you came here, did you have a vision of what you wanted this football program to be?
A: "Absolutely. A high-ranking executive that I won't name asked me the same question: 'You grew up in the SEC; how do you feel about being the president at a basketball school?' I said, 'Stop it. We're both.' It's like Deion Sanders. You play football or baseball? 'Both.'
"We're both. Coach (Dick) Tomey had Desert Swarm. They were pretty good in those days. (Mike) Stoops did all right. RichRod (Rich Rodriguez) won the South Division.
"There's no reason we can't be really, really good at both."
How did coach Sumlin mesh with that vision?
A: "The thing I always liked about him … I never heard, one time, that he was disrespectful to his players, didn't treat them like men. It's not going to be, 'You're a screw-up, get out of here.' You never saw that. There's been a little of that in the history of this program — multiple coaches, not just one. So I was looking for somebody that had that phenotype of, 'We fully expect to win, but we're going to do it the right way.'
"(Someone who) was committed to academics. Was committed, not for four years, but 40, 50, 60 years of the life of our players.
"Coach Tomey was that. I've talked to the players when they would come back. They thought of him as a guy that coached them in football and was tough on them, but was invested in their life for the long term. That's the kind of guy I was looking for. Luckily, Dave and I were on the same page, and Kevin was available."
You're very visible at UA athletic events. Why do you feel that's important?
A: "I'm enthusiastic about every aspect; it's not just about sports. You want to get me going about the dance program or the Center for Creative Photography? I am completely invested in every part of this university. I get to see the coolest stuff every day that nobody even knows. I was with a bunch of people this weekend, and there was a guy giving a lecture about astronomy. Did you know University of Arizona is the No. 1 astronomy program in the country?
"We've got so many incredible stories to tell about this university. And the only way that I'm really going to know is to be involved, to be there, to participate, to watch and cheer people on.
"I'm wandering around here all the time. They've got a shock collar on me and a GPS. They'll go, 'Wait, you've got a meeting.' (But) there's a group of parents and students taking a tour. I stop and go, 'Hey, thank you for taking the time to come here and tour our campus. We'd love to have you here. Do you have any questions?'
"I am full-on engaged in everything."
Be the first to know
Get local news delivered to your inbox!