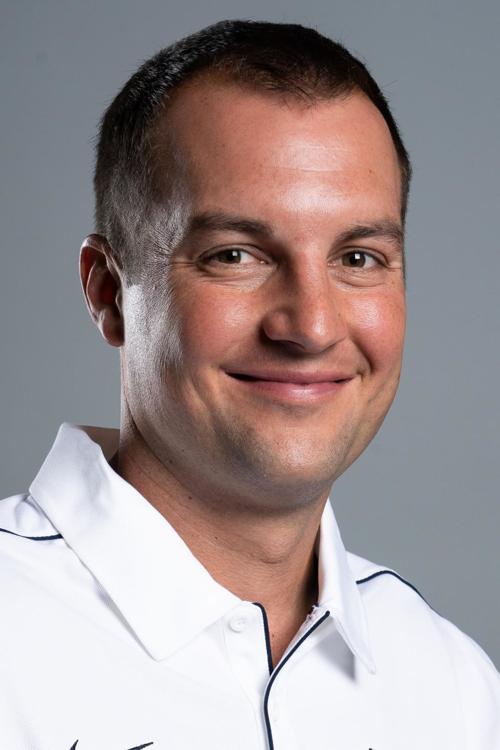 Brian DeSpain, Arizona's director of football operations, recently gave a 15-slide PowerPoint presentation to Dr. Stephen Paul, the athletic department's director of medical services, and Derek van der Merwe, the department's chief operating officer.
The subject: How the football team will be situated on buses and the team plane for the season opener at Utah.
Such is the way in 2020. No detail is too small. Safety supersedes all else.
Planning a road trip for a football team and support staff is no small task under normal circumstances. Planning one during a pandemic requires next-level resourcefulness and flexibility.
"I will feel at ease when we arrive back at the football facility here at 10 or 11 o'clock next Saturday night," DeSpain said with a chuckle during a Zoom interview this week. "No, I feel OK, and it goes back to … there are really good people here. We have a very good team atmosphere. We're going to get through this thing.
"There's always going to be something to worry about; there's always going to be something that can go wrong. But in a building like this, at a university like this, where there's people there to help you and make sure things are done at a very high level, it gives you a lot of comfort."
One factor working in DeSpain's favor: The Wildcats were slated to visit the Utes on Nov. 7 in the first iteration of the schedule released in January. DeSpain had most of the logistics laid out in early March. The UA is staying at the same hotel in Salt Lake City.
It just so happens to be the third version of the original contract. The team will leave Tucson on Friday afternoon, per usual.
Of course, this being 2020, there's a plot twist: When the Pac-12 season was postponed, Utah moved forward with plans to refurbish a portion of Rice-Eccles Stadium. The locker rooms were demolished. Both teams will dress and shower in temporary digs.
What else is different? The travel party is smaller than it normally would be — 140 people, per Pac-12 mandate, vs. 165 or so for a conference game. (Because of this and other factors, each trip will be "slightly less" expensive than normal, DeSpain said.) Masks are required at all times in public spaces, aside from meals and actually playing the game. Road roommates and seat assignments on buses and the team plane have been carefully arranged to mitigate the possibility of a COVID outbreak.
DeSpain, 36, who came to Arizona from New Mexico in August 2019, discussed those details and more in a one-on-one with the Star. The conversation has been lightly edited for context and clarity:
How do you determine roommates in a situation like this?
A: "I've had a lot of conversations with peers, not only in the conference but around the country. One benefit we've had is that there's a few other conferences that have been doing this for six or seven weeks, so we can go on some best practices from those guys, things that have worked well, things that didn't work well.
"The vast majority of people that I have talked to have continued to (have) roommates in the hotel. We have decided to do that, and we're going to be very strategic on how we do that. We have a criteria. Normally you would just match up quarterbacks with quarterbacks, linebackers with linebackers. We are going to do it a little bit different this year based on … things that mitigate risk.
"Like, if somebody is roommates here in Tucson, it makes sense for us to make them roommates on the road too, because if they stayed in the same house on Thursday night, and they stay in the same room Friday night, you're not expanding your bubble of contact tracing.
"We're basically creating mini-pods that will stay intact throughout the trip. A guy and his roommate, we'll expand that to where maybe there's five or eight 'hotel roommates.' It's a total of 10, 12, 18 guys. They'll all ride on the same bus together. They'll ride in the same section of the plane."
Does everyone have to wear masks?
A: "Yep. Absolutely. The entirety of the travel party. We're doing that even on a day-to-day (on campus) unless we're literally practicing football with our helmets on. Even at the end of practice when Coach (Kevin Sumlin) is talking to them, walking through the hallways, standing in line at the cafeteria, anything we're doing, they wear masks. And it will be the same on the trip — buses, plane, in the hotel. Unless you're in your hotel room just hanging out, or sitting at a table eating, then you've got your mask up. And those situations will all be socially distanced as well."
You guys are doing daily testing for COVID-19. How will that work when you have a road game?
A: "There's a certain number of people that are in that daily testing already — the players, obviously, and then on-field coaches, strength staff, medical staff that have unavoidable, direct physical contact with athletes. That testing group will get expanded on a travel week to include anybody that is going to be on the plane. So we're basically creating a travel bubble, where before you step on these buses to even drive with us to the airport, you've been certified that you've got multiple negative COVID tests."
Do you bring the machines that process the test kits on the road? How does that work?
A: "We will get some help from a third party that actually comes to the road team's hotel. They'll do the testing there, and you get a pretty rapid response for it. We'll obviously set that up early in the morning before there's any activity that day. Every participant, anyone who will touch the playing surface — trainers, coaches, the chain crew, the ball boys — will have (to have) a negative COVID test on game day."
What happens if someone tests positive on the morning of the game?
A: "Even on a normal trip, I always keep a quarantine room (at the hotel) just in case somebody had a stomach bug or came down with the flu or whatever. We have expanded that to have a few extra rooms now. So they'll have a spot to go to be clean, safe, comfortable. And then the Pac-12 is working all together on this. The host institution is going to step in … if somebody needs to stay there for several days. That's housing, that's food, that's medical care.
"If one of our guys has to stay behind, somebody would stay with them. The way we've got it set up now, that would be somebody from our medical staff, either an athletic trainer or one of our team doctors.
"Knock on wood, we are hoping that the odds of that happening are very low based on the fact that we're certifying that everyone is negative when we initiate the trip."
What happens if someone tests negative all week but then experiences symptoms the day you're leaving?
A: "I think the daily testing cures a lot of that. But at the end of the day, no questions asked — this starts with Coach Sumlin, our medical group … what we tell the parents, all of it — we're going to err on the side of caution. We're going to err on the side of safety. So if there is even an ounce of gray area, we're going to make the safe decision. If somebody needs to stay here, no matter how bad we want them on the football field, they're going to stay here and be very well taken care of."
The Pac-12 criteria to cancel or reschedule a game include local public health officials stating that there's 'an inability for the hospital infrastructure to accommodate a surge.' Cases have surged in Utah lately. Have you discussed the possibility of the game being canceled or moved?
A: "That it is certainly being discussed. It's being discussed at a lot of different levels.
"Throughout the course of the discussions, all through the spring and summer, this has been a pretty collegial conversation. We all realize the benefit and the importance of getting a football season in this year. So everybody needs to be pretty flexible on how that happens and, most importantly, how that happens safely.
"Speaking generally … I would like to think that everybody would be on the same page about changing a location before we cancel the game, especially given the tight window that we have to get seven games in this season. Speaking for us … we would be very interested in helping that happen. There's things that can be figured out."