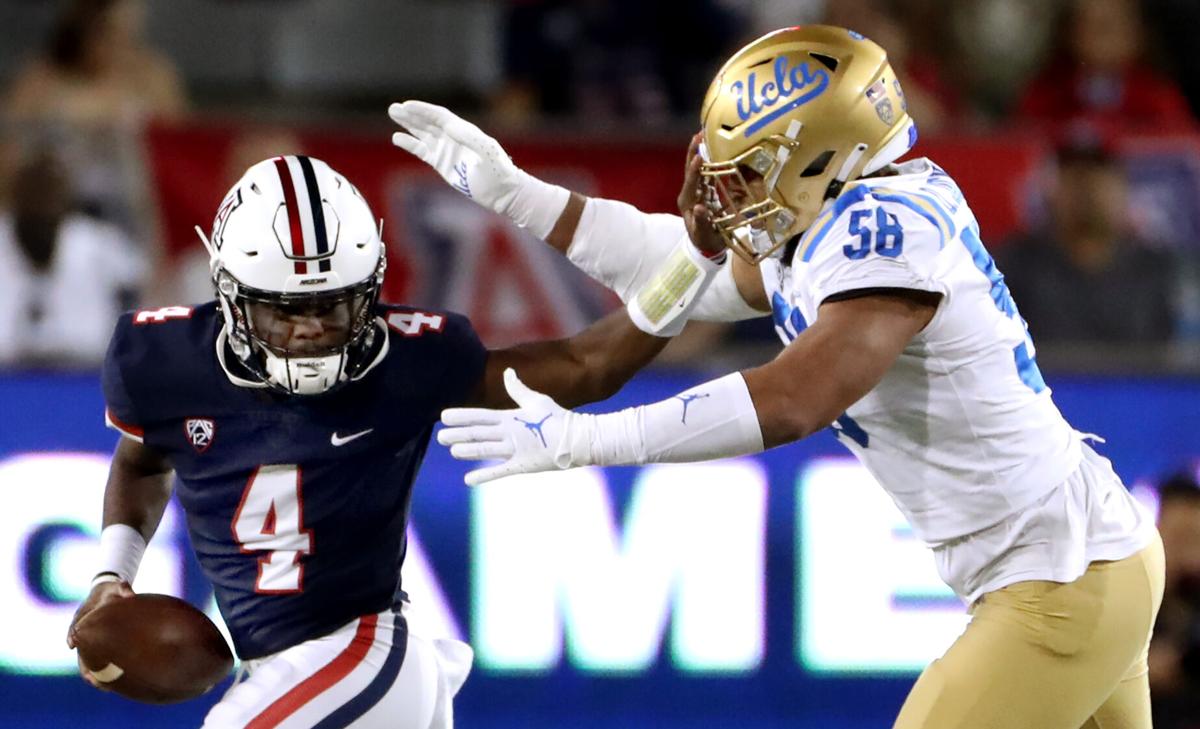 "You gotta be ready to go."
Jedd Fisch offered that reminder Monday, two days after having to make a quarterback change he didn't want to make.
Transfer Jordan McCloud, who had sparked Arizona's offense with his playmaking acumen, suffered what turned out to be season-ending knee and ankle injuries in the fourth quarter Saturday night against UCLA. Fisch confirmed the prognosis during his weekly press briefing.
"He was very upset," Fisch said of McCloud, who started the past two games and had the winless Wildcats within one score in the fourth quarter both times. "He transferred here to play. He came here to really help us. And I believe as he was learning the system more and more, we were going to be able to reap some of those benefits."
McCloud's injury meant a return to square one for the UA quarterback room. Transfer Gunner Cruz, who started the first two games this season, replaced McCloud and will start for Arizona (0-5, 0-2 Pac-12) at Colorado (1-4, 0-2) this Saturday.
"I believe in Gunner," Fisch said. "Gunner won the job in training camp because of the way he was able to throw the football."
Cruz, a third-year freshman who came to Arizona from Washington State, made his first career start in the opener against BYU. He played well for the most part, completing 34 of 45 passes for 336 yards with one touchdown and one interception.
Cruz took a step backward the following week vs. San Diego State. He completed 10 of 19 passes for only 70 yards with one TD and one pick. He was benched in the second half for Will Plummer, who started the next week against NAU. When Plummer faltered, Fisch turned to McCloud.
Recapturing the BYU version of Cruz is the task Fisch and quarterbacks coach Jimmie Dougherty face this week. In his brief appearance at the end of the UCLA game, Cruz displayed the same tendency that cost him against SDSU — holding the ball too long.
"We'll try to look back and see what he did well, and then also see if there's some ways we can get him just confident," Fisch said. "It's more about being confident than in a rhythm. If we can get him confident back there, I think the rhythm will come."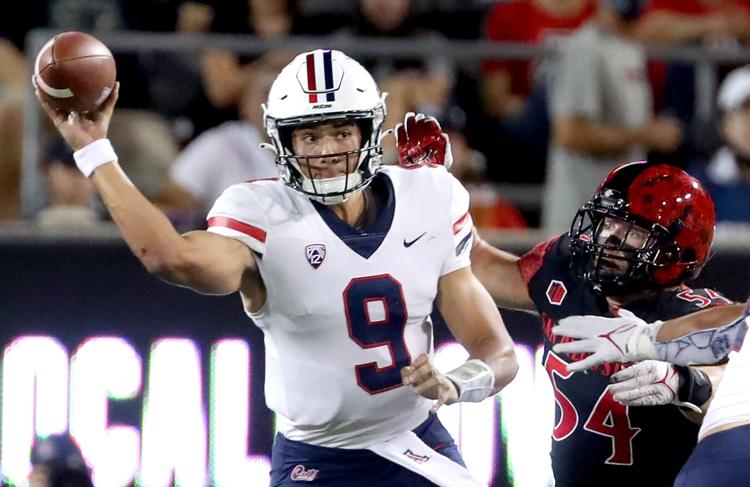 Fisch said Cruz will take the vast majority of the first-team reps in practice. Although he started the first two games, Cruz was part of a two-QB plan heading into them. Fisch has committed to Cruz as McCloud's replacement.
"We learned as we were going through these competitions that these guys currently are a group of players that need as many reps as possible to be successful," Fisch said.
He added that both Cruz and Plummer, if called upon, need to "play within the system. ... You don't need to make things up. That's what Jordan really accomplished."
McCloud appeared to learn from the mistakes he made in his first UA start at Oregon, where he threw five interceptions. He didn't have a turnover against UCLA until the play that caused his injury — an awkward sack in which his right leg got twisted and bent in a pile of players.
Arizona punted only four times in McCloud's two starts. The Wildcats punted 21 times in the first three games.
"The team responded well to him playing quarterback for us," Fisch said. "You could see we were moving the football. The last couple games, unless we had a self-inflicted wound, we ... moved it at will."
Fisch said McCloud will undergo surgery in the coming days. Fisch expects McCloud to be back as early as winter workouts.
A fourth-year sophomore, McCloud will have at least two years of eligibility remaining and conceivably could apply for a third.
Fisch really liked where the offense was headed with McCloud at the controls. He began the season as the third-stringer after arriving on campus in June. He then worked his way up the depth chart.
"When he didn't win the job, he still wanted to find a way to learn this offense and become the starter," Fisch said. "He really wanted to compete. He believed in himself — he has great belief and confidence — and felt as if, if he continued to learn our system, that he was going to end up becoming the starter. Unfortunately, the fluke of an injury prevented that for the rest of this season."
About those silver screens
You might have noticed that UCLA held up rectangular silver screens while signaling plays from the sideline.
That seemed to a reference to Dougherty, who worked under Kelly from 2018-20. Dougherty operates from the coaches' booth in the press box, which is located behind the visiting team's sideline.
Asked about the screens, Fisch said: "I think there was probably some thought process that we would know their signals and be able to communicate it. But we didn't, and we weren't."
'That's my fault'
Arizona, which has yet to score 20 points in a game, had an opportunity to score at the end of the first half vs. UCLA but didn't take advantage of it.
The Wildcats got the ball with 23 seconds left at their 44-yard line after Gunner Maldonado intercepted Dorian Thompson-Robinson. Arizona had one timeout.
McCloud completed a 6-yard pass to Bryce Wolma, who was tackled inbounds. Fisch didn't use the timeout, and the Wildcats barely had enough time to get another play off. McCloud ended up getting sacked.
Fisch said his initial thought process was that Arizona had just made it a one-point game and he didn't want to risk a turnover near midfield that would give the ball back to UCLA. He also didn't expect it to take so long for the Wildcats to get lined up after the first play.
In retrospect, Fisch said, he would have handled the sequence differently.
"That's my fault," he said. "I should have taken the timeout there and get us two plays."
Extra points
Senior defensive end JB Brown dressed but didn't play against UCLA after starting three of the first four games. Fisch said there were "some personal things that were going on with JB" and that the staff "chose not to play him." Brown, who has eight tackles, was dropped from the two-deep depth chart. Mo Diallo is listed as the starter at "Anchor." Paris Shand is his backup.
Cornerback Isaiah Rutherford is expected to return vs. Colorado, Fisch said. Rutherford sat out the UCLA game because of strep throat.
Colorado opened as a six-point favorite over Arizona. The spread has grown to 7.5 in the wake of McCloud's injury. The Buffaloes average 8.5 points per game against FBS opponents.
Contact sports reporter Michael Lev at 573-4148 or mlev@tucson.com. On Twitter @michaeljlev