Kevin Sumlin called it a test of his team's maturity.
Something that happens earlier in the day — hours and hours before Arizona kicks off at Washington State late Saturday night — will directly and profoundly impact the Wildcats' status in the Pac-12 South. Here's the deal:
If Utah defeats Colorado in a game that begins at 11:30 a.m. Tucson time, Arizona will be eliminated from contention in the Pac-12 South. Its long-shot Rose Bowl dreams will be dashed.
If the Buffaloes upset the Utes, the Wildcats will remain in the running. They would need to defeat the eighth-ranked Cougars to set up a showdown with Arizona State for the South title next week. But it at least would be possible.
You can imagine how amped the Wildcats would be if the Utah-Colorado result goes their way. Sumlin would have a ready-made pre-game speech: "Guys, we've got a real shot at this thing …"
The danger comes if it goes the other way. Of course Arizona wants to win every game it plays. But if the South title were off the table, the consequences of losing to Washington State would be minimal. The Wildcats still could quality for a bowl berth with a win over ASU next Saturday. And a win over ASU always makes for a satisfying conclusion to the regular season.
The latter scenario is what Sumlin and his team must guard against. Arizona appeared to make great progress in its past two games, wins over Oregon and Colorado that put the Wildcats in this position. No-showing at Martin Stadium, for whatever reason, would represent a step backward for the program.
"We have to be mature enough … to focus on the task at hand, which is Washington State," Sumlin said. "If you're worried about anything more than that, that's going to affect your play."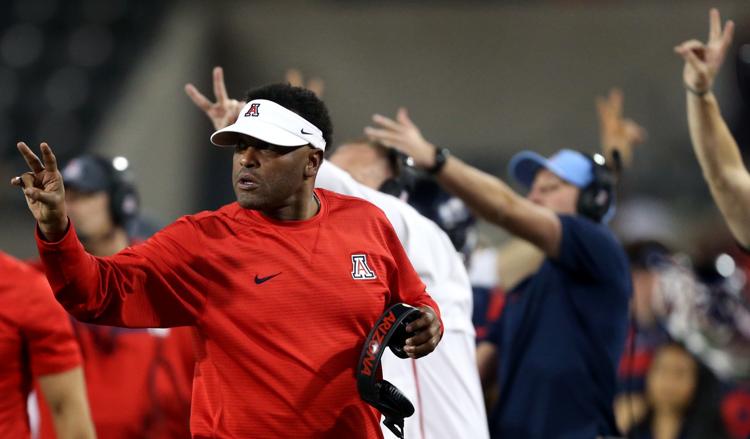 Arizona handled a similar challenge with relative aplomb before its bye last week. The Wildcats throttled the Ducks on homecoming. Some were concerned that Arizona would experience a letdown the following week. After a shaky start, the Wildcats rallied to defeat the Buffs.
The Wildcats will be far from the warm, friendly confines of Arizona Stadium on Saturday night. They'll be facing a superior foe. The bye helped heal their bodies, but it also disrupted their momentum.
As Sumlin's mother warned him when he told her he was going to get into coaching, "You don't know what an 18-year-old is going to do in front of 80,000 people."
The capacity at Martin Stadium is 32,952, but you get the idea.
Arizona doesn't have many seniors on its roster, but it has plenty of veterans who've been through just about every conceivable scenario — from the bowl-less misery of 2016 to the promise of 2017 to the roller-coaster ride of 2018.
Players representing multiple classes addressed the motivation motif this week. They mostly said all the right things.
Sophomore defensive end JB Brown: "You're going to pay attention a little bit (to the Utah result), but we're just focused on Washington State right now. We've gotta take care of our business before we worry about the South race. We've gotta make sure we win this game. It's a big opponent. It's a top-10 team."
Redshirt-sophomore cornerback Lorenzo Bruns: "We just take the games one at a time. We don't really listen to the outside noise. Of course there's going to be chatter. But we have to focus on Wazzu this week. We have to focus on beating them. If we don't beat them, we can't worry about the Pac-12 championship."
Redshirt-junior guard Cody Creason: "We obviously know what outcome we would like. But the day of the game, I'm more focused on doing my job. We can't control the outside factors."
Sophomore tight end Bryce Wolma: "We've just gotta control what we can control. That's just going out and playing our game. Not really listening to all the talk about the Pac-12 Championship Game, Scenario A and B, all that kinda stuff."
Senior receiver Shawn Poindexter: "Obviously, we'll be watching the game. Will that change the effort that I have playing? Definitely not. I still want to win."
Poindexter basically said that anything less than a full effort would be an indictment of the Wildcats' character. "What would that make us as competitors?" he asked. "As people?"
But even as they regurgitated the company line, the players revealed an awareness of what's potentially at stake.
This was the last part of Wolma's answer: "We've just gotta go out there, play our game and hopefully get two more wins to propel us into that championship game."
When it was mentioned that ASU plays at the same time as Arizona, eliminating any possibility of pregame scoreboard-watching, Poindexter said: "That doesn't even matter. If Utah loses, we play ASU to determine who's going to win the Pac-12 South anyway, assuming we both win."
The players know what could happen. By the time Arizona kicks off against WSU, they will know what DID happen. It's up to them to shove that information to the side.
"Whatever happens, we've still got a lot of things out in front of us," Sumlin said. "But in order to have that in front of us, we've got to play really well in Pullman."