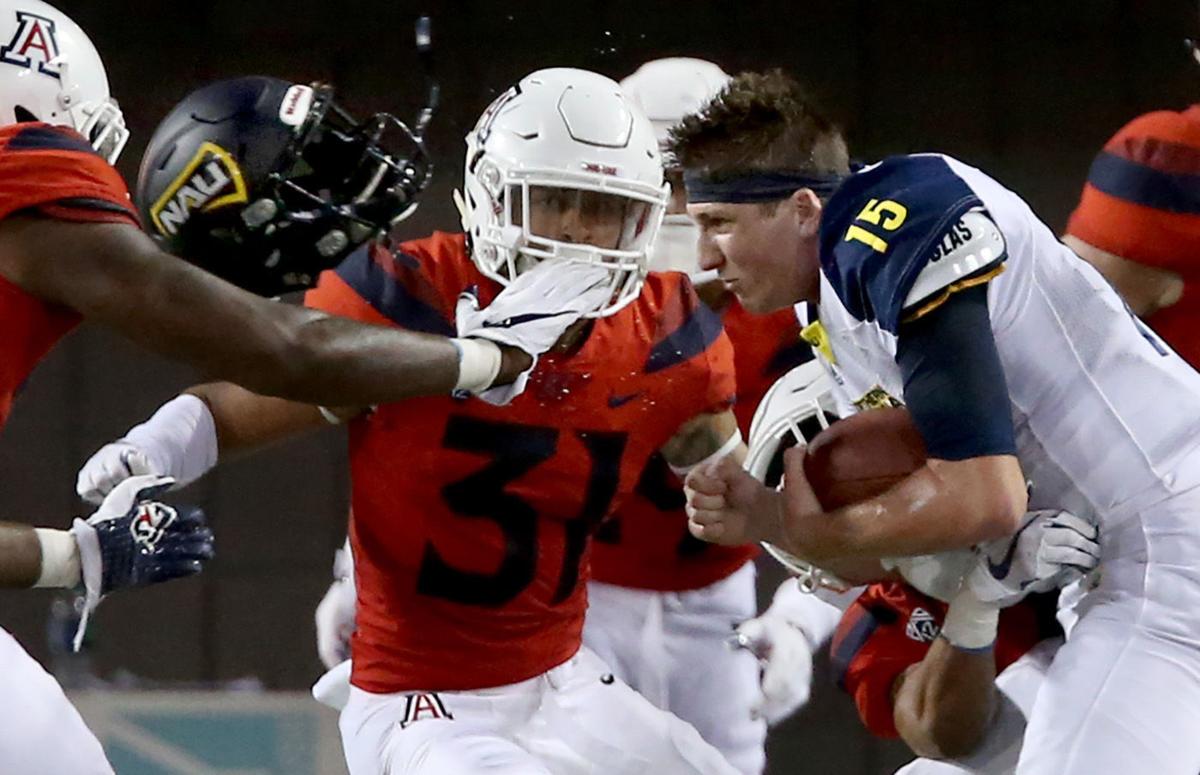 Arizona Wildcats coach Rich Rodriguez recently examined the perception of his program.
"We've got a whole lot to prove," he said.
He made the statement before the season opener against Northern Arizona.
Arizona has played and won a game. The final score against NAU was decisive — 62-24.
But with all due respect to the Lumberjacks, they're an FCS team. The Wildcats were favored by more than three touchdowns. As Pac-12 Networks analyst Yogi Roth put it: "A win over NAU does not cure all of the ills from last season by any stretch of imagination. They did what they were expected to do."
This Saturday's opponent, Houston, will present a different challenge. Never mind that the Cougars play in a so-called "Group of Five" conference. Roth and fellow Pac-12 Networks analyst Glenn Parker consider the UA and UH to be equals. So do the oddsmakers: Houston has been a one-point favorite for most of the week.
So what's at stake for Arizona in Week 2? A lot. Analyst Pete Fiutak summed it up perfectly in his game preview on CollegeFootballNews.com:
"There's still a prove-it factor when it comes these Wildcats. If they're going to be decent this season, or even a player of any sort in the Pac-12 chase, this is the type of game they have to win," he said.
What does "decent" mean? For Arizona, coming off a 3-9 season, it means qualifying for a bowl berth. That in and of itself probably wouldn't satisfy most UA fans.
But context is critical here: The Wildcats used 23 freshmen and redshirt freshmen in the opener. They're young. For that reason, Roth said, making the postseason would stand as a "big accomplishment."
Houston could be the swing game — the one, Parker said, that you "pin your hopes on."
Media and fans always look at the schedule and categorize games, labeling some as probable victories, others as likely losses. The third group: the ones that could go either way.
Houston represents the first of the "could go either way" genre this season, and it might be the most important one. It's the key to a 3-0 start that would make postseason play a much more realistic possibility.
"With so many new faces, we just don't know how they're going to keep evolving," Roth said in a phone interview. "To start 3-0 is huge. You're halfway there."
Now, it's important to keep in mind that this sort of talk is taboo inside the Lowell-Stevens Football Facility.
"In the locker room, the team, the coaching staff, I guarantee they're not looking at it that way," Parker said. "They look at every game as pivotal. Having been there, I completely understand. You don't believe there's any game we can't win; you don't believe there's any team we can't beat."
"One game at a time" isn't just a cliché in football; it's a mandate. While defeating Houston might make Arizona's season, losing to the Cougars wouldn't necessarily break it.
But beating Houston — which has a 22-5 record over the past two seasons, including some significant upsets over Power Five foes — would answer some questions that remain unanswered after the opener. Chief among them: whether quarterback Brandon Dawkins and the passing game have improved significantly since last season.
Dawkins completed 7 of 13 passes for 89 yards and one touchdown against NAU. He exited halfway through the third quarter with Arizona leading 48-14. Two-and-a-half quarters against an FCS opponent that couldn't stop the UA's rushing attack is too small a sample size to draw any conclusions. Like the Wildcats, Dawkins still has much to prove.
"It's going to be about him converting third-and-7 three times a game with a spot throw," Roth said. "That's probably the difference between a bowl game and not a bowl game. They're not gifted enough everywhere to get away with stuff and get bailed out by a big play."
In their past two games, both victories, the Wildcats produced big plays galore: nine touchdowns covering 37-plus yards, including five of 63 or more. It won't be as easy to gain yards in chunks against the Cougars, whose defensive line features All-American Ed Oliver and whose defense ranked 13th overall in yards allowed last season.
Even more so than Arizona, Houston enters Saturday as an enigma. The Cougars' opener was canceled because of Hurricane Harvey. After two years under Tom Herman, former Texas quarterback Major Applewhite has taken over as Houston's coach.
Applewhite had served as the Cougars' offensive coordinator and quarterbacks coach under Herman. Last year's Las Vegas Bowl was Applewhite's first game as the Cougars' head coach; this will be his second.
While Applewhite is just getting started, Rodriguez is facing a crucial juncture in his UA tenure. His future at Arizona beyond this season could depend on whether the Wildcats earn a bowl berth. This game, then, has major implications for Rodriguez … until the next one.
"In college football, if you're not on the hot seat, you're one year away from it," Parker said. "It's just the nature of the beast, man. If he went out and won the Rose Bowl, the next year, if he won three games, he'd be right back on it. It's not fair. I don't like it. But that's the way it is."