Arizona Wildcats coach Kevin Sumlin officially introduced his new assistants to the fan base Wednesday evening.
Not surprisingly, running backs coach DeMarco Murray drew the loudest ovation.
But in a speech in front of more than 400 blue-and-red-clad fans, season-ticket holders and donors at the UA's "Commitment Day Celebration," Sumlin stressed that both of his new aides — Murray and offensive line coach Kyle DeVan — possess the qualities he was seeking.
"You want a guy with experience, and you want a guy with juice — a guy that can teach and talk to young people and communicate," Sumlin said from a makeshift stage inside the Sands Club on the fifth floor of the Lowell-Stevens Football Facility.
"The college game is a lot different than the pro game. You have to be able to go out and sell the university — be able to go out and sell yourself as a position coach. That takes energy. That energy kind of flowed from both of these guys. That's a really unique quality to have."
Both Murray and DeVan played in the NFL. Murray retired from the league after the 2017 season; DeVan played from 2009-12.
Both coaches are in their early 30s. Murray turns 31 next Tuesday and appears to be in something close to playing shape. DeVan, who sported a beard and glasses in his first public appearance as a Wildcat, turns 34 on Sunday.
Murray has no previous coaching experience. DeVan has coached in the NFL and college, including the past three years at Ball State.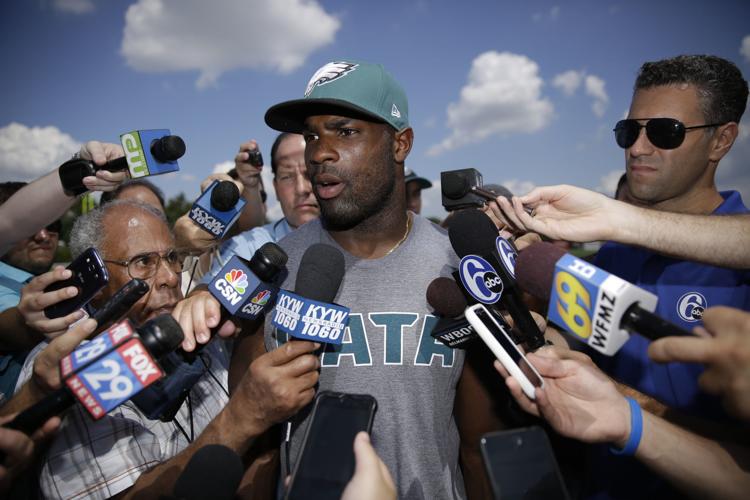 Sumlin said both are "great teachers, have a wealth of experiences, they're smart. Our players, (they) can give them some knowledge and some things that maybe some other guys can't."
Sumlin said it's always "bittersweet" when assistants tell him they're pursuing new opportunities. But Sumlin noted that six of his former aides have gone on to become head coaches.
"That tells you the quality of people that we're looking for," Sumlin said. "That tells you the quality of men and what the program's about."
Sumlin did not announce any new personnel acquisitions. Arizona signed its entire 2019 class on early signing day in December; those players' profiles and highlights cycled through TV monitors throughout the event Wednesday. As someone in the crowd quipped: "Have you ever been to a signing day where nobody signed?"
Arizona still has four openings and remains in pursuit of graduate transfers.
"The roster is really fluid at this time of year," said Sumlin, whose program has seen several players enter the new NCAA transfer portal. "And everybody's recruiting everybody. It changes how you approach things. For us, we're in a good spot right now numbers-wise to make some moves."
Sumlin noted that Arizona has a small senior class; that's the case for the second year in a row. By the Star's accounting, the Wildcats have 10 scholarship seniors or redshirt seniors on their current roster. They have 25 juniors or redshirt juniors, so signing a full class in 2021 will be critical.
Finishing the '19 class in December enabled Sumlin and his staff to focus on the future. The staff visited more than 100 high schools throughout the state last month, and Sumlin reiterated the importance of in-state recruiting during an interview with Pac-12 Networks earlier Wednesday. Arizona's first verbal commitment for 2020 is quarterback Will Plummer from Gilbert High School.
After all 10 assistant coaches were introduced, UA athletic director Dave Heeke made some brief remarks.
"Our goal is to be Pac-12 champions," Heeke said. "Our goal is to go to the Rose Bowl."
Heeke observed that even UA fans sometimes cringe when they hear statements like that — because it's never happened. But Sumlin, who went 5-7 in his first season, didn't back down from the challenge. He said that the new coaches and a slew of midyear enrollees "came here to help us win a championship."
"Just so you know," Sumlin added, "we're not cringing."
Extra points
Sumlin said Arizona has eight midyear enrollees. "In my experience," he said, "85-90 percent of the guys who come in early, out of high school even, are able to play the next year. That's why they do that. That means they're ahead of the game academically, they're ahead of the game socially."
Before and after his speech, which lasted about 10 minutes, Sumlin greeted attendees, shaking hands and taking pictures. Guests munched on chicken wings, beef sliders and nachos.
Defensive line coach Iona Uiagalelei was on crutches as he recovers from a leg injury suffered during a fall over winter break. Uiagalelei slipped on a set of stairs, injuring his knee and tearing his quadriceps. The injuries required surgery and prevented Uiagalelei from joining the UA staff on the road last month. He is expected to be mobile enough to coach during spring practice, which begins March 18.