Kevin Sumlin's golf game hasn't changed since he played in last year's Cologuard Classic pro-am. But just about everything else has.
Sumlin has been Arizona's coach for 13 months. The 2019 recruits who have joined the program, or are about to, are all his. The returning players know what to expect from Sumlin and his staff. The coaches know what the Wildcats' strengths and weaknesses are.
"Our first team meeting, we talked about that," Sumlin said Wednesday after completing his round at Omni Tucson National Resort. "Hey, you didn't know me. We didn't know you. We've got a good feel for our team now, because we've been with them for a year."
Sumlin enters Year 2 at Arizona with a greater sense of stability. The '19 season unofficially gets underway March 18, when the Wildcats begin spring practice.
Sumlin sneaked in a rare round of golf Wednesday, playing in an all-Arizona fivesome that featured former UA star David Berganio Jr., who's participating in this weekend's tournament; school President Robert C. Robbins; athletic director Dave Heeke; and prominent donor Cole Davis.
Robbins made the shot of the day, pitching in from a greenside hill for a birdie (net eagle) on the ninth hole. Heeke was easily the most impressive amateur in the group, drilling birdie putts on holes 7 and 17.
"I was bad," Sumlin said, laughing. "We're on the front page of the leaderboard right now. But it had nothing to do with me. Absolutely nothing."
Sumlin had plenty to say about the upcoming football season, including an assessment of quarterback Khalil Tate's progress, where Arizona's roster still needs upgrades and how one of his former QBs, Kyler Murray, might fare in the NFL. Here's a portion of Sumlin's conversation with the media. It has been lightly edited for context and clarity.
Is there anything in particular you're hoping to see from Khalil Tate in spring practice?
A: "He's done a pretty good job this spring so far in film study. We've talked about a lot of different things where he can improve. He's working on those. Starting with his film study, his leadership, things like that. That's something he's cognizant of."
What would be the best way to describe the QB competition in spring? Is it a real competition?
A: "You have a returning starter. But just like we told (the team), when you have a season where you win five games and you're not (in the) postseason, everything's open. The guys who are experienced, we want to use that experience. But we also want to create competition behind them. That's called depth. There's competition for the returning starter, but there's a lot of competition for who's going to be the backup and how that's going to look."
Would you like to add some graduate transfers before the season?
A: "I think the grad-transfer market is pretty heavy with everybody right now. I'm not going to say who it was, but we were recruiting a guy. There was an unbelievable amount of competition for him. He just wanted to stay local, where he lived.
"Everybody is into it because they're veteran players. They have experience. Obviously they're mature, because they have already graduated. So they've handled their business. You're getting a known product at that point. A guy who's been through collegiate games. A guy who's been through it educationally and can add maturity and experience to your team."
Even though you added eight linemen in this class, are you still on the lookout for more?
A: "Yes. No doubt. One or two on either side of the ball, just for depth. We're down numbers-wise in those two areas. We're into free agency (at those positions)."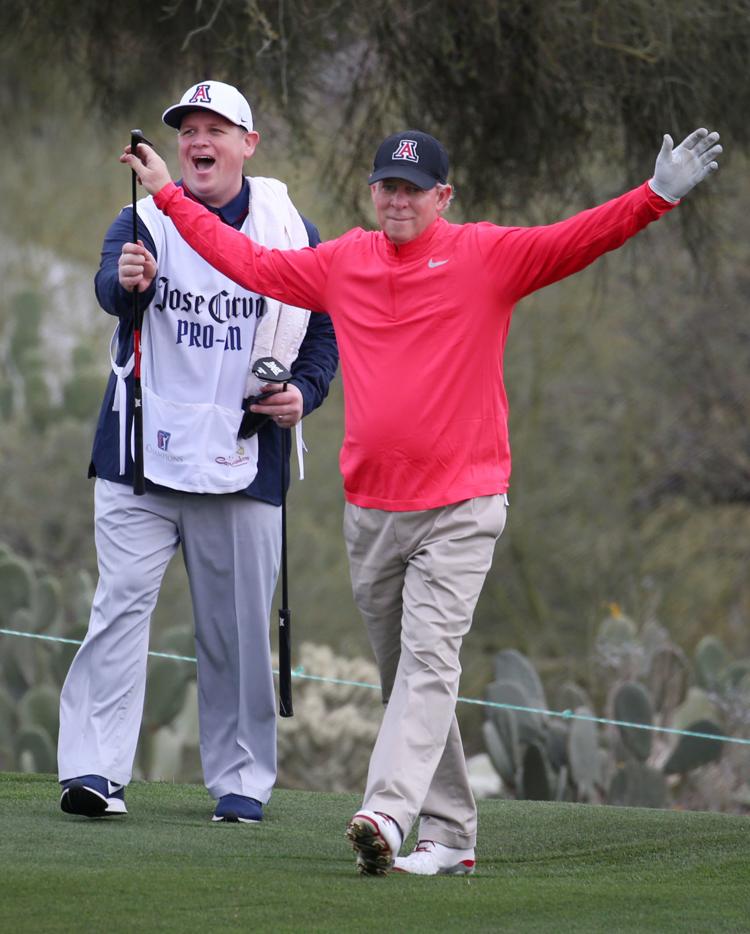 The Cole and Jeannie Davis Sports Center is up and running. What kind of an impact will that have on the program?
A: "It's going to be a tremendous impact. Facilities show a commitment to recruits, to student-athletes. Once they see it, it's beautiful. For our student-athletes … the stability of the practice schedule becomes important.
"Dr. Robbins and Dave (Heeke) talked about a lot of things during the hiring process. But they didn't tell me about monsoon season. They skipped over that piece. I find out during fall camp that when I like to practice, every afternoon about 4:30 it starts getting dark. And then it's the lightning. You've got 200-some people out there. You can't take a chance with lightning.
"You hold back practice. It just throws schedules, eating, all kinds of routines off. (Cornerback) Malcolm Holland talked about just trying to be a student. We're supposed to start practice at 6 o'clock, but we don't start until 9 o'clock. He's got studies. He's gotta go to class. I think it helps our student-athletes right now across the board to give them some consistency, not only athletically but academically."
How much more are you pitching facilities now compared to a year ago?
A: "Facilities are always important. You're wrong if you don't think a guy goes from your place to another place and doesn't look around. It shows a commitment from the university: Hey, this is important. You're important. You want to be the best, so we're going to give you the opportunity, the equipment and the facilities to be the best student and athlete you can be."
ASU's spring game is Thursday. You guys aren't starting for another two-plus weeks. What's the advantage of waiting?
A: "We had some coaching changes. And then we had six or seven new guys who are on campus who are going to be important this year. Particularly some of the junior-college players, coming from where they came from, conditioning may not have been the best in those situations.
"If you're going to have some players that are going to be immediate-impact players, like the junior-college players, I think it's important for them to make that transition academically, make that transition physically. And then understand, here's what we're doing, here's how we do things, get into a routine and then get to practice."
You worked with Kliff Kingsbury at Houston and Texas A&M. Now he's the coach of the Cardinals. What's your relationship with him?
A: "I talk to Kliff all the time. I talked to him a couple days afterward. He's excited. He's been busy. But I'll be up there doing OTAs and visit with him. Obviously, there's a relationship there that we'd like to take advantage of.
"I think he's going to do a great job. He's from a coaching family. He's well-respected. He's been around great quarterback play. He knows what he's doing. I think he's going to be extremely successful."
You know Kyler Murray extremely well also. What are your thoughts on him entering the NFL scouting combine and draft?
A: "He's one of the most electric players in the country. … Everybody who knocks his height or anything else, that's for the NFL to decide. Some teams have hard and fast rules on things. But you look at the productivity he had at Oklahoma — you can't deny (it). In the right situation, I don't see that changing."