The Arizona Wildcats' offense will look different this season. It'll still operate at a hectic pace. Khalil Tate still will be at the helm. But he'll be passing more, and passing more from the pocket.
Which doesn't mean Kevin Sumlin and Noel Mazzone want Tate to change who he is, as a player or leader.
"There's a lot of things going on for a quarterback in this system," Sumlin said after practice Wednesday night. "But in the end, you've gotta be you.
"When adversity hits and there's some sort of crisis, guess what? The real you is coming out. If people hadn't seen that before, it creates panic. He's doing a good job with that."
Coaches and players have noted the strides Tate has made as a leader entering his junior season, which officially begins a week from Saturday against BYU. Mazzone, the offensive coordinator and quarterbacks coach, has noted Tate's improvement in reading defenses and going through progressions.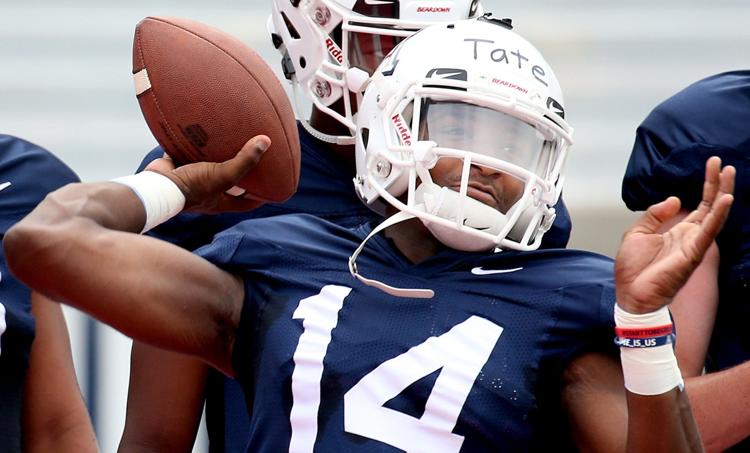 But Mazzone doesn't want to turn a player who might be the best running quarterback in the country into purely a pocket passer.
"When he stays in his progression, he's been awesome," Mazzone said. "But there's that fine line. Sometimes he gets out of it and goes and does a little street stuff and just makes plays. I don't want to coach that out of him. I still want that part. But at times I want him to stay within the boundaries of the offense."
Sumlin reiterated Wednesday that he and Mazzone will mold their offense to the quarterback's strengths. "It's not a cookie-cutter deal," Sumlin said.
But there are certain attributes that he looks for in all his quarterbacks.
"He's gotta understand situational football," Sumlin said. "He's gotta be accurate when he throws it. And then, he's gotta have some leadership skills and not let things affect him — not get too high when things are going great and, when things aren't looking great, he's gotta maintain that.
"No matter what, when you touch the ball every snap, people are looking at you as a leader. You've gotta accept that."
Backup plan?
Sumlin said four quarterbacks vying to be Tate's backup are still rotating through drills: second-year players K'Hari Lane and Rhett Rodriguez, and freshmen Kevin Doyle and Jamarye Joiner.
Sumlin said Lane and Rodriguez are "a little bit ahead" because of their experience. But Sumlin said Doyle and Joiner aren't "out of the mix either," especially with the new redshirt rule, which enables players to participate in up to four games without losing a year of eligibility.
Next week, Sumlin said, he and Mazzone will decide who will go into the game should something happen to Tate.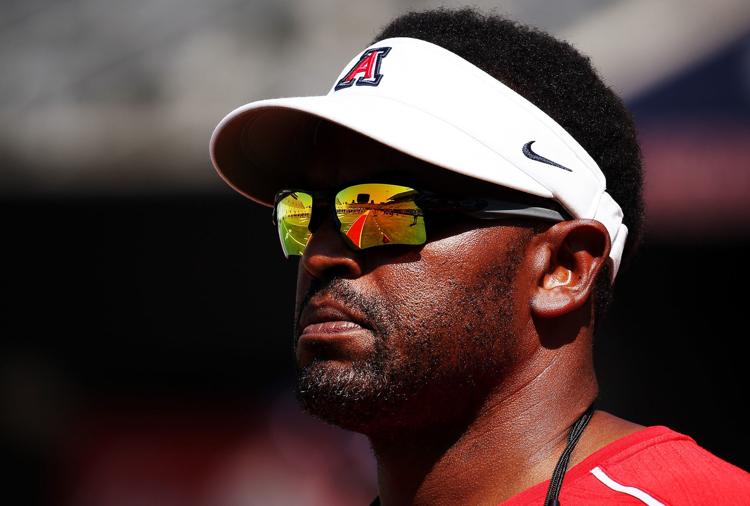 Eligibility update
Arizona still is awaiting a final answer regarding the eligibility of Texas A&M transfers Robert Congel and Santino Marchiol.
A source close to the situation said that Marchiol, a linebacker, "most likely" will be granted eligibility for 2018.
Marchiol's family hired attorney Thomas Mars to aid his case, which in large part revolves around a new NCAA rule. Players usually have to sit out a year after transferring from one Division I school to another, but an exception can be made "due to documented mitigating circumstances that are outside the student-athlete's control."
In a report published Tuesday, Marchiol's camp told USA Today that the new Texas A&M coaching staff committed a handful of rules violations earlier this year, prompting Marchiol to leave the school.
Reached by phone Wednesday, Marchiol's father, Ken, declined comment, preferring to let the process play out without further public discourse.
'It's a big deal'
Sumlin said redshirt-freshman receiver Stanley Berryhill III "has had a really nice camp." Sumlin then noted that Berryhill received a scholarship Saturday.
"That's how nice a camp he's had," Sumlin said with a smile.
Giving scholarships to walk-ons is one of the most rewarding experiences for head coaches. It's especially true in Sumlin's case. He began his playing career at Purdue as a walk-on.
"I'm kind of biased, because I was one," Sumlin said. "It's a big deal.
"When that happens, it's really a statement: I belong here in Division I football."
Sumlin wouldn't reveal exactly how the good news was delivered. Berryhill tweeted a picture of himself standing in front of a video screen that displayed this message: "AND … STANLEY BERRYHILL YOU ARE ON SCHOLARSHIP!"
"The team was absolutely elated, because the guy has just worked his tail off," Sumlin said. "One of the first guys to get over there (to congratulate Berryhill) was Khalil. That ought to tell you something, when you watch a room like that."
Extra points
Tate was named a second-team preseason All-American by The Athletic. The website placed five Pac-12 players on its first team: tailback Bryce Love (Stanford), receiver N'Keal Harry (Arizona State), guard Nate Herbig (Stanford), kicker Matt Gay (Utah) and punter Mitch Wishnowsky (Utah). Defensive tackle Ed Oliver of Houston, which hosts Arizona in Week 2, also made the first team.
The Wildcats practiced in full pads and focused extensively on red-zone work, including live goal-line plays.
Cornerback Jace Whittaker dressed for practice after missing some time recently.
Sumlin indicated that veteran offensive linemen Nathan Eldridge and Alex Kosinski aren't in the mix as of now. Sumlin wouldn't say whether that was injury-related, but both players have been banged up.
Sumlin said freshman tackle Donovan Laie has returned after missing time because of an undisclosed injury. Laie has had an impressive camp and could be part of the rotation against BYU.
Sumlin said sophomore safety Scottie Young Jr. is being brought along slowly after missing the spring and the start of training camp because of a suspension. Young must sit out Game 1 as part of his punishment for an off-the-field incident.
The Wildcats will participate in a pep rally for UA students Friday night. They will conduct a closed mock game Saturday, when game-day coaching assignments will be finalized. Sumlin said he will release a depth chart sometime next week.
---
Counting down the days 'til BYU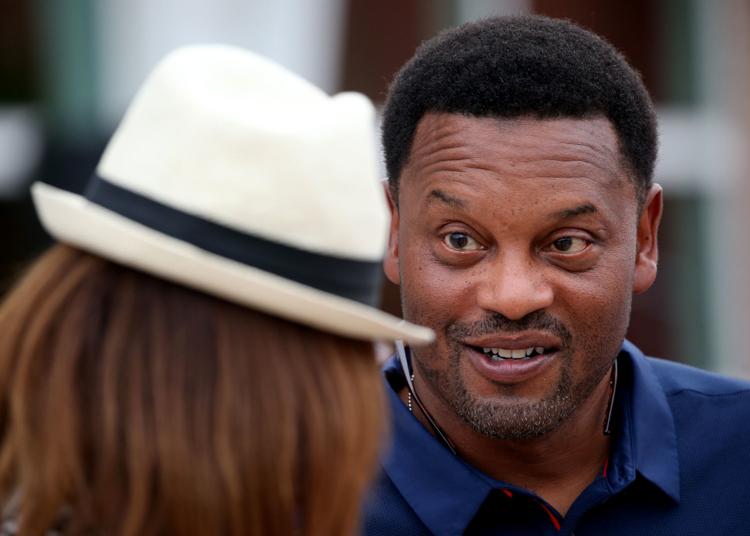 Kevin Sumlin and company are still figuring out which pieces will be a part of Arizona's puzzle for this season, and time isn't on their side considering the season is just over a week away.
Sumlin is beginning to figure out which Wildcats will be on the depth chart as well as the travel squad. The offensive line is still a mystery, sophomore safety Scottie Young Jr. is still trying to earn his stripes after being reinstated from his suspension, and a walk-on receiver earned a scholarship last weekend. 
Oh, and did we mention two Texas A&M transfers are still awaiting eligibility status from NCAA?
Kevin Sumlin answered questions following Wednesday's practice. 
Stanley Berryhill's scholly
Kevin Sumlin on wide receiver Stanley Berryhill receiving a scholarship: "The team was absolutely elated, because the guy just worked his tail off. ... It's a statement that 'I belong here in Division I football.'" pic.twitter.com/n3KVB4V2lN

— The Wildcaster (@TheWildcaster) August 23, 2018
Two-deep Cats, travel squad
Kevin Sumlin says the coaching staff is starting to get an idea of the depth chart and Arizona's travel squad. pic.twitter.com/4I6i3KzqvF

— The Wildcaster (@TheWildcaster) August 23, 2018
Texas A&M transfers
As expected, there are no updates on Texas A&M transfers Santino Marchiol and Robert Congel.

— Justin Spears (@JustinESports) August 23, 2018