Receiver Jaden Mitchell suffered a season-ending knee injury during the first game of his senior year at Desert Pines High School in Las Vegas.
The injury happened in August 2017. Mitchell already was committed to Arizona at that point. The decision was made for him to grayshirt, delaying his enrollment until this past January.
In the interim, the Wildcats fired Rich Rodriguez and hired Kevin Sumlin, who retained only two assistants from Rodriguez's staff. Sumlin didn't have to honor Mitchell's scholarship. The coach did so anyway.
"That's because commitment's a two-way street," Sumlin said Saturday. "We're committed to you, you're committed to us.
"I've had guys at other places I've worked that had injuries their senior year. There are some other places, guys have gotten injured, (they) just cut 'em loose. If there's something legal, another issue, that's different."
When Sumlin was the coach at Texas A&M, one of his recruits, cornerback Cedric Collins of Dallas, was diagnosed with congenital cervical abnormalities while still in high school. Sumlin honored Collins' scholarship, even though he would never be able to play for the Aggies.
"I just think that's part of doing the right thing and doing good business," Sumlin said.
Inside receivers coach Theron Aych, one of the two assistants Sumlin kept, described him as "the ultimate players' coach." Aych said the staff treated Mitchell — even before he arrived on campus — as if "he's got the Block A on, just like the rest of us."
Mitchell posted a video in December in which he and his mother broke down crying upon receiving his national letter of intent from Arizona. He signed with the Wildcats as part of the 2019 class and has made a strong initial impression.
"For a guy that's been out of football for two years, he's a remarkable story," Aych said. "If we were playing Hawaii today, he's in a good position. He's got personal drive. He's a kid that really loves the game of football. He's giving it his all. Hopefully he'll continue to develop through the rest of the spring."
Senior receiver Cedric Peterson noted Mitchell's inquisitive nature, saying "he's always asking me questions, keeping me on my toes." Mitchell and fellow freshman Boobie Curry are pushing hard to crack the rotation at receiver, where Arizona must replace 2018 regulars Shun Brown, Tony Ellison and Shawn Poindexter.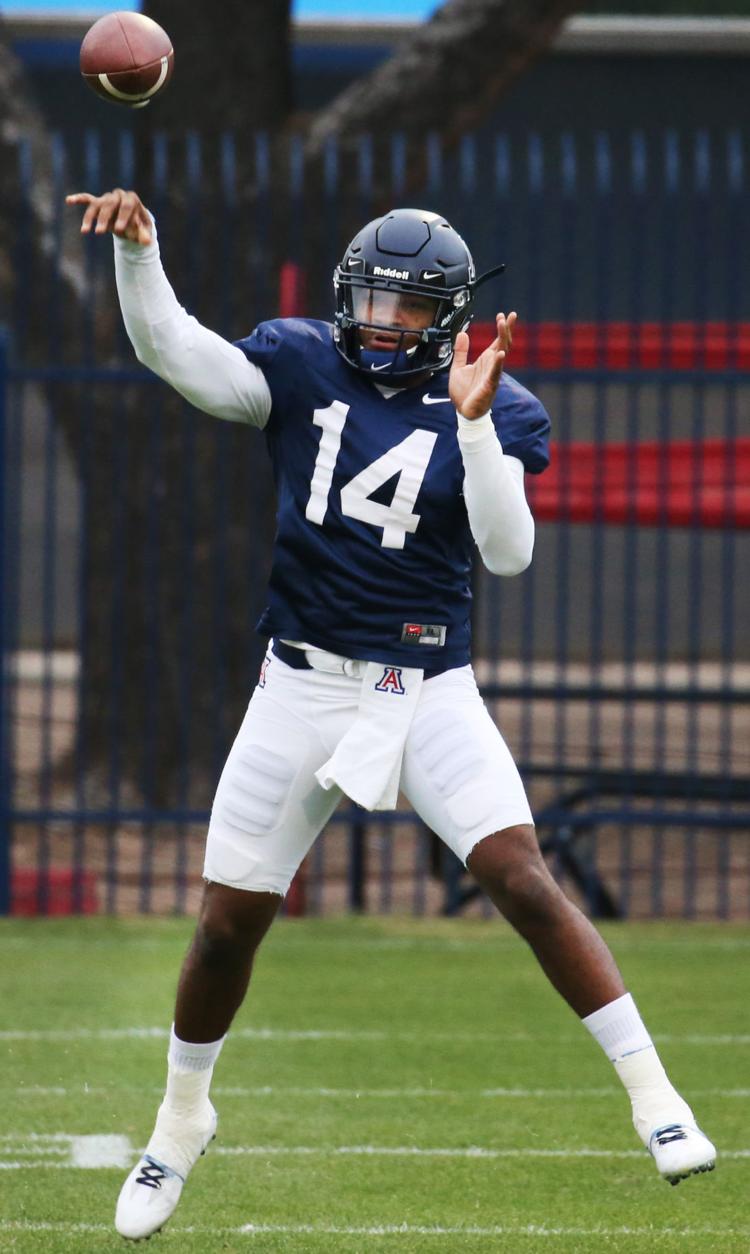 Tate gets serious
Sumlin didn't name names when he cited a leadership void on the UA roster, but he clearly would like to see quarterback Khalil Tate provide more in that area.
Coaches and teammates talked about Tate being more vocal and serious as a junior. However, he did not always respond well to adversity, particularly in interview settings after losses.
Veteran tight end Bryce Wolma said Tate has taken another step forward as a leader.
"He's been a really good leader and a good person to come to for advice," Wolma said. "That's one thing that's stood out to me so far. He's been more vocal than last year with the guys, especially with the young quarterbacks, teaching them. Even in meetings, his demeanor's really serious. You can tell he wants to win, and he wants guys to work with him."
Not all quarterbacks have naturally outgoing personalities. Sumlin said Case Keenum, whom he coached at Houston, was an "unbelievable leader." Jason White, who played under Sumlin at Oklahoma, was "more of a quiet guy."
"People forget he even won the Heisman, he was so quiet," Sumlin said. "There was a lot of talent around him; there were a lot of guys on that offensive line who talked and a lot of defensive players who were leaders. He was really an operator. I've seen it work both ways."
But Sumlin said all quarterbacks must step up and lead "at a certain point." Tate, entering his senior season, might be at that point.
Sumlin said he sees a gap between the older quarterbacks — Tate and Rhett Rodriguez — and the younger ones — Kevin Doyle, Jamarye Joiner and Grant Gunnell.
"Oh yeah. There's no doubt," Sumlin said. "Khalil's played a lot of football. Those freshmen mostly haven't played."
Sumlin considers Doyle, Joiner and Gunnell to be freshmen, even though Doyle and Joiner will be second-year players next season. Rodriguez is entering his junior year.
Sumlin also revealed that Tate has been running "a lot more" during practice. Tate seemed hesitant to run at times last season as he played through an ankle injury and adjusted to new coaches and schemes.
Tilford flashes
Arizona finished practice Saturday with a live scrimmage of 40-plus plays. The coaching staff gave most of the tailback snaps to younger players. Redshirt sophomore Nathan Tilford was among the backs who "did some good things," Sumlin said.
Sumlin became privy last year to UA fans' obsession with Tilford, a physically impressive former four-star recruit who barely played in 2018.
"Everybody is clamoring for him," Sumlin said. "I don't know what he would have done last year. We had a guy run for 1,400 yards (J.J. Taylor) who was an All-American, and everybody's asking me, 'Where's Tilford?' To me, that's crazy."
Even though Arizona is set at tailback with Taylor and Gary Brightwell, Sumlin still wants Tilford to push for playing time. Injuries can strike at any time, and Tilford could offer a different dynamic with his size (6-2, 202) and ability to run inside.
"We need him to come along and be a running back that can handle the passing game, can handle formations, can handle up-tempo," Sumlin said. "So far he's been doing that, putting in extra time."
Sumlin said tailbacks Bam Smith and Nazar Bombata also performed well in the scrimmage.
Extra points
Sumlin said defensive tackle Myles Tapusoa, one of Arizona's key midyear enrollees, has been held out of the past two practices because of "a little injury." The staff is being cautious with players on both lines because depth is lacking at those positions.
Asked which defensive player has impressed him the most, Wolma cited edge rusher Jalen Harris. "He's been really physical so far," Wolma said. "He's so long and lanky too. It's hard to get hands on him. When you're going to block him, his hands are already on you." Harris could be primed for a breakout season. The 6-4 redshirt sophomore has his weight up to 242 pounds.
Wolma has dropped weight, going from 250 pounds to the mid-240s. He expects to be used more as a receiver this season after catching only five passes last year. "I just feel better at this weight, more mobile, especially if I'm going to be splitting out more," Wolma said. "I want to be able to make sure I can run."
Arizona hosted more than 50 high school coaches from multiple states and countries as part of a coaching clinic. Sumlin considers that an important part of program building.
Sumlin is moving about on a scooter after hurting his foot and ankle earlier in the week.