Arizona Wildcats quarterback Khalil Tate appears on one of four regional covers of the upcoming Sports Illustrated college football preview.
Although SI isn't the monolith it once was, that's still a big deal. But it could have been even bigger.
That's the takeaway of Darren Rovell, the veteran sports business reporter for ESPN. The SI cover presented a prime promotional opportunity for the UA, which desperately wants to sell out Arizona Stadium. But by excluding him from post-practice media availability Tuesday, the school did not fully capitalize on it.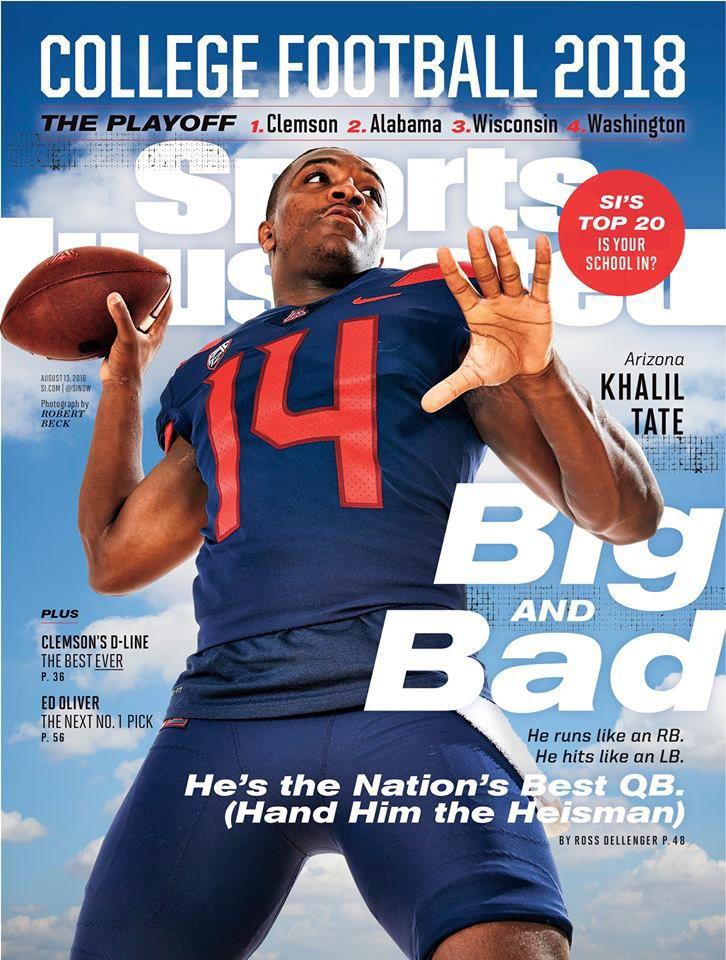 First, the positives: SI's selection of Tate for its West Coast cover affirmed his marketability. Those choices are based largely on what will sell the most magazines in bookstores and at newsstands. Tate is believed to be the first active UA football player to appear on an SI cover since 1994.
"I'd feel good if I was the Arizona marketing department," Rovell said in a phone interview regarding Tate's presence on the cover. "Arizona should take that and run with it — make sure all the students know about it."
Upon being informed of the school's media policies under first-year coach Kevin Sumlin — including limited access to the Wildcats' star quarterback — Rovell tempered his enthusiasm.
Tate was one of Arizona's player representatives at Pac-12 Media Day last month. However, he isn't being made available to the Tucson media at least through Saturday — a span of eight training-camp practices. A request by the Star to interview Tate on Tuesday was declined, as was a request made earlier in the offseason. Tate spoke once during spring practice, in a group setting after the spring game.
"That's brutal," Rovell said. "That's now a notch down. If you can't have him react to being on the cover — which is like being on a video game or a box of Wheaties — it stops the story.
"The more they can do to keep the story out there, the better. … I feel like that's a mistake."
The UA acknowledged Tate's honor via the official Arizona Athletics Twitter account.
"The Big Cat is poised for a big season and you won't want to miss a second of it," the tweet reads.
It also includes a picture of the cover and a link to SI's preseason Top 25, which has Arizona at No. 19.
The headline on the cover is "Big and Bad." The subhead says the following: "He runs like an RB. He hits like an LB. He's the nation's best QB. (Hand him the Heisman)."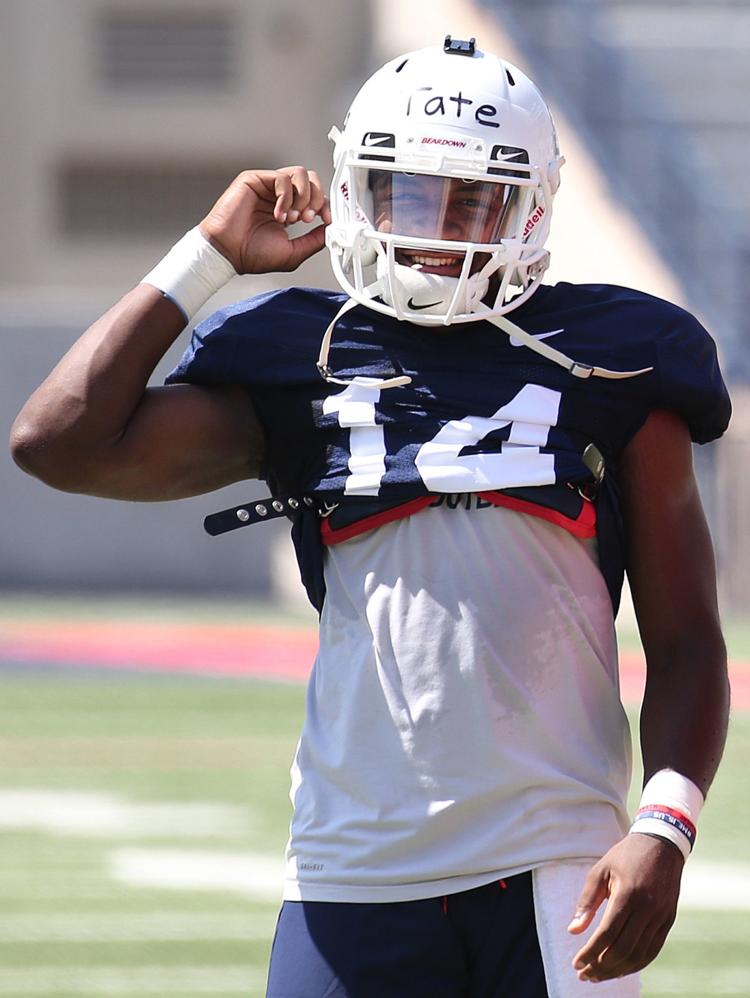 Kicker battle
One of the ongoing battles in training camp pits senior Josh Pollack against rising sophomore Lucas Havrisik for the placekicking job.
Havrisik made an immediate impact as a freshman last year on kickoffs, booting 63 of 93 for touchbacks. He also became the long-distance field-goal kicker, making 3 of 4 attempts. They were all from 40-plus yards, including a school-record-tying 57-yarder.
Pollack made 11 of 15 field-goal attempts — two of the four misses were blocked — and 65 of 67 extra-point tries.
First-year special-teams coordinator Jeremy Springer doesn't envision a timeshare.
"I want one guy doing it all," Springer said.
The competition is expected to extend deep into the preseason, with Springer saying "it's going to come down to those last two weeks before BYU."
The opener against the Cougars is Sept. 1.
Pollack has more experience, having served as the primary placekicker the past two seasons. But he can't match Havrisik's power.
Havrisik posted a video this summer of him making a 65-yard field goal in practice. He said he once made a 72-yarder while "messing around" as a senior in high school.
"He's got tremendous upside," Springer said. "What I like about Lucas is he's very mentally strong. You can talk trash to him, you can try to psych him out. He'll miss a field goal, but then the next rep, it's like he didn't miss it. He kind of has a DB's mentality."
Havrisik has gotten stronger physically. Listed at 6-foot-2, Havrisik now weighs 188 pounds — 25 more than when he first arrived in Tucson last summer.
He isn't satisfied just being the kickoff specialist.
"I want it. So I'm gonna go get it," Havrisik said of the placekicker job. "I'm kicking great, but he (Pollack) is doing good too. You just gotta stay disciplined and trust yourself."
Dylan delayed
Transfer Dylan Klumph is expected to be Arizona's punter this year. But neither he nor fellow graduate transfer Tim Hough, a cornerback, had practiced with the team as of Tuesday.
Both were waiting for summer grades to be posted so they could officially enroll in grad programs.
Springer didn't seem too concerned about Klumph's delayed arrival.
"With the punting position … they're constantly working," Springer said. "You're not learning how to punch-block, cutoff-block or run down as a gunner and try to tackle guys. He should come in ready to go. I'm not worried about that at all."
Klumph averaged 43.9 yards per punt in two seasons at Cal. His 43.0-yard average last year ranked fourth in the Pac-12. Arizona ranked last in the league in gross punting (34.2) and net punting (29.4).
Extra points
Asked who has stood out on special teams during camp, Springer named several players. They included veterans Anthony Pandy and Isaiah Hayes, and freshmen Dayven Coleman and Christian Young. Havrisik also mentioned Coleman and Young, as well as linebacker Santino Marchiol, a transfer from Texas A&M.
Two veteran linemen returned to practice after missing some time: offensive guard Alex Kosinski and defensive tackle Kurtis Brown.
Veteran players not spotted on the field included receiver Shawn Poindexter and cornerback Sammy Morrison.
Veteran linemen Layth Friekh and Nathan Eldridge continued to work with the third unit, as did Kosinski. Walk-on Josh McCauley, whom the coaches like, played center with the first group.
The team practiced at Arizona Stadium. At one point Sumlin paused to observe the construction crew working feverishly to finish the east-side renovation project.
With the team working inside the stadium, the specialists spent a chunk of practice at Bear Down Field.
The Wildcats again devoted the early portion of practice to working on techniques and fundamentals. They are scheduled to practice in full pads for the first time Wednesday.
Sylvain Yondjouen, an outside linebacker from Belgium, tweeted that he received an offer from Arizona.
---