Arizona Wildcats senior Layth Friekh finds himself in an unfamiliar, awkward position.
He is the most experienced player on the entire UA roster, having started 34 games over the past three seasons, including 33 in a row at left tackle.
But as Arizona works its way through training camp, Friekh is working with the third-team offensive line.
It isn't because he's injured or has made an unfavorable impression on the new coaching staff. It's because Friekh is not eligible for the first two games of the 2018 season: Sept. 1 vs. BYU and Sept. 8 at Houston.
Friekh wanted to come back for a fifth year. He appeared in only one game as a freshman, but because of the rules at the time, it counted as an accrued season.
The NCAA granted Friekh's request, on one condition: He would have to sit out the first two games. Friekh decided being eligible for 10-plus games was way better than being eligible for none, so he happily accepted the deal.
"I love playing here," Friekh said Wednesday after Arizona's fifth practice of camp. "I love U of A. My pops went here. And I love this team.
"Getting another year with these guys and being able to do something special … last year we had an all right season, nothing great. I definitely want to finish my career here on a high note."
Friekh understands and accepts that he must put the team's needs ahead of his own. He gets being relegated to third-team duty for the time being because "they have to get other guys ready." Transfer Tshiyombu Lukusa has been working with the first team at left tackle. Freshman Donovan Laie has been backing him up.
"I have to take a back seat for camp a little bit," Friekh said. "I'm still getting my reps. I'm still doing individual every day. Once the two weeks are up I'll be back, hopefully."
In the meantime, Friekh is trying to help the line get ready. He takes mental notes when he's on the sideline, and he makes a concerted effort to pass along those pointers to his younger teammates.
"If they have any questions," Friekh said, "I'm here."
Friekh conceded that having to sit out is frustrating. As he noted, he hasn't missed a game since his freshman year.
"It's hard," Friekh said. "It's definitely hard."
But he deemed the sacrifice "worth it," even if he isn't guaranteed to regain his starting job upon returning for Week 3.
"Whoever takes my spot, if they ball out, I've got to take it back from them," Friekh said. "It's football. Nothing's given. Everything's earned."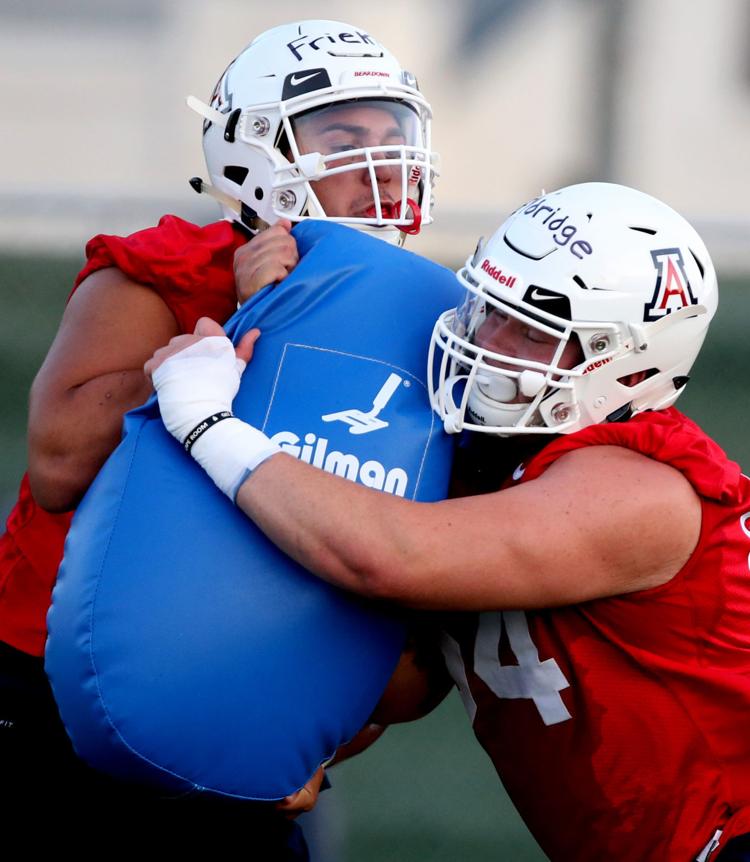 Older, wiser
Redshirt junior Justin Belknap is going through his fourth training camp as a Wildcat.
"I know it doesn't look like it," he said, "but I feel old now."
Belknap is just 21. But he has grown up in a lot of ways.
During his first camp, in 2015, he regularly would face classmate Cody Creason.
"Every other play," Belknap said, "we'd get into a fistfight."
Now the two are good friends and projected starters — Belknap at defensive end, Creason at right tackle. Belknap has established himself as a reliable regular. That wasn't the case in '15, when he joined the squad as a walk-on.
Feeling that his status was tenuous, Belknap approached every rep with a hostility that since has faded.
"I'm just trying to stay on the team — that was my goal," Belknap recalled. "I was just trying to compete as much as I could against whoever they put in front of me."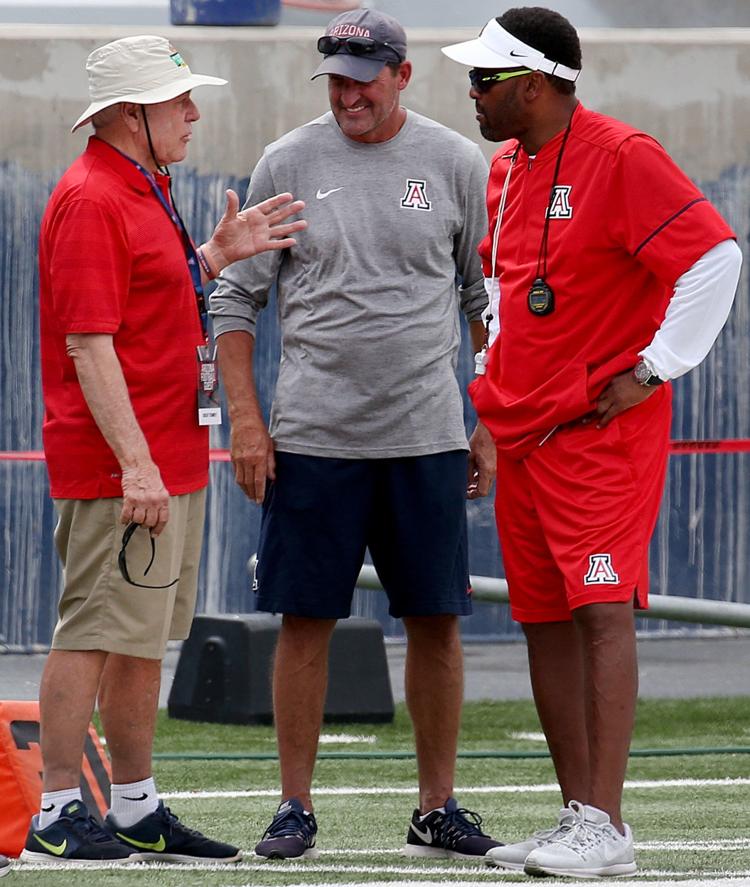 They've got it covered
Khalil Tate's teammates were well aware of the rare honor he achieved Tuesday: making the cover of Sports Illustrated.
They made sure he knew they knew.
"We were just going by him doing the pose, seeing if we could get an autograph, little jokes here and there," Friekh said. "He was laughing. He doesn't let it get to his head."
Extra points
For the third straight day, a different player lined up with the first team at center: redshirt junior Alex Kosinski. Kosinski returned to practice Tuesday after missing some time earlier in camp. He was the first-team center during the scrimmages open to the media in spring.
Texas A&M transfer Robert Congel, who began camp working with the ones at center, was not part of the first three units. Whether that's an indication that he won't be eligible this season remains unclear.
Receiver Shawn Poindexter was not present for the open portion of practice. A team source said Poindexter had a class conflict. He wasn't spotted Tuesday either but apparently participated in the latter half of practice.
Quarterback Rhett Rodriguez arrived about a half-hour into the workout, also apparently because of an academic conflict.
Receiver Drew Dixon made a nifty one-handed catch on a pass thrown behind him during individual drills. The Sabino High School product redshirted as a freshman last year but has the size (6-3, 212) the staff is seeking on the outside.
Cornerbacks coach Demetrice Martin had only six players in his group. Veterans Jace Whittaker, Malcolm Holland and Sammy Morrison were not present. Neither was graduate transfer Tim Hough, who is still waiting to be cleared.
Practice attendees included Dick Tomey and a scout from the Tennessee Titans. Tomey, Arizona's all-time winningest coach, spent time chatting with Kevin Sumlin and Chuck Cecil.
The Wildcats practiced in full pads for the first time, but their routine during the open portion remained about the same — stretching, individual drills, a special-teams period and technique work.
---
Arizona Wildcats football practice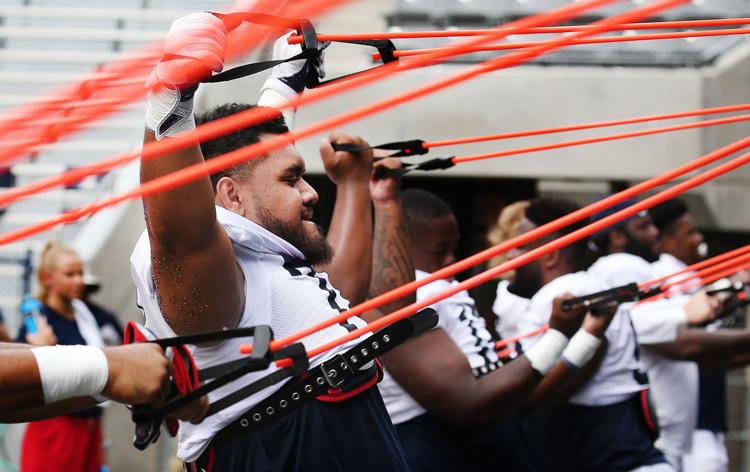 Arizona Wildcats football practice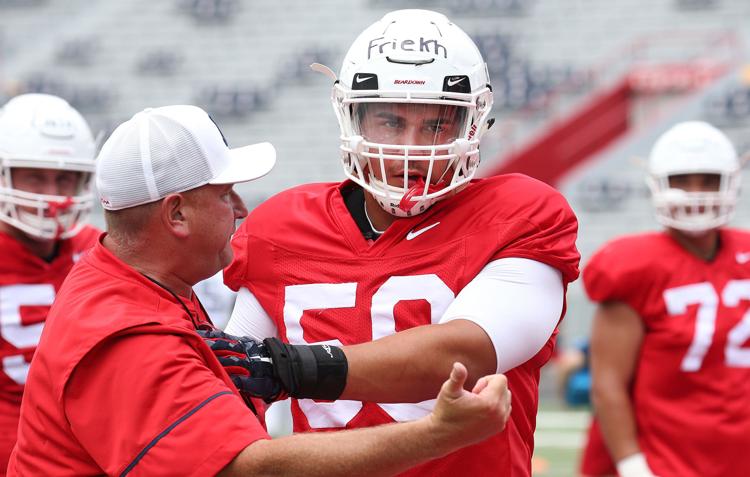 Arizona Wildcats football practice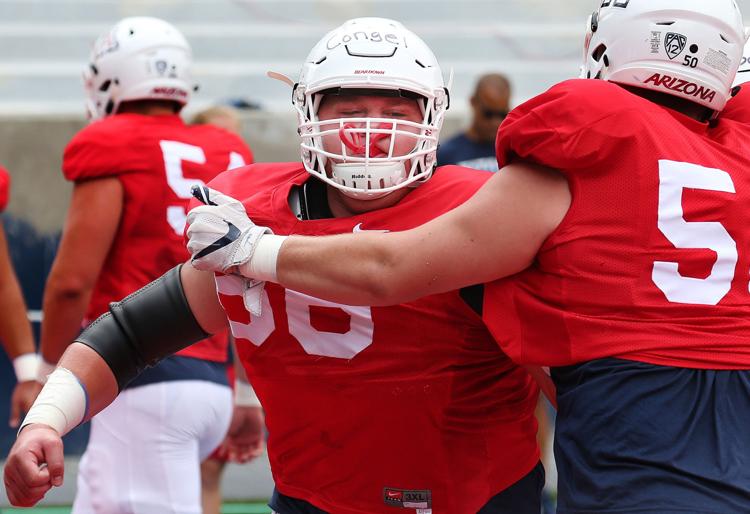 Arizona Wildcats football practice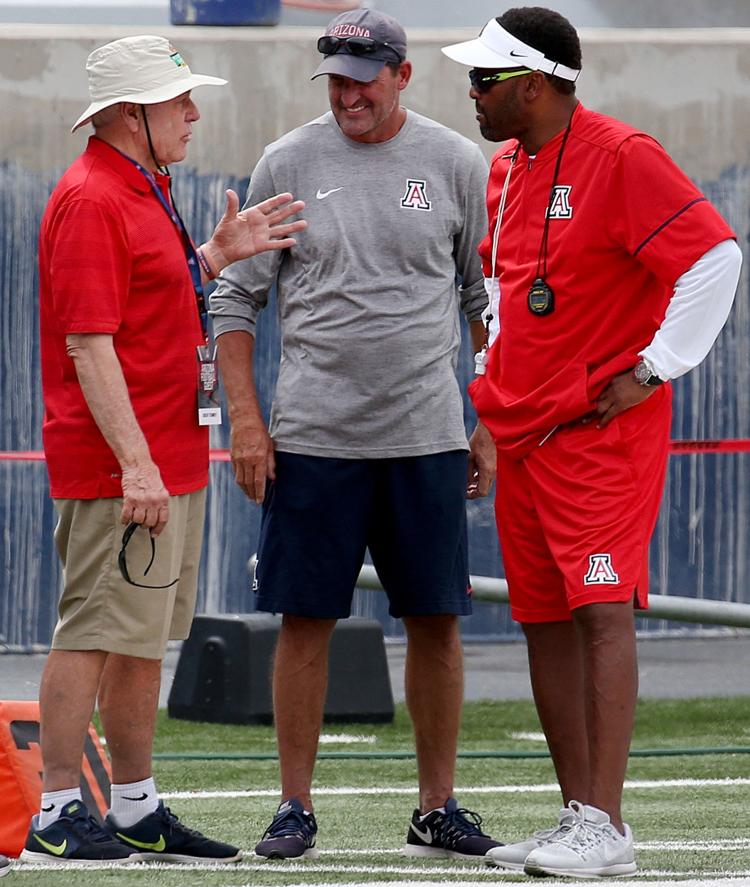 Arizona Wildcats football practice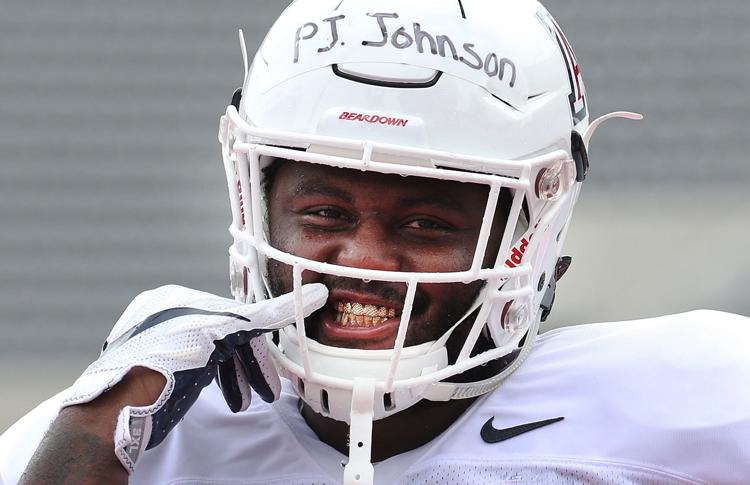 Arizona Wildcats football practice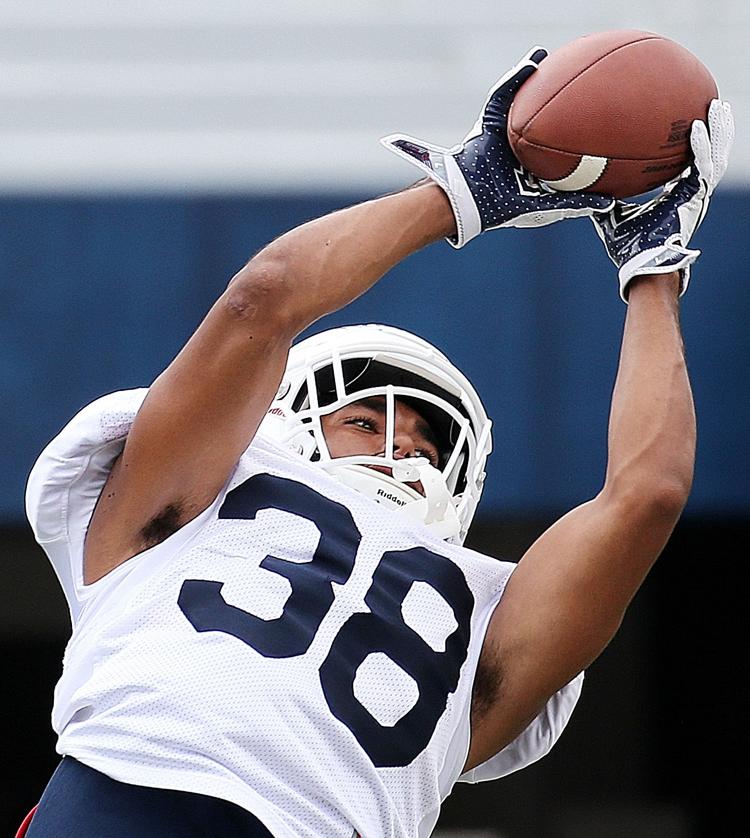 Arizona Wildcats football practice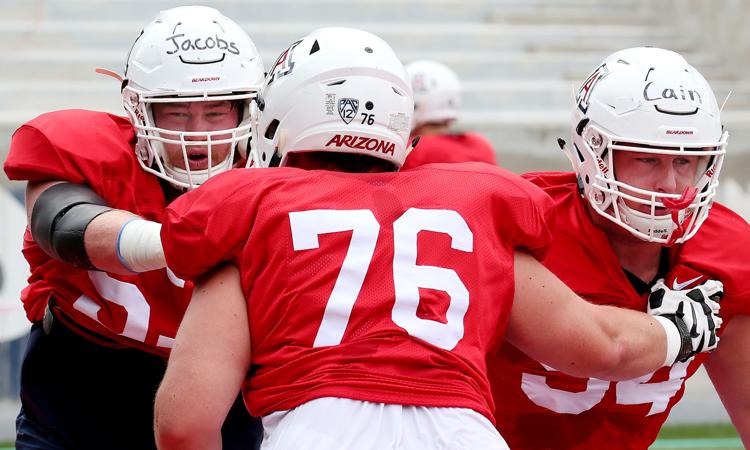 Arizona Wildcats football practice
Arizona Wildcats football practice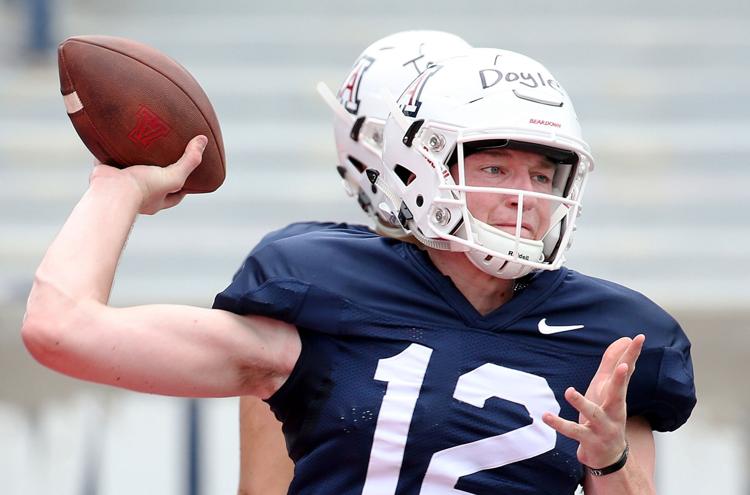 Arizona Wildcats football practice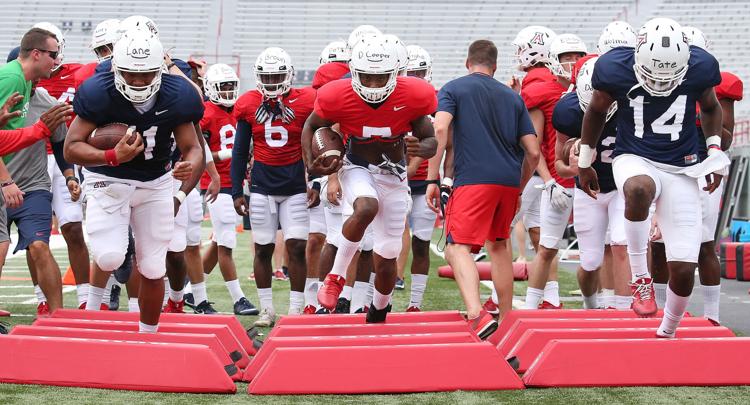 Arizona Wildcats football practice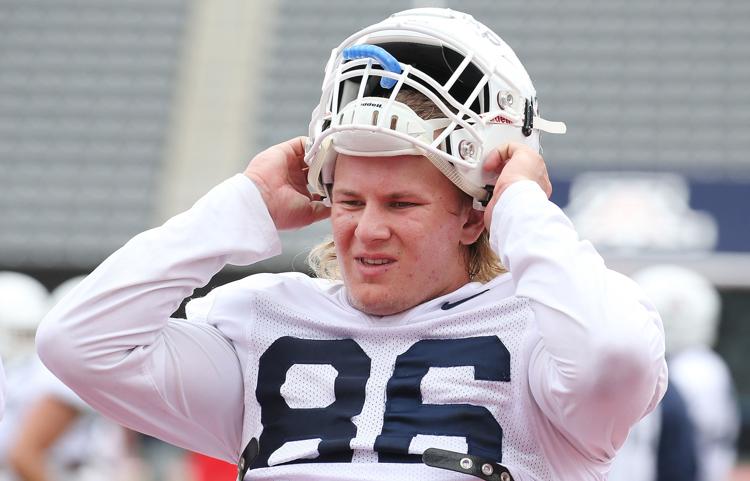 Arizona Wildcats football practice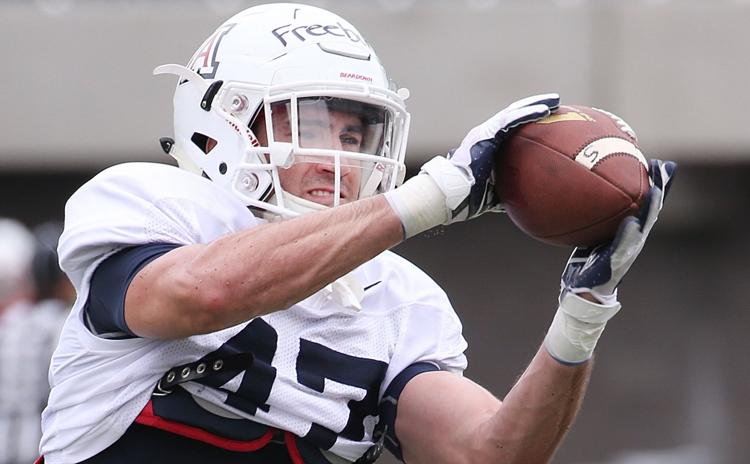 Arizona Wildcats football practice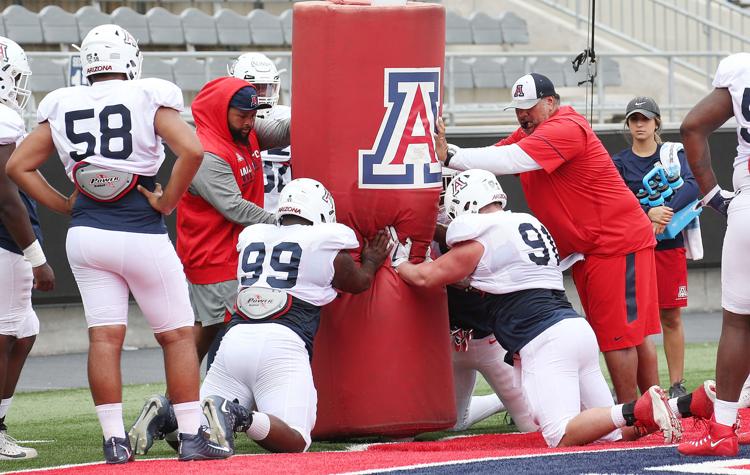 Arizona Wildcats football practice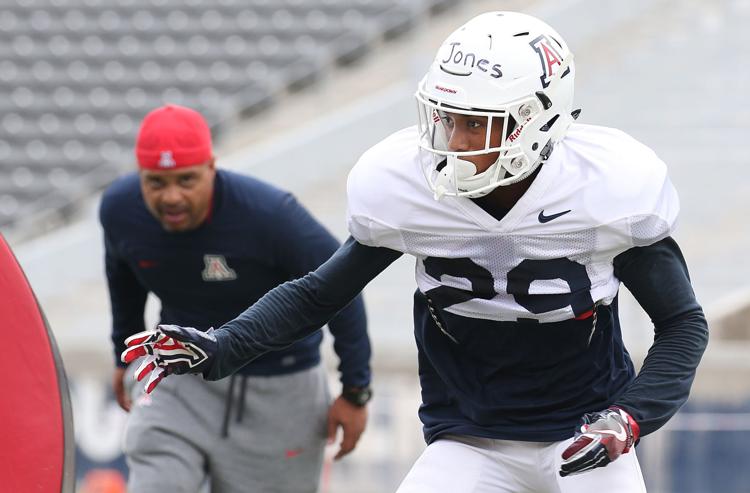 Arizona Wildcats football practice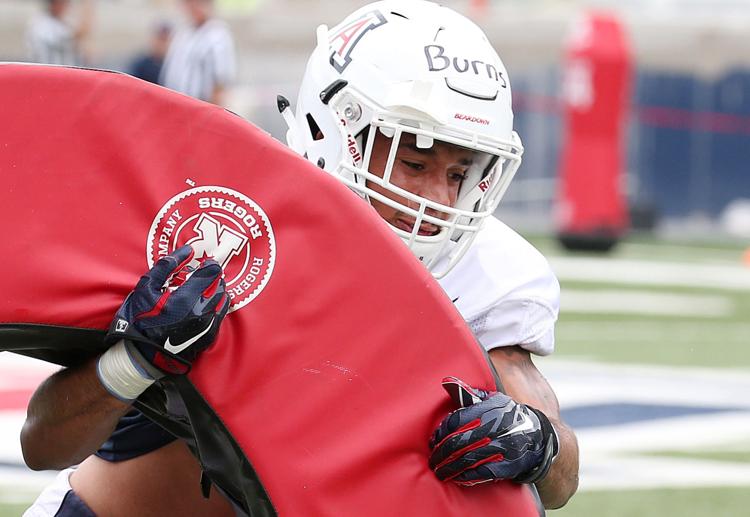 Arizona Wildcats football practice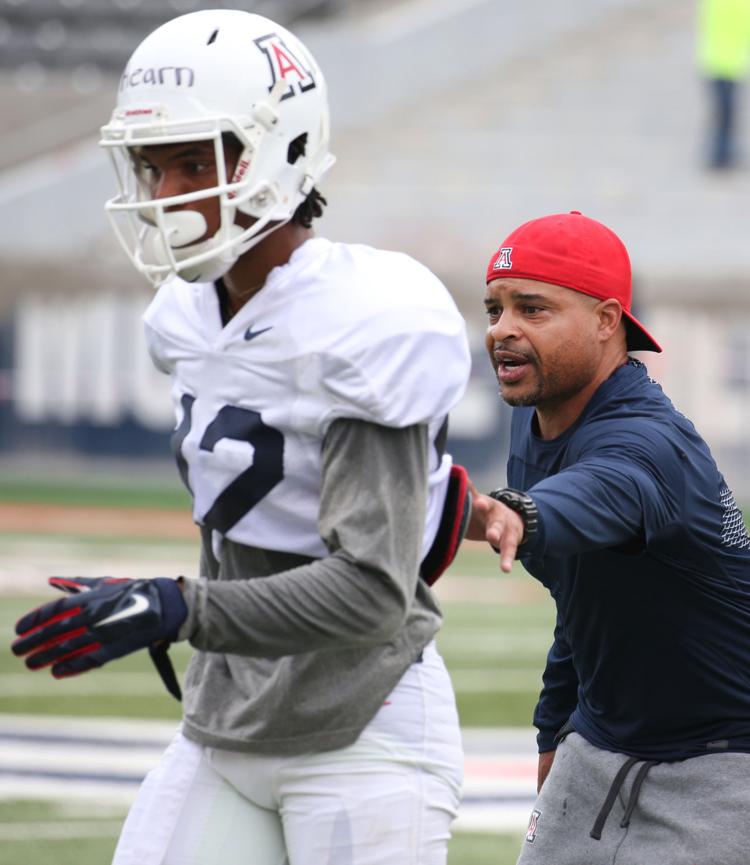 Arizona Wildcats football practice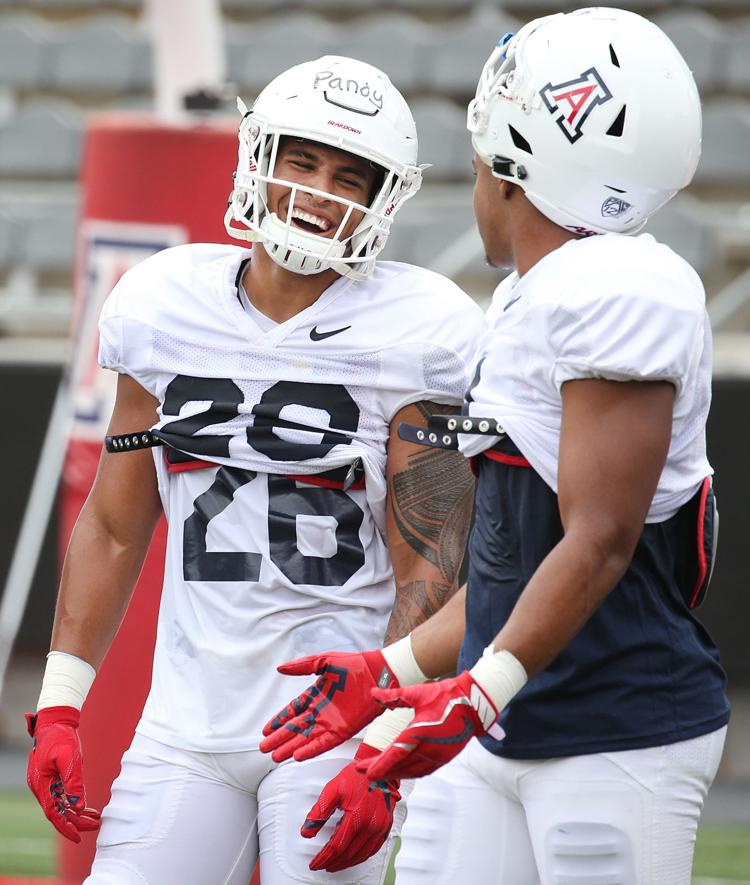 Arizona Wildcats football practice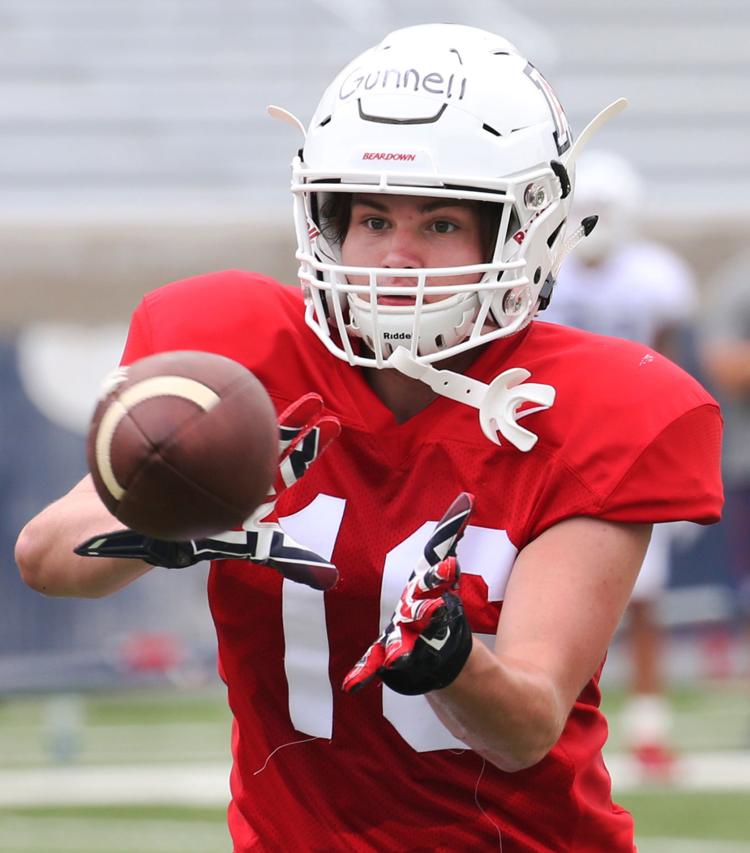 Arizona Wildcats football practice